Abstract
Objective
To evaluate bedside sonographic confirmation of weighted-tip nasogastric feeding tube position, by comparison to radiography.
Design and setting
Single-center, double-blind prospective study in a 14-bed medical intensive care unit (ICU) in a 780-bed teaching hospital.
Patients
Thirty-three ICU patients undergoing nasogastric tube insertion for enteral feeding.
Interventions
The tip of the nasogastric tube was located both by sonography and standard radiography.
Measurements and results
The accuracy and procedure times of sonography and radiography for nasogastric tube tip location were compared during 35 procedures in 33 patients. The nasogastric tube tip was visualized by sonography in 34 of 35 procedures (sensitivity 97%) and by radiography in all procedures. The median length of the entire procedure was 24 min and 180 min with sonography and radiography, respectively.
Conclusions
Bedside sonography performed by nonradiologists is a sensitive method for confirming the position of weighted-tip feeding nasogastric feeding tubes. It is more rapid than conventional radiography and can easily be taught to ICU physicians. Conventional radiography could be reserved for cases in which sonography is inconclusive
Access options
Buy single article
Instant access to the full article PDF.
US$ 39.95
Tax calculation will be finalised during checkout.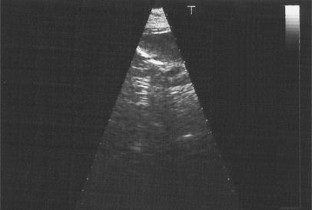 References
1.

Kalfarentzos F, Kehagias J, Mead N, Kokkinis K, Gogos CA (1997) Enteral nutrition is superior to parenteral nutrition in severe acute pancreatitis: results of a randomized prospective trial. Br J Surg 84:1665–1669

2.

Roubenoff R, Ravich W (1989) Pneumothorax due to nasogastric feeding tubes: report of four cases, review of the literature, and recommendations for prevention. Arch Intern Med 149:184–188

3.

Bankier AA, Wiesmayr MN, Henk C (1997) Radiographic detection of intrabronchial malpositions of nasogastric tubes and subsequent complications in intensive care unit patients. Intensive Care Med 23:406–410

4.

Harrison AM, Clay B, Grant MJ, Sanders SV, Webster HF, Reading JC, Dean JM, Witte MK (1997) Non radiographic assessment of enteral feeding tube position. Crit Care Med 25:2055–2059

5.

Stroud M, Duncan H, Nightingale J (2003) Guidelines for enteral feeding in adult hospital patients. Gut 52 [Suppl VII]:vii1–vii12

6.

Metheny NA, Stewart BJ, Smith L, Yan H, Diebold M, Clouse RE (1999) PH and concentration of bilirubin in feeding tube aspirates as predictors of tube placement. Nurs Res 48:189–197

7.

Araujo-Preza CE, Melhado ME, Gutierrez FJ, Maniatis T, Castellano MA (2002) Use of capnometry to verify feeding tube placement. Crit Care Med 30:2255–2259

8.

Jolliet P, Pichard C, Biolo G, Chiolero R, Grimble G, Leverve X, Nitenberg G, Novak I, Planas M, Preiser JC, Roth E, Schols AM, Wernerman J (Working group on nutrition, metabolism, ESCIM) (1998) Enteral nutrition in intensive care patients; a practical approach. Intensive Care Med 24:848–859

9.

Maury E, Guglielminotti J, Alzieu M, Guidet B, Offenstadt G (2001) Ultrasonic examination: an alternative to chest radiography after central venous catheter insertion? Am J Respir Crit Care Med 1 164:403–405

10.

Chaney JC, Derdak (2002) Minimally invasive hemodynamic monitoring for the intensivist: current and emerging technology. Crit Care Med 30:2338–23345

11.

Slama MA, Novara A, van de Putte P, Diebold B, Savafian A, Safar M, Ossart M, Fagon JY (1996) Diagnosis and therapeutic implications of trans esophageal echocardiography in medical ICU patients with unexplained shock, hypoxemia or suspected endocarditis. Intensive Care Med 22:916–922

12.

Lichtenstein D (1992) L'échographie générale en réanimation, 1st edn. Springer, Berlin Heidelberg New York

13.

Lichtenstein D, Menu Y (1995) A bedside ultrasound sign ruling out pneumothorax in the critically ill: lung sliding. Chest 108:1345–1348

14.

Lichtenstein D, Meziere G, Biderman P, Gepner A (1999) The comet-tail artifact: an ultrasound sign ruling out pneumothorax. Intensive Care Med 25:383–388

15.

Hilbert G, Vargas F, Valentino R, Gruson D, Chene G, Bebear C, Gbikpi-Benissan G, Cardinaud JP (2001) Comparison of B-mode ultrasound and computed tomography in the diagnosis of maxillary sinusitis in mechanically ventilated patients. Crit Care Med 29:1337–1342

16.

Timsit JF, Farkas JC, Boyer JM, Martin JB, Misset B, Renaud B, Carlet J (1998) Central vein catheter-related thrombosis in intensive care patients: incidence, risks factors, and relationship with catheter-related sepsis. Chest 114:207–213

17.

Hernandez-Socorro CR, Marin J, Ruiz-Santana S, Santana S, Manzano JL (1996) Bedside sonographic-guided versus blind nasoenteric feeding tube placement in critically ill patients. Crit Care Med 24:1690–1694

18.

Greenberg M, Bejar R, Asser S (1993) Confirmation of transpyloric feeding tube placement by ultrasonography. J Pediatr 122:413–415

19.

Maruyama K, Shiojima T, Koizumi T (2003) Sonographic detection of a malpositioned feeding tube causing esophageal perforation in a neonate. J Clin Ultrasound 31:108–110

20.

McClave SA, Sexton LK, Spain DA, Adams JL, Owens NA, Sullins MB, Blandford BS, Snider HL (1999) Enteral tube feeding in the intensive care unit: factors impeding adequate delivery. Crit Care Med 27:1252–1256
Acknowledgements
The authors wish to thank Stuart Fraser for his help in editing the manuscript.
About this article
Cite this article
Vigneau, C., Baudel, JL., Guidet, B. et al. Sonography as an alternative to radiography for nasogastric feeding tube location. Intensive Care Med 31, 1570–1572 (2005). https://doi.org/10.1007/s00134-005-2791-1
Received:

Accepted:

Published:

Issue Date:
Keywords
Sonography

Enteral feeding

Nasogastric tube

Radiography