Abstract
Objective
Reductions in blood flow rate may occur undetected during peristaltic pumping of blood through continuous renal replacement therapy circuits. We investigated whether undetected reductions in blood flow rate occur during continuous veno-venous haemofiltration, and whether they are correlated with filter life.
Patients
Twelve patients receiving continuous veno-venous haemofiltration in the intensive care unit of a tertiary hospital.
Methods
Extracorporeal circuit blood flow during haemofiltration was continuously monitored utilizing a miniature ultrasound Doppler device. Otherwise undetected blood flow reductions were identified at severity levels of between 20% and 100% less than the set diastolic flow rate (83 ml/min). Information on anticoagulation status was simultaneously obtained. The frequency and severity of blood flow reductions were recorded, and the correlation with filter life was determined.
Measurements and results
The duration of filter life ranged from 1.5 to 53 h, with a mean functional life of 19.62±16.32 h. There were 314 episodes of blood flow reduction during the 525 h of monitoring (0.59 episodes/h). There was a significant inverse relationship between the number of medium-level blood flow reductions and filter life. This correlation was much stronger than that between APTT and filter life.
Conclusions
Undetected blood flow reductions occur during continuous veno-venous haemofiltration. Such reductions are frequent, and when sufficiently severe appear to be correlated with filter life more strongly than the blood coagulation variables typically used to monitor adequacy of anticoagulation and promote filter longevity.
Access options
Buy single article
Instant access to the full article PDF.
USD 39.95
Price excludes VAT (USA)
Tax calculation will be finalised during checkout.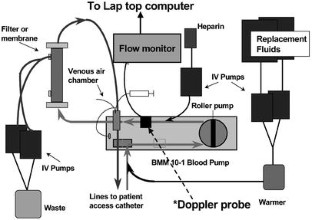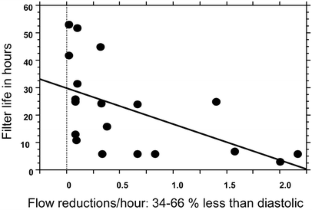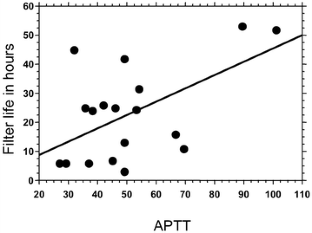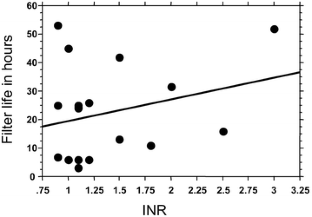 References
Davenport A, Mehta S (2002) The Acute Dialysis Quality Initiative. V. Access and anticoagulation in CRRT. Adv Ren Replace Ther 9:273–281

Shulman RI, Singer M, Rock J (2002) Keeping the circuit open: lessons from the lab. Blood Purif 20:275–281

Tolwani A, Campbell RC, Schenk MB, Allon M, Warnock DG (2001) Simplified citrate anticoagulation for continuous renal replacement therapy. Kidney Int 60:370–374

Gretz N, Quintel M, Ragaller M, Odenwalder W, Bender HJ, Rohmeiss SM (1995) Low-dose heparinization for anticoagulation in intensive care patients on continuous hemofiltration. Contrib Nephrol 116:130–135

Langeneker SA, Felfernig M, Werba A, Meuller CM, Chiari A, Zinpfer M (1994) Anticoagulation with prostacyclin and heparin during continuous venovenous hemofiltration. Crit Care Med 22:1774–1781

Macdonald D, Martin R (1995) Use of sodium citrate anticoagulation in a paediatric continuous venovenous hemodialysis patient. ANNA J 22:327–328

Baldwin I, Bridge N, Heland M, Bellomo R (1996) The effect of heparin administration site on extracorporeal circuit life during continuous venovenous hemofiltration. Aust Crit Care 1:29

Martin P-Y, Chevrolet JC, Suter P, Favre H (1994) Anticoagulation in patients treated by continuous venovenous hemofiltration: a retrospective study. Am J Kidney Dis 24:806–812

Mehta R (1996) Anticoagulation strategies for continuous renal replacement therapies: What works? Am J Kidney Dis 28 [Suppl 3]:806–812, S8–S14

Mehta RL, Dobos GJ, Ward DM (1992) Anticoagulation in continuous renal replacement procedures. Semin Dial 5:61–68

Depner TA, Rizwan S, Stasi TA (1990) Pressure effects on roller pump blood flow during hemodialysis. ASAIO Trans M456–M459

Snyder EJ, Harb HM, Cullen JA, McElwee L (1997) Setting roller pump occlusion with the transonic HT 109 flowmeter. ASAIO J 43:60–64

Sands J, Glidden D, Jacavage W, Jones B (1996) Difference between delivered and prescribed flow in hemodialysis. ASAIO J M717–M719

Baldwin I, Bellomo R, Koch B (2002) A technique for the monitoring of blood flow during continuous hemofiltration. Intensive Care Med 28:1361–1364

Terual, Fernadez LM, Rodriguez JR, Lopez SJ, Rivera M, Liano F, Oruno J (2000) Differences between blood flow as indicated by the hemodialysis blood roller pump and blood flow as measured by an ultrasonic sensor. Nephron 85:142–147

Noon GP, Kane LE, Feldman L, Peterson JA, DeBakey ME (1985) Reduction of blood trauma in roller pumps for long term perfusion. World Surg J 9:65–71

Reed CC, Stafford TB (1985) Cardiopulmonary bypass, 2nd edn. Texas Medical, Houston
About this article
Cite this article
Baldwin, I., Bellomo, R. & Koch, B. Blood flow reductions during continuous renal replacement therapy and circuit life. Intensive Care Med 30, 2074–2079 (2004). https://doi.org/10.1007/s00134-004-2440-0
Received:

Accepted:

Published:

Issue Date:

DOI: https://doi.org/10.1007/s00134-004-2440-0
Keywords
Haemofiltration

Renal replacement therapy

Acute renal failure

Critical illness

Coagulation