Abstract
Objective
To evaluate the clinical efficacy of noninvasive continuous positive airway pressure ventilation (CPAP) using a new interface, constituted by a cephalic plastic helmet, in comparison with a standard facial mask.
Design and setting
A prospective pilot study with matched-control group, in the emergency department of a teaching hospital
Patients and methods
Eleven consecutive adult patients with acute hypoxemic respiratory failure related to cardiogenic pulmonary edema (whether hypercapnic or not) were enrolled in the study, after failure of the initial medical treatment. Each patient treated with CPAP, using the helmet in addition to a standardized medical treatment, was matched with historical control-patient treated with CPAP using a standard facial mask, and selected by gender, age, and PaCO2 levels on admission. Primary end points were improvements of gas exchanges and clinical parameters of respiratory distress. Tolerance was evaluated after each CPAP trial.
Results
The 22 patients and controls had similar characteristics at baseline. PaCO2 levels, and clinical parameters improved similarly in both groups. No interface intolerance was reported whether using standard facial mask or the helmet. No complications were observed in either group. The helmet allowed CPAP administration for a longer period of time (p=0.045). In-hospital mortality was not different between the two groups.
Conclusion
Despite a high dead-space volume (9–15 l), this new helmet interface is an efficient alternative to standard face mask during CPAP, even in cases of severe respiratory acidosis and hypercapnia. It allows to provide long-duration CPAP, without any adverse events or clinical intolerance.
Access options
Buy single article
Instant access to the full article PDF.
USD 39.95
Price excludes VAT (USA)
Tax calculation will be finalised during checkout.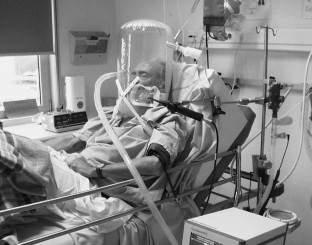 References
Rasanen J, Heikkila J, Downs J, Nikki P, Vaisanen I, Viitanen A (1985) Continuous positive airway pressure by face mask in acute cardiogenic pulmonary edema. Am J Cardiol 55:296–300

Bersten AD, Holt AW, Vedig AE, Skowronski GA, Baggoley CJ (1991) Treatment of severe cardiogenic pulmonary edema with continuous positive airway pressure delivered by face mask. N Engl J Med 325:1825–1830

Gregoretti C, Confalonieri M, Navalesi P, Squadrone V, Frigerio P, Beltrame F, Carbone G, Conti G, Gamna F, Nava S, Calderini E, Skrobik Y, Antonelli M (2002) Evaluation of patient skin breakdown and comfort with a new face mask for non-invasive ventilation: a multi-center study. Intensive Care Med 28:278–284

Antonelli M, Conti G, Pelosi P, Gregoretti C, Pennisi MA, Costa R, Severgnini P, Chiaranda M, Proietti R (2002) New treatment of acute hypoxemic respiratory failure: non-invasive pressure support ventilation delivered by helmet: a pilot controlled trial. Crit Care Med 30:602–608

L'Her E, Moriconi M, Texier F, Bouquin V, Kaba L, Renault A, Garo B, Boles JM (1998) Non-invasive continuous positive airway pressure in acute hypoxaemic respiratory failure-experience of an emergency department. Eur J Emerg Med 5:313–318

Delclaux C, L'Her E, Alberti C, Mancebo J, Abroug F, Conti G, Guerin C, Schortgen F, Lefort Y, Antonelli M, Lepage E, Lemaire F, Brochard L (2000) Treatment of acute hypoxemic nonhypercapnic respiratory insufficiency with continuous positive airway pressure delivered by a face mask: a randomized controlled trial. J Am Med Assoc 284:2352–2360
About this article
Cite this article
Tonnelier, JM., Prat, G., Nowak, E. et al. Noninvasive continuous positive airway pressure ventilation using a new helmet interface: a case-control prospective pilot study. Intensive Care Med 29, 2077–2080 (2003). https://doi.org/10.1007/s00134-003-1925-6
Received:

Accepted:

Published:

Issue Date:

DOI: https://doi.org/10.1007/s00134-003-1925-6
Keywords