Abstract
Objective.
Comparisons of urinary bladder, oesophageal, rectal, axillary, and inguinal temperatures versus pulmonary artery temperature.
Design.
Prospective cohort study.
Setting.
Intensive Care Unit of a University-Hospital.
Patients.
Forty-two intensive care patients requiring a pulmonary artery catheter (PAC).
Intervention.
Patients requiring PAC and without oesophageal, urinary bladder, and/or rectal disease or recent surgery were included in the study. Temperature was simultaneously monitored with PAC, urinary, oesophageal, and rectal electronic thermometers and with axillary and inguinal gallium-in-glass thermometers. Comparisons used a Bland and Altman method.
Measurements and main results.
The pulmonary arterial temperature ranged from 33.7 °C to 40.2 °C. Urinary bladder temperature was assessed in the last 22 patients. A total of 529 temperature measurement comparisons were carried out (252 comparisons of esophageal, rectal, inguinal, axillary, and pulmonary artery temperature measurements in the first 20 patients, and 277 comparisons with overall methods in the last patients). Nine to 18 temperature measurement comparisons were carried out per patient (median = 13). The mean differences between pulmonary artery temperatures and those of the different methods studied were: oesophageal (0.11±0.30 °C), rectal (−0.07±0.40 °C), axillary (0.27±0.45 °C), inguinal (0.17±0.48 °C), urinary bladder (−0.21±0.20 °C).
Conclusion.
In critically ill patients, urinary bladder and oesophageal electronic thermometers are more reliable than the electronic rectal thermometer which is better than inguinal and axillary gallium-in-glass thermometers to measure core temperature.
Access options
Buy single article
Instant access to the full article PDF.
USD 39.95
Price includes VAT (USA)
Tax calculation will be finalised during checkout.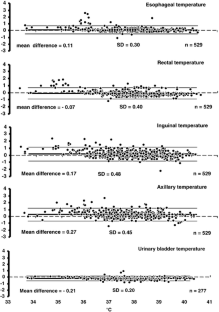 References
1.

Cork RC, Vaughan RW, Humphrey LS (1983) Precision and accuracy of intraoperative temperature monitoring. Anesth Analg 62:211–214

2.

Molnar GW, Read RC (1974) Studies during open-heart surgery on special characteristics of rectal temperature. J Appl Physiol 36:333–336

3.

Robinson J, Charlton J, Seal R, Spady D, Joffres MR (1998) Esophageal, rectal, axillary, tympanic, and pulmonary artery temperatures during cardiac surgery. Can J Anaesth 45:317–323

4.

Schmitz T, Bair N, Falk M, Levine C (1995) A comparison of five methods of temperature measurement in febrile intensive care unit patients. Am J Crit Care 4:186–192

5.

Giuliano KK, Scott SS, Elliot S, Giuliano AJ (1999) Temperature measurement in critically ill orally intubated adults: a comparison of pulmonary artery core, tympanic, and oral methods. Crit Care Med 27:2188–2193

6.

Lilly JK, Boland JP, Zekan S (1980) Urinary bladder temperature monitoring: a new index of core body temperature. Crit Care Med 8:742–744

7.

Erickson KS, Kirklin SK (1993) Comparison of ear-based, bladder, oral, and axillary methods for core temperature measurement. Crit Care Med 21:1528–1534

8.

Terndrup TE, Rajk J (1992) Impact of operator technique and device on infrared emission detection tympanic thermometry. J Emerg Med 10:683–687

9.

Peterson MH, Hauge HN (1997) Can training improve the results with infrared tympanic thermometers? Acta Anaesthesiol Scand 41:1066–1070

10.

Staven K, Saxholm H, Smith-Erichsen N (1997) Accuracy of infrared ear thermometry in adult patients. Intensive Care Med 23:100–105

11.

Eichna LW, Berger AR, Rader B, Buckaroo WH (1951) Comparison of intracardiac and intravascular temperatures with rectal temperatures in man. J Clin Invest 30:353–359

12.

Knaus WA, Draper EA, Wagner DP, Zimmerman JE (1985) APACHE II: a severity of disease classification system. Crit Care Med 13:818–829

13.

Bland JM, Altman DG (1986) Statistical methods for assessing agreement between two methods of clinical measurement. Lancet i:307–310

14.

Hasler ME, Cohen JA (1982) The effect of oxygen administration on oral temperature assessment. Nurs Res 31:265–268

15.

Shinozaki T, Deane R, Perkins FM (1988) Infrared tympanic thermometer:,evaluation of a new clinical thermometer. Crit Care Med 16:148–150

16.

Franchesi VT (1991) Accuracy and feasability of measuring oral temperature in critically ill adults. Focus Crit Care 18:221–228

17.

Nierman DM (1991) Core temperature measurement in the intensive care unit. Crit Care Med 19:818–823

18.

Erickson RS, Meyer LT (1994) Accuracy or infrared ear thermometry and other temperature methods in adults. Am J Crit Care 3:40–54

19.

Romano MJ, Fortenberry JD, Autrey E, (1993) Infrared tympanic thermometry in the pediatric intensive care unit. Crit Care Med 21:1181–1185

20.

Whitby JD, Dunkin LJ (1968) Temperature differences in the esophagus. Br J Anaesth 40:991–995
Acknowledgments.
The authors very sincerely thank nurses and aid-nurses for their kind and skilled assistance in temperature measurements.
About this article
Cite this article
Lefrant, JY., Muller, L., de La Coussaye, J.E. et al. Temperature measurement in intensive care patients: comparison of urinary bladder, oesophageal, rectal, axillary, and inguinal methods versus pulmonary artery core method. Intensive Care Med 29, 414–418 (2003). https://doi.org/10.1007/s00134-002-1619-5
Received:

Accepted:

Published:

Issue Date:
Keywords
Core temperature

Measurements

Intensive Care