Zusammenfassung
Hintergrund
Die Rekonstruktion von Defekten im Fußbereich stellt aufgrund der anatomischen Besonderheit des Weichteilmantels eine Herausforderung dar.
Ziel der Arbeit
In dieser Arbeit werden eigene Ergebnisse zu Rekonstruktionen von postoperativen Defekten am Fuß durch den freien Femur-Periostlappen (FFPL) vorgestellt.
Material und Methoden
In einem Patientenkollektiv (n = 10) mit postoperativen Defekten im Fußbereich wurde die Defektzone mit einem vaskularisierten FFPL aus der distalen Femurregion abgedeckt. Der Wundheilungsverlauf wurde retrospektiv analysiert.
Ergebnisse
Die Nachbeobachtungszeit betrug im Mittel 20,2 ± 8,22 Monate (7–35 Monate). Bei allen Patienten bestand ein Weichteildefekt im Fußbereich mit einer mittleren Flächenausdehnung von 17,9 ± 3,72 cm2 (12–24 cm2). Im Durchschnitt trat eine Wundheilungsstörung 2 Wochen nach Primäreingriff auf. In dem nachuntersuchten Patientenkollektiv ermöglichte der vaskularisierte FFPL eine stabile, definitive sowie ästhetisch ansprechende Rekonstruktion und trug zur knöchernen Konsolidierung bei. Die Dauer der stationären Betreuung nach definitivem Defektverschluss betrug 8 bis 10 Tage und lag signifikant unter der Dauer des Wundmanagements vor Transplantation des FFPL.
Diskussion
Der FFPL stellt eine effektive und elegante Methode zur regenerativen Rekonstruktion von Defekten mit begleitender ossärer Komponente im Fußbereich dar. Der FFPL bringt den Vorteil einer sofortigen dünnen und geschmeidigen Weichteilbedeckung im Gegensatz zu vielen anderen rekonstruktiven Methoden. Der FFPL kann die Wundkonsolidierung durch die regenerativen Eigenschaften einer vaskularisierten periostalen Ummantelung im Rahmen einer einzeitigen und definitiven Infektsanierung begünstigen.
Abstract
Background
The reconstruction of defects in the foot region is a challenge due to the anatomical peculiarities of the soft tissue covering.
Objective
This article presents the results of the reconstruction of postoperative foot defects using the free femoral periosteal flap (FFPF).
Material and methods
In a patient collective (n = 10) with postoperative wound healing disorders of the foot, the defect zone was covered using a vascularized FFPF from the distal femoral region. The wound healing process was retrospectively analyzed.
Results
The mean follow-up time was 20.2 ± 8.22 months (7–35 months). All patients had a soft tissue defect in the foot region with a mean area of 17.9 ± 3.72 cm2 (12–24 cm2). On average, a wound healing disorder occurred 2 weeks after the primary surgery. In the group of patients followed up the vascularized FFPF enabled a stable, definitive and aesthetically pleasing reconstruction and contributed to the bony consolidation. The duration of inpatient care after defect closure was 8–10 days and was significantly less than the duration of wound management prior to transplantation of the FFPF.
Conclusion
The FFPF is an effective and elegant method for the regenerative reconstruction of defects with accompanying osseous components in the foot region. The FFPF has the advantage of instant thin and pliable tissue coverage in contrast to many other reconstructive methods. The FFPF can promote wound consolidation through the regenerative properties of a vascularized periosteal sheath in the context of a one-step and permanent infection control.
This is a preview of subscription content, log in to check access.
Access options
Buy single article
Instant access to the full article PDF.
US$ 39.95
Tax calculation will be finalised during checkout.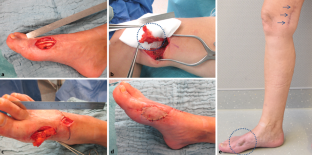 Literatur
1.

Cho EH, Garcia R, Pien I, Thomas S, Levin LS, Hollenbeck ST (2014) An algorithmic approach for managing orthopaedic surgical wounds of the foot and ankle. Clin Orthop Relat Res 472(6):1921–1929

2.

Soltanian H, Garcia RM, Hollenbeck ST (2015) Current concepts in lower extremity reconstruction. Plast Reconstr Surg 136(6):815e–8129

3.

Li X, Cui J, Maharjan S, Laijin LL, Gong X (2016) Reconstruction of the foot and ankle using pedicled or free flaps: perioperative flap survival analysis. PLoS ONE 11(12):e167827

4.

AlMugaren FM, Pak CJ, Suh HP, Hong JP (2020) Best local flaps for lower extremity reconstruction. Plast Reconstr Surg Glob Open 8(4):e2774

5.

Saad NH, Pontell ME, Winters BS, Daniel J, Saad A (2017) The periosteal medial femoral condyle free flap: a new option for soft tissue reconstruction of the distal lower extremity. Ann Plast Surg 79(4):372–376

6.

Bakri K, Shin AY, Moran SL (2008) The vascularized medial femoral corticoperiosteal flap for reconstruction of bony defects within the upper and lower extremities. Semin Plast Surg 22(3):228–233

7.

Iorio ML, Masden DL, Higgins JP (2011) The limits of medial femoral condyle corticoperiosteal flaps. J Hand Surg Am 36(10):1592–1596

8.

Udrescu G, Ring A (2016) Functional reconstruction of complex defects by vascularized femoral periosteum flap in hand surgery. 6th Mayo Clinic & Chang Gung Symposium in Reconstructive Surgery, München

9.

Debnath S et al (2018) Discovery of a periosteal stem cell mediating intramembranous bone formation. Nature 562(7725):133–139

10.

Gallardo-Calero I, Barrera-Ochoa S, Manzanares MC, Sallent A, Vicente M, López-Fernández A, De Albert M, Aguirre M, Soldado F, Vélez R (2019) Vascularized periosteal flaps accelerate osteointegration and revascularization of allografts in rats. Clin Orthop Relat Res 477(4):741–755
Ethics declarations
Interessenkonflikt
A. Ring, H. Beutel, G.A. Udrescu und F. Farzaliyev geben an, dass kein Interessenkonflikt besteht.
Alle beschriebenen Untersuchungen am Menschen oder an menschlichem Gewebe wurden mit Zustimmung der zuständigen Ethikkommission, im Einklang mit nationalem Recht sowie gemäß der Deklaration von Helsinki von 1975 (in der aktuellen, überarbeiteten Fassung) durchgeführt. Von allen beteiligten Patienten liegt eine Einverständniserklärung vor.
About this article
Cite this article
Ring, A., Beutel, H., Udrescu, G.A. et al. Mikrovaskuläre Rekonstruktion von Defekten am Fuß durch freien Femur-Periostlappen. Orthopäde (2021). https://doi.org/10.1007/s00132-020-04064-7
Received:

Accepted:

Published:
Schlüsselwörter
Fußchirurgie

Hallux valgus

Wundheilung

Wundinfektion

Rekonstruktive Chirurgie
Keywords
Foot surgery

Hallux valgus

Wound healing

Surgical site infection

Reconstructive surgery