Zusammenfassung
Der Ballenhohlfuß (BHF) stellt eine komplexe dreidimensionale Fußdeformität dar. Neben primären Formen können sekundäre unterschieden werden. Die Diagnose eines BHF wird klinisch gestellt, zur Festlegung der Therapie sind jedoch zusätzlich anamnestische Angaben, eine gezielte Untersuchung inklusive Neurostatus und zumindest eine radiologische Bildgebung in "rückfußzentrierter Aufnahmetechnik" nötig. Die konservative Therapie des BHF besteht je nach Ausprägung des Befundes in einer Einlagenversorgung bis hin zur Anpassung eines orthopädischen Maßschuhes. Die Indikation zum operativen Vorgehen besteht bei zunehmenden Beschwerden, wenngleich der Zeitpunkt mit dem Patienten ausgiebig diskutiert werden sollte, um die funktionell günstigsten Ergebnisse erzielbar zu machen. Grundsätzlich ist die operative Therapie aufwendig, es gelingt aber meist, durch eine Kombination aus Weichteileingriffen und Osteotomien/Arthrodesen eine plantigrade Fußeinstellung zu erreichen und dem Patienten dadurch einen funktionell verbesserten Gang zu ermöglichen.
Abstract
The cavovarus foot (CF) is a complex three-dimensional foot deformity. In addition to primary forms, secondary forms can be distinguished. The diagnosis of CF is made clinically; however, anamnestic information, a targeted examination including neurological status and at least radiological imaging using the hindfoot-centered imaging technique are required to determine the treatment. Conservative treatment for CF consists of the provision of insoles up to the adaptation of an orthopedic custom-made shoe, depending on the severity of the deformity. The indications for a surgical procedure are present in the case of increasing complaints, although the timing should be extensively discussed with the patient in order to be able to achieve the best functional results. Surgical treatment is generally complex but a combination of soft tissue interventions and osteotomy/arthrodesis can usually be used to achieve a plantigrade foot position and thereby enable the patient to walk with a functionally improved gait.
This is a preview of subscription content, log in to check access.
Access options
Buy single article
Instant access to the full article PDF.
US$ 39.95
Tax calculation will be finalised during checkout.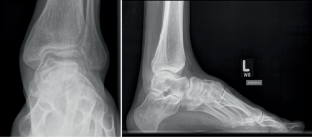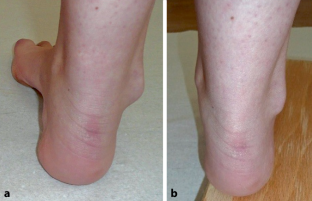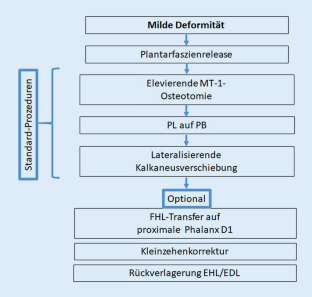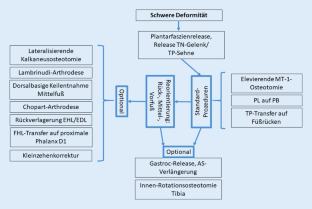 Literatur
1.

Döderlein L, Wenz W, Schneider U (2001) Fussdeformitäten: Der Hohlfuss. Springer, Heidelberg

2.

Younger AS, Hansen ST Jr. (2005) Adult cavovarus foot. J Am Acad Orthop Surg 13:302–315

3.

Brewerton DA, Sandifer PH, Sweetnam DR (1963) "Idiopathic" Pes Cavus: an investigation into its Aetiology. Br Med J 2:659–661

4.

Wallroth A, Dreher T (2018) Components of the joint-sparing, combined bony and soft tissue correction of the cavovarus foot. Oper Orthop Traumatol 30:286–292

5.

Hamel J (2019) Operative Behandlung von Fuß und Sprunggelenk im Kindes- und Jugendalter. Springer, Heidelberg

6.

Hamel J, Horterer H, Gottschalk O, Harrasser N, Walther M (2020) Hindfoot-centred X‑ray technique for the evaluation of cavovarus deformity : A proposal for the optimization of radiologic delineation. Orthopade 49:531–537

7.

Louwerens JWK (2018) Operative treatment algorithm for foot deformities in Charcot-Marie-Tooth disease. Oper Orthop Traumatol 30:130–146

8.

D'astorg H, Rampal V, Seringe R, Glorion C, Wicart P (2016) Is non-operative management of childhood neurologic cavovarus foot effective? Orthop Traumatol Surg Res 102:1087–1091

9.

Sackley C, Disler PB, Turner-Stokes L, Wade DT, Brittle N, Hoppitt T (2009) Rehabilitation interventions for foot drop in neuromuscular disease. Cochrane Database Syst Rev. https://doi.org/10.1002/14651858.CD003908.pub3

10.

Hamel J (2017) Corrective procedures and indications for cavovarus foot deformities in children and adolescents. Oper Orthop Traumatol 29:473–482

11.

Kaplan JRM, Aiyer A, Cerrato RA, Jeng CL, Campbell JT (2018) Operative treatment of the Cavovarus foot. Foot Ankle Int 39:1370–1382

12.

Levitt RL, Canale ST, Cooke AJ Jr., Gartland JJ (1973) The role of foot surgery in progressive neuromuscular disorders in children. J Bone Joint Surg Am 55:1396–1410

13.

Elsner A, Barg A, Stufkens S, Knupp M, Hintermann B (2011) Modified Lambrinudi arthrodesis with additional posterior tibial tendon transfer in adult drop foot. Oper Orthop Traumatol 23:121–130

14.

Wetmore RS, Drennan JC (1989) Long-term results of triple arthrodesis in Charcot-Marie-Tooth disease. J Bone Joint Surg Am 71:417–422

15.

Mann DC, Hsu JD (1992) Triple arthrodesis in the treatment of fixed cavovarus deformity in adolescent patients with Charcot-Marie-Tooth disease. Foot Ankle 13:1–6

16.

Shariff R, Myerson MS, Palmanovich E (2014) Resection of the fifth metatarsal base in the severe rigid Cavovarus foot. Foot Ankle Int 35:558–565

17.

Bosman HA, Robinson AH (2013) Treatment of ankle instability with an associated cavus deformity. Foot Ankle Clin 18:643–657

18.

Schmid T, Zurbriggen S, Zderic I, Gueorguiev B, Weber M, Krause FG (2013) Ankle joint pressure changes in a pes cavovarus model: supramalleolar valgus osteotomy versus lateralizing calcaneal osteotomy. Foot Ankle Int 34:1190–1197

19.

Jung HG, Jeon SH, Kim TH, Park JT (2013) Total ankle arthroplasty with combined calcaneal and metatarsal osteotomies for treatment of ankle osteoarthritis with accompanying cavovarus deformities: early results. Foot Ankle Int 34:140–147

20.

Bruce BG, Bariteau JT, Evangelista PE, Arcuri D, Sandusky M, Digiovanni CW (2014) The effect of medial and lateral calcaneal osteotomies on the tarsal tunnel. Foot Ankle Int 35:383–388

21.

Vanvalkenburg S, Hsu RY, Palmer DS, Blankenhorn B, Den Hartog BD, Digiovanni CW (2016) Neurologic deficit associated with lateralizing Calcaneal osteotomy for Cavovarus foot correction. Foot Ankle Int 37:1106–1112

22.

Breusch SJ, Wenz W, Doderlein L (2000) Function after correction of a clawed great toe by a modified Robert Jones transfer. J Bone Joint Surg Br 82:250–254

23.

Kadel NJ, Donaldson-Fletcher EA, Hansen ST, Sangeorzan BJ (2005) Alternative to the modified jones procedure: outcomes of the flexor hallucis longus (FHL) tendon transfer procedure for correction of clawed hallux. Foot Ankle Int 26:1021–1026
Ethics declarations
Interessenkonflikt
Gemäß den Richtlinien des Springer Medizin Verlags werden Autoren und Wissenschaftliche Leitung im Rahmen der Manuskripterstellung und Manuskriptfreigabe aufgefordert, eine vollständige Erklärung zu ihren finanziellen und nichtfinanziellen Interessen abzugeben.
Autoren
N. Harrasser: A. Finanzielle Interessen: N. Harrasser gibt an, dass kein finanzieller Interessenkonflikt besteht. – B. Nichtfinanzielle Interessen: Leitender Arzt ATOS Klinik, Effnerstraße 38, 81925 München | Oberarzt Klinik für Orthopädie und Sportorthopädie, Klinikum rechts der Isar, TU München, Ismaninger Str. 22, 81675, München, Deutschland. F. Lenze: A. Finanzielle Interessen: F. Lenze gibt an, dass kein finanzieller Interessenkonflikt besteht. – B. Nichtfinanzielle Interessen: Angestellter Facharzt für Orthopädie, Klinik für Orthopädie und Sportorthopädie, Klinikum rechts der Isar, TU München. J. Hamel: A. Finanzielle Interessen: Referentenhonorar oder Kostenerstattung als passiver Teilnehmer: Referent: Zertifikat Fußchirurgie der D.A.F. – B. Nichtfinanzielle Interessen: Leitender Arzt, Abtlg. Fuß- und Sprunggelenkschirurgie, Schön Klinik München Harlaching | Mitgliedschaften: DGOU, BVU, D.A.F., VKO.
Wissenschaftliche Leitung
Die vollständige Erklärung zum Interessenkonflikt der Wissenschaftlichen Leitung finden Sie am Kurs der zertifizierten Fortbildung auf www.springermedizin.de/cme.
Der Verlag
erklärt, dass für die Publikation dieser CME-Fortbildung keine Sponsorengelder an den Verlag fließen.
Für diesen Beitrag wurden von den Autoren keine Studien an Menschen oder Tieren durchgeführt. Für die aufgeführten Studien gelten die jeweils dort angegebenen ethischen Richtlinien. Für Bildmaterial oder anderweitige Angaben innerhalb des Manuskripts, über die Patienten zu identifizieren sind, liegt von ihnen und/oder ihren gesetzlichen Vertretern eine schriftliche Einwilligung vor.
Additional information
Wissenschaftliche Leitung
C. Chiari, Wien
H. Gollwitzer, München
J. Grifka, Bad Abbach
M. Jäger, Essen
A. Meurer, Frankfurt a.M.
D. Pape, Luxemburg
CME-Fragebogen
CME-Fragebogen
Wie steht der Vor- zum Rückfuß beim klassischen medialen Ballenhohlfuß?
Der Rückfuß steht am oberen Sprunggelenk neutral.
Der Rück- und Vorfuß stehen varisch.
Der Vorfuß zeigt eine Pronation in Relation zum Rückfuß.
Der Vorfuß steht in Supination in Relation zum Rückfuß.
Beide Anteile des Fußes stehen neutral zueinander.
Was ist der wesentliche Unterschied zwischen einem medialen Ballenhohlfuß (BHF) und einem kongenitalen Klumpfuß?
Der Rückfußvarus
Der Hohlfuß
Die Pronation des Vorfußes
Die Zehendeformitäten
Die Verkürzung der Wadenmuskulatur
Welche Strukturen sind beim medialen Ballenhohlfuß (BHF) zu Beginn der Erkrankung typischerweise als Erstes abgeschwächt?
M. peroneus longus
M. tibialis anterior, Intrinsics und M. peroneus brevis
M. tibialis posterior
Wadenmuskulatur
Langer Zehenbeuger
Wodurch entsteht die typische Außenrotation des oberen Sprunggelenkes (OSG)/Unterschenkels bei Ballenhohlfuß (BHF)?
Eine vertikale Einstellung des Talus
Eine laterale Bandinstabilität des OSG
Die Hohlfußkomponente
Meist aufgrund einer strukturellen Tibiaaußentorsion
Durch den Kardanmechanismus bei Varisierung der Ferse
Ein 23-jähriger Mann mit einer progredienten BHF(Ballenhohlfuß)-Deformität stellt sich in Ihrer Sprechstunde zur weiteren Abklärung vor. Die konservative Therapie zeigte zuletzt keine Besserung mehr, sodass ein operatives Vorgehen potenziell erwogen werden muss. Zur Beurteilung der Rigidität des Fußes führen Sie den Coleman-block-Test durch. Welche Bedeutung hat dieser Test bei dieser speziellen Fragestellung?
Es gelingt die Beurteilung der Rigidität des Fußes am sitzenden Patienten.
Dient zur Beurteilung der Vorfußstellung
Dient zur Beurteilung der Flexibilität des Rückfußvarus
Sollte mit dem Brettchen unter dem medialen Vorfuß beurteilt werden
Bietet keinen wesentlichen Mehrgewinn an Information, weshalb er zunehmend seltener eingesetzt wird
Eine 40-jährige Frau mit einer flexiblen BHF(Ballenhohlfuß)-Deformität kommt im Konfektionsschuh zunehmend schlechter zurecht und stellt sich mit der Frage einer Einlagenversorgung in der Sprechstunde vor. Welche Eigenschaft einer Einlage bei BHF ist gut geeignet, die Fehlstellung zu verbessern?
Retrokapitale Weichbettung
Leichte Außenranderhöhung
Fersenpuffer
Höherlegung des 1. Strahls
Anhebung am Sustentaculum tali
Was wird bei einem flexiblen medialen Ballenhohlfuß (BHF) operativ häufig durchgeführt?
Eine reorientierende Triple-Arthrodese
Eine valgisierende Kalkaneusosteotomie, Elevation des MT(Metatarsale)-I und ein peronealer Sehneneingriff
Eine isolierte, plantarisierende Lapidus-Arthrodese
Eine reine Spaltung der Plantarfaszie
Eine Verlängerung der Wadenmuskulatur
Was beschreibt die Extensorsubstitution?
Den Ersatz der Zehenstrecker im Rahmen einer Transferoperation
Hat beim Ballenhohlfuß (BHF) keine wesentliche Bedeutung
Sollte im Rahmen einer Rückfußkorrektur behoben werden
Beschreibt die vermehrte Aktivität der Zehenstrecker bei Ausfall des M. tibialis anterior
Hat keine Bedeutung in der Entstehung von Zehendeformitäten beim Ballenhohlfuß (BHF)
Welche Problematik des oberen Sprunggelenkes (OSG) findet sich beim Ballenhohlfuß (BHF) häufig?
Das OSG ist häufig medial instabil.
Das OSG kann im Verlauf typischerweise lateral eine Arthrose entwickeln.
Das OSG sollte bei fortgeschrittener Arthrose nicht mittels Endoprothese ersetzt werden.
Das OSG weist häufig eine verminderte Extendierbarkeit auf.
Das OSG ist praktisch immer asymptomatisch.
Was ist ein typischer radiologischer Befund beim medialen Ballenhohlfuß (BHF)?
Einsehbarer Sinus tarsi
Vertikalstellung des Talus
Innenrotation des oberen Sprunggelenkes (OSG)
Kleinzehenflexion im Grundgelenk
Seitliche Überlagerung von Os naviculare und Os cuboideum
About this article
Cite this article
Harrasser, N., Lenze, F. & Hamel, J. Ballenhohlfuß. Orthopäde (2021). https://doi.org/10.1007/s00132-020-04053-w
Schlüsselwörter
Cavovarus

Charcot-Marie-Tooth

Lambrinudi-Operation

Fußdeformität

Plantigrade Fußeinstellung
Keywords
Cavovarus

Charcot-Marie-Tooth

Lambrinudi's operation

Foot deformity

Plantigrade foot position