Zusammenfassung
Hintergrund
In der Entwicklung eines Implantates dient die Computersimulation mittels der Finiten-Elemente(FE)-Methode der frühzeitigen Identifikation designbedingter Schwachstellen, wodurch sich Entwicklungsschleifen auf ein Minimum reduzieren lassen. Weiterführend wird die FE-Simulation für die Auswahl der zu testenden Komponentenkombinationen eingesetzt, um zuständigen Behörden einen Nachweis des Worst-Case-Konstruktes für den anschließenden jeweiligen experimentellen Dauerfestigkeitstest zu erbringen.
Ergebnisse
Finiten-Elemente-Simulationen und experimentelle Forschungsstudien zeigen, dass die Implantatpositionierung einen Einfluss auf die mechanischen Belastungen haben kann und damit auch unter Umständen die präklinische Evaluierung der Prothesen beeinflussen kann.
Diskussion
Damit erbringt die FE-Simulation derzeit schon einen wesentlichen Beitrag zur präklinischen Testung. Allerdings sollten die Berechnungsmodelle für die Berechnung standardisiert werden, damit eine Vergleichbarkeit gegeben ist. Zusätzlich ist die Entwicklung neuer dynamischer und realitätsnaher Belastungsmodelle nötig, um auch derzeit nicht darstellbare Schadensfälle vorab erkennen zu können. Mit speziellem Blick auf den Klinikalltag wären in Zukunft Modelle wünschenswert, die intraoperativ entstehende kinematische Veränderungen und resultierende Fehlbelastungen der Implantate darstellen können und die Adressierung durch eine veränderte Positionierung oder Verwendung eines anderen Prothesendesigns ermöglichen.
Abstract
Background
In the process of developing an implant, computer simulation involving finite element (FE) methods allows the early identification of design-related issues, thus reducing the development process to a minimum. In addition, the FE simulation is used for selecting testing combinations in order to provide the relevant authority with proof of a "worst-case" construct scenario for the subsequent experimental fatigue test.
Results
Research studies with FE simulations show that implant positioning may affect mechanical loads under certain circumstances and, therefore, influence the preclinical evaluation of the prostheses.
Discussion
Although the FE simulation currently contributes significantly to preclinical testing, a standardization of the calculation models allowing comparability of results is lacking. Furthermore, the development of new dynamic and realistic models is necessary in order to identify complex damage modes that currently cannot be reproduced experimentally. When considering everyday clinical life in particular, models that can reproduce intraoperative kinematic changes and the resulting incorrect loads of the implant, as well as address these problems by changing the position or design of the prosthesis, are necessary and would help in future.
This is a preview of subscription content, log in to check access.
Access options
Buy single article
Instant access to the full article PDF.
US$ 39.95
Price includes VAT for USA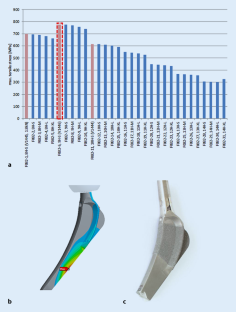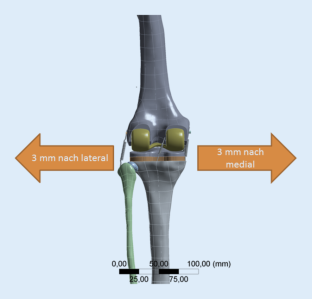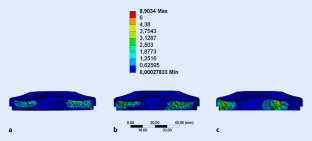 Abbreviations
ASTM:

American Society for Testing and Materials

EPRD:

Endoprothesenregister Deutschland

FDA:

U.S. Food and Drug Administration

FE:

Finite Elemente

ISO:

Internationale Organisation für Normung
Literatur
1.

Australian Orthopaedic Association National joint replacement registry.

2.

ASTM Standard F3161-16, Standard Test Method for Finite Element Analysis (FEA) of Metallic Orthopaedic Total Knee Femoral Components under Closing Conditions. ASTM International

3.

ASTM Standard WK59162, New Test Method for Finite Element Analysis (FEA) of Metallic Orthopaedic Total Knee Tibial Components ASTM International

4.

ASTM Standard F2996-13, Practice for Finite Element Analysis (FEA) of Non-Modular Metallic Orthopaedic Hip Femoral Stems. ASTM International

5.

Bellemans J, Colyn W, Vandenneucker H et al (2012) The Chitranjan Ranawat award: is neutral mechanical alignment normal for all patients? The concept of constitutional varus. Clin Orthop Relat Res 470:45–53

6.

Bergmann G, Graichen F, Rohlmann A (2004) Hip joint contact forces during stumbling. Langenbecks Arch Surg 389:53–59

7.

Bergmann G, Graichen F, Rohlmann A (1993) Hip joint loading during walking and running, measured in two patients. J Biomech 26:969–990

8.

Blomer W, Steinbruck A, Schroder C et al (2015) A new universal, standardized implant database for product identification: a unique tool for arthroplasty registries. Arch Orthop Trauma Surg 135:919–926

9.

Bourne RB, Chesworth B, Davis A et al (2010) Comparing patient outcomes after THA and TKA: is there a difference? Clin Orthop Relat Res 468:542–546

10.

EPRD Jahresbericht 2016.

11.

ISO 7206-4:2010, Implants for surgery. Partial and total hip joint prostheses. BSI British Standards

12.

Swedish Hip Arthroplasty Register Annual Report 2016.

13.

Kutzner I, Heinlein B, Graichen F et al (2010) Loading of the knee joint during activities of daily living measured in vivo in five subjects. J Biomech 43:2164–2173

14.

Magnussen RA, Weppe F, Demey G et al (2011) Residual varus alignment does not compromise results of TKAs in patients with preoperative varus. Clin Orthop Relat Res 469:3443–3450

15.

Naal FD, Impellizzeri FM, Lenze U et al (2015) Clinical improvement and satisfaction after total joint replacement: a prospective 12-month evaluation on the patients' perspective. Qual Life Res 24:2917–2925

16.

National Joint Registry for England, Wales, Northern Ireland and the Isle of Man (NJR), 14th Annual Report.

17.

The Swedish Knee Arthroplasty Register Annual Report 2017.

18.

Sadoghi P, Liebensteiner M, Agreiter M et al (2013) Revision surgery after total joint arthroplasty: a complication-based analysis using worldwide arthroplasty registers. J Arthroplasty 28:1329–1332

19.

Salzmann M, Fennema P, Becker R et al (2017) Does postoperative mechanical axis alignment have an effect on clinical outcome of primary total knee arthroplasty? A retrospective cohort study. Open Orthop J 11:1330–1336

20.

Statistisches Bundesamt (Destatis) (2016) Die 20 häufigsten Operationen, Vollstationär behandelte Patientinnen und Patienten in Krankenhäuser

21.

Statistisches Bundesamt (Destatis) (2016)Operationen und Prozeduren der vollstationären Patientinnen und Patienten in Krankenhäusern (4-Steller)

22.

Steinbruck A, Fottner A, Schroder C et al (2017) Influence of mediolateral tibial baseplate position in TKA on knee kinematics and retropatellar pressure. Knee Surg Sports Traumatol Arthrosc 25:2602–2608

23.

Taylor M, Prendergast PJ (2015) Four decades of finite element analysis of orthopaedic devices: where are we now and what are the opportunities? J Biomech 48:767–778

24.

Thienpont E, Cornu O, Bellemans J et al (2015) Current opinions about coronal plane alignment in total knee arthroplasty: a survey article. Acta Orthop Belg 81:471–477

25.

Morrison TP (2017) FDA: modeling and simulation initiatives at CDRH

26.

Woiczinski M, Steinbruck A, Weber P et al (2016) Development and validation of a weight-bearing finite element model for total knee replacement. Comput Methods Biomech Biomed Engin 19:1033–1045
Ethics declarations
Interessenkonflikt
M. Woiczinski, A. Maas, T. Grupp, C. Thorwächter, I. Santos, P.E. Müller, V. Jansson und A. Steinbrück geben folgende Interessenkonflikte an. M. Woiczinski, C. Thorwächter und I. Santos: institutional funding from BBraun, Aesculap; P.E. Müller: advising surgeon, institutional funding from BBraun, Aesculap; V. Jansson: paid consultant, paid presentations, research support from Medacta, BBraun, Implancast, Royalties from BBraun; A. Steinbrück: paid consultant, paid presentations from Medacta, BBraun, Implancast, Depuy/Synthes. Research support from Medacta, BBraun, Implancast; A. Maas und T. Grupp: employees of BBraun, Aesculap
Für diesen Beitrag wurden von den Autoren keine Studien an Menschen oder Tieren durchgeführt. Für die aufgeführten Studien gelten die jeweils dort angegebenen ethischen Richtlinien.
About this article
Cite this article
Woiczinski, M., Maas, A., Grupp, T. et al. Realitätsnahe Finite-Elemente-Simulation in der präklinischen Testung von Knie- und Hüftimplantaten. Orthopäde (2020). https://doi.org/10.1007/s00132-020-04025-0
Schlüsselwörter
Analyse, finite Elemente

Computersimulation

Hüftprothesenimplantation

Knieendoprothese, totale

Risikoabschätzung
Keywords
Analysis, finite element

Computer models

Hip prosthesis implantation

Knee arthroplasty, total

Risk assessment