This is a preview of subscription content, log in to check access.
Access options
Buy single article
Instant access to the full article PDF.
US$ 39.95
Price includes VAT for USA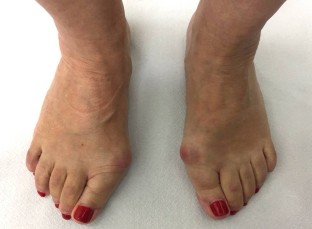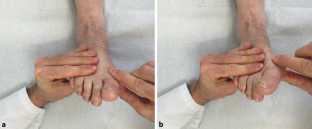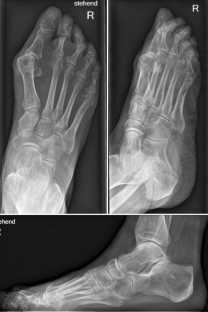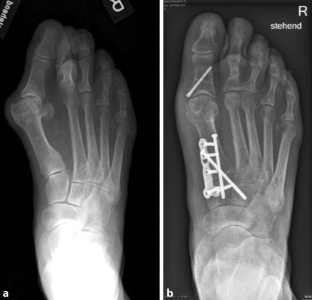 Literatur
1.

Hujazi I, Yassa R, Sevenoaks H, Khalfaoui M, Barrie J (2019) Hallux valgus interphalangeus: reliability of radiological assessment. Foot Ankle Surg 25(4):507–510. https://doi.org/10.1016/j.fas.2018.03.005

2.

Coughlin MJ, Shurnas PS (2003) Hallux rigidus. Grading and long-term results of operative treatment. J Bone Joint Surg Am 85(11):2072–2088

3.

Welck MJ, Singh D, Cullen N, Goldberg A (2018) Evaluation of the 1st metatarso-sesamoid joint using standing CT—the Stanmore classification. Foot Ankle Surg 24(4):314–319. https://doi.org/10.1016/j.fas.2017.03.005

4.

Schneider W (2013) Distal soft tissue procedure in hallux valgus surgery: biomechanical background and technique. Int Orthop 37(9):1669–1675. https://doi.org/10.1007/s00264-013-1959-5

5.

Raikin SM, Miller AG, Daniel J (2014) Recurrence of hallux valgus: a review. Foot Ankle Clin 19(2):259–274. https://doi.org/10.1016/j.fcl.2014.02.008

6.

Filippi J, Briceno J (2020) Complications after metatarsal osteotomies for hallux valgus: malunion, nonunion, avascular necrosis, and metatarsophalangeal osteoarthritis. Foot Ankle Clin 25(1):169–182. https://doi.org/10.1016/j.fcl.2019.10.008

7.

Wiewiorski M, Barg A, Hoerterer H, Voellmy T, Henninger HB, Valderrabano V (2015) Risk factors for wound complications in patients after elective orthopedic foot and ankle surgery. Foot Ankle Int 36(5):479–487. https://doi.org/10.1177/1071100714565792

8.

Barg A, Harmer JR, Presson AP, Zhang C, Lackey M, Saltzman CL (2018) Unfavorable outcomes following surgical treatment of hallux valgus deformity: a systematic literature review. J Bone Joint Surg Am 100(18):1563–1573. https://doi.org/10.2106/JBJS.17.00975

9.

Vernois J, Redfern DJ (2016) Percutaneous surgery for severe hallux valgus. Foot Ankle Clin 21(3):479–493. https://doi.org/10.1016/j.fcl.2016.04.002

10.

Waizy H (2016) Das Definitionsverständnis von Kleinzehenpathologien ist uneinheitlich – Ergebnis der Umfrage zur Nomenklatur von Kleinzehenpathologien. Fuß Sprunggelenk. https://doi.org/10.1016/j.fuspru.2016.01.002

11.

Arbab D, Frank D, Bouillon B, Luring C (2017) Correction of flexible lesser toe deformity: transfer of the flexor digitorum longus tendon. Oper Orthop Traumatol 29(5):452–458. https://doi.org/10.1007/s00064-017-0511-y

12.

Redfern DJ, Vernois J (2016) Percutaneous Surgery for Metatarsalgia and the Lesser Toes. Foot Ankle Clin 21(3):527–550. https://doi.org/10.1016/j.fcl.2016.04.003
Ethics declarations
Interessenkonflikt
A. Toepfer und N. Harrasser geben an, dass kein Interessenkonflikt besteht.
Für diesen Beitrag wurden von den Autoren keine Studien an Menschen oder Tieren durchgeführt. Für die aufgeführten Studien gelten die jeweils dort angegebenen ethischen Richtlinien. Für Bildmaterial oder anderweitige Angaben innerhalb des Manuskripts, über die Patienten zu identifizieren sind, liegt von ihnen und/oder ihren gesetzlichen Vertretern eine schriftliche Einwilligung vor.
The supplement containing this article is not sponsored by industry.
Additional information
Redaktion
N. Harrasser, München
About this article
Cite this article
Toepfer, A., Harrasser, N. 64/w – Schmerzhafte Vorfußdeformität. Orthopäde (2020). https://doi.org/10.1007/s00132-020-04017-0
Schlüsselwörter
Hallux valgus

Hammerzehen

Krallenzehen

Lapidusarthrodese

minimal-invasive Chevron- und Akin-Osteotomie

Transfermetatarsalgie