Zusammenfassung
Für die Stabilität und Funktion einer Hüfttotalendoprothese ist die optimale dreidimensionale Positionierung der Prothesenkomponenten von großer Bedeutung. Die Kippung des Beckens hat dabei einen besonderen Einfluss auf die Implantatposition. Um die durch bildgebende Verfahren und Bewegungsanalysen präoperativ gewonnenen Erkenntnisse zur Beckenkinematik intraoperativ zu nutzen, stehen "bildbasierte" und "bildfreie" Robotik- und Navigationsverfahren zur Verfügung. Bei den "bildbasierten" Verfahren dient dem Chirurgen ein dreidimensionales CT-Schnittbild als Basis für die Operationsplanung. Bei den "bildfreien" Verfahren wird nach den Grundlagen der Stereotaxie gearbeitet. Zukünftig werden Informationen über die statische und dynamische Beckenkippung über gemeinsame Schnittstellen mit Navigations- oder Robotiksystemen verknüpfbar werden. Zusammen mit intraoperativ gewonnen Daten lässt sich daraus eine patientenindividuell optimierte Implantatposition erreichen.
Abstract
The optimal 3D positioning of the prosthesis components is of great importance for the stability and function of a total hip endoprosthesis. Pelvic tilt has a particular influence on the position of the implant. In order to use intraoperatively the knowledge on pelvic kinematics gained through preoperative imaging procedures and movement analyses, "image-based" and "image-free" robotic and navigation procedures are available. With the "image-based" procedures, a 3D CT scan serves as the surgeon's basis for operative planning. The "image-free" procedures are based on the principles of stereotaxy. In the future, information about static and dynamic pelvic tilt will be conntected with navigation and robotic systems for total hip arthroplasty. Along with intraoperative data a patientindividual optimized implant position can be achieved.
This is a preview of subscription content, log in to check access.
Access options
Buy single article
Instant access to the full article PDF.
US$ 39.95
Price includes VAT for USA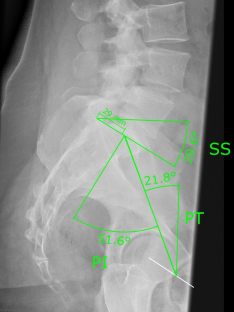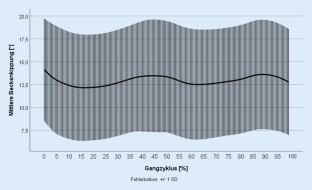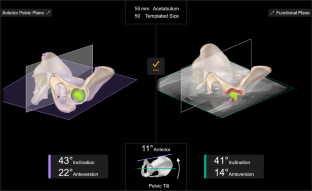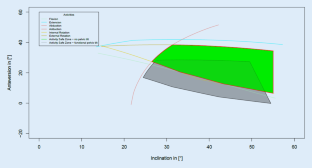 Abbreviations
ADL:

Aktivitäten des täglichen Lebens

APP:

Anteriore Pelvic Plane

BMI:

Body-Mass-Index

HTEP:

Hüfttotalendoprothese

PI:

Pelvic Incidence

PT:

Pelvic Tilt

SS:

Sacral Slope
Literatur
1.

Babisch JW, Layher F, Amiot LP (2008) The rationale for tilt-adjusted acetabular cup navigation. J Bone Joint Surg Am 90:357–365

2.

Bourne RB, Rorabeck CH (2002) Soft tissue balancing: the hip. J Arthroplasty 17:17–22

3.

Digioia AM, Hafez MA, Jaramaz B et al (2006) Functional pelvic orientation measured from lateral standing and sitting radiographs. Clin Orthop Relat Res 453:272–276

4.

Fukunishi S, Fukui T, Imamura F et al (2008) Assessment of accuracy of acetabular cup orientation in CT-free navigated total hip arthroplasty. Orthopedics. https://doi.org/10.3928/01477447-20110525-13

5.

Hohmann E, Bryant A, Tetsworth K (2011) A comparison between imageless navigated and manual freehand technique acetabular cup placement in total hip arthroplasty. J Arthroplasty 26:1078–1082

6.

Jenny JY, Boeri C, Dosch JC et al (2009) Navigated non-image-based positioning of the acetabulum during total hip replacement. Int Orthop 33:83–87

7.

Kalteis T, Handel M, Bathis H et al (2006) Imageless navigation for insertion of the acetabular component in total hip arthroplasty: is it as accurate as CT-based navigation? J Bone Joint Surg Br 88:163–167

8.

Lee YS, Yoon TR (2008) Error in acetabular socket alignment due to the thick anterior pelvic soft tissues. J Arthroplasty 23:699–706

9.

Lembeck B, Mueller O, Reize P et al (2005) Pelvic tilt makes acetabular cup navigation inaccurate. Acta Orthop 76:517–523

10.

Malik A, Maheshwari A, Dorr LD (2007) Impingement with total hip replacement. J Bone Joint Surg Am 89:1832–1842

11.

Miki H, Yamanashi W, Nishii T et al (2007) Anatomic hip range of motion after implantation during total hip arthroplasty as measured by a navigation system. J Arthroplasty 22:946–952

12.

Murphy WS, Klingenstein G, Murphy SB et al (2013) Pelvic tilt is minimally changed by total hip arthroplasty. Clin Orthop Relat Res 471:417–421

13.

Nishihara S, Sugano N, Nishii T et al (2003) Measurements of pelvic flexion angle using three-dimensional computed tomography. Clin Orthop Relat Res. https://doi.org/10.1097/01.blo.0000069891.31220.fd

14.

Noth U, Rackwitz L, Clarius M (2020) Challenges of fast-track arthroplasty in Germany. Orthopade 49:334–337

15.

Parratte S, Argenson JN (2007) Validation and usefulness of a computer-assisted cup-positioning system in total hip arthroplasty. A prospective, randomized, controlled study. J Bone Joint Surg Am 89:494–499

16.

Parratte S, Pagnano MW, Coleman-Wood K et al (2009) The 2008 Frank Stinchfield award: variation in postoperative pelvic tilt may confound the accuracy of hip navigation systems. Clin Orthop Relat Res 467:43–49

17.

Renkawitz T, Weber M, Springorum HR et al (2015) Impingement-free range of movement, acetabular component cover and early clinical results comparing 'femur-first' navigation and 'conventional' minimally invasive total hip arthroplasty: a randomised controlled trial. Bone Joint J 97-B:890–898

18.

Renkawitz T, Worner M, Sendtner E et al (2011) Principles and new concepts in computer-navigated total hip arthroplasty. Orthopade 40:1095–1102

19.

Rousseau MA, Lazennec JY, Boyer P et al (2009) Optimization of total hip arthroplasty implantation: is the anterior pelvic plane concept valid? J Arthroplasty 24:22–26

20.

Ryan JA, Jamali AA, Bargar WL (2010) Accuracy of computer navigation for acetabular component placement in THA. Clin Orthop Relat Res 468:169–177

21.

Schwarz TJ, Weber M, Renkawitz T et al (2020) Discrepancy between radiographic and true cup position after total hip arthroplasty: Are we interpreting our radiographic quality indicators correctly? Video article. Orthopade 49:226–229

22.

Sendtner E, Schuster T, Worner M et al (2011) Accuracy of acetabular cup placement in computer-assisted, minimally-invasive THR in a lateral decubitus position. Int Orthop 35:809–815

23.

Spencer JM, Day RE, Sloan KE et al (2006) Computer navigation of the acetabular component: a cadaver reliability study. J Bone Joint Surg Br 88:972–975

24.

Turley GA, Ahmed SM, Williams MA et al (2011) Establishing a range of motion boundary for total hip arthroplasty. Proc Inst Mech Eng H 225:769–782

25.

Weber M, Woerner M, Craiovan B et al (2016) Current standard rules of combined anteversion prevent prosthetic impingement but ignore osseous contact in total hip arthroplasty. Int Orthop 40:2495–2504

26.

Weber M, Woerner M, Messmer B et al (2017) Navigation is equal to estimation by eye and palpation in preventing Psoas impingement in THA. Clin Orthop Relat Res 475:196–203

27.

Widmer KH, Zurfluh B (2004) Compliant positioning of total hip components for optimal range of motion. J Orthop Res 22:815–821

28.

Woerner M, Sendtner E, Springorum R et al (2016) Visual intraoperative estimation of cup and stem position is not reliable in minimally invasive hip arthroplasty. Acta Orthop 87:225–230

29.

Ybinger T, Kumpan W, Hoffart HE et al (2007) Accuracy of navigation-assisted acetabular component positioning studied by computed tomography measurements: methods and results. J Arthroplasty 22:812–817

30.

Yun H, Murphy WS, Ward DM et al (2018) Effect of pelvic tilt and rotation on cup orientation in both supine and standing positions. J Arthroplasty 33:1442–1448
Ethics declarations
Interessenkonflikt
T. Renkawitz, M. Meyer, F. Völlner und M. Weber geben an, dass kein Interessenkonflikt besteht.
Für diesen Beitrag wurden von den Autoren keine Studien an Menschen oder Tieren durchgeführt. Für die aufgeführten Studien gelten die jeweils dort angegebenen ethischen Richtlinien.
About this article
Cite this article
Renkawitz, T., Meyer, M., Völlner, F. et al. Intraoperative Bestimmung der Beckenkippung und Pfannenposition in der Hüftendoprothetik – Relevanz der Navigation und Robotik. Orthopäde 49, 893–898 (2020). https://doi.org/10.1007/s00132-020-03978-6
Schlüsselwörter
Computertomographie

Femur first

Kombinierte Anteversion

Impingement

HTEP
Keywords
Femur First

Combined anteversion

Impingement

THR

THA