Zusammenfassung
Einleitung
Die Transplantation humaner Femurköpfe (FK) ist ein etabliertes Verfahren in der knöchernen Defektrekonstruktion bei orthopädischen und unfallchirurgischen Eingriffen, wobei eine standardisierte morphologische Qualitätsbewertung des Femurkopfgewebes bisher kaum erfolgt.
Material und Methoden
Bei 105 Patienten wurde der jeweilige FK im Rahmen einer Hüft-TEP standardisiert entnommen. Anhand klinischer und radiologischer Kriterien (Vorhandensein von Zysten, Nekrosen, Verkalkungen, Deformitäten und Osteoporose) wurde der FK mittels des Tabea-FK-Scores in drei Kategorien (beste/mittlere/schlechte Qualität) eingeteilt. Hiernach erfolgte eine zweite, makroskopische Einteilung der Qualität des in drei Schichten aufgesägten FK. Dieser "Makro-Score" diente als Goldstandard. Ergänzend wurden eine periphere quantitative Computertomographie (pQCT) sowie histologische Untersuchungen durchgeführt. Die Übereinstimmung des Tabea-FK-Scores sowie der Ergebnisse der ergänzenden Untersuchungen mit dem Makro-Score wurde mittels Sensitivitäten und Spezifitäten beurteilt.
Ergebnisse
Bei 91/105 Patienten (Alter: 68,4 ± 9,9 Jahre, n = 60 Frauen, n = 31 Männer) wurden die explantierten FK in die Studie eingeschlossen. Die Übereinstimmung zwischen dem primären Tabea-FK-Score und dem Makro-Score in Bezug auf die Unterscheidung mittlere/beste sowie schlechte/mittlere Qualität ist als gut einzustufen (Sensitivität 77 % sowie 81 % und Spezifität 76 % sowie 84 %). Die Übereinstimmung des histologischen Befundes mit dem Makro-Score war insgesamt etwas schlechter und wies in Bezug auf die Unterscheidung mittlere/beste sowie schlechte/mittlere Qualität eine Sensitivität von 85 % sowie 54 % und eine Spezifität von 66 % sowie 97 % auf. Der pQCT-Score wies lediglich bei der Unterscheidung mittlere/beste Qualität eine zufriedenstellende Sensitivität (82 %) auf, während diese bei der Unterscheidung schlechte/mittlere Qualität sowie schlechte/mittlere + beste Qualität <10 % betrug.
Diskussion
Die gute Übereinstimmung zwischen primärem Tabea-FK-Score und makroskopischer Zweitbewertung unterstreicht die Fähigkeiten langjährig operativ tätiger Orthopäden, die Qualität der Knochenspongiosa bereits anhand des Röntgenbildes und des intraoperativen Befundes korrekt einzustufen. Insofern kann die Einführung des Tabea-FK-Scores in die Routineabläufe von Knochenbanken als Qualitätssicherungsmaßnahme empfohlen werden.
Abstract
Introduction
Transplantation of cancellous tissue from human femoral heads (FK) is an established method in the reconstruction of bony defects in orthopedic and trauma surgery. Standardized rating systems with respect to the morphological quality of this tissue are not available.
Materials and methods
In 91/105 patients who had been a regular, clinically-indicated surgery (arthroplasty of the hip joint) the respective femoral head (FK) was taken under standardized conditions. Using a checklist defined clinical and radiological criteria of FK are judged in terms of their quality (cysts, necrosis, calcification, deformities, osteoporosis) and divided by the Tabea FK score into three classes (best/middle/poor quality). This was followed by a blinded repeated scoring, now as macroscopic assessment of three sawed layers from the same femoral head. The femoral heads are examined by peripheral quantitative computed tomography (pQCT) and a standardized histological examination of the bony tissue. We evaluated the accordance of the Tabea FK score with complementary assessments by calculation of sensitivity and specificity.
Results
Femoral heads from 91/105 patients (ages: 68.4 ± 9.9 , n = 60 women, n = 31 men) were explanted and included in the study. The correlation between the primary radiologic clinical score (Tabea FK score) and the macroscopic second review of the sawn FK with respect to middle/best and poor/middle quality was classified as good (sensitivity 77% and 81%, respectively; specificity 76% and 84%, respectively). The correlation of histology and macroscopic second review was worse and in relation to discrimination of middle/best and poor/middle quality had a sensitivity of 85% and 54%, respectively, and a specificity of 66% and 97%, respectively. The pQCT showed a sensitivity of 82% only in discrimination of middle/best, while sensitivity in discrimination of poor/middle and poor/middle + best, respectively, was <10%.
Discussion
The corresponding correlation between the primary and the second clinical score was evaluated as good. This emphasizes the long-standing skills of operationally active orthopedic surgeons to classify the quality of cancellous bone correctly already on the basis of X‑ray images and intraoperative findings. In this respect, the introduction of the Tabea FK score as a quality assurance tool in the routines of bone banks can be recommended.
This is a preview of subscription content, log in to check access.
Access options
Buy single article
Instant access to the full article PDF.
US$ 39.95
Tax calculation will be finalised during checkout.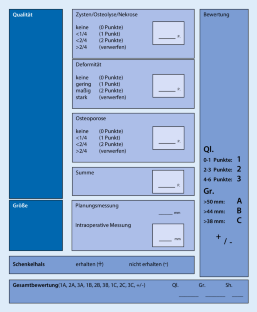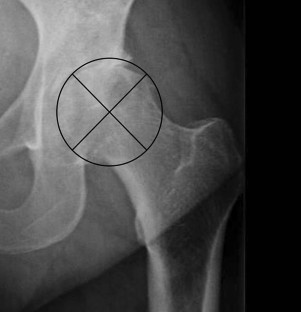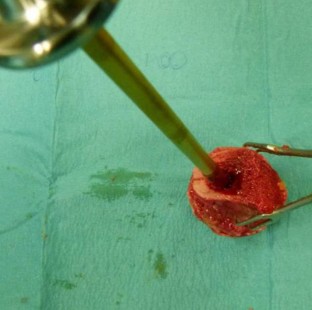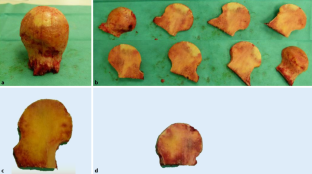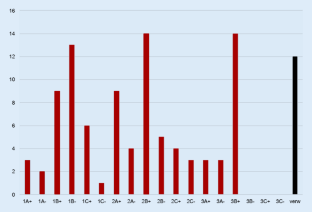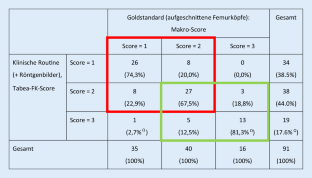 Abbreviations
AMG:

Arzneimittelgesetz

BMC :

"Bone mineral content"

BMD :

"Bone mineral density"

CSA :

Querschnittsfläche

DXA :

Dual Energy X‑Ray Absorptiometry

EDTA :

Ethylendiamintetraacetat

FK :

Femurkopf

KI :

Konfidenzintervall

kort :

Kortikal

pQCT :

Periphere quantitative Computertomographie

SEC :

Single European Code

SOP :

Standard Operating Procedure

TEP :

Totalendoprothese

tot :

Gesamt

TPG :

Transplantationsgesetz

TPG-GewV :

TPG-Gewebeverordnung

trab :

Trabekulär
Literatur
1.

Abbas G, Bali SL, Abbas N, Dalton DJ (2007) Demand and supply of bone allograft and the role of orthopaedic surgeons. Acta Orthop Belg 73(4):507–511

2.

Bundesministerium der Justiz. Arzneimittelgesetz in der Fassung der Bekanntmachung vom 12. Dezember 2005 (BGBl. I S. 3394), das zuletzt durch Artikel 1 der Verordnung vom 2. September 2015 (BGBl. I S. 1571) geändert worden ist

3.

Bundesministerium der Justiz. TPG-Gewebeverordnung vom 26. März 2008 (BGBl. I S. 512), die zuletzt durch Artikel 1 der Verordnung vom 28. Mai 2014 (BGBl. I S. 600) geändert worden ist

4.

Bundesministerium der Justiz. Transplantationsgesetz in der Fassung der Bekanntmachung vom 4. September 2007 (BGBl. I S. 2206), das zuletzt durch Artikel 5d des Gesetzes vom 15. Juli 2013 (BGBl. I S. 2423) geändert worden ist

5.

Craiovan B, Wörner M, Maderbacher G, Grifka J, Renkawitz T, Keshmiri A (2015) Difference in periprosthetic acetabular bone mineral density: prior total hip arthroplasty: osteonecrosis of the femoral head versus primary osteoarthritis. Orthop Traumatol Surg Res. https://doi.org/10.1016/j.otsr.2015.08.006

6.

Erhart S, Zegg M, Kralinger F, Kammerlander C, Roth T (2015) Fast and easy preoperative estimation of cancellous bone mineral density in patients with proximal femur fractures. Arch Orthop Trauma Surg 135(12):1683–1689

7.

Junge A, Gotzen L, von Garrel T, Ziring E, Giannadakis K (1997) Monosegmental internal fixator instrumentation and fusion in treatment of fractures of the thoracolumbar spine. Indications, technique and results. Unfallchirurg 100(11):880–887

8.

Junge A, von Garrel T, Celik I, Schädel-Höpfner M, Gotzen L (2000) Zur Verwendung allogener Knochentransplantate in der Wirbelsäulenchirurgie. Osteosynth Int 8(S1):S231–S234

9.

Kappe T, Cakir B, Mattes T, Reichel H, Flören M (2010) Infections after bone allograft sur-gery: a prospective study by a hospital bone bank using frozen femoral heads from living donors. Cell Tissue Bank 11(3):253–259

10.

Knaepler H, von Garrel T, Gotzen L (1994) Untersuchungen zur Desinfektion und Sterilisation allogener Knochentransplantate. Unfallchirurg 235:1–101

11.

Knels R, Stüpmann K, Pruß A, Klerke J, Kardoeus J, Hiller J (2017) Coding of tissue and cell preparations using Eurocode. Transfus Med Hemother 44:401–405

12.

Leung HB, Fok MW, Chow LC, Yen CH (2010) Cost comparison of femoral head banking versus bone substitutes. J Orthop Surg 18(1):50–54

13.

Mirabet V, Roig RJ, Solves P (2011) Viable hematopoietic progenitor cells in frozen femoral heads from living donors for orthopedic surgery. Transfusion 51(2):443–444

14.

Pruss A, Kao M, von Garrel T, Frommelt L, Gürtler L, Benedix F, Pauli G (2003) Virus inactivation in bone tissue transplants (femoral heads) by moist heat with the 'Marburg Bone Bank System'. Biologicals 31:75–82

15.

Pruss A, Katthagen BD (2008) Musculoskeletal tissue banks. Legal foundations and graft safety. Orthopade 37(8):749–755

16.

Pruss A, Knaepler H, Katthagen BD, Frommelt L (2005) Consequence of European Directive 2004/23/EC for bone banks in Germany. Orthopade 34(11):1160–1168

17.

Pruss A, Seibold M, Benedix F, Frommelt L, von Garrel T, Gürtler L, Dörffel Y, Pauli G, Göbel UB (2003) Validation of the 'Marburg Bone Bank System' for thermodesinfection of allogenic femoral head transplants using selected bacteria, fungi, and spores. Biologicals 31:287–294

18.

Schroeter J, Schulz T, Schroeter B, Fleischhauer K, Pruß A (2017) Implementation of the Single European Code in a multi-tissue bank. Transfus Med Hemother 44:396–400

19.

Saegeman V, Verhaegen J, Simon JP (2011) Screening femoral heads from living donors: a prospective study comparing swab-agar versus bone fragment-broth culture. Acta Orthop Belg 77(3):381–385

20.

Siemssen B (2003) Allogene Knochentransplantate in der Revisionsalloarthroplastik des Hüftgelenks. Einfluss der Vorbehandlung des azetabulären Transplantats auf dessen Haltbarkeitserwartung gemessen an der Standzeit der Pfannenkomponente. Dissertation zur Erlangung des Doktorgrades der Medizin. Fachbereich Medizin der Johann Wolfgang Goethe-Universität Frankfurt am Main

21.

Sugihara S, van Ginkel AD, Jiya TU, van Royen BJ, van Diest PJ, Wuisman PI (1999) Histopathology of retrieved allografts of the femoral head. J Bone Joint Surg Br 81(2):336–341

22.

van de Pol GJ, Sturm PD, van Loon CJ, Verhagen C, Schreurs BW (2007) Microbiological cultures of allografts of the femoral head just before transplantation. J Bone Joint Surg Br 89(9):1225–1228

23.

Varettas K, Taylor P (2011) Bioburden assessment of banked bone used for allografts. Cell Tissue Bank 12(1):37–43

24.

von Garrel T, Knaepler H, Gürtler L (1997) Untersuchungen zur Inaktivierung von HIV‑1 in humanen Femurköpfen durch Verwendung eines thermischen Desinfektionssystems Lobator SD‑1. Unfallchirurg 100:375–381

25.

von Garrel T (2006) Stellenwert der allogenen Knochentransplantation in der Unfallchirurgie und orthopädischen Chirurgie. Habilitationsschrift, Marburg

26.

Zwitser EW, de Gast A, Basie MJ, van Kemenade FJ, van Royen BJ (2009) B‑cell lymphoma in retrieved femoral heads: a long term follow up. BMC Musculoskelet Disord 10:53
Danksagung
Die Autoren danken der Stiftung Endoprothetik (Projekt S02/13) und der Firma Telos für die freundliche Unterstützung der Studie. Für die Mitarbeit bei der mechanischen Präparation gilt Herrn Sven Schurig und Herrn Frank Schweiger unser besonderer Dank. Für die Mitwirkung bei der Erfassung der Daten danken die Autoren Herrn Bernard Schroeter.
Ethics declarations
Interessenkonflikt
N. Siemssen, C. Friesecke und A. Pruß: Studienförderung durch Stiftung Endoprothetik und Telos. C. Wolff, G. Beller, K. Wassilew, B. Neuner und H. Schönfeld geben an, dass kein Interessenkonflikt besteht.
Alle beschriebenen Untersuchungen am Menschen oder an menschlichem Gewebe wurden mit Zustimmung der zuständigen Ethikkommission, im Einklang mit nationalem Recht sowie gemäß der Deklaration von Helsinki von 1975 (in der aktuellen, überarbeiteten Fassung) durchgeführt. Von allen beteiligten Patienten liegt eine Einverständniserklärung vor.
Additional information
H. Schönfeld und A. Pruß teilen sich die Letztautorenschaft.
About this article
Cite this article
Siemssen, N., Friesecke, C., Wolff, C. et al. Ein klinisch-radiologischer Score für Femurkopftransplantate. Orthopäde (2020). https://doi.org/10.1007/s00132-020-03941-5
Schlüsselwörter
Knochenbank

Knochentransplantation

Spongiosa

Femur

Gewebebank
Keywords
Bone banks

Bone transplantation

Cancellous bone

Femur

Tissue banks