Zusammenfassung
Die Strahlentherapie besitzt im multimodalen Therapiekonzept von Sarkomen der Extremitäten oder des Beckens/Retroperitoneums einen festen Stellenwert. Die Strahlentherapie kann vor oder im Anschluss an die geplante Operation erfolgen. Neue Bestrahlungstechniken, wie z. B. die intensitätsmodulierte Strahlentherapie mit hochenergetischen Photonen oder die Protonentherapie, tragen zu geringeren akuten und späten Nebenwirkungen bei. In diesem Übersichtsartikel sind diese Ansätze dargestellt.
Abstract
Radiotherapy is one of the pillars in the multimodal therapy of sarcomas of the extremities or pelvis/retroperitoneum. It can be delivered prior to or following surgery. Novel radiation techniques, such as intensity-modulated radiotherapy using high-energy photons or protons, contribute to the reduction of acute and late toxicities. This review article summarizes these concepts.
This is a preview of subscription content, log in to check access.
Access options
Buy single article
Instant access to the full article PDF.
US$ 39.95
Price includes VAT for USA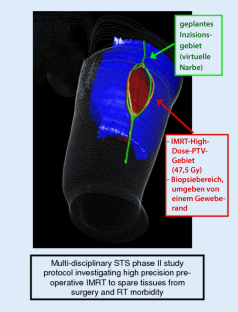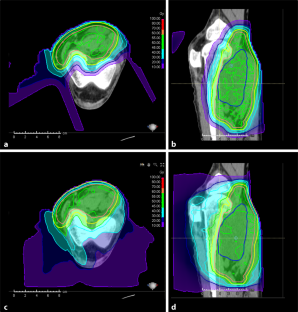 Abbreviations
ASCO:

American Society of Clinical Oncology

IGRT :

Bildgeführte Strahlentherapie

IMRT :

Intensitätsmodulierte Bestrahlung

IO-BRT :

Intraoperative Brachytherapie

IORT :

Intraoperative Radiotherapie

PTV :

Planungszielvolumen

RBE :

"Relative biological effectiveness"

STS :

Weichgewebssarkom
Literatur
1.

Yang JC, Chang AE, Baker AR, Sindelar WF, Danforth DN, Topalian SL et al (1998) Randomized prospective study of the benefit of adjuvant radiation therapy in the treatment of soft tissue sarcomas of the extremity. J Clin Oncol 16(1):197–203

2.

O'Sullivan B, Davis AM, Turcotte R, Bell R, Catton C, Chabot P et al (2002) Preoperative versus postoperative radiotherapy in soft-tissue sarcoma of the limbs: a randomised trial. Lancet 29;359(9325):2235–2241

3.

McGee L, Indelicato DJ, Dagan R, Morris CG, Knapik JA, Reith JD et al (2012) Long-term results following postoperative radiotherapy for soft tissue sarcomas of the extremity. Int J Radiat Oncol Biol Phys 15;84(4):1003–1009

4.

Davis AM, O'Sullivan B, Turcotte R, Bell R, Catton C, Chabot P et al (2005) Late radiation morbidity following randomization to preoperative versus postoperative radiotherapy in extremity soft tissue sarcoma. Radiother Oncol 75(1):48–53

5.

Pollack A, Zagars GK, Goswitz MS, Pollock RA, Feig BW, Pisters PW (1998) Preoperative vs. postoperative radiotherapy in the treatment of soft tissue sarcomas: a matter of presentation. Int J Radiat Oncol Biol Phys 1;42(3):563–572

6.

Davis AM, O'Sullivan B, Bell RS, Turcotte R, Catton CN, Wunder JS et al (2002) Function and health status outcomes in a randomized trial comparing preoperative and postoperative radiotherapy in extremity soft tissue sarcoma. J Clin Oncol 15;20(22):4472–4477

7.

Alektiar KM, Velasco J, Zelefsky MJ, Woodruff JM, Lewis JJ, Brennan MF (2000) Adjuvant radiotherapy for margin-positive high-grade soft tissue sarcoma of the extremity. Int J Radiat Oncol Biol Phys 1;48(4):1051–1058

8.

Oertel S, Treiber M, Zahlten-Hinguranage A, Eichin S, Roeder F, Funk A et al (2006) Intraoperative electron boost radiation followed by moderate doses of external beam radiotherapy in limb-sparing treatment of patients with extremity soft-tissue sarcoma. Int J Radiat Oncol Biol Phys 1;64(5):1416–1423

9.

Sindelar WF, Kinsella TJ, Chen PW, DeLaney TF, Tepper JE, Rosenberg SA et al (1993) Intraoperative radiotherapy in retroperitoneal sarcomas. Final results of a prospective, randomized, clinical trial. Arch Surg 128(4):402–410

10.

Wang D, Zhang Q, Eisenberg BL, Kane JM, Li XA, Lucas D et al (2015) Significant reduction of late toxicities in patients with extremity sarcoma treated with image-guided radiation therapy to a reduced target volume: results of radiation therapy oncology group RTOG-0630 trial. J Clin Oncol 10;33(20):2231–2238

11.

O'Sullivan B, Griffin AM, Dickie CI, Sharpe MB, Chung PW, Catton CN et al (2013) Phase 2 study of preoperative image-guided intensity-modulated radiation therapy to reduce wound and combined modality morbidities in lower extremity soft tissue sarcoma. Cancer 15;119(10):1878–1884

12.

Langendijk JA, Lambin P, De Ruysscher D, Widder J, Bos M, Verheij M (2013) Selection of patients for radiotherapy with protons aiming at reduction of side effects: the model-based approach. Radiother Oncol 107(3):267–273

13.

DEGRO (2015) Stellungnahme zur Strahlentherapie mit Protonen in Deutschland Juni 2015. https://www.google.de/search?q=DEGRO.%20Stellungnahme%20zur%20Strahlentherapie%20mit%20Protonen%20in%20Deutschland%20Juni%202015.%202015. Zugegriffen: 29.07.2019

14.

Stoeckle E, Coindre JM, Bonvalot S, Kantor G, Terrier P, Bonichon F et al (2001) Prognostic factors in retroperitoneal sarcoma: a multivariate analysis of a series of 165 patients of the French Cancer Center Federation Sarcoma Group. Cancer 15;92(2):359–368

15.

Bonvalot S, Gaignard E, Stoeckle E, Meeus P, Decanter G, Carrere S et al (2019) Survival benefit of the surgical management of retroperitoneal sarcoma in a reference center: a nationwide study of the French sarcoma group from the NetSarc database. Ann Surg Oncol 26(7):2286–2293

16.

Lewis JJ, Leung D, Woodruff JM, Brennan MF (1998) Retroperitoneal soft-tissue sarcoma: analysis of 500 patients treated and followed at a single institution. Ann Surg 228(3):355–365

17.

Hassan I, Park SZ, Donohue JH, Nagorney DM, Kay PA, Nasciemento AG et al (2004) Operative management of primary retroperitoneal sarcomas: a reappraisal of an institutional experience. Ann Surg 239(2):244–250

18.

Catton CN, O'Sullivan B, Kotwall C, Cummings B, Hao Y, Fornasier V (1994) Outcome and prognosis in retroperitoneal soft tissue sarcoma. Int J Radiat Oncol Biol Phys 30;29(5):1005–1010

19.

Koshy M, Landry JC, Lawson JD, Staley CA, Esiashvili N, Howell R et al (2003) Intensity modulated radiation therapy for retroperitoneal sarcoma: a case for dose escalation and organ at risk toxicity reduction. Sarcoma 7(3–4):137–148

20.

Bossi A, De Wever I, Van Limbergen E, Vanstraelen B (2007) Intensity modulated radiation-therapy for preoperative posterior abdominal wall irradiation of retroperitoneal liposarcomas. Int J Radiat Oncol Biol Phys 1;67(1):164–170

21.

Nussbaum DP, Rushing CN, Lane WO, Cardona DM, Kirsch DG, Peterson BL et al (2016) Preoperative or postoperative radiotherapy versus surgery alone for retroperitoneal sarcoma: a case-control, propensity score-matched analysis of a nationwide clinical oncology database. Lancet Oncol 17(7):966–975

22.

Fiorenza F, Abudu A, Grimer RJ, Carter SR, Tillman RM, Ayoub K et al (2002) Risk factors for survival and local control in chondrosarcoma of bone. J Bone Joint Surg Br 84(1):93–99

23.

Mitchell AD, Ayoub K, Mangham DC, Grimer RJ, Carter SR, Tillman RM (2000) Experience in the treatment of dedifferentiated chondrosarcoma. J Bone Joint Surg Br 82(1):55–61

24.

Hepel JT, Kinsella TJ (2013) Osteosarcoma and other primary tumours of the bone. In: Halperin EC, Wazer DE, Perez CA, Brady LW (Hrsg) Perez and Brady's Principles and Practice of Radiation Oncology. Lippincott Williams & Wilkins, Philadelphia, S 1609–1617
Ethics declarations
Interessenkonflikt
C. Jentsch, C. Hofbauer, S. Makocki und E. Troost geben an, dass kein Interessenkonflikt besteht.
Für diesen Beitrag wurden von den Autoren keine Studien an Menschen oder Tieren durchgeführt. Für die aufgeführten Studien gelten die jeweils dort angegebenen ethischen Richtlinien.
About this article
Cite this article
Jentsch, C., Hofbauer, C., Makocki, S. et al. Spätkomplikationen nach neo-/adjuvanter Strahlentherapie und Resektion von Sarkomen der Extremitäten oder des Beckens/Retroperitoneums. Orthopäde 49, 177–182 (2020). https://doi.org/10.1007/s00132-020-03881-0
Schlüsselwörter
Extremitäten

Photonentherapie

Protonentherapie

Radiotherapie, intensitätsmodulierte

Weichgewebstumore
Keywords
Limb

Photon beam therapy

Proton beam therapy

Radiotherapy, intensity-modulated

Soft tissue neoplasms