Zusammenfassung
Die Biopsie ist eine diagnostische Gewebeentnahme, die bei unklaren Veränderungen des Knochens oder der Weichteile zur weiteren histologischen Abklärung durchgeführt wird. Es gibt verschiedene Möglichkeiten, die Gewebeentnahme vorzunehmen. Die Indikation zur Biopsie sollte in einem spezialisierten Zentrum gestellt werden, ebenso die Festlegung der Biopsieform (Exzisions‑, Inzisions- oder bildgestützte Biopsie), die nach bestimmten Richtlinien durchgeführt werden muss. Die Probeentnahme muss repräsentativ und mengenmäßig ausreichend sein, um eine sichere histologische Diagnose zu gewährleisten und dann die Therapie entsprechend planen zu können. Bei der Biopsie ist für den korrekten Zugangsweg die definitive Resektionsplanung zu berücksichtigen, daher sollte sie an dem Tumorzentrum durchgeführt werden, an dem auch die anschließende Resektion erfolgt. Bekannt ist, dass Patienten, die sich einer Biopsie in einem solchen Zentrum unterzogen haben, davon im Hinblick auf die lokale Tumorkontrolle profitieren.
Abstract
Biopsy followed by histopathological assessment is the key procedure to establish the correct diagnosis of unclear bone or soft tissue tumors. There are several possibilities to obtain a biopsy specimen. The indication for biopsy should be established in a specialized center, as should the type of biopsy (fine needle, incisional, excisional, percutaneous CT-guided/navigated biopsy), which must be performed according to established guidelines. The tumor biopsy must be representative and adequate in terms of quantity, to enable a conclusive histopathological diagnosis and planning of appropriate treatment. For the correct biopsy tract, the surgical approach for definitive resection must be considered; thus, biopsy should be conducted in the center where the subsequent resection will be performed. Of note, patients whose biopsy is performed at a specialized musculoskeletal tumor center benefit in terms of improved local tumor control.
This is a preview of subscription content, log in to check access.
Access options
Buy single article
Instant access to the full article PDF.
US$ 39.95
Price includes VAT for USA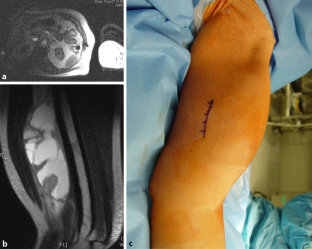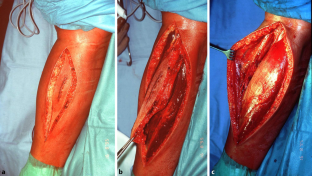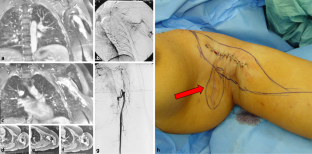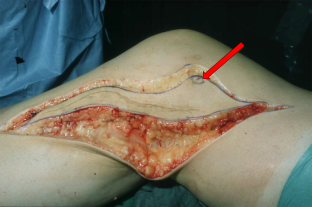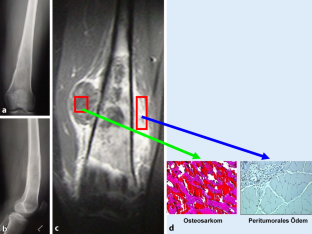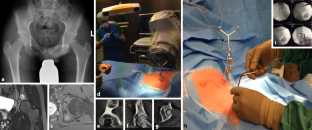 Abbreviations
FISH:

Fluoreszenz-in-situ-Hybridisierung

KM:

Kontrastmittel

PCR:

Polymerase-Kettenreaktion

PET:

Positronenemissionstomographie
Literatur
Verwendete Literatur
1.

Ashford RU, McCarthy SW, Stalley PD (2006) Surgical biopsy with intra-operative frozen section. An accurate and cost-effective method for diagnosis of musculoskeletal sarcomas. J Bone Joint Surg Br 88(9):1207–1211

2.

Bancroft LW, Peterson JJ, O'Connor MI (2007) Compartmental anatomy relevant to biopsy planning. Semin Musculoskelet Radiol 11:16–27

3.

Bannasch H, Eisenhardt S, Stark GB (2011) Diagnostik und Therapie von Weichteilsarkomen der Extremitäten. Dtsch Arztebl. https://doi.org/10.3238/arztebl.2011.0032

4.

Bramer JAM, Abudu AA, Tillman RM (2007) Do pathological fractures influence survival and local recurrence rate in bony sarcomas? Eur J Cancer 43:1944–1951

5.

Campanacci M (1999) Bone and soft tissue tumors. Springer, Wien

6.

Candrasekar CR, Wafa H, Abudu A (2008) The effect of an unplanned excision of asoft-tissue sarcoma on prognosis. J Bone Joint Surg Br 90(2):203–208

7.

Casali PG, Bielack S, Aro NH (2018) Bone sarcomas: ESMO-PaedCan-EURACAN Clinical Practice Guidelines for diagnosis, treatment and follow-up. Ann Oncol 29(4):iv51–iv67

8.

Domanski HA, Akerman M, Carlen B et al (2005) Core-needle biopsy performed by the cytopathologist: a technique to complement fine-needle aspiration of soft tissue and bone lesions. Cancer 105:229–239

9.

Dupuy DE, Rosenberg AE, Punyaratabandhu T et al (1998) Accuracy of CT-guided needle biopsy of musculoskeletal neoplasms. AJR Am J Roentgenol 171:759–762

10.

Engström K, Bergh P, Löfvenberg R et al (2008) Liposarcoma. Outcome based on the Scandinavian Sarcoma Group register. Cancer 113(7):1649–1656

11.

Funovics PT, Vaselic S, Dominkus M (2010) The impact of reexcision of inadequately resected soft tissue sarcomas on surgical therapy, results and prognosis: a single institution experience with 682 patients. J Surg Oncol 102(6):626–633

12.

Freyschmidt J, Ostertag H, Jundt G (1998) Knochentumoren. Klinik, Radiologie, Pathologie. Springer, Berlin

13.

Kang S, Han I, Kim HS (2013) Unplanned excision of soft tissue sarcoma: the impact of the referring hospital. Surg Oncol 22(2):e17–22

14.

Lenze U, Knebel C, von Eisenhardt-Rothe R (2018) Diagnostik und Therapie primärer Knochentumoren. Orthopädie und Unfallchirurgie up2date. https://doi.org/10.1055/s-0043-120311

15.

Mankin HJ, Lange TA, Spanier SS (1982) The hazards of biopsy in patients with malignant primary bone and soft-tissue tumors. The Journal of Bone and Joint Surgery 64:1121–1127

16.

Mankin HJ, Lange TA, Spanier SS (2006) The Classic: the hazards of biopsy in patients with malignant primary bone and soft-tissue tumors. Clin Orthop Relat Res 450:4–10

17.

Robert Koch-Institut (Hrsg.) und die Gesellschaft der epidemiologischen Krebsregister in Deutschland e. V. (2015) Institut für Krebsepidemiologie, Methodik entsprechend der Hochrechnungen für den GEKID-Atlas, Februar 2017; Todesursachenstatistik des Bundes. www.gbe-bund.d. Zugegriffen: 16. Febr. 2017 (Krebs in Deutschland 2011/2012. Berlin)

18.

Schaser KD, Bail HJ, Haas NP, Melcher I (2002) Behandlungskonzepte bei benignen Knochentumoren und tumorsimulierenden Knochenläsionen. Chirurg 73:1181–1190

19.

Schaser K‑D, Melcher I (2012) Hüfte und Oberschenkel/Tumorchirurgie des Femurs. In: Haas NP, Krettek C (Hrsg) Tscherne Unfallchirurgie. Springer, Berlin Heidelberg, S 397–431

20.

Schlegel M, Zeumer M, Prodinger PM, von Luettichau I (2018) Impact of pathological fractures on the prognosis of primary malignant bone sarcoma in children and adults: a single-center retrospective study of 205 patients. Oncology 94(6):354–362

21.

Van Dünen B, Freyschmidt J (2002) Standardisiertes Vorgehen bei Knochentumorverdacht. Chirurg 73:1153–1161

22.

Zeitfang F, Sabo D, Ewerbeck V (2000) Die pathologische Fraktur bei primär malignen Knochentumoren. Chirurg 71:1121–1125
Weiterführende Literatur
23.

Lehnert T, Cardona S, Treiber M et al (2009) Primary and locally recurrent retroperitoneal soft-tissue sarcoma: local control and survival. Eur J Surg Oncol 35(9):986–993

24.

Mohr Z, Hirche C, Hünerbein M (2012) Vacuum-assisted minimally invasive biopsy of soft-tissue tumors. J Bone Joint Surg Am 94(2):103–109

25.

Rechl H, Kirchhoff C, von Eisenhart-Rothe R (2011) Diagnosis of malignant bone and soft tissue tumors. Orthopade 40(10):931–941

26.

Zacherl M, Giessauf C, Schwantzer G et al (2009) Revision of inadequately treated softtissue sarcoma is associated with increased need for plastic or reconstructive surgery. Eur Surg 41(4):155–162
Ethics declarations
Interessenkonflikt
D. Winkler, H. Fritzsche, K.‑D. Schaser und C. Hofbauer geben an, dass kein Interessenkonflikt besteht.
Für diesen Beitrag wurden von den Autoren keine Studien an Menschen oder Tieren durchgeführt. Für die aufgeführten Studien gelten die jeweils dort angegebenen ethischen Richtlinien.
About this article
Cite this article
Winkler, D., Fritzsche, H., Schaser, K. et al. Biopsie muskuloskeletaler Tumoren. Orthopäde 49, 88–97 (2020). https://doi.org/10.1007/s00132-020-03875-y
Schlüsselwörter
Biopsieformen

Radiologische Diagnostik

Weichteilsarkome

Pathologische Fraktur

Blutung
Keywords
Biopsy forms

Radiological diagnostics

Soft tissue sarcomas

Pathological fracture

Bleeding