Zusammenfassung
Aufgrund der Komplexität und Diversität der Erkrankungen in der Leistenregion bleibt die Abgrenzung der verschiedenen Weichteil- und Knochenpathologien im klinischen Alltag eine differenzialdiagnostische Herausforderung. Beim Sportler müssen bei einer Schmerzlokalisation im Bereich der Leiste das femoroacetabuläre Impingement (FAI) und die Sportlerleiste als wichtige Ursachen für den Leistenschmerz in Betracht gezogen werden, wobei das häufige Auftreten von Doppelpathologien die Diagnostik weiter erschwert. Trotz der Bedeutung des Leistenschmerzes und seiner Differenzialdiagnosen im klinischen Alltag existieren aber bisher keine anerkannten Empfehlungen für das diagnostische Vorgehen. Mit diesem Ziel fand im Februar 2017 ein Konsensustreffen statt, an dem eine paritätisch zusammengesetzte Gruppe von Leisten- und Hüftgelenkchirurgen teilnahm. Mit der Formulierung von Empfehlungen und der Erstellung eines praktikablen Diagnostikpfads sollen die an der Behandlung dieser Patienten beteiligten Kollegen sensibilisiert werden, ferner soll die Qualität der Diagnostik von Leistenschmerzen im klinischen Alltag verbessert werden.
Abstract
As a result of the complexity and diversity of diseases in the region of the groin, differentiation of the various soft-tissue and bone pathologies remains a challenge for differential diagnosis in routine clinical practice. In the case of athletes with pain localized in the area of the groin, femoroacetabular impingement (FAI) and athlete's groin must be considered as important causes of the groin pain, whereby the common occurrence of double pathologies further complicates diagnosis. Despite the importance of groin pain and its differential diagnoses in everyday clinical practice, there has been a lack of recognized recommendations for diagnostic procedure to date. To this end, a consensus meeting was held in February 2017, in which a group composed equally of groin and hip surgeons took part. With the formulation of recommendations and the establishment of a practicable diagnostic path, colleagues that are involved in treating such patients should be sensitized to this issue and the quality of the diagnosis of groin pain improved in routine clinical practice.
Access options
Buy single article
Instant access to the full article PDF.
US$ 39.95
Tax calculation will be finalised during checkout.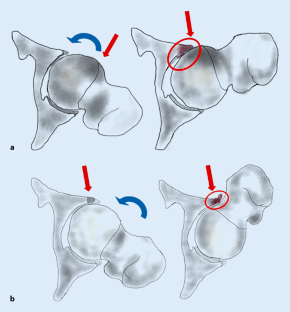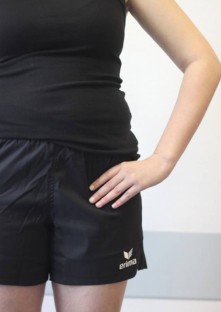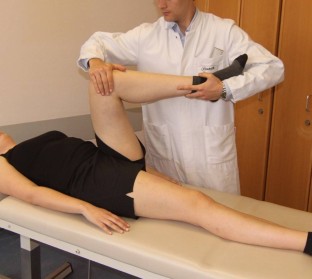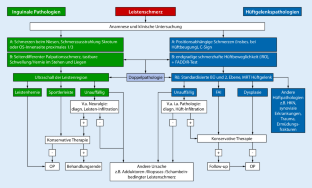 Abbreviations
AGA:

Gesellschaft für Arthroskopie und Gelenkchirurgie

FADDIR:

"Flexion, adduction, internal rotation"

FAI:

Femoroacetabuläres Impingement
Literatur
1.

Larson CM (2014) Sports hernia/athletic pubalgia: evaluation and management. Sports Health 6(2):139–144

2.

Birmingham PM, Kelly BT, Jacobs R, McGrady L, Wang M (2012) The effect of dynamic femoroacetabular impingement on pubic symphysis motion: a cadaveric study. Am J Sports Med 40(5):1113–1118

3.

Weir A, Brukner P, Delahunt E, Ekstrand J, Griffin D, Khan KM et al (2015) Doha agreement meeting on terminology and definitions in groin pain in athletes. Br J Sports Med 49(12):768–774

4.

de Sa D, Hölmich P, Phillips M, Heaven S, Simunovic N, Philippon MJ, Ayeni OR (2016) Athletic groin pain: a systematic review of surgical diagnoses, investigations and treatment. Br J Sports Med 50(19):1181–1186

5.

Hölmich P, Uhrskou P, Ulnits L, Kanstrup IL, Nielsen MB, Bjerg AM, Krogsgaard K (1999) Effectiveness of active physical training as treatment for long-standing adductor-related groin pain in athletes: randomised trial. Lancet 353(9151):439–443

6.

Blankenbaker DG, Tuite MJ (2008) Iliopsoas musculotendinous unit. Semin Musculoskelet Radiol 12(1):13–27

7.

Krüger J, Miltner O (2009) Die ostitis pubis in der sportmedizinischen praxis. Sportorthop Sporttraumatol Sports Orthop Traumatol 25(4):300–305

8.

Buckland AJ, Miyamoto R, Patel RD, Slover J, Razi AE (2017) Differentiating hip pathology from lumbar spine pathology: key points of evaluation and management. J Am Acad Orthop Surg 25(2):e23–34

9.

Muschaweck U, Gollwitzer H, Conze J (2015) Sportsmen's groin. Definition, differential diagnostics and therapy. Orthopade 44(2):173–187

10.

Munegato D, Bigoni M, Gridavilla G, Olmi S, Cesana G, Zatti G (2015) Sports hernia and femoroacetabular impingement in athletes: A systematic review. World J Clin Cases 3(9):823–830

11.

Tibor LM, Sekiya JK (2008) Differential diagnosis of pain around the hip joint. Arthroscopy 24(12):1407–1421

12.

Osteopatica dinamica del pubis (1966) Proceedings of the XVI world congress of sports medicine

13.

Sheen AJ, Stephenson BM, Lloyd DM, Robinson P, Fevre D, Paajanen H et al (2014) 'Treatment of the sportsman's groin': British hernia society's 2014 position statement based on the manchester consensus conference. Br J Sports Med 48(14):1079–1087

14.

Muschaweck U, Berger LM (2010) Sportsmen's groin-diagnostic approach and treatment with the minimal repair technique: A single-center uncontrolled clinical review. Sports Health 2(3):216–221

15.

Dimitrakopoulou A, Schilders E (2016) Sportsman's hernia? An ambiguous term. J Hip Preserv Surg 25:hnv83

16.

Waldén M, Hägglund M, Ekstrand J (2015) The epidemiology of groin injury in senior football: a systematic review of prospective studies. Br J Sports Med 49(12):792–797

17.

Murray RO (1965) The aetiology of primary osteoarthritis of the hip. Br J Radiol 38(455):810–824

18.

Myers SR, Eijer H, Ganz R (1999) Anterior femoroacetabular impingement after periacetabular osteotomy. Clin Orthop Relat Res (363):93–99. https://www.ncbi.nlm.nih.gov/pubmed/10379309

19.

Ganz R, Parvizi J, Beck M, Leunig M, Nötzli H, Siebenrock KA (2003) Femoroacetabular impingement: a cause for osteoarthritis of the hip. Clin Orthop Relat Res (417):112–120. https://doi.org/10.1097/01.blo.0000096804.78689.c2

20.

Gollwitzer H, Banke IJ, Schauwecker J (2016) Hip arthroscopy. Orthopade 45(2):183–193 (quiz 194–195)

21.

Leunig M, Ganz R (2014) The evolution and concepts of joint-preserving surgery of the hip. Bone Joint J 96(1):5–18

22.

Günther KP, Thielemann F, Hartmann A, Bernstein P (2008) Combined hip-dysplasia and femuroacetabular impingement. Diagnosis and simultaneous surgical treatment. Orthopade 37(6):577–586

23.

Reiman MP, Goode AP, Cook CE, Hölmich P, Thorborg K (2015) Diagnostic accuracy of clinical tests for the diagnosis of hip femoroacetabular impingement/labral tear: A systematic review with meta-analysis. Br J Sports Med 49(12):811

24.

Griffin DR, Dickenson EJ, O'Donnell J, Agricola R, Awan T, Beck M et al (2016) The warwick agreement on femoroacetabular impingement syndrome (FAI syndrome): An international consensus statement. Br J Sports Med 50(19):1169–1176

25.

AGA-Hüft-Komitee (2017) AGA Themenheft Diagnostik des Hüftgelenkes. http://www.aga-online.ch/fileadmin/user_upload/Komitee_Inhalte/Huefte/AGA_Diagnostik_FINAL_Hueftgelenk_10.pdf. Zugegriffen: 30.06.2019

26.

Holmich P, Dienst M (2006) Differential diagnosis of hip and groin pain. Symptoms and technique for physical examination. Orthopade 35(1):10–15

27.

Schneider G, Massmann A, Fries P, Kusma M, Dienst M (2006) Magnetic resonance tomography and arthrography of the hip joint. Orthopade 35(1):22–26, 28–32

28.

Morley N, Grant T, Blount K, Omar I (2016) Sonographic evaluation of athletic pubalgia. Skeletal Radiol 45(5):689–699

29.

Petchprapa CN, Dunham KS, Lattanzi R, Recht MP (2013) Demystifying radial imaging of the hip. Radiographics 33(3):E97–E112

30.

Chadayammuri V, Garabekyan T, Bedi A, Pascual-Garrido C, Rhodes J, O'Hara J, Mei-Dan O (2016) Passive hip range of motion predicts femoral torsion and acetabular version. J Bone Joint Surg Am 98(2):127–134

31.

Shanthanna H (2014) Successful treatment of genitofemoral neuralgia using ultrasound guided injection: A case report and short review of literature. Case Rep Anesthesiol 2014:371703

32.

Krüger J (2017) Die operative therapie der sportlerleiste. Sports Orthop Traumatol 33(2):113–119

33.

Payne JM (2016) Ultrasound-Guided hip procedures. Phys Med Rehabil Clin N Am 27(3):607–629

34.

Lynch TS, Steinhaus ME, Popkin CA, Ahmad CS, Rosneck J (2016) Outcomes after diagnostic hip injection. Arthroscopy 32(8):1702–1711

35.

Gollwitzer H, Schauwecker J, Burgkart R, Rechl H, von Eisenhart-Rothe R (2012) Joint-preserving surgery of the adult hip. Intertrochanteric femoral osteotomy. Orthopade 41(8):677–688 (quiz 689–690)

36.

Henle P, Tannast M, Siebenrock KA (2008) Imaging in developmental dysplasia of the hip. Orthopade 37(6):525–531

37.

Lerch TD, Steppacher SD, Liechti EF, Siebenrock KA, Tannast M (2016) Bernese periacetabular osteotomy. : Indications, technique and results 30 years after the first description. Orthopade 45(8):687–694

38.

Gollwitzer H, Opitz G, Gerdesmeyer L, Hauschild M (2014) Greater trochanteric pain syndrome. Orthopade 43(1):105–116 (quiz 117–118)

39.

Hufeland M, Hartwig T, Krüger D, Perka C, Haas NP, Schröder JH (2013) Arthroscopic correction of extra-articular subspinal impingement in the hip joint. Orthopade 42(10):879–883

40.

Schröder JH, Geßlein M, Schütz M, Perka C, Krüger D (2018) Open repair of gluteus medius and minimus tendons tears with double-row technique : clinical and radiological results. Orthopade 47(3):238–245

41.

Landgraeber S, Jäger M, Fickert S (2017) Cartilage regeneration surgery on the hip : what is feasible? Orthopade 46(11):928–937

42.

Khan W, Khan M, Alradwan H, Williams R, Simunovic N, Ayeni OR (2015) Utility of intra-articular hip injections for femoroacetabular impingement: a systematic review. Orthop J Sports Med 3(9):2325967115601030

43.

Schröder J (2017) Diagnostische infiltration. In: AGA Themenheft Diagnostik des Hüftgelenkes (http://www.aga-online.ch/ccUpload/upload/files/AGA_Diagnostik_FINAL_Hueftgelenk_10.pdf)

44.

Paajanen H, Montgomery A, Simon T, Sheen AJ (2015) Systematic review: Laparoscopic treatment of long-standing groin pain in athletes. Br J Sports Med 49(12):814–818

45.

Weir A, de Vos RJ, Moen M, Hölmich P, Tol JL (2011) Prevalence of radiological signs of femoroacetabular impingement in patients presenting with long-standing adductor-related groin pain. Br J Sports Med 45(1):6–9

46.

Schröder J (2018) Die Hüftarthroskopie – Etablierung einer neuen minimalinvasiven Operationstechnik. Habilitation
Ethics declarations
Interessenkonflikt
J.H. Schröder, J. Conze, C. Dora, R. Fortelny, C. Gebhart, H. Gollwitzer, A. Hartmann, H. Hoffmann, A. Koch, J. Krüger und R. Lorenz geben an, dass kein Interessenkonflikt besteht.
Für diesen Beitrag wurden von den Autoren keine Studien an Menschen oder Tieren durchgeführt. Für die aufgeführten Studien gelten die jeweils dort angegebenen ethischen Richtlinien.
About this article
Cite this article
Schröder, J.H., Conze, J., Dora, C. et al. Diagnostik-Algorithmus Grenzbereich "FAI und Sportlerleiste". Orthopäde 49, 211–217 (2020). https://doi.org/10.1007/s00132-019-03775-w
Schlüsselwörter
Femoroacetabuläres Impingement

Hüftgelenk

Leiste

Schmerz

Sportverletzungen
Keywords
Femoroacetabular impingement

Hip joint

Groin

Pain

Athletic injuries