Zusammenfassung
"Fersenschmerzen" beschreiben einen sehr häufigen Konsultationsgrund in der fußorthopädischen Praxis, deren weitere differenzialdiagnostische Abklärung für die richtige Therapiefindung entscheidend ist. In der Therapie der häufig zugrunde liegenden Erkrankungen wie der Plantarfasziitis oder der achillären Insertionstendinopathie steht dem behandelnden Arzt eine Vielzahl moderner Verfahren zu Verfügung. Seltenere Erkrankungen wie Tumoren oder Nervenengpasssyndrome müssen davon abgegrenzt und korrekt eingeordnet werden. Dieser Beitrag soll den aktuellen Stand zur Diagnostik und Therapie der häufigsten Entitäten von Fersenpathologien vermitteln.
Abstract
"Heel pain" describes a very common reason for foot orthopedic consultation and the further differential diagnostic investigation is crucial for the choice of correct treatment. In the treatment of frequent underlying diseases, such as plantar fasciitis or insertional tendinopathy of the Achilles tendon, a variety of modern strategies are available. Rarer diseases, such as tumors or nerve entrapment syndromes must be delineated and correctly classified. This article provides the current state of the diagnostics and treatment of the most common entities of heel pathologies.
Access options
Buy single article
Instant access to the full article PDF.
USD 39.95
Price excludes VAT (USA)
Tax calculation will be finalised during checkout.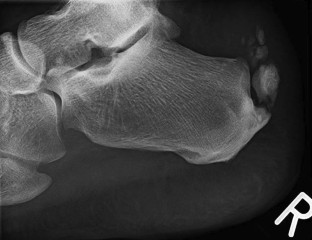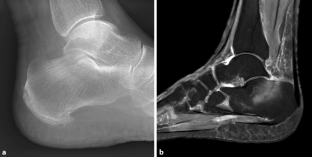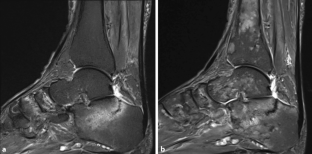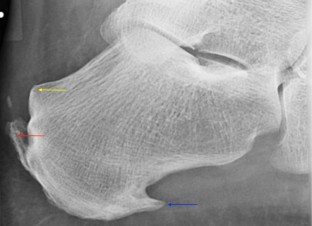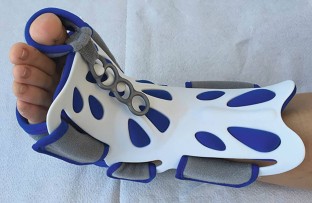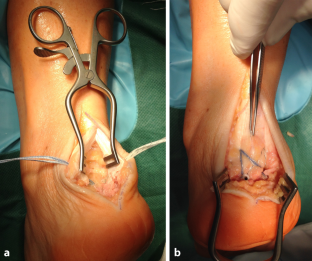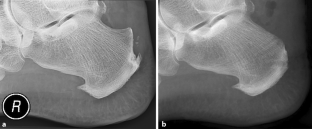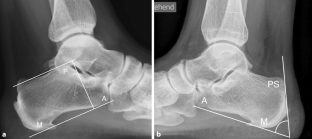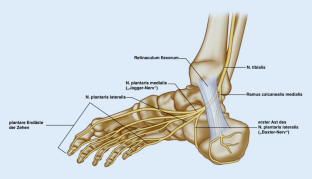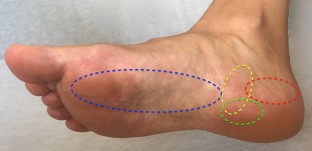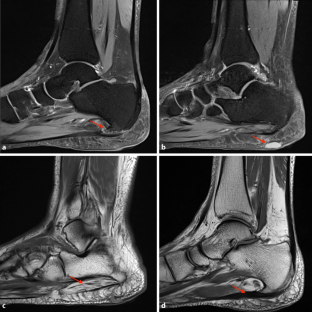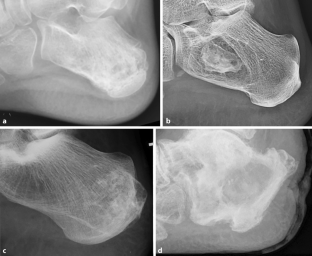 Literatur
Riddle DL, Schappert SM (2004) Volume of ambulatory care visits and patterns of care for patients diagnosed with plantar fasciitis: a national study of medical doctors. Foot Ankle Int 25:303–310. https://doi.org/10.1177/107110070402500505

Cutts S, Obi N, Pasapula C, Chan W (2012) Plantar fasciitis. Ann R Coll Surg Engl 94:539–542. https://doi.org/10.1308/003588412X13171221592456

Wearing SC, Smeathers JE, Urry SR et al (2006) The pathomechanics of plantar fasciitis. Sports Med 36:585–611. https://doi.org/10.2165/00007256-200636070-00004

Stecco C, Corradin M, Macchi V et al (2013) Plantar fascia anatomy and its relationship with Achilles tendon and paratenon. J Anat 223:665–676. https://doi.org/10.1111/joa.12111

Schneider HP, Baca JM, Carpenter BB et al (2018) American college of foot and ankle surgeons clinical consensus statement: diagnosis and treatment of adult acquired Infracalcaneal heel pain. J Foot Ankle Surg 57:370–381. https://doi.org/10.1053/j.jfas.2017.10.018

Gross ML, Davlin LB, Evanski PM (1991) Effectiveness of orthotic shoe inserts in the long-distance runner. Am J Sports Med. https://doi.org/10.1177/036354659101900416

Taunton JE, Ryan MB, Clement DB et al (2002) Plantar fasciitis: a retrospective analysis of 267 cases. Phys Ther Sport. https://doi.org/10.1054/ptsp.2001.0082

Riddle DL, Pulisic M, Pidcoe P, Johnson RE (2003) Risk factors for Plantar fasciitis: a matched case-control study. J Bone Joint Surg Am 85–A:872–877

Irving DB, Cook JL, Menz HB (2006) Factors associated with chronic plantar heel pain: a systematic review. J Sci Med Sport 9:11–22. https://doi.org/10.1016/j.jsams.2006.02.004

Labovitz JM, Yu J, Kim C (2011) The role of hamstring tightness in plantar fasciitis. Foot Ankle Spec 4:141–144. https://doi.org/10.1177/1938640010397341

Patel A, DiGiovanni B (2011) Association between plantar fasciitis and isolated contracture of the gastrocnemius. Foot Ankle Int 32:5–8. https://doi.org/10.3113/FAI.2011.0005

Ehrmann C, Maier M, Mengiardi B et al (2014) Calcaneal attachment of the plantar fascia: MR findings in asymptomatic volunteers. Radiology 272:807–814. https://doi.org/10.1148/radiol.14131410

Donley BG, Moore T, Sferra J et al (2007) The efficacy of oral nonsteroidal anti-inflammatory medication (NSAID) in the treatment of plantar fasciitis: a randomized, prospective, placebo-controlled study. Foot Ankle Int 28:20–23. https://doi.org/10.3113/FAI.2007.0004

Lee SY, McKeon P, Hertel J (2009) Does the use of orthoses improve self-reported pain and function measures in patients with plantar fasciitis? A meta-analysis. Phys Ther Sport 10:12–18. https://doi.org/10.1016/j.ptsp.2008.09.002

Roos E, Engström M, Söderberg B (2006) Foot orthoses for the treatment of plantar fasciitis. Foot Ankle Int 27:606–611. https://doi.org/10.1016/S0276-1092(08)70186-X

David JA, Sankarapandian V, Christopher PRH et al (2017) Injected corticosteroids for treating plantar heel pain in adults. Cochrane Database Syst Rev. https://doi.org/10.1002/14651858.CD009348.pub2

Salvioli S, Guidi M, Marcotulli G (2017) The effectiveness of conservative, non-pharmacological treatment, of plantar heel pain: a systematic review with meta-analysis. Foot (Edinb). https://doi.org/10.1016/j.foot.2017.05.004

Aqil A, Siddiqui MRS, Solan M et al (2013) Extracorporeal shock wave therapy is effective in treating chronic plantar fasciitis: a meta-analysis of RCTs. Clin Orthop Relat Res 471:3645–3652. https://doi.org/10.1007/s11999-013-3132-2

Klonschinski T, Ament SJ, Schlereth T et al (2011) Application of local anesthesia inhibits effects of low-energy extracorporeal shock wave treatment (ESWT) on Nociceptors. Pain Med 12:1532–1537. https://doi.org/10.1111/j.1526-4637.2011.01229.x

Sun J, Gao F, Wang Y et al (2017) Extracorporeal shock wave therapy is effective in treating chronic plantar fasciitis: a meta-analysis of RCTs. Medicine (Baltimore) 96:e6621. https://doi.org/10.1097/MD.0000000000006621

Niewald M, Holtmann H, Prokein B et al (2015) Randomized multicenter follow-up trial on the effect of radiotherapy on painful heel spur (plantar fasciitis) comparing two fractionation schedules with uniform total dose: First results after three months' follow-up. Radiat Oncol. https://doi.org/10.1186/s13014-015-0471-z

Niewald M, Seegenschmiedt MH, Micke O, Graeber S (2008) Randomized multicenter trial on the effect of radiotherapy for plantar Fasciitis (painful heel spur) using very low doses—a study protocol. Radiat Oncol 3:27. https://doi.org/10.1186/1748-717X-3-27

Rong K, Li CX, tao GW et al (2016) Comparison of the efficacy of three isolated gastrocnemius recession procedures in a cadaveric model of gastrocnemius tightness. Int Orthop. https://doi.org/10.1007/s00264-015-2860-1

Hutchison AM, Evans R, Bodger O et al (2013) What is the best clinical test for achilles tendinopathy? Foot Ankle Surg 19:112–117. https://doi.org/10.1016/j.fas.2012.12.006

Benjamin M, Rufai A, Ralphs JR (2000) The mechanism of formation of bony spurs (enthesophytes) in the Achilles tendon. Arthritis Rheum 43:576–583. https://doi.org/10.1002/1529-0131(200003)43:3

Sayana M, Krishna MBBSMS, Maffulli N et al (2005) Insertional tendinopathy of the Achilles tendon: debridement and reattachment of the Achilles tendon using bone anchors. Tech Foot Ankle Surg 4:209–213. https://doi.org/10.1097/01.btf.0000188288.07802.10

Alfredson H, Pietilä T, Jonsson P, Lorentzon R (1998) Heavy-load eccentric calf muscle training for the treatment of chronic Achilles tendinosis. Am J Sports Med 26:360–366. https://doi.org/10.1177/03635465980260030301

Magnussen RAR, Dunn WWR, Thomson AB et al (2009) Nonoperative treatment of midportion Achilles tendinopathy: a systematic review (Structured abstract). Clin J Sport Med 19:54–64. https://doi.org/10.1097/JSM.0b013e31818ef090

Kearney R, Costa ML (2010) Insertional Achilles tendinopathy management: a systematic review. Foot Ankle Int 31:689–694. https://doi.org/10.3113/FAI.2010.0689

Wiegerinck JI, Kerkhoffs GM, van Sterkenburg MN et al (2013) Treatment for insertional Achilles tendinopathy: a systematic review. Knee Surg Sports Traumatol Arthrosc 21:1345–1355. https://doi.org/10.1007/s00167-012-2219-8

Roche AJ, Calder JD (2013) Achilles tendinopathy: a review of the current concepts of treatment. Bone Joint J 95 B:1299–1307

Metcalfe D, Achten J, Costa ML (2009) Glucocorticoid injections in lesions of the Achilles tendon. Foot Ankle Int 30:661–665. https://doi.org/10.3113/FAI.2009.0661

Kearney RS, Parsons N, Metcalfe D, Costa ML (2014) Injection therapies for Achilles tendinopathy. Cochrane Database Syst Rev. https://doi.org/10.1002/14651858.CD010960

Sadoghi P, Rosso C, Valderrabano V et al (2013) The role of platelets in the treatment of Achilles tendon injuries. J Orthop Res. https://doi.org/10.1002/jor.22199

Lind B, Öhberg L, Alfredson H (2006) Sclerosing polidocanol injections in mid-portion Achilles tendinosis: remaining good clinical results and decreased tendon thickness at 2‑year follow-up. Knee surgery. Knee Surg Sports Traumatol Arthrosc 14:1327–1332. https://doi.org/10.1007/s00167-006-0161-3

Willberg L, Sunding K, Öhberg L et al (2008) Sclerosing injections to treat midportion Achilles tendinosis: a randomised controlled study evaluating two different concentrations of Polidocanol. Knee Surg Sports Traumatol Arthrosc 16:859–864. https://doi.org/10.1007/s00167-008-0579-x

Paoloni JA, Appleyard RC, Nelson J et al (2004) Topical glyceryl trinitrate treatment of chronic noninsertional Achilles tendinopathy: a randomized, double-blind, placebo-controlled trial. J Bone Joint Surg 86-A:916–922

DeOrio MJ, Easley ME (2008) Surgical strategies: insertional Achilles tendinopathy. Foot Ankle Int 29:542–550. https://doi.org/10.3113/FAI.2008.0542

van Dijk CN, van Sterkenburg MN, Wiegerinck JI et al (2011) Terminology for Achilles tendon related disorders. Knee Surg Sport Traumatol Arthrosc 19:835–841. https://doi.org/10.1007/s00167-010-1374-z

Lu C‑C, Cheng Y‑M, Fu Y‑C et al (2007) Angle analysis of Haglund syndrome and its relationship with osseous variations and Achilles tendon calcification. Foot Ankle Int 28:181–185. https://doi.org/10.3113/FAI.2007.0181

Jerosch J, Sokkar S, Dücker M, Donner A (2012) Die endoskopische Kalkaneoplastik (EKP) beim Haglund-Syndrom. Indikation, OP-Technik, Befunde, Ergebnisse. Z Orthop Unfall 150:250–256. https://doi.org/10.1055/s-0031-1280344

Baxter DE, Thigpen CM (1984) Heel pain—operative results. Foot Ankle 5:16–25. https://doi.org/10.1177/107110078400500103

Baxter DE, Pfeffer GB (1992) Treatment of chronic heel pain by surgical release of the first branch of the lateral plantar nerve. Clin Orthop Relat Res. https://doi.org/10.1097/00003086-199206000-00029

Brown MN, Pearce BS, Vanetti TK, Trescot AM, Karl HW (2016) Medial calcaneal nerve entrapment. In: Peripher. Nerve entrapments. Springer, Cham, S 871–881

Allam AE, Chang K‑V (2018) Pain, plantar heel. StatPearls Publishing, Treasure Island, FL, USA

Ngo KT, Del Toro DR (2010) Electrodiagnostic findings and surgical outcome in isolated first branch lateral plantar neuropathy: a case series with literature review. Arch Phys Med Rehabil 91:1948–1951. https://doi.org/10.1016/j.apmr.2010.08.022

Moreno García MS, del Río-Martínez PS, Yanguas Barea N, Baltanás Rubio P (2017) Hindfoot Pain: Baxter Neuropathy. Reumatol Clin 13:123. https://doi.org/10.1016/j.reumae.2016.05.003

Rodrigues RN, Lopes AA, Torres JM et al (2015) Compressive neuropathy of the first branch of the lateral plantar nerve: a study by magnetic resonance imaging. Radiol Bras 48:368–372. https://doi.org/10.1590/0100-3984.2013.0028

von Eisenhart-Rothe R, Toepfer A, Salzmann M et al (2011) Primary malignant bone tumors. Orthopade 40:1121–1142. https://doi.org/10.1007/s00132-011-1866-7

Toepfer A (2017) Tumors of the foot and ankle—a review of the principles of diagnostics and treatment. Fuß Sprunggelenk. https://doi.org/10.1016/j.fuspru.2017.03.004

Toepfer N, Recker M, Lenze U, Pohlig F, Gerdesmeyer L, von Eisenhart-Rothe RAH (2018) Distribution patterns of foot and ankle tumors: a university tumor institute experience. BMC Cancer. https://doi.org/10.1186/s12885-018-4648-3

Weger C, Frings A, Friesenbichler J et al (2013) Osteolytic lesions of the calcaneus: results from a multicentre study. Int Orthop 37:1851–1856. https://doi.org/10.1007/s00264-013-2042-y

Diard F, Hauger O, Moinard M et al (2007) Pseudo-cysts, lipomas, infarcts and simple cysts of the calcaneus: are there different or related lesions? J Belge Radiol 90:315–324

Toepfer A (2018) Ossoskopie gutartiger osteolytischer Läsionen des Kalkaneus. Arthroskopie 31:123–133. https://doi.org/10.1007/s00142-017-0172-8

Toepfer A, Lenze U, Gerdesmeyer L et al (2016) Endoscopic resection and allografting for benign osteolytic lesions of the calcaneus. Springerplus 5:427. https://doi.org/10.1186/s40064-016-2059-y

Toepfer A, Lenze U, Harrasser N (2016) Calcaneal ossoscopy. Arthrosc Tech 5:e627–e631. https://doi.org/10.1016/j.eats.2016.02.017
Ethics declarations
Interessenkonflikt
P. Potocnik, B. Hochreiter, N. Harrasser, J. Meester und A. Toepfer geben an, dass kein Interessenkonflikt besteht.
Dieser Beitrag beinhaltet keine von den Autoren durchgeführten Studien an Menschen oder Tieren. Alle Patienten, die über Bildmaterial oder anderweitige Angaben innerhalb des Manuskripts zu identifizieren sind, haben hierzu ihre schriftliche Einwilligung gegeben. Im Falle von nicht mündigen Patienten liegt die Einwilligung eines Erziehungsberechtigten oder des gesetzlich bestellten Betreuers vor.
Additional information
Redaktion
C. Chiari, Wien
H. Gollwitzer, München
J. Grifka, Bad Abbach
M. Jäger, Essen
A. Meurer, Friedrichsheim
D. Pape, Luxemburg
CME-Fragebogen
CME-Fragebogen
In welcher Region kann der Schmerz palpatorisch bei Plantarfasziitis typischerweise ausgelöst werden?
Im distalen Drittel der Plantaraponeurose
Am medialen Ansatzpunkt der Plantaraponeurose plantar unter den Metatarsaleköpfchen 1 und 2
An der lateralen Kalkaneuswand
Plantar medial am Tuber calcanei
An der Spitze des medialen Malleolus
Eine 50-jährige Reinigungsfachfrau klagt in Ihrer Sprechstunde über starke, belastungsabhängige plantare Fersenschmerzen und morgendlichen Anlaufschmerz. Ein Trauma ist nicht erinnerlich. Ihre Mutter habe bereits einen Fersensporn gehabt. Trotz sporadischer Analgesie fühle sie sich nicht mehr imstande zu arbeiten. Klinisch fällt eine maximale Dorsalextension im oberen Sprunggelenk (OSG) von 0° bei gestrecktem Knie auf. Palpatorisch fällt ein gut lokalisierbarer Druckschmerz am plantaren, medialen Tuber calcanei auf. Was ist Ihr nächster Schritt als behandelnder Arzt?
Rückfußmagnetresonanztomographie zum Ausschluss eines Knochentumors im Kalkaneus als mögliche Differenzialdiagnose
Ausbau der Analgesie und Physiotherapie mit gezielten Dehnungsübungen der Wadenmuskulatur und der Plantaraponeurose
Endoskopische Resektion des Fersensporns und Release der Plantaraponeurose
Konventionelles Röntgen des Fußes in 3 Ebenen zur Identifizierung eines Fersensporns
Aufgrund der persistierenden Schmerzen Zuweisung zur lokalen Radiotherapie
Warum ist die Plantarfasziitis ist eine wichtige Differenzialdiagnose des Fersenschmerzes?
Sie betrifft typischerweise männliche Patienten im Ausbildungsalter und verursacht somit einen sozioökonomischen Schaden.
Sie führt unbehandelt zu schwerer Gewebeschädigung am Kalkaneus und erhöht somit das Frakturrisiko wesentlich.
Sie verursacht aufgrund der notwendigen und weitreichenden Diagnostik dem Gesundheitssystem enorm hohe Kosten.
Sie zeigt ohne systemische Steroidtherapie nur eine marginale Chance auf komplette Heilung.
Sie kommt mit ca. 80 % am häufigsten vor, und mit der richtigen Diagnose und Therapie kann einer großen Mehrheit der Patienten zur Beschwerdefreiheit verholfen werden.
In der klinischen Untersuchung gilt welcher Test als sensitivster für die Achillessehnentendinopathie?
Thompson-Test
Matles-Test
Druckdolenz im Bereich der Insertion
Abgeschwächte Plantarflexion
"Too-many toes sign"
Welche Erkrankung kann Symptome ähnlich wie bei der Insertionstendinopathie der Achillessehne hervorrufen und muss deshalb bei der Differenzialdiagnose berücksichtigt werden?
Fraktur des Processus posterior tali
Tendinopathie der Extensor-hallucis-longus-Sehne
Morbus Köhler I
Anteriores Impingement
Tendinopathie der Tibialis-anterior-Sehne
Was ist bei der Injektionstherapie mit Kortikosteroiden im Rahmen der Achillessehneninsertionstendinopathie zu beachten?
Die Infiltration soll direkt in die Sehne stattfinden.
Die Kortikosteroidinjektion in die Sehne ist unbedenklich, kann beliebig oft wiederholt werden.
Die Infiltration sollte standardmäßig zur Diagnosesicherung durchgeführt werden.
Die Infiltration soll, wenn möglich, sonographisch gesteuert und paratendinös erfolgen.
Die Infiltration mit Kortikosteroiden ist die First-line- und wichtigste Therapie.
Welche der folgenden anatomischen Engstellen/Bereiche kann typischerweise zu einer Einklemmung des ersten Astes des N. plantaris lateralis (Baxter-Nerv) führen?
Der osteomuskuläre Kanal zwischen dem Kalkaneus und dem M. abductor digiti minimi
Der Bereich der Kreuzungsstelle zwischen der Sehne des M. peroneus longus und der Plantarfaszie
Der Bereich zwischen den Muskelbäuchen von M. abductor hallucis und M. quadratus plantae
Der Bereich entlang der Sehne des M. flexor digitorum longus auf Höhe des Chiasma plantare (Master's knot of Henry)
Der Bereich unterhalb des Retinaculum extensorum superius
Ihnen wird eine gesunde 35-jährige Laufathletin zugewiesen mit seit einigen Wochen bestehenden Fersenschmerzen. Bei Verdacht auf Plantarfasziitis wurde die Patientin primär konservativ durch den Hausarzt mittels Schuheinlagenversorgung und physiotherapeutisch angeleiteter und selbstständig durchgeführter Dehnungsübung der Gastrocnemiusmuskulatur behandelt. Trotz glaubhafter Compliance und korrekter Technik bei der Durchführung wurden die Schmerzen der Patientin im Verlauf stärker. Sie berichtet von anhaltenden und einschießenden Schmerzsensationen am medialen Fußrand/Ferse mit Ausstrahlung in die ersten 3 Zehen. Welche Verdachtsdiagnose ist am wahrscheinlichsten?
Polyneuropathie
Tendinitis der Sehne des M. flexor digitorum longus
Affektion des ersten Astes des N. plantaris lateralis (Baxter-Neuropathie)
Engpasssyndrom des N. plantaris medialis
Kalkaneare Apophysitis (Morbus Sever)
Bei einer 25-jährigen Medizinstudentin wurde bei einer Röntgenaufnahme nach OSG(oberes Sprunggelenk)-Distorsion eine große Kalkaneuszyste als Zufallsbefund gesehen – wie beraten Sie sie?
Die Kalkaneuszyste stellt eine physiologische Normvariante des Os calcis dar und erfordert keine weitere bildgebende Abklärung oder therapeutische Intervention.
Die Kalkaneuszyste unterscheidet sich histologisch maßgeblich von der juvenilen Knochenzyste anderer Lokalisationen und muss deshalb als eigenständige Entität verstanden werden.
Bei Erreichen einer kritischen Größe kann die Kalkaneuszyste auch bei asymptomatischem Verlauf oder als Zufallsbefund eine Indikation für eine prophylaktische Stabilisierung darstellen.
Aufgrund ihres charakteristischen Erscheinungsbildes auf dem konventionellen Röntgenbild ist die Kalkaneuszyste stets von anderen Osteolysen des Fersenbeins zu unterscheiden.
Die Kalkaneuszyste ist ein Pseudotumor ohne Krankheitswert.
Was ist hinsichtlich Tumorerkrankungen des Fersenbeins wichtig zu wissen?
Der Kalkaneus ist bevorzugte Lokalisation von intraossären Lipomen und juvenilen Knochenzysten.
Maligne Tumoren sind an dieser Lokalisation durch die entsprechende Bildgebung relativ einfach von gutartigen Läsionen zu differenzieren.
Das Tuber calcanei ist häufigster Ausgangspunkt für Knochentumoren des Fersenbeins.
Schmerzlose, asymptomatische Knochenläsionen sind benigne und müssen nicht weiter abgeklärt werden.
Die Überweisung in ein muskuloskeletales Tumorzentrum ist nur bei Nachweis eines Malignoms erforderlich.
About this article
Cite this article
Potocnik, P., Hochreiter, B., Harrasser, N. et al. Differenzialdiagnose des Fersenschmerzes. Orthopäde 48, 261–280 (2019). https://doi.org/10.1007/s00132-019-03690-0
Published:

Issue Date:

DOI: https://doi.org/10.1007/s00132-019-03690-0
Schlüsselwörter
Plantarfasziitis

Fersensporn

Insertionstendinopathie

Baxter-Neuropathie

Kalkaneuszyste
Keywords
Plantar fasciitis

Heel spur

Achilles insertional tendinopathy

Baxter neuropathy

Calcaneal cyst