Zusammenfassung
Die Differenzialdiagnostik zystischer Läsionen des Skeletts ist vielfältig. Neben dem Patientenalter liefern Lokalisation und radiologisches Erscheinungsbild wichtige Informationen zur näheren Eingrenzung. Beim wachsenden Patienten sind die juvenile sowie die aneurysmatische Knochenzyste 2 häufige Entitäten. Zur Unterscheidung ist der Zysteninhalt wegweisend. Während juvenile Knochenzysten mit klarer Flüssigkeit gefüllt sind, ist der Inhalt aneurysmatischer Zysten blutig mit soliden Anteilen. Hinsichtlich der Progredienz weisen aneurysmatische Knochenzysten eine höhere Aktivität auf als solitäre Knochenzysten. Therapeutisch kommt bei juvenilen Knochenzysten die Kürettage inklusive Auffüllung mit Knochenersatzstoffen häufig zur Anwendung. Bei der aneurysmatischen Knochenzyste werden zusätzlich Adjuvanzien eingesetzt. Zur Auffüllung bietet sich Knochenzement an. Dies dient sowohl der Rezidivprophylaxe als auch der erleichterten Rezidiverkennung. Sowohl die juvenile als auch die aneurysmatische Knochenzyste zeigen häufig Rezidive.
Abstract
The differential diagnosis of cystic lesions of the skeleton is multifarious. Besides patient age, the localization and radiologic morphology provide important information for a closer differentiation. Juvenile and aneurysmal bone cysts represent two frequent entities in growing patients. The fluid content of the cysts helps in distinguishing between juvenile and aneurysmal bone cysts. Whereas juvenile bone cysts contain clear fluid, the content of aneurysmal bone cysts consists of blood combined with solid tissue. With respect to progression, aneurysmal bone cysts show a higher activity than solitary bone cysts. The treatment of juvenile bone cysts usually consists of curettage including filling with bone replacement material. For aneurysmal bone cysts the additional use of adjuvants is recommended. Bone cement is preferably used for filling. It shows favorable properties for prophylaxis of recurrence and facilitates the recognition of relapses. Both juvenile and aneurysmal bone cysts often show recurrences.
Access options
Buy single article
Instant access to the full article PDF.
US$ 39.95
Tax calculation will be finalised during checkout.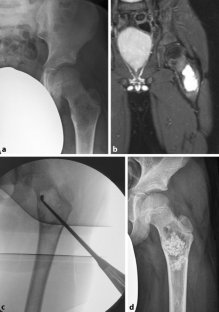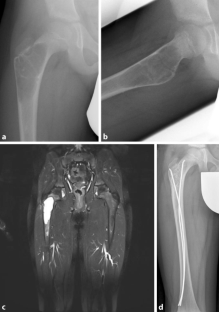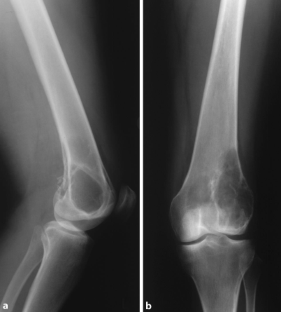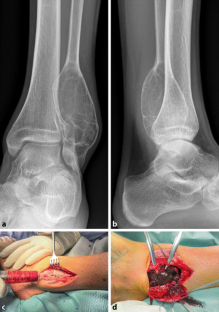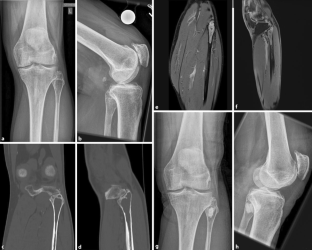 Literatur
1.

Jawad MU, Scully SP (2010) In brief: classifications in brief: enneking classification: benign and malignant tumors of the musculoskeletal system. Clin Orthop Relat Res 468:2000–2002

2.

Enneking WF, Spanier SS, Goodman MA (1980) A system for the surgical staging of musculoskeletal sarcoma. Clin Orthop Relat Res 1980(153):106–120

3.

Madewell JE, Ragsdale BD, Sweet DE (1981) Radiologic and pathologic analysis of solitary bone lesions. Part I: internal margins. Radiol Clin North Am 19:715–748

4.

Boseker EH, Bickel WH, Dahlin DC (1968) A clinicopathologic study of simple unicameral bone cysts. Surg Gynecol Obstet 127:550–560

5.

Hagmann S, Eichhorn F, Moradi B, Gotterbarm T, Dreher T, Lehner B, Zeifang F (2011) Mid- and long-term clinical results of surgical therapy in unicameral bone cysts. BMC Musculoskelet Disord 12:281

6.

Zehetgruber H, Bittner B, Gruber D, Krepler P, Trieb K, Kotz R, Dominkus M (2005) Prevalence of aneurysmal and solitary bone cysts in young patients. Clin Orthop Relat Res 439:136–143

7.

Baker DM (1970) Benign unicameral bone cyst. A study of forty-five cases with long-term follow up. Clin Orthop Relat Res 71:140–151

8.

Parsch K, Arnold P, Jani L, Knapp S (1995) Juvenile bone cysts. Relative value and therapy results of cortisone injections. Orthopäde 24:65–72

9.

Greenspan A (2004) Orthopedic imaging: a practical approach. Lippincott Williams & Wilkins, New York

10.

Stiles DA (1955) Benign bone cyst. II. Radiographic differentiation. J Am Osteopath Assoc 54:555

11.

Garceau GJ, Gregory CF (1954) Solitary unicameral bone cyst. J Bone Joint Surg Am 36:267–280

12.

Glowacki M, Ignys-O'Byrne A, Ignys I, Mankowski P, Melzer P (2010) Evaluation of volume and solitary bone cyst remodeling using conventional radiological examination. Skeletal Radiol 39:251–259

13.

Wilkins RM (2000) Unicameral bone cysts. J Am Acad Orthop Surg 8:217–224

14.

Reynolds J (1969) The "fallen fragment sign" in the diagnosis of unicameral bone cysts. Radiology 92:949–953

15.

Baig R, Eady JL (2006) Unicameral (simple) bone cysts. South Med J 99:966–976

16.

Lokiec F, Wientroub S (1998) Simple bone cyst: etiology, classification, pathology, and treatment modalities. J Pediatr Orthop B 7:262–273

17.

Neer CS, Francis KC, Johnston AD, Kiernan HA Jr. (1973) Current concepts on the treatment of solitary unicameral bone cyst. Clin Orthop Relat Res 1973(97):40–51

18.

Brecelj J, Suhodolcan L (2007) Continuous decompression of unicameral bone cyst with cannulated screws: a comparative study. J Pediatr Orthop B 16:367–372

19.

Hardes J, Schultheiss M, Gosheger G, Schulte M (2009) The juvenile bone cyst: treatment with continuous decompression using cannulated screws. Orthopäde 38:256–262

20.

Donaldson S, Wright JG (2011) Recent developments in treatment for simple bone cysts. Curr Opin Pediatr 23:73–77

21.

Chigira M, Maehara S, Arita S, Udagawa E (1983) The aetiology and treatment of simple bone cysts. J Bone Joint Surg Br 65:633–637

22.

Graham JJ (1952) Solitary unicameral bone cyst; a follow-up study of thirty-one cases with proven pathological diagnoses. Bull Hosp Joint Dis 13:106–130

23.

Malawer MM, Marks MR, McChesney D, Piasio M, Gunther SF, Schmookler BM (1988) The effect of cryosurgery and polymethylmethacrylate in dogs with experimental bone defects comparable to tumor defects. Clin Orthop Relat Res 1988(226):299–310

24.

Fahey JJ, O'Brien ET (1973) Subtotal resection and grafting in selected cases of solitary unicameral bone cyst. J Bone Joint Surg Am 55:59–68

25.

Cottalorda J, Kohler R, Sales de Gauzy J, Chotel F, Mazda K, Lefort G, Louahem D, Bourelle S, Dimeglio A (2004) Epidemiology of aneurysmal bone cyst in children: a multicenter study and literature review. J Pediatr Orthop B 13:389–394

26.

Mankin HJ, Hornicek FJ, Ortiz-Cruz E, Villafuerte J, Gebhardt MC (2005) Aneurysmal bone cyst: a review of 150 patients. J Clin Oncol 23:6756–6762

27.

Mahnken AH, Nolte-Ernsting CC, Wildberger JE, Heussen N, Adam G, Wirtz DC, Piroth W, Bucker A, Biesterfeld S, Haage P, Gunther RW (2003) Aneurysmal bone cyst: value of MR imaging and conventional radiography. Eur Radiol 13:1118–1124

28.

Dormans JP, Hanna BG, Johnston DR, Khurana JS (2004) Surgical treatment and recurrence rate of aneurysmal bone cysts in children. Clin Orthop Relat Res 2004(421):205–211

29.

Louahem D, Kouyoumdjian P, Ghanem I, Mazeau P, Perrochia H, L'Kaissi M, Cottalorda J (2012) Active aneurysmal bone cysts in children: possible evolution after biopsy. J Child Orthop 6:333–338

30.

Murphy WA, Strecker EB, Schoenecker PL (1982) Transcatheter embolisation therapy of an ischial aneurysmal bone cyst. J Bone Joint Surg Br 64:166–168

31.

Celik S, Uludag A, Tosun HB, Serbest S, Gurger M, Kilic S (2016) Unicameral (simple) and aneurysmal bone cysts: the effect of insufficient curettage on recurrence. Pan Afr Med J 24:311

32.

Varshney MK, Rastogi S, Khan SA, Trikha V (2010) Is sclerotherapy better than intralesional excision for treating aneurysmal bone cysts? Clin Orthop Relat Res 468:1649–1659

33.

Topouchian V, Mazda K, Hamze B, Laredo JD, Pennecot GF (2004) Aneurysmal bone cysts in children: complications of fibrosing agent injection. Radiology 232:522–526

34.

Rastogi S, Varshney MK, Trikha V, Khan SA, Choudhury B, Safaya R (2006) Treatment of aneurysmal bone cysts with percutaneous sclerotherapy using polidocanol. A review of 72 cases with long-term follow-up. J Bone Joint Surg Br 88:1212–1216
Ethics declarations
Interessenkonflikt
M. Weber und A. Hillmann geben an, dass kein Interessenkonflikt besteht.
Dieser Beitrag beinhaltet keine von den Autoren durchgeführten Studien an Menschen oder Tieren. Für Bildmaterial oder anderweitige Angaben innerhalb des Manuskripts, über die Patienten zu identifizieren sind, liegt von ihnen und/oder ihren gesetzlichen Vertretern eine schriftliche Einwilligung vor.
Additional information
Redaktion
C. Chiari, Wien
R. von Eisenhart-Rothe, München
H. Gollwitzer, München
J. Grifka, Bad Abbach
M. Jäger, Essen
A. Meurer, Friedrichsheim
CME-Fragebogen
CME-Fragebogen
Welche Klassifikation kommt bei Knochentumoren zur Anwendung?
Schatzker
Snyder
Association Research Circulation Osseous (ARCO)
Enneking
Kellgren/Lawrence
Aktive, aggressiv wachsende aneurysmatische Knochenzysten könnten im Röntgenbild bis zu welchem Lodwick-Stadium in Erscheinung treten?
1A
1B
1C
2
3
Was ist das beste Unterscheidungskriterium zwischen einer solitären und aneurysmatischen Knochenzyste?
Patientenalter
Lokalisation
Erscheinungsbild im Röntgen
Klinik des Patienten
Intraoperativer Inhalt der Zyste
Was ist eine häufige Komplikation bei der Behandlung von solitären und aneurysmatischen Knochenzysten?
Rezidivgefahr
Maligne Entartung
Infektion
Blutung
Nervenverletzung
Welches Verfahren hilft sowohl zur Prophylaxe als auch zur Früherkennung von Rezidiven bei aneurysmatischen Knochenzysten?
Radiosynoviorthese
Spongiosaplastik
Postoperative Bestrahlung
Auffüllen mit Knochenzement
Stoßwellenbehandlung
Welche Raumforderung zeigt sich als Verschattung des Skeletts im Röntgenbild?
Juvenile Knochenzyste
Kompakta-Insel
Aneurysmatische Knochenzyste
Brauner Tumor
Teleangiektatisches Osteosarkom
Welcher Tumor findet sich überwiegend beim älteren Patienten?
Juvenile Knochenzyste
Aneurysmatische Knochenzyste
Metastase
Nichtossifizierendes Fibrom
Teleangiektatisches Osteosarkom
Welche Information ist bei der differenzialdiagnostischen Zuordnung von Knochentumoren unerheblich?
Patientenalter
Lokalisation im Skelett
Abgrenzung des Tumors im Röntgen
Lokalisation am Knochen (Epiphyse, Metaphyse, Diaphyse)
Seitenlokalisation
Welche Aussage trifft für die solitäre Knochenzyste zu?
Immer einkammerige Läsion
Dominanz für das weibliche Geschlecht
Von einer dicken Kapsel umgebene solide Raumforderung im Knochen
Meist asymptomatisch
Prädilektionsstelle proximale Tibia und Radius
Was ist eine übliche Therapieform der juvenilen Knochenzyste?
Bestrahlung
Chemotherapie
Radiojodtherapie
Bisphosphonate
Kürettage mit Auffüllung Eigen‑/Fremdknochen
About this article
Cite this article
Weber, M., Hillmann, A. Knochenzysten – Differenzialdiagnose und therapeutisches Vorgehen. Orthopäde 47, 607–618 (2018). https://doi.org/10.1007/s00132-018-3586-8
Schlüsselwörter
Juvenile Knochenzyste

Aneurysmatische Knochenzyste

Knochentumor

Klassifikation

Therapie
Keywords
Simple bone cyst

Aneurysmal bone cyst

Primary bone lesion

Classification

Therapy