Zusammenfassung
Pathogenese
Die Omarthrose ist durch einen fortschreitenden degenerativen Prozess des gesamten Schultergelenks gekennzeichnet, dem eine chronische Entzündung mit Ausschüttung verschiedener Zytokine und proteolytischer Enzyme zugrunde liegt. Als prädisponierende Faktoren gelten vor allem stattgehabte Unfälle und Operationen aber auch chronische Überbelastungen und Instabilitäten des Glenohumeralgelenks. Klinisch äußert sich die Omarthrose insbesondere durch eine verminderte Gelenkfunktion sowie durch Schmerzen, die nicht selten auch mit kognitiven und psychosozialen Einschränkungen assoziiert sind.
Diagnostik
Im Rahmen der klinischen und radiologischen Diagnostik müssen mögliche Begleitpathologien des Schultergelenks beurteilt und im Hinblick auf das therapeutische Vorgehen berücksichtigt werden. Ist eine endoprothetische Versorgung geplant, sollte zwingend eine präoperative CT-Diagnostik durchgeführt werden, um vor allem die glenoidalen Knochenverhältnisse zu beurteilen, da diese einen entscheidenden Einfluss auf die Wahl des Implantats haben.
Therapie
Im Rahmen der konservativen Therapieoptionen besteht neben oraler Schmerzmedikation und physikalischer Therapie auch die Möglichkeit zur lokalen intraartikulären Injektion, wobei hier die Hyaluronsäure den Kortikosteroiden vor allem hinsichtlich der Wirkungsdauer überlegen scheint.
Abstract
Pathogenesis
Osteoarthritis of the shoulder is characterized by a progressive degenerative process, which is based on chronic inflammation with intra-articular release of different cytokines and proteolytic enzymes. The main predisposing factors are a history of trauma or surgery, as well as chronic overuse or instability of the glenohumeral joint. Affected patients especially suffer from impaired joint function and pain, which are often associated with cognitive and psychosocial restrictions.
Diagnostics
Possible co-pathologies have to be evaluated carefully both clinically and radiologically as they must be taken into account in the therapeutic procedure. If arthroplasty of the shoulder is planned, a pre-operative CT scan is mandatory in order to evaluate the bone stock of the glenoid, which has a decisive influence on the choice of implant.
Treatment
Conservative treatment options are oral pain medication, physical therapy, and intra-articular injections, whereby, in comparison to corticosteroids, hyaluronic acid seems to be advantageous especially with respect to the duration of a positive clinical effect.
This is a preview of subscription content, log in to check access.
Access options
Buy single article
Instant access to the full article PDF.
US$ 39.95
Price includes VAT for USA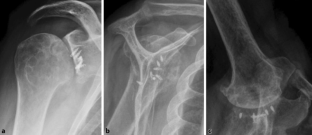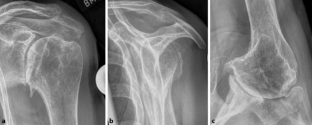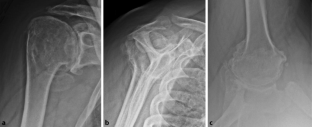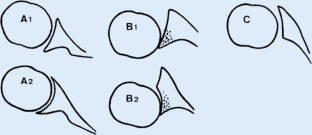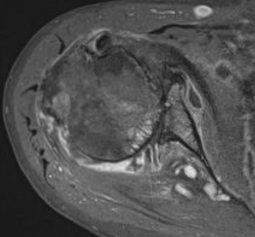 Abbreviations
ACG:

Akromioklavikulargelenk

COX-2‐Hemmer:

Cyclooxygenase-2-Hemmer

MMP:

Matrix-Metalloproteasen

NSAR:

Nichtsteroidale Antirheumatika

PRP:

"Platelet-rich plasma"

RM:

Rotatorenmanschette
Literatur
1.

Bennell KL, Buchbinder R, Hinman RS (2015) Physical therapies in the management of osteoarthritis: current state of the evidence. Curr Opin Rheumatol 27:304–311. https://doi.org/10.1097/BOR.0000000000000160

2.

Chalmers PN, Salazar DH, Steger-May K et al (2016) Radiographic progression of arthritic changes in shoulders with degenerative rotator cuff tears. J Shoulder Elbow Surg 25:1749–1755. https://doi.org/10.1016/j.jse.2016.07.022

3.

Cruess RL (1976) Steroid-induced avascular necrosis of the head of the humerus. Natural history and management. J Bone Joint Surg Br 58:313–317

4.

Flurin PH, Hardy P, Valenti P et al (2017) Osteoarthritis after rotator cuff repair: a 10-year follow-up study. Orthop Traumatol Surg Res 103:477–481. https://doi.org/10.1016/j.otsr.2017.03.007

5.

Franceschi F, Papalia R, Del Buono A et al (2011) Glenohumeral osteoarthritis after arthroscopic Bankart repair for anterior instability. Am J Sports Med 39:1653–1659. https://doi.org/10.1177/0363546511404207

6.

Gerber A, Lehtinen JT, Warner JJ (2003) Glenohumeral osteoarthritis in active patients: diagnostic tips and complete management options. Phys Sportsmed 31:33–40. https://doi.org/10.3810/psm.2003.3804.3312

7.

Gouttebarge V, Inklaar H, Backx F et al (2015) Prevalence of osteoarthritis in former elite athletes: a systematic overview of the recent literature. Rheumatol Int 35:405–418. https://doi.org/10.1007/s00296-014-3093-0

8.

Gross C, Dhawan A, Harwood D et al (2013) Glenohumeral joint injections: a review. Sports Health. https://doi.org/10.1177/1941738112459706

9.

Habermeyer P, Magosch P, Weiss C et al (2017) Classification of humeral head pathomorphology in primary osteoarthritis: a radiographic and in vivo photographic analysis. J Shoulder Elbow Surg 26:2193–2199. https://doi.org/10.1016/j.jse.2017.07.009

10.

Hamada K, Fukuda H, Mikasa M et al (1990) Roentgenographic findings in massive rotator cuff tears. A long-term observation. Clin Orthop Relat Res 254:92–96

11.

Harris KD, Deyle GD, Gill NW et al (2012) Manual physical therapy for injection-confirmed nonacute acromioclavicular joint pain. J Orthop Sports Phys Ther 42:66–80. https://doi.org/10.2519/jospt.2012.3866

12.

Hawker GA (2009) Experiencing painful osteoarthritis: what have we learned from listening? Curr Opin Rheumatol 21:507–512. https://doi.org/10.1097/BOR.0b013e32832e99d7

13.

Ho CY, Sole G, Munn J (2009) The effectiveness of manual therapy in the management of musculoskeletal disorders of the shoulder: a systematic review. Man Ther 14:463–474. https://doi.org/10.1016/j.math.2009.03.008

14.

Hsu JE, Reuther KE, Sarver JJ et al (2011) Restoration of anterior-posterior rotator cuff force balance improves shoulder function in a rat model of chronic massive tears. J Orthop Res 29:1028–1033. https://doi.org/10.1002/jor.21361

15.

Hussain N, Johal H, Bhandari M (2017) An evidence-based evaluation on the use of platelet rich plasma in orthopedics – a review of the literature. SICOT J 3:57. https://doi.org/10.1051/sicotj/2017036

16.

Kerr R, Resnick D, Pineda C et al (1985) Osteoarthritis of the glenohumeral joint: a radiologic-pathologic study. AJR Am J Roentgenol 144:967–972

17.

Kircher J, Morhard M, Magosch P et al (2010) How much are radiological parameters related to clinical symptoms and function in osteoarthritis of the shoulder? Int Orthop 34:677–681. https://doi.org/10.1007/s00264-009-0846-6

18.

Krych AJ, Sousa PL, King AH et al (2015) The effect of cartilage injury after arthroscopic stabilization for shoulder instability. Orthopedics 38:e965–e969. https://doi.org/10.3928/01477447-20151020-03

19.

Kuhn JE, Dunn WR, Sanders R et al (2013) Effectiveness of physical therapy in treating atraumatic full-thickness rotator cuff tears: a multicenter prospective cohort study. J Shoulder Elbow Surg 22:1371–1379. https://doi.org/10.1016/j.jse.2013.01.026

20.

Kumar N, Newman RJ (1999) Complications of intra- and peri-articular steroid injections. Br J Gen Pract 49:465–466

21.

Kwon YW, Eisenberg G, Zuckerman JD (2013) Sodium hyaluronate for the treatment of chronic shoulder pain associated with glenohumeral osteoarthritis: a multicenter, randomized, double-blind, placebo-controlled trial. J Shoulder Elbow Surg 22:584–594. https://doi.org/10.1016/j.jse.2012.10.040

22.

Loughlin J (2015) Genetic contribution to osteoarthritis development: current state of evidence. Curr Opin Rheumatol 27:284–288. https://doi.org/10.1097/BOR.0000000000000171

23.

Malemud CJ (2015) Biologic basis of osteoarthritis: state of the evidence. Curr Opin Rheumatol 27:289–294. https://doi.org/10.1097/BOR.0000000000000162

24.

Marx RG, Mccarty EC, Montemurno TD et al (2002) Development of arthrosis following dislocation of the shoulder: a case-control study. J Shoulder Elbow Surg 11:1–5. https://doi.org/10.1067/mse.2002.119388

25.

Merolla G, Sperling JW, Paladini P et al (2011) Efficacy of Hylan G‑F 20 versus 6‑methylprednisolone acetate in painful shoulder osteoarthritis: a retrospective controlled trial. Musculoskelet Surg 95:215–224. https://doi.org/10.1007/s12306-011-0138-3

26.

Montero A, Mulero JF, Tornero C et al (2016) Pain, disability and health-related quality of life in osteoarthritis-joint matters: an observational, multi-specialty trans-national follow-up study. Clin Rheumatol 35:2293–2305. https://doi.org/10.1007/s10067-016-3248-3

27.

Plath JE, Aboalata M, Seppel G et al (2015) Prevalence of and risk factors for dislocation arthropathy: radiological long-term outcome of arthroscopic Bankart repair in 100 shoulders at an average 13-year follow-up. Am J Sports Med 43:1084–1090. https://doi.org/10.1177/0363546515570621

28.

Samilson RL, Prieto V (1983) Dislocation arthropathy of the shoulder. J Bone Joint Surg Am 65:456–460

29.

Saxena V, D'aquilla K, Marcoon S et al (2016) T1rho magnetic resonance imaging to assess cartilage damage after primary shoulder dislocation. Am J Sports Med 44(11):2800–2806

30.

Spencer BA, Dolinskas CA, Seymour PA et al (2013) Glenohumeral articular cartilage lesions: prospective comparison of non-contrast magnetic resonance imaging and findings at arthroscopy. Arthroscopy 29:1466–1470. https://doi.org/10.1016/j.arthro.2013.05.023

31.

Swanik KA, Huxel Bliven K, Swanik CB (2011) Rotator-cuff muscle-recruitment strategies during shoulder rehabilitation exercises. J Sport Rehabil 20:471–486

32.

Thompson WO, Debski RE, Boardman ND 3rd et al (1996) A biomechanical analysis of rotator cuff deficiency in a cadaveric model. Am J Sports Med 24:286–292

33.

Walch G, Badet R, Boulahia A et al (1999) Morphologic study of the glenoid in primary glenohumeral osteoarthritis. J Arthroplasty 14:756–760

34.

Zumstein V, Kraljevic M, Conzen A et al (2014) Thickness distribution of the glenohumeral joint cartilage: a quantitative study using computed tomography. Surg Radiol Anat 36:327–331. https://doi.org/10.1007/s00276-013-1221-2
Ethics declarations
Interessenkonflikt
J. Mehl, A. B. Imhoff und K. Beitzel geben an, dass kein Interessenkonflikt besteht.
Dieser Beitrag beinhaltet keine von den Autoren durchgeführten Studien an Menschen oder Tieren.
About this article
Cite this article
Mehl, J., Imhoff, A.B. & Beitzel, K. Omarthrose: Pathogenese, Diagnostik und konservative Therapieoptionen. Orthopäde 47, 368–376 (2018). https://doi.org/10.1007/s00132-018-3542-7
Schlüsselwörter
Gelenkinstabilität

Hyaluronsäure

Intraartikuläre Injektion

Omarthrose

Schultergelenk
Keywords
Instability, joint

Hyaluronate sodium

Intraarticular injections

Osteoarthrosis

Glenohumeral joint