Abstract
Purpose
In this article we describe the treatment of compressive vertebral hemangioma.
Methods
Our case series comprised three patients with aggressive hemangioma. We performed a combination of posterior decompression and vertebroplasty for the two patients with a sacral hemangioma and a thoracic hemangioma, and en bloc resection for the third patient, who also had a thoracic lesion.
Results
Surgical intervention is indicated in cases of rapidly progressive tumors or severe myelopathy. All three patients had good clinical results. The follow-up period ranged from 8 to 56 months. The mean blood loss was around 700 ml, and mean surgical time was 2.1 h. Blood loss for the en bloc procedure was around 1,200 ml, and surgical time was 2.3 h.
Conclusion
A combination of posterior decompression, vertebroplasty, and posterior fixation for aggressive hemangioma can reduce blood loss during surgery. For patients with hemangioma and with incomplete paralysis, total en bloc spondylectomy should be considered. Adjuvant radiotherapy can reduce the recurrence of cavernous vertebral hemangiomas.
Zusammenfassung
Ziel der Arbeit
In dem vorliegenden Beitrag beschreiben die Autoren die Behandlung des komprimierenden Wirbelhämangioms.
Methoden
Die vorliegende Fallserie umfasst 3 Patienten mit aggressiven Hämangiomen. Bei den beiden Patienten mit einem Sakral- und einem Thorakalhämangiom führten die Autoren eine Kombination aus einer posterioren Dekompression und Vertebroplastie durch. Bei dem dritten Patienten, der ebenfalls eine thorakale Läsion aufwies, wurde eine eine En-bloc-Resektion durchgeführt.
Ergebnisse
Eine chirurgische Intervention ist indiziert in Fällen mit einem schnell fortschreitenden Tumor oder einer schweren Myelopathie. Alle 3 Patienten wiesen gute klinische Ergebnisse auf. Die Nachsorgephase reichte von 8 bis zu 56 Monaten. Im Mittel betrug der Blutverlust etwa 700 ml und die Op.-Dauer 2,1 h. Bei dem En-bloc-Verfahren lag der Blutverlust bei etwa 1200 ml und die Op.-Dauer bei 2,3 h.
Schlussfolgerung
Eine Kombination aus posteriorer Dekompression, Vertebroplastie und posteriorer Fixation bei aggressivem Hämangiom kann den Blutverlust während der Op. vermindern. Bei Patienten mit Hämangiom und inkompletter Lähmung sollte eine totale En-bloc-Spondylektomie erwogen werden. Mit adjuvanter Strahlentherapie kann die Rezidivrate kavernöser Wirbelhämangiome gesenkt werden.
Access options
Buy single article
Instant access to the full article PDF.
USD 39.95
Price excludes VAT (USA)
Tax calculation will be finalised during checkout.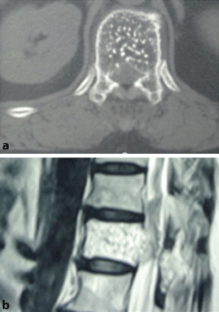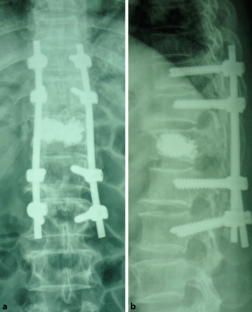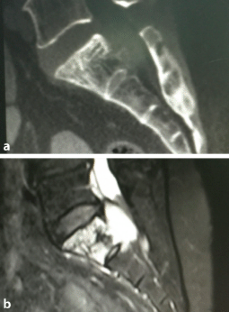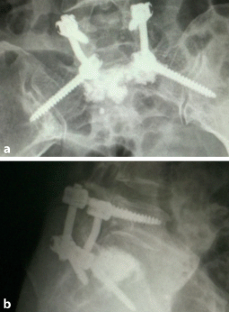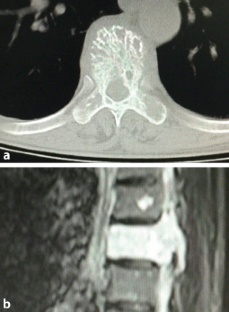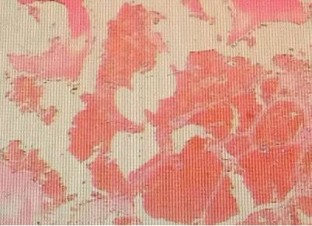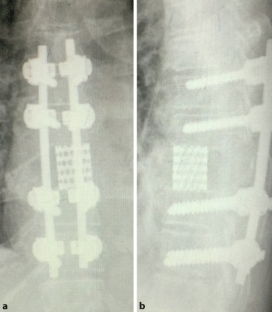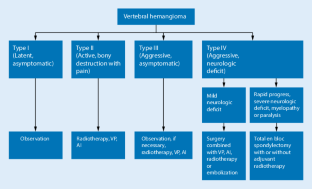 References
Bandiera S, Gasbarrini A, De Iure F, Cappuccio M, Picci P, Boriani S (2012) Symptomatic vertebral hemangioma: the treatment of 23 cases and a review of the literature. Chir Organi Mov 87(1):1–15

Boriani S, Weinstein JN, Biagini R (1997) Primary bone tumors of the spine. Terminology and surgical staging. Spine 22:1036–1044

Schrock WB, Wetzel RJ, Tanner SC, Khan MA (2011) Aggressive hemangioma of the thoracic spine. J Radiol Case Rep 5(10):7–13

Bellomia D, Viglianesi A, Messina M, Caltabiano GA, Chiaramonte R, Pero G, Chiaramonte I (2010) Vertebral aggressive hemangioma. A case report and literature review. Neuroradiol J 23(5):629–632

Shah KC, Chacko AG (2004) Extensive vertebral haemangioma with cord compression in two patients: review of the literature. Br J Neurosurg 18:250–252

Templin CR, Stambough JB, Stambough JL (2004) Acute spinal cord compression caused by vertebral hemangioma. Spine J 4:595–600

Qiao Z, Jia N, He Q (2015) Does preoperative transarterial embolization decrease blood loss during spine tumor surgery? Interv Neuroradiol 21(1):129–135

Deramond H, Depriester C, Galibert P, Le Gars D (1998) Percutaneous vertebroplasty with polymethylmethacrylate. Technique, indications, and results. Radiol Clin North Am 36:533–546

Atalay B, Caner H, Yilmaz C, Altinors N (2006) Sacral kyphoplasty for relieving pain caused by sacral hemangioma. Spinal Cord 44(3):196–199

Agarwal V, Sreedher G, Weiss KR, Hughes MA (2013) Sacroplasty for symptomatic sacral hemangioma: a novel treatment approach. A case report. Interv Neuroradiol 19(2):245–249

Evangelopoulos DS, Kontovazenitis P, Kokkinis K, Glynos M, Korres DS, Sapkas G (2009) Cement leakage in a symptomatic vertebral hemangioma: a case report and review of the literature. Cases J 2(5):714–718

Fox MW, Onofrio BM (1993) The natural history and management of symptomatic and asymptomatic vertebral hemangiomas. J Neurosurg 78:36–45

Pastushyn AI, Slin'Ko EI, Mirzoyeva GM (1998) Vertebral hemangiomas: diagnosis, management, natural history and clinicopathological correlates in 86 patients. Surg Neurol 50(6):535

Feuerman T, Dwan PS, Young RF (1986) Vertebrectomy for treatment of vertebral hemangioma without preoperative embolization. Case report. J Neurosurg 65(3):404–406

Cotten A, Deramond H, Cortet B, Lejeune JP, Leclerc X, Chastanet P et al (1996) Preoperative percutaneous injection of methyl methacrylate and N‑butyl cyanoacrylate in vertebral hemangiomas. AJNR Am J Neuroradiol 17(1):137–142

Ahn H, Jhaveri S, Yee A, Finkelstein J (2005) Lumbar vertebral hemangioma causing cauda equina syndrome: a case report. Spine 30(21):662–664

Inoue T, Miyamoto K, Kodama H, Hosoe H, Shimizu K (2007) Total spondylectomy of a symptomatic hemangioma of the lumbar spine. J Clin Neurosci 14(8):806–809

Vinay S, Khan SK, Braybrooke JR (2011) Lumbar vertebral haemangioma causing pathological fracture, epidural haemorrhage, and cord compression: a case report and review of literature. J Spinal Cord Med 34(3):335–339

Urrutia J, Postigo R, Larrondo R, Martin AS (2011) Clinical and imaging findings in patients with aggressive spinal hemangioma requiring surgical treatment. J Clin Neurosci 18(2):209–212

Syrimpeis V, Vitsas V, Korovessis P (2013) Lumbar vertebral hemangioma mimicking lateral spinal canal stenosis: case report and review of literature. J Spinal Cord Med 37(2):237–242

Jiang L, Liu XG, Yuan HS et al (2014) Diagnosis and treatment of vertebral hemangiomas with neurologic deficit: a report of 29 cases and literature review. Spine J 14(6):944–954
Ethics declarations
Conflict of interest
Y.-l. Chen, X.-D. Hu, N.-J. Xu, W.-Y. Jiang, and W.-H. Ma declare that they have no competing interests.
All procedures followed were in accordance with the ethical standards of the responsible committee on human experimentation (institutional and national) and with the Helsinki Declaration of 1975 (in its most recently amended version). Informed consent was obtained from all patients included in the study.
About this article
Cite this article
Chen, Yl., Hu, Xd., Xu, Nj. et al. Surgical treatment of compressive spinal hemangioma. Orthopäde 47, 221–227 (2018). https://doi.org/10.1007/s00132-017-3503-6
Published:

Issue Date:

DOI: https://doi.org/10.1007/s00132-017-3503-6
Keywords
Spinal cord compression

Spinal neoplasms

Cavernous hemangioma

Vertebroplasty

Surgery
Schlüsselwörter
Rückenmarkkompression

Spinale Neoplasien

Kavernöses Hämangiom

Vertebroplastie

Chirurgie