Zusammenfassung
Hintergrund
Knorpelschäden und Defektzustände der radialen Säule des Ellenbogens sind meist die Folge eines Traumas. Aufgrund des meist jungen Alters der Patienten und des hohen funktionellen Anspruchs mit schweren Gewichtsbelastungen gilt es, endoprothetische Optionen weitestmöglich hinauszuzögern. Sind konservative Maßnahmen nicht mehr ausreichend, stehen radiuskopferhaltende, resezierende und endoprothetische Optionen zur Auswahl. In früheren Stadien der radiocapitellaren Gelenkschädigung kommen kopferhaltende Maßnahmen in Betracht. Mit zunehmender Knorpelschädigung sinkt die Chance auf ein zufriedenstellendes Ergebnis.
Therapeutische Optionen
Der vorliegende Artikel diskutiert neben den kopferhaltenden Maßnahmen auch die Radiuskopfresektion mit oder ohne Anconeusinterposition sowie die Radiuskopfprothese und den radiocapitellaren Ersatz. Die Datenlage ist schwach. Die Vor- und Nachteile der verschiedenen Optionen müssen offen mit den Patienten diskutiert und die Therapieentscheidung individuell gemäß patientenspezifischer Faktoren getroffen werden. Ziel der chirurgischen Therapie muss es sein, die endoprothetische Versorgung – v. a. die Totalendoprothese – soweit wie möglich hinauszuzögern und dabei einen funktionellen Bewegungsumfang bei akzeptablen Schmerzen zu gewährleisten.
Abstract
Background
Radiocapitellar arthritis or defects most often result from trauma. Most of the patients are young and have high functional demands with high load capacities. Therefore, endoprosthetic options should be postponed for as long as possible. If conservative treatment cannot relieve symptoms sufficiently, radial head preservation, resection or replacement options are at the surgeon's disposal. In early stages of radiocapitellar arthritis, radial head preservation options can be taken into account. The chances ofgood results decrease with increasing cartilage damage.
Treatment options
In addition to radial head preservation options this article discusses radial head resection with and without anconeus interposition and radial head as well as radiocapitellar replacement. Clinical data are rare. The advantages and disadvantages of each option must be discussed with the patient and the decision should be made individually on the basis of patient specific factors. The aim must be to postpone endoprosthetic options – especially total elbow arthroplasty – for as long as possible, while assuring a functional range of motion with an acceptable pain level.
Access options
Buy single article
Instant access to the full article PDF.
USD 39.95
Price includes VAT (USA)
Tax calculation will be finalised during checkout.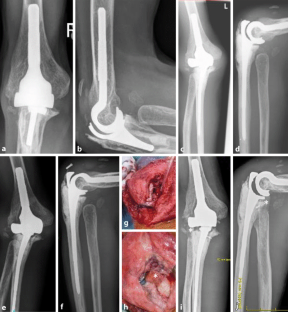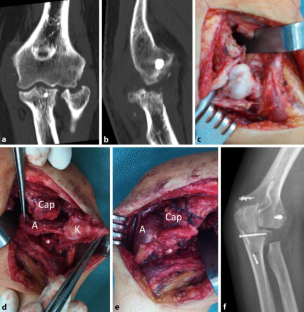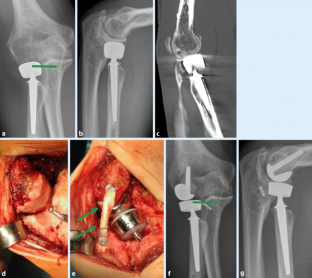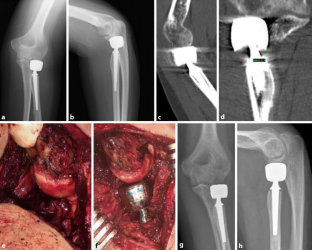 Abbreviations
ASK:

Arthroskopie

IBP:

Instrumented Bone Preserving

LCL:

Laterales Kollateralband

MCL:

Mediales Kollateralband

MEPS:

Mayo Elbow Performance Score

PE:

Polyethylen

PLRI:

Posterolaterale Rotationsinstabilität

TEP:

Totalendoprothese
Literatur
1.

Morrey BF, An KN (1983) Articular and ligamentous contributions to the stability of the elbow joint. Am J Sports Med 11(5):315–319

2.

Morrey BF, An KN, Stormont TJ (1988) Force transmission through the radial head. J Bone Jt Surg Am Vol 70(2):250–256

3.

Damiani M, King GJ (2009) Coronoid and radial head reconstruction in chronic posttraumatic elbow subluxation. Instr Course Lect 58:481–493

4.

Burkhart KJ, Gruszka D, Frohn S, Wegmann K, Rommens PM, Eicker CM et al (2014) Locking plate osteosynthesis of the radial head fractures: Clinical and radiological results. Unfallchir 118(11):949–956. https://doi.org/10.1007/s00113-014-2562-y

5.

Businger A, Ruedi TP, Sommer C (2009) On-table reconstruction of comminuted fractures of the radial head. Injury 41(6):583–588. 10.1016/j.injury.2009.10.026

6.

Duckworth AD, McQueen MM, Ring D (2013) Fractures of the radial head. Bone Jt Journal 95–B(2):151–159

7.

Ikeda M, Sugiyama K, Kang C, Takagaki T, Oka Y (2005) Comminuted fractures of the radial head. Comparison of resection and internal fixation. J Bone Jt Surg Am Vol 87(1):76–84

8.

Lapner M, King GJ (2014) Radial head fractures. Instr Course Lect 63:3–13

9.

Dalal S, Bull M, Stanley D (2007) Radiographic changes at the elbow in primary osteoarthritis: A comparison with normal aging of the elbow joint. J Shoulder Elbow Surg 16(3):358–361

10.

Zubler V, Saupe N, Jost B, Pfirrmann CW, Hodler J, Zanetti M (2010) Elbow stiffness: Effectiveness of conventional radiography and CT to explain osseous causes. Ajr Am J Roentgenol 194(6):W515–W520

11.

Lim YW, van Riet RP, Mittal R, Bain GI (2008) Pattern of osteophyte distribution in primary osteoarthritis of the elbow. J Shoulder Elbow Surg 17(6):963–966

12.

van Brakel RW, Eygendaal D (2006) Intra-articular injection of hyaluronic acid is not effective for the treatment of post-traumatic osteoarthritis of the elbow. Arthroscopy 22(11):1199–1203

13.

Cefo I, Eygendaal D (2011) Arthroscopic arthrolysis for posttraumatic elbow stiffness. J Shoulder Elbow Surg 20(3):434–439

14.

Blonna D, Wolf JM, Fitzsimmons JS, O'Driscoll SW (2013) Prevention of nerve injury during arthroscopic capsulectomy of the elbow utilizing a safety-driven strategy. J Bone Jt Surg Am Vol 95(15):1373–1381

15.

Steinmann SP, King GJ, Savoie FH 3rd (2006) Arthroscopic treatment of the arthritic elbow. Instr Course Lect 55:109–117

16.

Burkhart KJ, Hollinger B (2016) Post-traumatic arthritis in the young patient: Treatment options before the endoprosthesis. Orthopäde 45(10):832–843

17.

Bisicchia S, Tudisco C (2016) Radial head and neck allograft for comminute irreparable fracture-dislocations of the elbow. Orthopedics 39(6):e1205–e1208

18.

Karlstad R, Morrey BF, Cooney WP (2005) Failure of fresh-frozen radial head allografts in the treatment of Essex-Lopresti injury. A report of four cases. J Bone Jt Surg Am Vol 87(8):1828–1833

19.

Szabo RM, Hotchkiss RN, Slater RR Jr. (1997) The use of frozen-allograft radial head replacement for treatment of established symptomatic proximal translation of the radius: Preliminary experience in five cases. J Hand Surg Am 22(2):269–278

20.

Turner RG, Rispoli D, Lopez-Gonzalez FM, O'Driscoll SW (2012) Partial allograft replacement of the radial head in the management of complex fracture-dislocations of the elbow. J Shoulder Elbow Surg 21(3):396–404

21.

Menth-Chiari WA, Poehling GG, Ruch DS (1999) Arthroscopic resection of the radial head. Arthroscopy 15(2):226–230

22.

McLaughlin RE 2nd, Savoie FH 3rd, Field LD, Ramsey JR (2006) Arthroscopic treatment of the arthritic elbow due to primary radiocapitellar arthritis. Arthroscopy 22(1):63–69

23.

Antuna SA, Sanchez-Marquez JM, Barco R (2010) Long-term results of radial head resection following isolated radial head fractures in patients younger than forty years old. J Bone Jt Surg Am Vol 92(3):558–566

24.

Mikic ZD, Vukadinovic SM (1983) Late results in fractures of the radial head treated by excision. Clin Orthop Relat Res 181:220–228

25.

Morrey BF, Schneeberger AG (2002) Anconeus arthroplasty: A new technique for reconstruction of the radiocapitellar and/or proximal radioulnar joint. J Bone Jt Surg Am Vol 84-A(11):1960–1969

26.

Baghdadi YM, Morrey BF, Sanchez-Sotelo J (2014) Anconeus interposition arthroplasty: Mid- to long-term results. Clin Orthop Relat Res 472(7):2151–2161

27.

Shore BJ, Mozzon JB, MacDermid JC, Faber KJ, King GJ (2008) Chronic posttraumatic elbow disorders treated with metallic radial head arthroplasty. J Bone Jt Surg Am Vol 90(2):271–280

28.

Liew VS, Cooper IC, Ferreira LM, Johnson JA, King GJ (2003) The effect of metallic radial head arthroplasty on radiocapitellar joint contact area. Clin Biomech 18(2):115–118

29.

Van Glabbeek F, Van Riet RP, Baumfeld JA, Neale PG, O'Driscoll SW, Morrey BF et al (2004) Detrimental effects of overstuffing or understuffing with a radial head replacement in the medial collateral-ligament deficient elbow. J Bone Jt Surg Am Vol 86-A(12):2629–2635

30.

Heijink A, Morrey BF, Eygendaal D (2014) Radiocapitellar prosthetic arthroplasty: A report of 6 cases and review of the literature. J Shoulder Elbow Surg 23(6):843–849

31.

Giannicola G, Angeloni R, Mantovani A, Rebuzzi E, Merolla G, Greco A et al (2012) Open debridement and radiocapitellar replacement in primary and post-traumatic arthritis of the elbow: A multicenter study. J Shoulder Elbow Surg 21(4):456–463
Ethics declarations
Interessenkonflikt
K. J. Burkhart, F. Gohlke, R. Nietschke, M. M. Schneider und B. Hollinger geben an, dass kein Interessenkonflikt besteht.
Dieser Beitrag beinhaltet keine von den Autoren durchgeführten Studien an Menschen oder Tieren.
About this article
Cite this article
Burkhart, K.J., Gohlke, F., Nietschke, R. et al. Destruktion des Radiuskopfes. Orthopäde 46, 981–989 (2017). https://doi.org/10.1007/s00132-017-3492-5
Schlüsselwörter
Ellenbogen

Gelenkersatz

Knorpel

Radius

Trauma
Keywords
Elbow

Joint replacement

Cartilage

Radius

Trauma