Zusammenfassung
Hintergrund
Das Krankheitsbild der Arthrose ist in den Industrienationen eine der häufigsten Ursachen für physisches Gebrechen und beeinträchtigte Lebensqualität beim älteren Menschen.
Ziel der Arbeit
Bis jetzt gibt es noch keine Therapieformen, mit der direkt und kurativ behandelt werden kann. Zudem sind die Entstehungsmechanismen der Erkrankung bis dato noch nicht ausreichend entschlüsselt und erforscht. Im Fokus der Studie steht eine umfassende Analyse der globalen Forschungsleistung zu dem Thema Arthrose.
Material und Methoden
Der vorliegende Beitrag bewertet Publikationen von 1900–2013 im "ISI Web of Science". Es werden quantitative und qualitative Gesichtspunkte berücksichtigt und basierend auf szientometrischer Analysemethoden untersucht. Die Darstellungen mittels "density equalizing map projektion" verdeutlichen die globalen Strukturen der Forschungs- und Zitationsaktivität. Zudem illustriert das Netzdiagramm die bi- und multilateralen Forschungs- und Institutionenkooperationen.
Ergebnisse
Anhand vorgegebener Suchkriterien liegen 46.212 Publikationen vor, von denen ca. 95 % der Veröffentlichungen aus den letzten 25 Jahren stammen. Neben den Publikationszahlen steigt auch die Zahl der Zitationen kontinuierlich an. Die Analyse der Länderkooperationen sowie der Institutionen weist auf eine Vormachtstellung der USA hin. Die Fachgebiete Rheumatologie, Orthopädie und Chirurgie publizieren am meisten zum Thema Arthrose.
Diskussion
Diese Studie liefert erste umfassende, szientometrische Erkenntnisse und verbildlicht entsprechende Darstellungen der Forschungsaktivitäten, geografischer Zusammenhänge sowie Forschungskooperationen. Es zeigt sich ein großes wissenschaftliches Interesse, insbesondere durch nordamerikanische und europäische Wissenschaftler. Das stetige Wachstum des Forschungsaufkommens erklärt sich durch die hohe Prävalenz der Arthrose.
Abstract
Background
In industrialized nations, arthrosis is one of the most frequent causes of physical disability and impaired quality of life in older people.
Objectives
There are still no direct and curative therapies. In addition, the causative mechanisms of this disease have not been sufficiently deciphered and investigated so far.
Materials and methods
For the present article, publications from 1900–2013 in the ISI Web of Science were reviewed. Quantitative and qualitative aspects are taken into account and are examined based on scientometric analysis methods. The illustrations demonstrate the global structure of the research and citation activity by Density Equalizing Map Projection. In addition, the radar charts illustrate the bi- and multilateral research and institutional cooperation.
Results
On the basis of the search criteria, a total of 46,212 publications were identified. Approximately 95 % of the publications date back to the last 25 years. In addition to the number of publications, the number of citations has increased continuously. The analysis of the country collaborations as well as the number of institutions indicates a predominance of the United States. Most articles about arthrosis concern the subject areas of rheumatology, orthopedics, and surgery.
Conclusion
This study provides the first comprehensive, scientometric findings and illustrates corresponding representations of research activities, geographical contexts as well as research cooperation. It shows a great scientific interest, especially by North American and European scientists. The steady growth of research is explained by the high prevalence of arthrosis.
Access options
Buy single article
Instant access to the full article PDF.
USD 39.95
Price excludes VAT (USA)
Tax calculation will be finalised during checkout.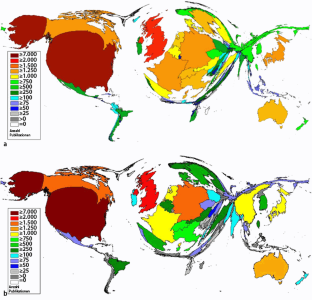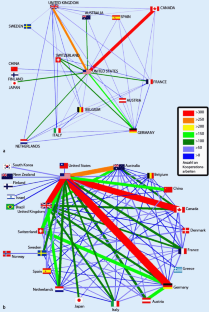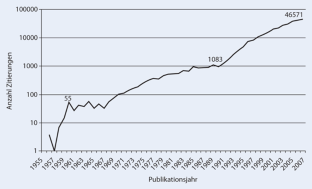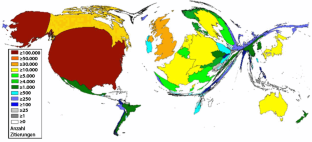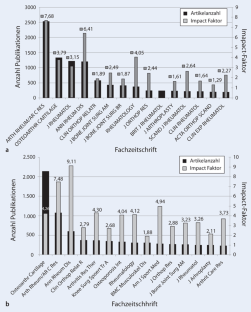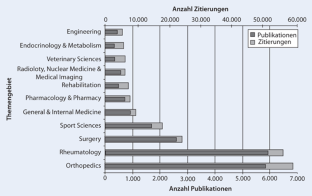 Literatur
Angell M (1986) Publish or perish: a proposal. Ann Intern Med 104:261–262

Badley E, Desmeules M (2003) Arthritis in Canada. An ongoing challenge. Health Canada, Ottawa

Ball R, Jokic M (2006) Qualität und Quantität wissenschaftlicher Veröffentlichungen – Bibliometrische Aspekte der Wissenschaftskommunikation. Schriften des Forschungszentrums Jülich, Jülich, S15

Bassecoulard E, Okubo Y, Zitt M (2001) Insights in Determinants of International Scientific Cooperation. In: Havemann F, Wagner-Döbler R, Kretschmer H (Hrsg) Proceedings of the second Berlin workshop on scientometrics and informetrics: collaboration in science and technology. GEWIF Gesellschaft für Wissenschaftsforschung, Berlin, S13–29

Bohlen AB, Vitzthum K, Mache S et al (2010) Eine szientometrische Betrachtung des BMI. Z Gastroenterol 48:1285–1292

Bordons M, Fernández MT, Gómez I (2002) Advantages and limitations in the use of impact factor measures for the assessment of research performance. Scientometrics 53:195–206

Clade H (1998) Arthrose – Teures Krankheitsbild. Dtsch Ärztebl 95:A–2612

Conaghan PG, Porcheret M, Kingsbury SR et al (2014) Impact and therapy of osteoarthritis: the Arthritis Care OA Nation 2012 survey. Clin Rheumatol. doi:10.1007/s10067-014-2692-1

Dewett T, Denisi AS (2004) Exploring scholarly reputation: it's more than just productivity. Scientometrics 60:249–272

Garfield E (2006) The history and meaning of the journal impact factor. JAMA 295:90–93

Garfield E (2000) Use of journal citation reports and journal performance indicators in measuring short and long term journal impact. Croat Med J 41:368–374

Gastner MT, Newman ME (2004) From the cover: diffusion-based method for producing density-equalizing maps. Proc Natl Acad Sci U S A 101:7499–7504

Glowniak JV (1995) Medical resources on the Internet. Ann Intern Med 123:123–131

Grajewski S, Quarcoo D, Uibel S et al (2010) Eine szientometrische Analyse der Leukoplakie und Erythroplakie. Laryngo-Rhino-Otol 89:210–215

Groneberg-Kloft B, Quarcoo D, Scutaru C (2009) Quality and quantity indices in science: use of visualization tools. EMBO Rep 10:800–803

Groneberg-Kloft B, Scutaru C, Kreiter C et al (2008) Institutional operating figures in basic and applied sciences: scientometric analysis of quantitative output benchmarking. Health research policy and systems/BioMed Central 6:6

Huberti H (2014) Deutsche Arthrose-Hilfe e. V. http://www.arthrose.de. Zugegriffen: 03. Juni 2014

Krasnokutsky S, Samuels J, Abramson SB (2007) Osteoarthritis in 2007. Bull NYU Hosp Jt Dis 65:222–228

Mache S, Tropp S, Vitzthum K et al (2010) Morbus Alzheimer – eine szientometrische Analyse. Akt Neurol 35:206–212

Merton RK (1968) The Matthew effect in science: the reward and communication systems of science are considered. Science (New York, N.Y.) 159:56–63

Müller-Hilke B (2007) [Pathogenesis of osteoarthritis–a snapshot]. Z Rheumatol 66:703–705

Muraki S, Akune T, Nagata K et al (2014) Does osteophytosis at the knee predict health-related quality of life decline? A 3-year follow-up of the ROAD study. Clin Rheumatol. doi:10.1007/s10067-014-2687-y

Petersson IF, Jacobsson LT (2002) Osteoarthritis of the peripheral joints. Best Pract Res Clin Rheumatol 16:741–760

Science and Engineering Report (2008) Academic research and development -chapter 5-.6–7

Statistisches Bundesamt (2007) Pressemitteilung Nr. 83, 28. Februar

Száva-Kováts E (2002) Unfounded attribution of the "Half-life" index-number of literature obsolescence to Burton and Kebler: a literature science study. JASIST 53:1098–1105

Tashiro T (1903) An article on the information of the histological changes by the pyogenic osteoarthritis. Beiträge zur pathologischen Anatomie und zur allgemeinen Pathologie 34:540–547

Umstätter W, Rehm M, Dorogi Z (1982) Die Halbwertszeit in der naturwissenschaftlichen Literatur. Nachrichten für Dokumentation 33:50–52

United States (1994) Arthritis prevalence and aktivity limitations – United States, 1990. Morb Mortal Wkly Rep 43:433–438

Vetter C (1998) Standart und Optionen für die Therapie der Arthrose. Dtsch Ärztebl 95:A2896–2900

Woolf AD, Pfleger B (2003) Burden of major musculoskeletal conditions. Bull World Health Organ 81:646–656

Zhang Y, Jordan JM (2008) Epidemiology of osteoarthritis. Rheum Dis Clin North Am 34:515–529
Einhaltung ethischer Richtlinien
Interessenkonflikt
D. Ohlendorf, S. Mayer, D. Klingelhöfer, M. Schwarzer und D. A. Groneberg geben an, dass kein Interessenkonflikt besteht.
Dieser Beitrag beinhaltet keine Studien an Menschen oder Tieren.
About this article
Cite this article
Ohlendorf, D., Mayer, S., Klingelhöfer, D. et al. Arthrose. Orthopäde 44, 71–79 (2015). https://doi.org/10.1007/s00132-014-3015-6
Published:

Issue Date:

DOI: https://doi.org/10.1007/s00132-014-3015-6
Schlüsselwörter
"Density equalizing map projection"

Szientometrie

Forschungsaufkommen

Bibliometrie

Forschungskooperation
Keywords
Density equalizing map projection

Scientometry

Research

Bibliometry

Research cooperation