Zusammenfassung
Der von Ray entwickelte "paralateral approach" zur LWS schadet dem M. erector trunci wesentlich weniger als der mediane Zugang. Um diesen Zugang für eine EPLIF ("extraforaminal posterior lumbar interbody fusion") nutzen zu können, haben wir ihn in den Bandscheibenraum erweitert. Mit diesem Zugang gelangt man zwischen dem M. erector trunci und der Aponeurosis lumbalis an die Eintrittsstellen für Pedikelschrauben und nach Ablösen des Lig. intertransversarium an das Foramen intervertebrale und die Bandscheibe. In diesem Stadium können weit laterale Diskushernien entfernt und das Foramen sowie der Recessus lateralis erweitert werden, letzterer transforaminal. Danach wird die extraforaminale Implantation eines geeigneten Cages (EPLIF) nach Ausräumung und vertikaler Distraktion des Bandscheibenraums vorgenommen. Es folgen die ipsilaterale transpedikuläre Fixation (TpF), kontralaterale TpF (zweiter Zugang) oder translaminäre Verschraubung. Indikationen für diesen Zugang sind foraminale und extraforaminale Diskushernien, die Stenose des Foramen intervertebrale und/oder des Recessus lateralis, die dorsolaterale Spondylodese, transpedikuläre Fixation und EPLIF. In der Praxis erwiesen sich der submuskuläre Zugang und die EPLIF als vorteilhafte Alternativen zu Standardtechniken.
Abstract
The posterior median approach to the lumbar spine may cause significant injury to the erector spinae muscles (ESM) which is minimized using the paralateral approach suggested by Ray. We have adopted this approach and have extended it into the disc space to allow cage implantation from outside the foramen (EPLIF – extraforaminal posterior lumbar interbody fusion). The initial exposure of the posterior vertebral elements between the ESM and the deep lumbar fascia is sufficient to attain the entry points of pedicle screws. The intervertebral foramen and posterior annulus fibrosus are then exposed after which distant lateral disc herniations may be removed, the foramen/lateral recess may be decompressed or an EPLIF performed following clearing and vertical distraction of the disc space. This is followed by ipsilateral transpedicular fixation (TpF), contralateral fixation (second approach) by TpF or translaminar screws. Indications are given for foraminal and extraforaminal disc herniation, stenosis of the foramen and/or of the lateral recess, posterolateral fusion, TpF and EPLIF. The submuscular approach and EPLIF have proven to be valuable alternatives to standard techniques.
This is a preview of subscription content, log in to check access.
Access options
Buy single article
Instant access to the full article PDF.
US$ 39.95
Price includes VAT for USA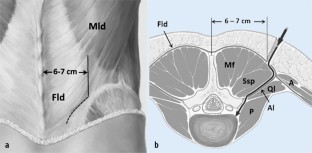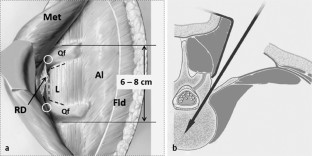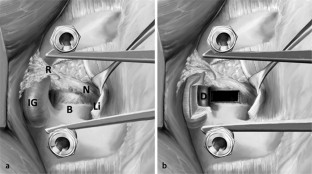 Literatur
1.

Biyani A, Sairyo K, Liljenquist J, Goel V (2005) Ipsilateral pedicle screw fixation and contralateral translaminar facet screw placement in conjunction with TLIF. Internet J Spine Surg 2(1)

2.

Borgulya J, Laupichler U, Steinbach H (2007) Ballon-Kyphoplastik assistierte, kurzstreckige, dorsale Doppelstabspondylodese mit extraforaminaler, submuskulärer, interkorporeller Fusion bei instabilen, thorakolumbalen, osteoporotischen Frakturen. Poster. Tagung der Deutschen Wirbelsäulengesellschaft in Mannheim, 13.–15. Dezember 2007

3.

Chan SS, Sang-Ho L, Byungjoo J et al (2005) Fluoroscopically assisted percutaneous translaminar facet screw fixation following anterior lumbar interbody fusion: technical report. Spine 30:838–843

4.

Jee-Song J, Sang-Ho L (2005) Clinical analysis of percutaneous facet screw fixation after anterior lumbar interbody fusion. J Neurosurg Spine 3:40–46

5.

Kambin P, McCullen G, Parke W et al (1997) Minimally invasive arthroscopic spinal surgery. Instr Course Lect 46:143–161

6.

Kaptanoglu E, Okutan O, Tekdemir I et al (2003) Closed posterior superior iliac spine impeding pediculocorporeal S-1 screw insertion. J Neurosurg (Spine 2) 99:229–234

7.

Literatur kann beim Verfasser angefordert werden.

8.

Magerl F, Witzmann A (2004) Komplikationen dorsaler Zugänge zur Lendenwirbelsäule und deren Verhütung: Der submuskuläre Zugang. Trauma Berufskrankh 7(suppl 2):292–298

9.

Phillips FM, HO E, Cunningham BW (2004) Radiographic criteria for placement of translaminar facet screws. Spine J 4:465–467

10.

Ray CD (1987) The paralateral approach to decompression for lateral stenosis and far lateral lesions of the lumbar spine. In: Watkins E (ed) Lumbar discectomy and laminectomy, chapter 24. Aspen, New York, pp 217–227

11.

Ray CD (1993) Decompressions and the "inaccessible zone". In: Hardy RW Jr (ed) Lumbar disc disease, chapter 11. 2nd edn. Raven Press, New York, pp 123–137

12.

Sasso RC, Best NM, Potts EA (2005) Percutaneous computer-assisted translaminar facet screw: an initial human cadaveric study. Spine J 5:515–519

13.

Slucky AV, Brodke DS, Bachus KN et al (2006) Less invasive posterior fixation method following transforaminal lumbar interbody fusion: a biomchanical analysis. Spine J 6:78–85

14.

Togawa D, Kayanja M, Reinhardt M et al (2007) Bone-mounted miniature robotic guidance for pedicle screw and translaminar facet screw placement: part 2 – evaluation of system accuracy. Commentary. Neurosurgery 60 (2 suppl 1):129–139

15.

Wiltse LL, Spencer CW (1988) New uses and refinements of the paraspinal approach to the lumbar spine. Spine 13:696–706
Interessenkonflikt
Der korrespondierende Autor weist auf folgende Beziehung hin: Senior Medical Advisor der Fa. Icotec AG, Altstätten, Schweiz.
About this article
Cite this article
Magerl, F. Submuskulärer Zugang zur Lendenwirbelsäule und extraforaminale Cage-Implantation. Orthopäde 40, 130–134 (2011). https://doi.org/10.1007/s00132-010-1710-5
Schlüsselwörter
Lendenwirbelsäule

Submuskulär

Zugang

Intervertebral

Implantat
Keywords
Lumbar spine

Submuscular

Access

Intervertebral

Implant