Zusammenfassung
Tumoren des Bewegungsapparats, insbesondere Knochentumoren, sind sehr selten. Ihre Diagnostik und Behandlung ist nur in einem interdisziplinären Konzept möglich und setzt umfangreiche Erfahrungen bei allen beteiligten Ärzten voraus. Die definitive histologische Diagnose darf nicht ohne Kenntnis des Alters, der genauen Lokalisation und der radiologischen Befundmuster gestellt werden. Neben der morphologischen Diagnose müssen auch Anforderungen an zusätzliche Untersuchungsverfahren (Molekularbiologie) bei der Planung der Biopsie berücksichtigt werden.
Abstract
Musculoskeletal tumors, particularly bone neoplasms, are very rare. Diagnosis and treatment require an interdisciplinary concept as well as wide experience of all physicians involved. The final histopathologic diagnosis should not be confirmed without information regarding the patient's age, exact localization, and radiological findings. The requirements of additional diagnostic procedures (molecular pathology) have to be taken into consideration when planning a biopsy.
This is a preview of subscription content,
to check access.
Access this article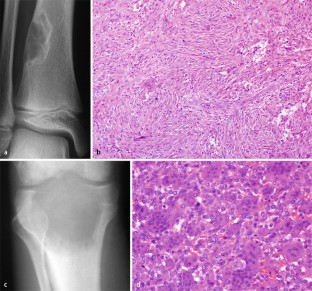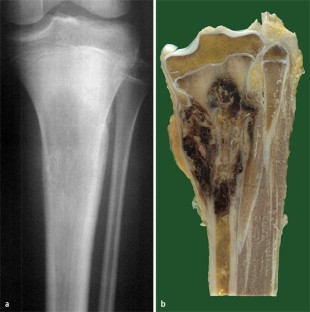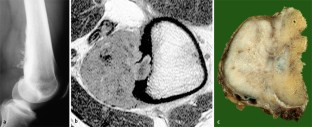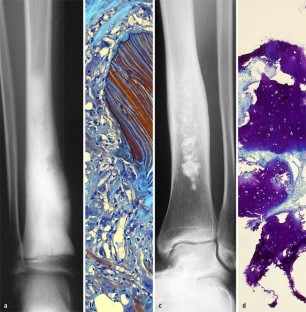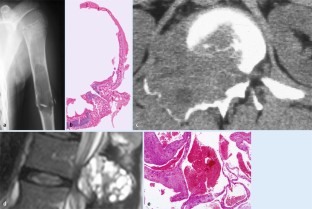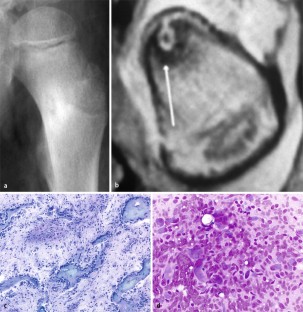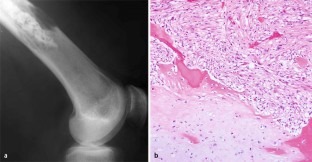 Literatur
Aboulafia AJ, Schkrohowsky JG (2006) Musculoskeletal tumor biopsy: I. Choosing the appropriate method. Am J Orthop 35: 60–63

Aboulafia AJ, Schkrohowsky JG (2006) Musculoskeletal tumor biopsy: II. Choosing the appropriate technique. Am J Orthop 35: 121–124

Alman BA, Greel DA, Wolfel DA (1996) Activating mutations of Gs protein in monostotic fibrous lesions of bone. J Orthop Res 14: 311–315

Bernd L, Zeifang F, Ludwig K et al (2005) Telekommunikation und Telepathologie in der orthopädischen Onkologie. Onkologie 11: 1177–1182

Bridge RS, Rajaram V, Dehner LP et al (2006) Molecular diagnosis of Ewing sarcoma/primitive neuroectodermal tumor in routinely processed tissue: A comparison of two FISH strategies and RT-PCR in malignant round cell tumors. Mod Pathol 19: 1–8

Bruns J, Delling G, Henne-Bruns D et al (2008) Die Biopsie bei Tumoren des muskuloskeletalen Systems. Dtsch Ärzteblatt 105: 492–497

Bruns J, Yazigee O, Werner M et al (2006) Bioptische Sicherung muskuloskelettaler Tumoren. Onkologie 12: 119–127

Delling G, Werner M, Bernd L et al (2002) Telekommunikation und Telepathologie. Neue Wege in der Diagnostik für Orthopädie und orthopädische Pathologie. Pathologe 23: 327–331

den Heeten GJ, Oldhoff J, Oosterhuis JW et al (1985) Biopsy of bone tumours. J Surg Oncol 28: 247–251

Desmaze C, Brizard F, Turc-Carel C et al (1997) Multiple chromosomal mechanisms generate an EWS/FLI1 or an EWS/ERG fusion gene in Ewing tumors. Cancer Genet Cytogenet 97: 12–19

Dockhorn-Dworniczak B, Schäfer KL, Dantcheva R et al (1994) Diagnostic value of the molecular genetic detection of the t(11;22) translocation in Ewing's tumors. Virchows Arch 425: 107–112

El-Khoury GY, Terepka RH, Mickelson MR et al (1983) Fine-needle aspiration biopsy of bone. J Bone Joint Surg Am 65: 522–525

Freyschmidt J, Ostertag H, Jundt G (1998) Knochentumoren. Klinik, Radiologie, Pathologie. Springer, Berlin Heidelberg New York

Gil-Sanchez S, Marco-Domenech SF, Irurzun-Lopez J et al (2001) Ultrasound-guided skeletal biopsies. Skeletal Radiol 30: 615–619

Harms D (1995) New entities, concepts, and questions in childhood tumor pathology. Gen Diagn Pathol 141: 1–14

Jelinek JS, Kransdorf MJ, Gray R et al (1996) Percutaneous transpedicular biopsy of vertebral body lesions. Spine 21: 2035–2040

Lodwick GS (1965) A probabilistic approach to the diagnosis of bone tumors. Radiol Clin North Am 3: 487–497

Lodwick GS, Wilson AJ, Farrell C et al (1980) Estimating rate of growth in bone lesions: Observer performance and error. Radiology 134: 585–590

Mankin HJ, Mankin CJ, Simon MA (1996) The hazards of the biopsy, revisited. Members of the Musculoskeletal Tumor Society. J Bone Joint Surg Am 78: 656–663

Markel DC, Neumann KU, Steinau HU (1994) Appropriate techniques for musculoskeletal tumor biopsy. Orthop Rev 23: 176–180

Mercuri M, Picci P, Campanacci L et al (1995) Dedifferentiated chondrosarcoma. Skeletal Radiol 24: 409–416

Möller G, Kothe R, Wiesner L et al (2001) Fluoroscopy-guided transpedicular trocar biopsy of the spine. Results, review, and technical notes. Acta Orthop Belg 67: 488–499

Nagao K, Ito H, Yoshida H et al (1997) Chromosomal rearrangement t(11;22) in extraskeletal, Ewing's sarcoma and primitive neuroectodermal tumour analysed by fluorescence in situ hybridization using paraffin-embedded tissue. J Pathol 181: 62–66

Ozerdemoglu RA, Thompson RC Jr, Transfeldt EE et al (2003) Diagnostic value of open and needle biopsies in tumors of the sacrum. Spine 28: 909–915

Perdigao PF, Pimenta FJ, Castro WH et al (2004) Investigation of the GSalpha gene in the diagnosis of fibrous dysplasia. Int J Oral Maxillofac Surg 33: 498–501

Pollandt K, Engels C, Kaiser E et al (2001) Gsα gene mutations in monostotic fibrous dysplasia of bone and fibrous dysplasia-like low-grade central osteosarcoma. Virchows Arch 439: 170–175

Rezanko T, Sucu HK, Akkalp A et al (2008) Is it possible to start the treatment based on immediate cytologic evaluation of core needle biopsy of the spinal lesions? Diagn Cytopathol 36: 478–484

Simon MA (1982) Biopsy of musculoskeletal tumors. J Bone Joint Surg Am 64: 1253–1257

Simon MA, Biermann JS (1993) Biopsy of bone and soft-tissue lesions. J Bone Joint Surg Am 75: 616–621

Simon MA, Finn HA (1993) Diagnostic strategy for bone and soft-tissue tumors. J Bone Joint Surg Am 75: 622–631

Skrzynski MC, Biermann JS, Montag A et al (1996) Diagnostic accuracy and charge-savings of outpatient core needle biopsy compared with open biopsy of musculoskeletal tumors. J Bone Joint Surg Am 78: 644–649

Staals EL, Bacchini P, Bertoni F (2006) Dedifferentiated central chondrosarcoma. Cancer 106: 2682–2691

Weinstein LS, Shenker A, Gejman PV et al (1991) Activating mutaions of the stimulatory G protein in the McCune-Albright syndrome. N Engl J Med 325: 1688–1695

Welkerling H, Dreyer T, Delling G (1991) Morphological typing of chondrosarcoma: A study of 94 cases. Virchows Arch 418: 419–425

Werner M, Delling G (2000) Pathohistologie maligner Knochentumoren. Erfahrungen des Hamburger Knochentumorregisters an 8879 Fällen. Onkologe 8: 709–722

Werner M, Delling G (2004) Chemotherapieinduzierte Veränderungen bei hochmalignen zentralen Osteosarkomen. Erfahrungen aus der referenzpathologischen Tätigkeit in den COSS-Studien. Pathologe 25: 445–454
Interessenskonflikt
Der korrespondierende Autor gibt an, dass kein Interessenkonflikt besteht.
About this article
Cite this article
Werner, M., Hauptmann, K., Lohmann, C. et al. Tumoren des Bewegungsapparats. Orthopäde 38, 546–556 (2009). https://doi.org/10.1007/s00132-008-1395-1
Published:

Issue Date:

DOI: https://doi.org/10.1007/s00132-008-1395-1
Schlüsselwörter
Keywords