Zusammenfassung
Die Osteogenesis imperfecta (OI) ist eine angeborene Erkrankung des Bindegewebes mit einer Häufigkeit bis zu 1/30.000. Die Patienten leiden v. a. unter Deformitäten und Frakturen, viele erreichen nie die Gehfähigkeit. Die Therapie umfasst konservative, medikamentöse und operative Verfahren, die im Folgenden dargestellt werden.
Abstract
Osteogenesis imperfecta (OI) is a congenital connective tissue disorder with an incidence of up to 1:30,000. Patients suffer from deformities and fractures, and many of them never reach ambulation. The therapy consists of conservative, medicamentous and operative procedures that are described in this article.
This is a preview of subscription content,
to check access.
Access this article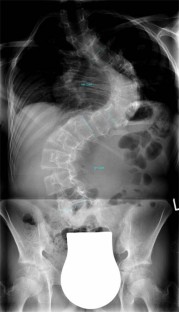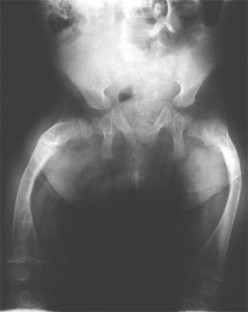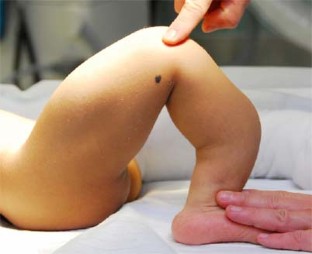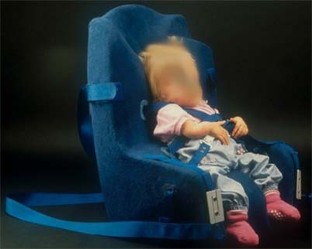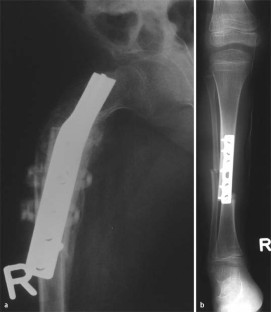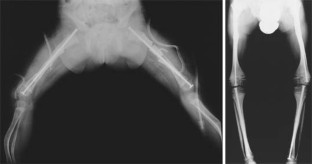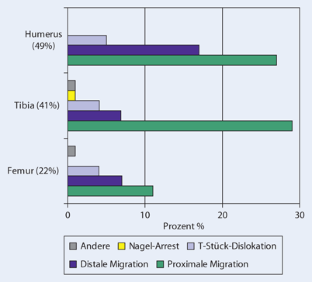 Literatur
Aström E, Joruf H, Söderhäll S (2007) Intravenous pamidronate treatment of infants with severe osteogenesis imperfecta. Arch Dis Child 92: 332–338

Bailey RW, Dubow HI (1963) Studies of longitudinal bone growth resulting in an extensible nail. Surg Forum 14: 455–458

Bailey RW, Dubow HI (1981) Evolution of the concept of an extensible nail accommodating to normal longitudinal bone growth: clinical considerations and implications. Clin Orthop 159: 157–170

Boutaud B, Laville JM (2004) Elastic sliding central medullary nailing with osteogenesis imperfecta. Fourteen cases at eight years follow-up. Rev Chir Orthop Reparat Apparat Mot 90: 304–311

el-Sobky MA, Hanna AA, Basha NE et al. (2006) Surgery versus surgery plus pamidronate in the management of osteogenesis imperfecta patients: a comparative study. J Pediatr Orthop B 153: 222–228

Fassier F, Duval P, Dujovne A (2005) A new telescopic femur nail for the trearment of osteogenesis imperfecta. J Bone Joint Surg Br 87: 101

Gamble JG, Strudwick WJ, Rinsky LA, Bleck EE (1988) Complications of intramedullary rods in osteogenesis imperfecta: Bailey-Dubow rods versus nonelongating rods. J Pediatr Orthop 8: 645–649

Glorieux FH (2007) Experience with bisphosphonates in osteogenesis imperfecta. Pediatrics 119(Suppl 2): 163–165

Hefti F (1997) Kinderorthopädie in der Praxis. Springer, Berlin Heidelberg New York, S 660–663

Janus GJ, Vanpaemel LA, Engelbert RH, Pruijs HE (1999) Complications of the Bailey-Dubow elongating nail in osteogenesis imperfecta: 34 children with 110 nails. J Pediatr Orthop B 8: 203–207

Jerosch J, Mazzotti I, Tomasevic M (1998) Complications after treatment of patients with osteogenesis imperfecta with a Bailey-Dubow rod. Arch Orthop Trauma Surg 117: 240–245

Karbowski A, Schwitalle M, Brenner R et al. (2000) Experience with Bailey-Dubow rodding in children with osteogenesis imperfecta. Eur J Pediatr Surg 10: 119–124

Karbowski A, Schwitalle M, Eckardt A (1998) Erfahrungen mit unterschiedlichen Teleskopnägeln zur Behandlung kindlicher Osteogenesis imperfecta-Patienten. Zentralbl Chir 123: 1252–1256

Lang-Stevenson AI, Sharrard WJ (1984) Intramedullary rodding with Bailey-Dubow extensible rods in osteogenesis imperfecta. An interim report of results and complications. J Bone Joint Surg Br 66: 227–232

Lowing K, Astrom E, Oscarsson KA et al. (2007) Effect of intravenous pamidronate therapy on everyday activities in children with osteogenesis imperfecta. Acta Paediatr 18

Mau H (1971) Prinzipien der Nagelung und Verplattung bei der operativen Behandlung der Osteogenesis imperfecta. Z Orthop 109: 650

Mau H (1982) In osteogenesis imperfecta no intramedullary nailing and especially no bone plates in childhood. Z Orthop 120: 297–308

Münzenberg KJ (1977) Therapeutische Maßnahmen bei Osteogenesis imperfecta. Arch Orthop Unfallchir 90: 265–274

Nicholas RW, James P (1990) Telescoping intramedullary stabilization of the lower extremities for severe osteogenesis imperfecta. J Pediatr Orthop 10: 219–223

Porat S, Heller E, Seidman DS, Meyer S (1991) Functional results of operation in osteogenesis imperfecta: elongating and nonelongating rods. J Pediatr Orthop 11: 200–203

Porsborg P, Astrup G, Bendixen D et al. (1996) Osteogenesis imperfecta and malignant hyperthermia. Is there a relationship? Anaesthesia 51: 863–865

Radkowski CA, Fitch RD, Hardaker WT Jr (2005) Arthroscopic-assisted revision of telescopic rods in osteogenesis imperfecta. Arthroscopy 211: 93–97

Rauch F, Cornibert S, Cheung M, Glorieux FH (2007) Long-bone changes after pamidronate discontinuation in children and adolescents with osteogenesis imperfecta. Bone 40: 821–827

Rauch F, Glorieux FH (2006) Treatment of children with osteogenesis imperfecta. Curr Osteoporos Rep 4: 159–164

Rauch F, Travers R, Glorieux FH (2006) Pamidronate in children with osteogenesis imperfecta: histomorphometric effects of long-term therapy. J Clin Endocrinol Metab 91: 511–516

Simoneau R, Duhaime M, Ferron S (1987) The Dubow-Bailey nail in the treatment of osteogensis imperfecta. Pesent of the Annual Meeting of the Pediatric Orthopaedic Society of North America, Toronto, Canada, p 58

Speiser PW, Clarson CL, Eugster EA et al. LWPES Pharmacy and Therapeutic Committee (2005) Bisphosphonate treatment of pediatric bone disease. Pediatr Endocrinol Rev 3: 87–96

Stockley I, Bell MJ, Sharrard WJ (1989) The role of expanding intramedullary rods in osteogenesis imperfecta. J Bone Joint Surg Br 71: 422–427

Zichner L (2003) Systemerkrankungen. Thieme, Stuttgart New York, S 120–124

Zionts LE, Ebramzadeh E, Stott NS (1998) Complications in the use of the Bailey-Dubow extensible nail. Clin Orthop 348: 186–195
Interessenkonflikt
Der korrespondierende Autor gibt an, dass kein Interessenkonflikt besteht.
About this article
Cite this article
Meurer, A. Diagnostik und Therapie der Osteogenesis imperfecta. Orthopäde 37, 17–23 (2008). https://doi.org/10.1007/s00132-007-1177-1
Published:

Issue Date:

DOI: https://doi.org/10.1007/s00132-007-1177-1
Schlüsselwörter
Keywords