Zusammenfassung
Diese Arbeit beleuchtet die einzelnen Phasen und die Rollen der Therapeuten im Behandlungsprozess von orthopädischen Eingriffen am Beispiel der Hüft- und Kniearthroplastik sowie der Wirbelsäulenchirurgie. Die Rolle eines modernen Rehabilitationsmanagements in der Frührehabilitation und die Kriterien für die postakute Nachbehandlung werden diskutiert. Offene Fragen zur Physiotherapie im Hinblick auf Zeitpunkt der Behandlung, Wahl der Therapie und Therapieintensität werden beleuchtet. Auf die Bedeutung und die Umsetzung eines kontinuierlichen Qualitätsmanagement wird hingewiesen.
Abstract
This article documents the role of early musculoskeletal rehabilitation in acute care after orthopaedic surgery involving the hip, knee or spine. It discusses the open questions of the type, time and intensity of physiotherapeutic intervention. The role of standardized quality management to define clinical pathways is discussed.
This is a preview of subscription content, log in to check access.
Access options
Buy single article
Instant access to the full article PDF.
US$ 39.95
Price includes VAT for USA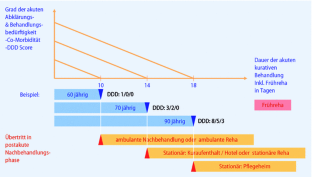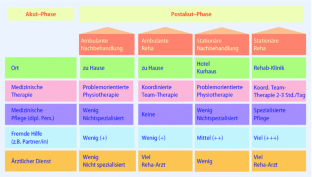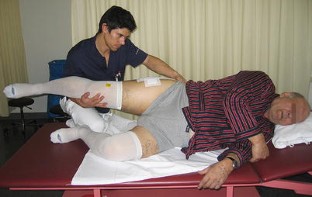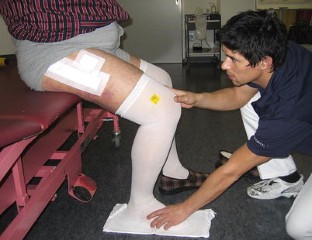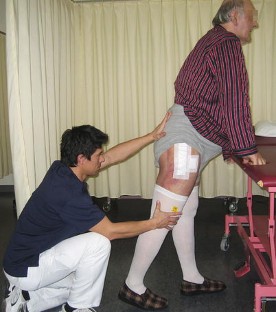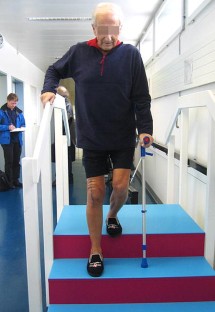 Literatur
1.

Dreinhofer KE, Dieppe P, Sturmer T et al. (2006) Indications for total hip replacement: comparison of assessments of orthopaedic surgeons and referring physicians. Ann Rheum Dis 65: 1346–1350

2.

Tribe KL, Lapsley HM, Cross MJ et al. (2005) Selection of patients for inpatient rehabilitation or direct home discharge following total joint replacement surgery: a comparison of health status and out-of-pocket expenditure of patients undergoing hip and knee arthroplasty for osteoarthritis. Chron Illn 1: 289–302

3.

Sangha O, Stucki G, Liang MH et al. (2003) The self adminstered comorbidity questionnaire: a new method to assess comorbidity for clinical and health service research. Arthritis Rheum 49: 156–163

4.

Theiler R, Kuster JR (2004) Schnittstellenmanagement in der muskuloskelettalen Rehabilitation: Akutphase/postaktue Nachbehandlung. Manag Care 1: 8–11

5.

Theiler R, Bischoff-Ferrari HA, Good M, Bellamy N (2004) Responsiveness of the electronic touch screen WOMAC 3.1 OA Index in a short term clinical trial with rofecoxib. Osteoarthr Cartil 12: 912–916

6.

Schaeren St, Bischoff-Ferrari HA, Knupp M et al. (2005) A computer touch-screen version of the North American Spine Society outcome assessment instrument for the lumbar spine. J Bone Joint Surg Br 87: 201–204

7.

Frost KL, Bertocci GE, Wassinger CA et al. (2006) Isometric performance following total hip arthroplasty and rehabilitation. J Rehabil Res Dev 43: 435–444

8.

Reardon K, Galea M, Dennett X et al. (2001) Quadriceps muscle wasting persists 5 months after total hip arthroplasty for osteoarthritis of the hip: a pilot study. Int Med J 31: 7–14

9.

Trudelle-Jackson E, Emerson R, Smith S (2002) Outcomes of total hip arthroplasty: a study of patients one year postsurgery. J Orthop Sports Phys Ther 32: 260–267

10.

Munin MC, Rudy TE, Glynn NE et al. (1998) Early inpatient rehabilitation after elective hip and knee arthroplasty. JAMA 279: 847–852

11.

Weaver FM, Hughes SL, Almagor O et al. (2003) Comparison of two home care protocols for total joint replacement. JAGS 51: 523–528

12.

Maire J, Dugue B, Faillenet-Maire AF et al. (2006) Influence of a 6-week arm exercise program on walking ability and health status after hip arthroplasty. A 1-year follow-up pilot study. J Rehabil Res Dev 43: 445–450

13.

Ng FY, Zhu Y, Chiu KY (2006) Cementless acetabular component inserted without screws – the effect of immediate weight-bearing. Int Orthop 19

14.

Rooks DS, Huang J, Bierbaum BE et al. (2006) Effect of preoperative exercise on measures of functional status in men and women undergoing total hip and knee arthroplasty. Arthritis Rheum 55: 700–708

15.

Rossi MD, Brown LE, Whitehurst MA (2006) Assessment of hip extensor and flexor strength two months after unilateral total hip arthroplasty. J Strength Cond Res 20: 262–267

16.

Trudelle-Jackson E, Smith SS (2004) Effects of a late-phase exercise program after total hip arthroplasty: a randomized controlled trial. Arch Phys Med Rehabil 85: 1056–1062

17.

Bean JF, Leveille SG, Kiely DK et al. (2003) A comparison of leg power and leg strength within the InCHIANTI study: which influences mobility more? J Gerontologe A 58: 728–733

18.

Chun-Hsiung S, Yuan-Kuen D, Yang-Hua L et al. (1994) Muscular recovery around the hip joint after total hip arthroplasty. Clin Orthop 302: 115–120

19.

Bertocci GE, Munin MC, Frost KL et al. (2004) Isokinetic performance after total hip replacement. Am J Phys Med Rehabil 83: 1–9

20.

Caraccilo B, Giaquinto S (2005) Determinants of the subjective functional outcome of total joint arthroplasty. Arch Gerontol Geriatr 41: 169–176

21.

Brosseau L, Milne S, Wells G, Tugwell P et al. (2004) Efficacy of continous passive motion following total knee arthroplasty: a metaanalysis. J Rheumatol 31: 2251–2264

22.

Denis M, Moffet H, Caron F et al. (2006) Effectiveness of continous passive motion and conventional physical therapy after total knee arthroplasty: a randomized clinical trial. Phys Ther 86: 174–185

23.

Milne S, Brosseau L, Robinson et al. (2003) Continuous passive motion following total knee arthroplasty. Cochrane Database Syst Rev 2: CD004260

24.

Fortin PR, Clarke AE, Joseph L et al. (1999) Outcomes of total hip and knee replacements. Arthr Rheum 42: 1722–1728
Interessenkonflikt
Der korrespondierende Autor gibt an, dass kein Interessenkonflikt besteht.
About this article
Cite this article
Theiler, R., Schmid, C., Risler, R. et al. Postoperative Physiotherapie im Akutbereich – wann, welche und wieviel?. Orthopäde 36, 552–559 (2007). https://doi.org/10.1007/s00132-007-1100-9
Schlüsselwörter
Physiotherapie

Qualitätsmanagement

Frührehabilitation
Keywords
Physiotherapy

Quality management

Early rehabilitation