Zusammenfassung
Die lymphogene Metastasierung ist bei genitalen Karzinomen ein wichtiger diagnostischer und prognostischer Parameter. Zunehmend wird aber die therapeutische Bedeutung der operativen Resektion von Lymphknoten diskutiert. Systematische Lymphonodektomien bergen darüber hinaus ein erhebliches Morbiditätsrisiko, weshalb die Indikation jeweils kritisch geprüft werden muss. Zunehmende Bedeutung gewinnt die Sentinel-Node-Biopsie (SNB), die ein Lymphknotenstaging bei geringem Komplikationsrisiko ermöglichen kann. Bei fortgeschrittenen Ovarialkarzinomen und beim Endometriumkarzinom zeigt sich nach aktuellem Kenntnisstand kein Überlebensvorteil nach systematischer Lymphonodektomie und auch die pelvine Lymphonodektomie beim Vulvakarzinom wird kontrovers diskutiert. Die SNB beim Vulva- und Endometriumkarzinom wurde in einer größeren Anzahl von Studien evaluiert und sollte bei entsprechender Indikation in der Klinik eingesetzt werden. Die SNB kann u. U. zudem bei frühen Zervixkarzinomen eingesetzt werden. Beim frühen Ovarialkarzinom werden in den nächsten Jahren Daten zur SNB aus der SELLY-Studie erwartet. Die diagnostische Bedeutung der systematischen Lymphonodektomie beim Zervixkarzinom bleibt derzeit hoch. So erfolgt bei pelvinen Lymphknotenmetastasen anstelle einer radikalen Hysterektomie in der Regel eine primäre Radiochemotherapie. Im folgenden Artikel werden aktuelle Erkenntnisse in Bezug auf Lymphonodektomien bei genitalen Karzinomen dargestellt.
Abstract
Lymphogenic metastasis is an important diagnostic and prognostic parameter of genital carcinomas; however, the therapeutic value of surgical lymph node resection is increasingly being discussed. In addition, systematic lymph node resection has a significant risk of morbidity, which is why the indications should be carefully verified. The importance of sentinel lymph node biopsies (SNB) has been increasing for years as it often enables adequate lymph node staging with a low risk of complications. According to the state of the art, systematic lymph node resection does not improve the survival rates in advanced ovarian cancer and endometrial carcinomas. Systematic pelvic lymph node resection in advanced vulvar neoplasms is also controversially discussed. The SNB in endometrial and vulvar cancers was extensively investigated and should be clinically applied with appropriate indications. In early cervical cancer SNB can also be an adequate treatment option. Within the next years the results of the SELLY study concerning SNB in early ovarian cancers are expected. The diagnostic relevance of systematic lymph node resection in cervical carcinomas currently remains high. In the case of pelvic lymph node metastases, chemoradiotherapy is usually applied instead of radical hysterectomy. This article presents the current state of knowledge concerning lymph node resection in genital carcinomas.
Access options
Buy single article
Instant access to the full article PDF.
USD 39.95
Price includes VAT (USA)
Tax calculation will be finalised during checkout.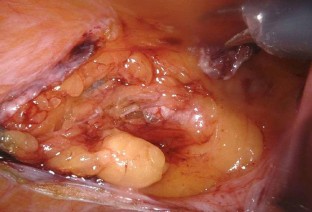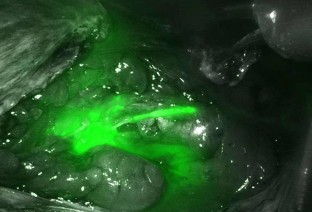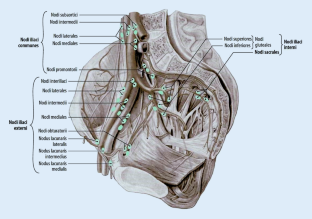 Literatur
1.

Gaß P (2015) AWMF-Leitlinie Diagnostik, Therapie und Nachsorge des Vulvakarzinoms und seiner Vorstufen. S2k-Leitlinie, S 181

2.

Klapdor R, Wölber L, Hanker L et al (2019) Predictive factors for lymph node metastases in vulvar cancer. An analysis of the AGO-CaRE‑1 multicenter study. Gynecol Oncol 154:565–570

3.

Dall P, Hildebrandt T, du Bois A et al (2020) Feasibility of internal inguinoperitoneal drainage after inguinofemoral lymphadenectomy in vulvar cancer. Arch Gynecol Obstet 301:1513–1519

4.

van der Velden J (2000) Surgical interventions for early squamous cell carcinoma of the vulva. Cochrane Database Syst Rev. https://doi.org/10.1002/14651858.CD002036

5.

Woelber L, Bommert M, Prieske K et al (2020) Pelvic lymphadenectomy in vulvar cancer—does it make sense? Geburtshilfe Frauenheilkd 80:1221–1228

6.

Gaarenstroom KN, Kenter GG, Trimbos JB et al (2003) Postoperative complications after vulvectomy and inguinofemoral lymphadenectomy using separate groin incisions. Int J Gynecol Cancer 13:522–527

7.

Dardarian TS, Gray HJ, Morgan MA et al (2006) Saphenous vein sparing during inguinal lymphadenectomy to reduce morbidity in patients with vulvar carcinoma. Gynecol Oncol 101:140–142

8.

Van der Zee AGJ, Oonk MH, De Hullu JA et al (2008) Sentinel node dissection is safe in the treatment of early-stage vulvar cancer. J Clin Oncol 26:884–889

9.

Oonk MHM, Slomovitz B, Baldwin PJW et al (2021) Radiotherapy versus Inguinofemoral lymphadenectomy as treatment for vulvar cancer patients with micrometastases in the sentinel node: results of GROINSS‑V II. J Clin Oncol. https://doi.org/10.1200/JCO.21.00006

10.

Woelber L, Eulenburg C, Kosse J et al (2019) Predicting the course of disease in recurrent vulvar cancer—A subset analysis of the AGO-CaRE-1 study. Gynecol Oncol 154:571–576

11.

Gaß P (2018) Diagnostik. AWMF S2k-Leitlinie Therapie und Nachsorge des Vaginalkarzinoms und seiner Vorstufen, S 207

12.

Skanjeti A, Dhomps A, Paschetta C et al (2019) Sentinel node mapping in gynecologic cancers: a comprehensive review. Semin Nucl Med 49:521–533

13.

Hertel H, Soergel P, Muecke J et al (2013) Is there a place for sentinel technique in treatment of vaginal cancer?: feasibility, clinical experience, and results. Int J Gynecol Cancer 23:1692–1698

14.

Lee IO, Lee J‑Y, Kim S et al (2017) Sentinel lymph node mapping with indocyanine green in vaginal cancer. J Gynecol Oncol 28:e29

15.

Harter P, Gnauert K, Hils R et al (2007) Pattern and clinical predictors of lymph node metastases in epithelial ovarian cancer. Int J Gynecol Cancer 17:1238–1244

16.

Harter P, Heitz F, Ataseven B et al (2019) How to manage lymph nodes in ovarian cancer. Cancer 125:4573–4577

17.

Heitz F, Harter P, Ataseven B et al (2018) Stage- and histologic subtype-dependent frequency of lymph node metastases in patients with epithelial ovarian cancer undergoing systematic pelvic and Paraaortic Lymphadenectomy. Ann Surg Oncol 25:2053–2059

18.

Scambia G, Nero C, Uccella S et al (2019) Sentinel-node biopsy in early stage ovarian cancer: a prospective multicentre study (SELLY). Int J Gynecol Cancer 29:1437–1439

19.

Harter P, Sehouli J, Lorusso D et al (2019) A randomized trial of lymphadenectomy in patients with advanced ovarian neoplasms. N Engl J Med 380:822–832

20.

Lopes A, Genta MLND, Costa Miranda V et al (2021) Role of systematic pelvic and PARA-AORTIC lymphadenectomy in delayed debulking surgery after six neoadjuvant chemotherapy cycles for high-grade serous ovarian carcinoma. J Obstet Gynaecol Res. https://doi.org/10.1111/jog.14838

21.

Wagner U, Reuß A. S3-Leitlinie "Diagnostik, Therapie und Nachsorge maligner Ovarialtumoren": Leitlinienprogramm Onkologie, Deutsche Krebsgesellschaft, Deutsche Krebshilfe, AWMF: Langversion 3.0, 2019, AWMF-Registernummer: 032/035OL. Forum 2021; 34: 413–415

22.

Concin N, Matias-Guiu X, Vergote I et al (2021) ESGO/ESTRO/ESP guidelines for the management of patients with endometrial carcinoma. Int J Gynecol Cancer 31:12–39

23.

Candido EC, Rangel Neto OF, Toledo MCS, Torres JCC, Cairo AAA, Braganca JF, Teixeira JC (2019) Systematic lymphadenectomy for intermediate risk endometrial carcinoma treatment does not improve the oncological outcome. Eur J Obstet Gynecol Reprod Biol. https://doi.org/10.1016/j.eurox.2019.100020

24.

Volpi L, Sozzi G, Capozzi VA, Ricco M, Merisio C, Di Serio M, Chiantera V, Berretta R (2019) Long term complications following pelvic and para-aortic lymphadenectomy for endometrial cancer, incidence and potential risk factors: a single institution experience. Int J Gynecol Cancer 29:312–319

25.

Rossi EC, Kowalski DL, Scalici J, Cantrell L, Schuler K, Hanna RK, Method M, Ade M, Ivanova A, Boggess J (2017) A comparison of sentinel lymph node biopsy to lymphadenectomy for endometrial cancer staging (FIRES trial): a multicentre, prospective, cohort study. Lancet Oncol 18:384–392

26.

Persson J, Salehi S, Bollino M et al (2019) Pelvic Sentinel lymph node detection in High-Risk Endometrial Cancer (SHREC-trial)—the final step towards a paradigm shift in surgical staging. Eur J Cancer 116:77–85

27.

Daraï E, Dubernard G, Bats A‑S et al (2015) Sentinel node biopsy for the management of early stage endometrial cancer: Long-term results of the SENTI-ENDO study. Gynecol Oncol 136:54–59

28.

Walker JL, Piedmonte MR, Spirtos NM et al (2009) Laparoscopy compared with laparotomy for comprehensive surgical staging of uterine cancer: Gynecologic Oncology Group Study LAP2. J Clin Oncol 27:5331–5336

29.

Walker JL, Piedmonte MR, Spirtos NM et al (2012) Recurrence and survival after random assignment to laparoscopy versus laparotomy for comprehensive surgical staging of uterine cancer: gynecologic oncology group LAP2 study. J Clin Oncol 30:695–700

30.

How JA, O'Farrell P, Amajoud Z et al (2018) Sentinel lymph node mapping in endometrial cancer: a systematic review and meta-analysis. Minerva Obstet Gynecol. https://doi.org/10.23736/S0026-4784.17.04179-X

31.

Carter J, Huang HQ, Armer J et al (2020) GOG 244—the lymphedema and gynecologic cancer (LeG) study: the impact of lower-extremity lymphedema on quality of life, psychological adjustment, physical disability, and function. Gynecol Oncol. https://doi.org/10.1016/j.ygyno.2020.10.023

32.

de Boer SM, Powell ME, Mileshkin L et al (2018) Adjuvant chemoradiotherapy versus radiotherapy alone for women with high-risk endometrial cancer (PORTEC-3): final results of an international, open-label, multicentre, randomised, phase 3 trial. Lancet Oncol 19:295–309

33.

Leitao MM, Zhou QC, Gomez-Hidalgo NR et al (2020) Patient-reported outcomes after surgery for endometrial carcinoma: prevalence of lower-extremity lymphedema after sentinel lymph node mapping versus lymphadenectomy. Gynecol Oncol 156:147–153

34.

Geppert B, Lönnerfors C, Bollino M et al (2018) Sentinel lymph node biopsy in endometrial cancer-feasibility, safety and lymphatic complications. Gynecol Oncol 148:491–498

35.

Obermair HM, O'Hara M, Obermair A et al (2021) Paucity of data evaluating patient centred outcomes following sentinel lymph node dissection in endometrial cancer: a systematic review. Gynecol Oncol Rep 36:100763

36.

Kitchener H et al (2009) Efficacy of systematic pelvic lymphadenectomy in endometrial cancer (MRC ASTEC trial): a randomised study. Lancet 373:125–136

37.

Panici PB, Basile S, Maneschi F et al (2008) Systematic pelvic lymphadenectomy vs no lymphadenectomy in early-stage endometrial carcinoma: randomized clinical trial. J Natl Cancer Inst 100:1707–1716

38.

Multinu F, Ducie JA, Eriksson AGZ et al (2019) Role of lymphadenectomy in endometrial cancer with nonbulky lymph node metastasis: Comparison of comprehensive surgical staging and sentinel lymph node algorithm. Gynecol Oncol 155:177–185

39.

Emons G, Steiner E (2018) S3-Leitlinie Diagnostik, Therapie und Nachsorge der Patientinnen mit Endometriumkarzinom. Gynäkologe 51:996–999

40.

Ramirez PT, Frumovitz M, Pareja R et al (2018) Phase III randomized trial of laparoscopic or robotic versus abdominal radical hysterectomy in patients with early-stage cervical cancer: LACC Trial. Gynecol Oncol (Supplement 1). https://doi.org/10.1016/j.ygyno.2018.04.552

41.

Meixner C (2021) S3-Leitlinie Zervixkarzinom, S 301

42.

Tillmann B (2005) Atlas der Anatomie des Menschen: mit Muskeltrainer ; neue Approbationsordnung. Springer, Berlin

43.

Lécuru F, Mathevet P, Querleu D et al (2011) Bilateral negative sentinel nodes accurately predict absence of lymph node metastasis in early cervical cancer: results of the SENTICOL study. J Clin Oncol 29:1686–1691

44.

Mathevet P, Lecuru F, Magaud L et al (2017) Sentinel lymph node biopsy for early cervical cancer: results of a randomized prospective, multicenter study (Senticol 2) comparing adding pelvic lymph node dissection vs sentinel node biopsy only. Gynecol Oncol 145:2–3

45.

Altgassen C, Hertel H, Brandstädt A et al (2008) Multicenter validation study of the sentinel lymph node concept in cervical cancer: AGO study group. J Clin Oncol 26:2943–2951

46.

Lecuru FR, McCormack M, Hillemanns P et al (2019) SENTICOL III: an international validation study of sentinel node biopsy in early cervical cancer. A GINECO, ENGOT, GCIG and multicenter study. Int J Gynecol Cancer 29:829–834

47.

Cibula D, Dusek J, Jarkovsky J, Dundr P, Querleu D, van der Zee A, Kucukmetin A, Kocian R (2019) A prospective multicenter trial on sentinel lymph node biopsy in patients with early-stage cervical cancer (SENTIX). Int J Gynecol Cancer. https://doi.org/10.1136/ijgc-2018-000010

48.

Guani B, Balaya V, Magaud L et al (2020) The clinical impact of low-volume lymph nodal metastases in early-stage cervical cancer: the Senticol 1 and Senticol 2 trials. Cancers 12:1061
Ethics declarations
Interessenkonflikt
L. Proppe, A. Rody und L.C. Hanker geben an, dass kein Interessenkonflikt besteht.
Für diesen Beitrag wurden von den Autoren keine Studien an Menschen oder Tieren durchgeführt. Für die aufgeführten Studien gelten die jeweils dort angegebenen ethischen Richtlinien.
Additional information
QR-Code scannen & Beitrag online lesen
Redaktion
Nicolai Maass, Kiel
Wolfgang Janni, Ulm
About this article
Cite this article
Proppe, L., Rody, A. & Hanker, L.C. Lymphknotenstaging bei Genitalkarzinomen – wohin geht die Reise?. Gynäkologe (2021). https://doi.org/10.1007/s00129-021-04874-6
Schlüsselwörter
Lymphatische Metastasierung

Vulväre Neoplasien

Sentinellymphknoten-Biopsie

Endometriumkarzinome

Ovarialkarzinome
Keywords
Lymphatic metastasis

Vulvar neoplasms

Sentinel lymph node biopsy

Endometrial neoplasms

Ovarian neoplasms