Zusammenfassung
Guter Schlaf ist bestimmend für körperliche und seelische Gesundheit. Schlaf wird durch ein komplexes Zusammenspiel psychischer, neurophysiologischer und endokrinologischer Faktoren gesteuert. Die menschliche Reproduktion bedingt eine besondere weibliche Physiologie und Endokrinologie, die mit dafür verantwortlich ist, dass Frauen anders schlafen als Männer. Schon in Kindheit, Jugend und jungem Erwachsenenalter zeigen sich charakteristische Besonderheiten des weiblichen Schlafs. Melatonin als wichtiges schlafregulierendes Hormon interagiert mit weiblichen Sexualhormonen. Schlaf ist zyklusabhängig und hat Einfluss auf die Fruchtbarkeit. Wissen um die spannenden und interessanten Besonderheiten des weiblichen Schlafs in der ersten Lebenshälfte und die Integration von psychologischen, schlafmedizinischen und chronobiologischen Faktoren in die frauenärztliche Versorgung kann der Entwicklung von Schlafstörungen vorbeugen.
Abstract
Good sleep quality has a high impact on physical and mental health. Sleep is controlled through complex interactions of psychological, neurophysiological and endocrinological factors. Human reproduction induces a special female physiological and endocrinological status which means that women sleep differently to men. These differences are already present in childhood, adolescence and young adulthood and gain significance in the reproductive phase of life. The female sex hormones interact with the important sleep-regulating hormone melatonin. Sleep is modified by the menstrual cycle and modulates fertility. Knowledge about the fascinating and interesting distinctive features of women's sleep in the first half of life and the integration of psychological, chronobiological and sleep medical factors into gynecological patient care can avoid the development of sleep disorders.
Access options
Buy single article
Instant access to the full article PDF.
US$ 39.95
Tax calculation will be finalised during checkout.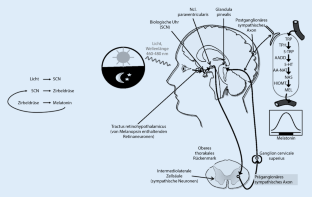 Literatur
1.

Baker FC, Driver HS (2004) Self-reported sleep across the menstrual cycle in young, healthy women. J Psychosom Res 56(2):239–243. https://doi.org/10.1016/S0022-3999(03)00067-9

2.

Baker FC, Driver HS (2007) Circadian rhythms, sleep, and the menstrual cycle. Sleep Med 8(6):613–622. https://doi.org/10.1016/j.sleep.2006.09.011

3.

Begtrup Moelenberg L, Specht Olmer I, Hammer PEC, Esben Meulengracht F, Garde AH, Hansen J et al (2019) Night work and miscarriage: a Danish nationwide register-based cohort study. Occup Environ Med 76(5):302–308. https://doi.org/10.1136/oemed-2018-105592

4.

Caufriez A, Leproult R, L'Hermite-Balériaux M, Kerkhofs M, Copinschi G (2011) Progesterone prevents sleep disturbances and modulates GH, TSH, and melatonin secretion in postmenopausal women. J Clin Endocrinol Metab 96(4):E614–E623. https://doi.org/10.1210/jc.2010-2558

5.

Eryilmaz Gun O, Devran A, Sarikaya E, Aksakal Nur F, Mollamahmutoğlu L, Cicek N (2011) Melatonin improves the oocyte and the embryo in IVF patients with sleep disturbances, but does not improve the sleeping problems. J Assist Reprod Genet 28(9):815–820. https://doi.org/10.1007/s10815-011-9604-y

6.

Fischer D, Lombardi DA, Marucci-Wellman H, Roenneberg T (2017) Chronotypes in the US – influence of age and sex. PLoS ONE 12(6):e178782. https://doi.org/10.1371/journal.pone.0178782

7.

Fogel RB, Malhotra A, Pillar G, Pittman SD, Dunaif A, White DP (2001) Increased prevalence of obstructive sleep apnea syndrome in obese women with polycystic ovary syndrome. J Clin Endocrinol Metab 86(3):1175–1180. https://doi.org/10.1210/jcem.86.3.7316

8.

Guida M, Rega A, Vivone I, Saccone G, Sarno L, Di Carlo C et al (2019) Variations in sleep associated with different types of hormonal contraceptives. Gynecol Endocrinol. https://doi.org/10.1080/09513590.2019.1640204

9.

Hartmann M, Pelzl MA, Kann PH, Koehler U, Betz M, Hildebrandt O, Cassel W (2019) The effects of prolonged single night session of videogaming on sleep and declarative memory. PLoS ONE 14(11):e224893. https://doi.org/10.1371/journal.pone.0224893

10.

Hofmeister S, Bodden S (2016) Premenstrual syndrome and premenstrual dysphoric disorder. AFP 94(3):236–240 (https://www.aafp.org/afp/2016/0801/p236.pdf)

11.

Kloss JD, Perlis ML, Zamzow JA, Culnan EJ, Gracia CR (2015) Sleep, sleep disturbance, and fertility in women. Sleep Med Rev 22:78–87. https://doi.org/10.1016/j.smrv.2014.10.005

12.

Korkmaz A, Topal T, Tan DX et al (2009) Role of melatonin in metabolic regulation. Rev Endocr Metab Disord 10:261–270. https://doi.org/10.1007/s11154-009-9117-5

13.

Koyanagi T, Horimoto N, Nakano H (1991) REM sleep determined using in utero penile tumescence in the human fetus at term. Biol Neonate 60(Suppl 1):30–35. https://doi.org/10.1159/000251014

14.

Kruijver FPM, Swaab DF (2002) Sex hormone receptors are present in the human suprachiasmatic nucleus. Neuroendocrinology 75(5):296–305. https://doi.org/10.1159/000057339

15.

Lancel M, Steiger A (1999) Sleep and its modulation by drugs that affect GABAA receptor function. Angew Chem Int Ed 38(19):2852–2864. https://doi.org/10.1002/(SICI)1521-3773(19991004)38:19〈2852::AID-ANIE2852〉3.0.CO;2‑Z

16.

Liu C, Politch JA, Cullerton E, Go K, Pang S, Kuohung W (2017) Impact of daylight savings time on spontaneous pregnancy loss in in vitro fertilization patients. Chronobiol Int 34(5):571–577. https://doi.org/10.1080/07420528.2017.1279173

17.

Lockley SW, Arendt J, Skene DJ (2007) Visual impairment and circadian rhythm disorders. Dialogues Clin Neurosci 9(3):301–314. https://doi.org/10.31887/DCNS.2007.9.3/slockley

18.

Macchi MM, Bruce JN (2004) Human pineal physiology and functional significance of melatonin. Front Neuroendocrinol 25(3):177–195. https://doi.org/10.1016/j.yfrne.2004.08.001

19.

Mills J, Kuohung W (2019) Impact of circadian rhythms on female reproduction and infertility treatment success. Curr Opin Endocrinol Diabetes Obes 26(6):317–321. https://doi.org/10.1097/MED.0000000000000511

20.

Mirmiran M, Maas YGH, Ariagno RL (2003) Development of fetal and neonatal sleep and circadian rhythms. Sleep Med Rev 7(4):321–334. https://doi.org/10.1053/smrv.2002.0243

21.

Mohawk JA, Takahashi JS (2011) Cell autonomy and synchrony of suprachiasmatic nucleus circadian oscillators. Trends Neurosci 34(7):349–358. https://doi.org/10.1016/j.tins.2011.05.003

22.

Morrissey MJ, Duntley SP, Anch AM, Nonneman R (2004) Active sleep and its role in the prevention of apoptosis in the developing brain. Med Hypotheses 62(6):876–879. https://doi.org/10.1016/j.mehy.2004.01.014

23.

Otmani S, Demazières A, Staner C, Jacob N, Nir T, Zisapel N, Staner L (2008) Effects of prolonged-release melatonin, zolpidem, and their combination on psychomotor functions, memory recall, and driving skills in healthy middle aged and elderly volunteers. Hum Psychopharmacol 23(8):693–705. https://doi.org/10.1002/hup.980

24.

Pal L, Bevilacqua K, Zeitlian G, Jun S, Santoro N (2008) Implications of diminished ovarian reserve (DOR) extend well beyond reproductive concerns. Menopause 15(6):1086–1094. https://doi.org/10.1097/gme.0b013e3181728467

25.

Pengo MF, Won CH, Bourjeily G (2018) Sleep in women across the life span. Chest 154(1):196–206. https://doi.org/10.1016/j.chest.2018.04.005

26.

Plog BA, Nedergaard M (2018) The Glymphatic system in central nervous system health and disease: past, present, and future. Annu Rev Pathol 13:379–394. https://doi.org/10.1146/annurev-pathol-051217-111018

27.

Provencio I, Jiang G, de Grip WJ, Hayes WP, Rollag MD (1998) Melanopsin: an opsin in melanophores, brain, and eye. Proc Natl Acad Sci USA 95(1):340–345

28.

Sanders MH (2002) Increased risk of obstructive sleep apnea in obese women with polycystic ovary syndrome (a review of two related articles): Articles reviewed:'Increased prevalence of obstructive sleep apnea syndrome in obese women with polycystic ovary syndrome' and 'Polycystic ovary syndrome is associated with obstructive sleep apnea and daytime sleepiness: role of insulin resistance'. Sleep Med 3(3):287–289. https://doi.org/10.1016/S1389-9457(02)00034-5

29.

Schüssler P, Kluge M, Adamczyk M, Beitinger ME, Beitinger P, Bleifuss A et al (2018) Sleep after intranasal progesterone vs. zolpidem and placebo in postmenopausal women – a randomized, double-blind cross over study. Psychoneuroendocrinology 92:81–86. https://doi.org/10.1016/j.psyneuen.2018.04.001

30.

Stahl SM (2014) Mechanism of action of tasimelteon in non-24 sleep-wake syndrome: treatment for a circadian rhythm disorder in blind patients. CNS Spectr 19(6):475–478. https://doi.org/10.1017/S1092852914000637

31.

Stahl SM, Muntner N (2013) Stahl's essential psychopharmacology. Neuroscientific basis and practical application, 4. Aufl. Cambridge medicine. Cambridge University Press, Cambridge

32.

Tan D‑X, Manchester LC, Liu X, Rosales-Corral SA, Acuna-Castroviejo D, Reiter RJ (2013) Mitochondria and chloroplasts as the original sites of melatonin synthesis: a hypothesis related to melatonin's primary function and evolution in eukaryotes. J Pineal Res 54(2):127–138. https://doi.org/10.1111/jpi.12026

33.

Vgontzas AN, Legro RS, Bixler EO, Grayev A, Kales A, Chrousos GP (2001) Polycystic ovary syndrome is associated with obstructive sleep apnea and daytime sleepiness: role of insulin resistance. J Clin Endocrinol Metab 86(2):517–520. https://doi.org/10.1210/jcem.86.2.7185

34.

Willis SK, Hatch Elliott E, Wesselink Kent A, Rothman KJ, Mikkelsen EM, Wise LA (2019) Female sleep patterns, shift work, and fecundability in a North American preconception cohort study. Fertil Steril 111(6):1201–1210.e1. https://doi.org/10.1016/j.fertnstert.2019.01.037
Ethics declarations
Interessenkonflikt
W. Cassel erhält Vortrags- und Autorenhonorare von der Medice Arzneimittel Pütter GmbH und Vortragshonorare und Honorare für Beratungstätigkeiten von der Vanda Pharmaceuticals Deutschland GmbH. Vorträge außerdem für: Das Fortbildungskolleg Gesellschaft für medizinische Fortbildung mbH, Niederrheinnetzwerk e.G., Dialog Service GmbH, Polizeiakademie Hessen, STiL Forschungs GmbH, Ferrero OHG mbh, Kompetenznetz Osteologie Pfalz e.V., Interdisziplinäre Osteologisches Kompetenznetz (IOKN) Saar e.V., Softconsult Marburg, Frankfurter Rotkreuz Kliniken e.V. P. Cassel gibt an, dass kein Interessenkonflikt besteht.
Für diesen Beitrag wurden von den Autoren keine Studien an Menschen oder Tieren durchgeführt. Für die aufgeführten Studien gelten die jeweils dort angegebenen ethischen Richtlinien.
Additional information
QR-Code scannen & Beitrag online lesen
Redaktion
Klaus Friese, Oberaudorf
Gisela Gille, Lüneburg
Katrin Schaudig, Hamburg
Anneliese Schwenkhagen, Hamburg
Klaus Vetter, Berlin
About this article
Cite this article
Cassel, W., Cassel, P. Schlafstörungen in der Gynäkologie: Kindheit, Jugend, Fruchtbarkeit. Gynäkologe 54, 704–712 (2021). https://doi.org/10.1007/s00129-021-04843-z
Accepted:

Published:

Issue Date:
Schlüsselwörter
Zirkadianer Rhythmus

Melatonin

Stress

Seelische Gesundheit

Reproduktion
Keywords
Circadian rhythm

Melatonin

Stress

Mental health

Reproduction