Zusammenfassung
Hintergrund
Die Nachsorge nach Mammakarzinomerkrankung dient der Früherkennung lokoregionärer Rezidive, der Erkennung und Behandlung therapiebedingter Komplikationen sowie der Sicherung der Therapieadhärenz.
Fragestellung
Welchen Aspekten der Nachsorge kommt eine zentrale Rolle zu?
Methoden
Auswertung von Grundlagenarbeiten und Expertenempfehlungen.
Ergebnisse
Der Nachsorgezeitraum nach Brustkrebs beträgt 10 Jahre. Die Nachsorgeempfehlungen beschreiben die Algorithmen klinischer und bildgebender Nachsorge. Kurz- und mittelfristige Komplikationen onkologischer Therapien sollten erkannt werden. Die Therapieadhärenz unter endokriner Therapie sollte aktiv abgefragt werden, Nebenwirkungen dieser Therapien können sowohl medikamentös als auch komplementärmedizinisch gemildert werden. Eine Lebensstilberatung (körperliche Aktivität, Normalgewicht, Meidung von Noxen) verbessert die Lebensqualität der Patientinnen und senkt das individuelle Rezidivrisiko. Eine interdisziplinäre Zusammenarbeit mit benachbarten ärztlichen Fachdisziplinen, Physiotherapeuten oder Psychoonkologen sollte bedarfsgerecht erwogen werden. Patientinnen sollten im Einholen einer onkologischen Zweitmeinung unterstützt werden. Routinemäßige Tumormarkerkontrollen oder Organstagings bei asymptomatischen Patientinnen in der Nachsorge werden nicht empfohlen.
Schlussfolgerungen
Die aktuellen Empfehlungen zur Nachsorge nach Mammakarzinomerkrankung sind pragmatisch und orientieren sich vorwiegend an klinischen Befunden. Patientinnen sollten unterstützt werden im Hinblick das Management von therapiebedingten Nebenwirkungen, bei der Bewältigung einer emotionalen und psychosozialen Belastung sowie bei der Umsetzung von Lebensstilmodifikationen.
Abstract
Background
Follow-up examinations after breast cancer involve the early detection of locoregional recurrences. Therapy-associated complications should be discerned and treated and adherence to therapeutic strategies should be endorsed.
Objective
Which constitutes of follow-up examinations are crucial?
Method
Evaluation of the primary literature as well as expert opinions and guidelines.
Results
The timeframe of follow-up after breast cancer comprises 10 years. Expert consensuses suggest an algorithm for clinicoradiological examinations. Short- and long-term complications due to oncologic therapies should be discerned and adequate treatment should be induced. Adherence to endocrine treatment strategies should be queried actively, as side effects of these therapies can be attenuated by conventional and complementary medical approaches. Consultations regarding lifestyle interventions (physical activity, normal weight, avoiding noxae) might improve quality of life and lower the individual risk of breast cancer recurrence. An interdisciplinary cooperation including associated medical disciplines, physiatrists, or psycho-oncologists should be initiated whenever demanded. Patients should be supported in obtaining a second oncological opinion. Laboratory or radiological scans on a routine basis during follow-up are not recommended in asymptomatic breast cancer patients.
Conclusion
Recent recommendations upon follow-up examinations after breast cancer are pragmatic and symptom-oriented. Breast cancer patients should be supported in management of therapy-related complications and side effects, in coping of emotional and psychosocial burdens, and the realization of beneficial lifestyle modifications.
This is a preview of subscription content, log in to check access.
Access options
Buy single article
Instant access to the full article PDF.
US$ 39.95
Tax calculation will be finalised during checkout.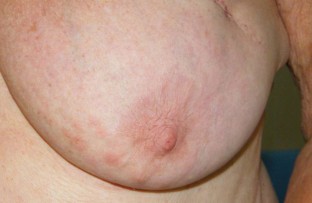 Literatur
1.

Anderson SJ, Wapnir I, Dignam JJ et al (2009) Prognosis after ipsilateral breast tumor recurrence and locoregional recurrences in patients treated by breast-conserving therapy in five national surgical adjuvant breast and bowel project protocols of node-negative breast cancer. J Clin Oncol 27(15):2466–2473

2.

de Bock GH, Bonnema J, van der Hage J et al (2004) Effectiveness of routine visits and routine tests in detecting isolated locoregional recurrences after treatment for early-stage invasive breast cancer: a meta-analysis and systematic review. J Clin Oncol 22(19):4010–4018

3.

Dent R, Valentini A, Hanna W et al (2014) Factors associated with breast cancer mortality after local recurrence. Curr Oncol 21(3):e418–25

4.

https://www.leitlinienprogramm-onkologie.de/fileadmin/user_upload/Downloads/Leitlinien/Mammakarzinom_4_0/Version_4.3/LL_Mammakarzinom_Langversion_4.3.pdfhttps://www.ago-online.de/leitlinien-empfehlungen/leitlinien-empfehlungen/kommission-mamma. Stand Oktober 2020

5.

Khatcheressian JL, Hurley P, Bantug E et al (2013) American Society of Clinical Oncology. Breast cancer follow-up and management after primary treatment: American Society of Clinical Oncology clinical practice guideline update. J Clin Oncol 31(7):961–965

6.

Wojcinski S, Farrokh A, Hille U et al (2011) Optimizing breast cancer follow-up: diagnostic value and costs of additional routine breast ultrasound. Ultrasound Med Biol 37(2):198–206

7.

Moschetti I, Cinquini M, Lambertini M et al (2016) Follow-up strategies for women treated for early breast cancer. Cochrane Database Syst Rev 2016(5):CD1768

8.

Henry NL, Hayes DF, Ramsey SD et al (2014) Promoting quality and evidence-based care in early-stage breast cancer follow-up. J Natl Cancer Inst 106(4):dju34

9.

Partridge AH, Burstein HJ, Winer EP (2001) Side effects of chemotherapy and combined chemohormonal therapy in women with early-stage breast cancer. J Natl Cancer Inst Monogr. https://doi.org/10.1093/oxfordjournals.jncimonographs.a003451

10.

Rutqvist LE (2004) Adjuvant endocrine therapy. Best Pract Res Clin Endocrinol Metab 18(1):81–95

11.

Byun DJ, Wolchok JD, Rosenberg L et al (2017) Cancer immunotherapy—immune checkpoint blockade and associated endocrinopathies. Nat Rev Endocrinol 13(4):195–207

12.

Carreira H, Williams R, Müller M et al (2018) Associations between breast cancer survivorship and adverse mental health outcomes: a systematic review. J Natl Cancer Inst 110(12):1311–1327

13.

Hamner JB, Fleming MD (2007) Lymphedema therapy reduces the volume of edema and pain in patients with breast cancer. Ann Surg Oncol 14(6):1904–1908

14.

Bartlett JMS, Sgroi DC, Treuner K et al (2019) Breast cancer Index and prediction of benefit from extended endocrine therapy in breast cancer patients treated in the adjuvant Tamoxifen-To offer more? (aTTom) trial. Ann Oncol 30(11):1776–1783

15.

Burstein HJ, Lacchetti C, Anderson H et al (2019) Adjuvant endocrine therapy for women with hormone receptor-positive breast cancer: aSCO clinical practice guideline focused update. J Clin Oncol 37(5):423–438

16.

Pan H, Gray R, Braybrooke J et al (2017) EBCTCG. 20-year risks of breast-cancer recurrence after stopping endocrine therapy at 5 years. N Engl J Med 377(19):1836–1846

17.

Hershman DL, Kushi LH, Shao T et al (2010) Early discontinuation and nonadherence to adjuvant hormonal therapy in a cohort of 8,769 early-stage breast cancer patients. J Clin Oncol 28(27):4120–4128

18.

Nabieva N, Kellner S, Fehm T et al (2018) Influence of patient and tumor characteristics on early therapy persistence with letrozole in postmenopausal women with early breast cancer: results of the prospective Evaluate-TM study with 3941 patients. Ann Oncol 29(1):186–192

19.

Paranjpe R, John G, Trivedi M et al (2019) Identifying adherence barriers to oral endocrine therapy among breast cancer survivors. Breast Cancer Res Treat 174(2):297–305

20.

Kingsberg SA, Larkin L, Krychman M, Parish SJ, Bernick B, Mirkin S (2019) WISDOM survey: attitudes and behaviors of physicians toward vulvar and vaginal atrophy (VVA) treatment in women including those with breast cancer history. Menopause 26(2):124–131

21.

Hersant B, Werkoff G, Sawan D et al (2020) Carbon dioxide laser treatment for vulvovaginal atrophy in women treated for breast cancer: preliminary results of the feasibility EPIONE trial. Ann Chir Plast Esthet 65(4):e23–e31

22.

Pearson A, Booker A, Tio M et al (2019) Vaginal CO(2) laser for the treatment of vulvovaginal atrophy in women with breast cancer: LAAVA pilot study. Breast Cancer Res Treat 178(1):135–140

23.

The North American Menopause Society (NAMS) (2020) The 2020 genitourinary syndrome of menopause position statement of The North American Menopause Society. Menopause 27(9):976–992

24.

Plym A, Johansson ALV, Bower H et al (2020) Impact of chemotherapy, radiotherapy, and endocrine therapy on sick leave in women with early-stage breast cancer during a 5-year period: a population-based cohort study. Breast Cancer Res Treat 182(3):699–707

25.

Runowicz CD, Leach CR, Henry NL et al (2016) American Cancer Society/American Society of Clinical Oncology breast cancer survivorship care guideline. J Clin Oncol 20;34(6):611–635

26.

Hatzichristou D, Rosen RC, Derogatis LR et al (2010) Recommendations for the clinical evaluation of men and women with sexual dysfunction. J Sex Med 7(1 Pt 2):337–348

27.

Mody SK, Gorman JR, Oakley LP et al (2019) Contraceptive utilization and counseling among breast cancer survivors. J Cancer Surviv 13(3):438–446

28.

Ewertz M, Jensen MB, Gunnarsdóttir KÁ et al (2011) Effect of obesity on prognosis after early-stage breast cancer. J Clin Oncol 29(1):25–31

29.

Molina-Montes E, Requena M, Sánchez-Cantalejo E et al (2015) Risk of second cancers cancer after a first primary breast cancer: a systematic review and meta-analysis. Gynecol Oncol 136(1):158–171

30.

Auvinen A, Curtis RE, Ron E (2002) Risk of subsequent cancer following breast cancer in men. J Natl Cancer Inst 94(17):1330–1332
Ethics declarations
Interessenkonflikt
T. Heilmann und N. Maass geben an, dass kein Interessenkonflikt besteht.
Für diesen Beitrag wurden von den Autoren keine Studien an Menschen oder Tieren durchgeführt. Für die aufgeführten Studien gelten die jeweils dort angegebenen ethischen Richtlinien.
Additional information
Redaktion
G. Emons, Göttingen
N. Maass, Kiel
About this article
Cite this article
Heilmann, T., Maass, N. Nachsorge nach Mammakarzinomerkrankung. Gynäkologe (2020). https://doi.org/10.1007/s00129-020-04709-w
Schlüsselwörter
Psychoonkologie

Lebensstil

Bildgebung

Rezidiv

Therapieadhärenz
Keywords
Psycho-oncology

Lifestyle

Imaging

Recurrence

Therapy adherence