Zusammenfassung
Hintergrund
Myome des Uterus zählen zu den häufigsten benignen Erkrankungen der Frau. Die Inzidenz beträgt 25–30 %, und mehr als 60 % der Frauen im Alter bis 50 Jahre entwickeln im Laufe ihres Lebens uterine Myome. Minimal-invasive Therapieoptionen und Uteruserhalt gewinnen nach wie vor an Bedeutung. Die operativ-hysteroskopische Resektion uteriner Myome hat sich seit mehr als 20 Jahren etabliert, als moderne Option ergänzt die transzervikale Radiofrequenzablation (RF-Ablation) das Spektrum der operativen Myombehandlung.
Fragestellung
Die operativ-hysteroskopische Resektion und die RF-Ablation von Myomen werden als Operationstechniken mit transzervikalem Zugang auf Grundlage eigener Ergebnisse und aktueller Studiendaten einander gegenübergestellt.
Material und Methoden
Die operativ-hysteroskopische Myomresektion ist als etablierte Operationstechnik submuköser Uterusmyome in unserer Abteilung mit ca. 70 Eingriffen jährlich eine Standardtherapie. Die seit 2011 von uns praktizierte transzervikale ultraschallgesteuerte RF-Ablation submuköser und intramuraler Myome findet im Rahmen unseres Kompetenzzentrums mit inzwischen 77 Eingriffen zunehmend Anwendung.
Ergebnisse
Die Operationsdauer kann bei der RF-Ablation im Vergleich mit der hysteroskopischen Resektion von Myomen vergleichbarer Größe deutlich gesenkt werden. Weiterhin lassen sich perioperative Risiken durch das kontinuierliche intrauterine Ultraschallmonitoring der RF-Ablation reduzieren.
Diskussion
Die klassische hysteroskopische Resektion von Myomen ist nach wie vor der Standard der minimal-invasiven transzervikalen operativen Behandlung submuköser Myome. Die RF-Ablation bietet jedoch Vorteile hinsichtlich einer Reduzierung von Operationsdauer und perioperativen Risiken sowie hinsichtlich des Spektrums therapierbarer Myome.
Abstract
Background
Uterine fibroids are one of the most frequent benign disorders in women. The incidence is 25–30% and more than 60% of women up to 50 years of age develop uterine fibroids during the course of life. Fibroids can cause abnormal uterine bleeding, dyspareunia, bulk symptoms and implantation failure. Minimally invasive treatment and uterus preservation are gaining in importance. Hysteroscopic resection of uterine fibroids has been established as a standard therapy for more than 20 years. Transcervical radiofrequency ablation is a modern option which increases the spectrum of surgical treatment for uterine fibroids.
Objectives
Hysteroscopic resection and radiofrequency ablation of uterine fibroids as transcervical techniques are compared based on own results and current study data.
Materials and methods
Hysteroscopic resection of uterine fibroids is a standard technique for the treatment of submucosal uterine fibroids in this department with approximately 70 procedures per year. Intrauterine ultrasound-guided transcervical radiofrequency ablation has been performed to treat submucosal and intramural fibroids in this competence center since 2011 and is increasingly being implemented with 77 cases to date.
Results
The duration of the operative procedure for radiofrequency ablation compared with hysteroscopic resection of uterine fibroids with a similar size can be significantly reduced. Furthermore, the perioperative risks are reduced by continuous intrauterine ultrasound monitoring.
Conclusions
The classical hysteroscopic resection of uterine fibroids is still the standard for minimally invasive transcervical operative treatment of submucosal uterine fibroids; however, radiofrequency ablation offers advantages with respect to a reduced duration of surgery, fewer perioperative risks and a larger spectrum of uterine fibroids that can be treated.
This is a preview of subscription content, log in to check access.
Access options
Buy single article
Instant access to the full article PDF.
US$ 39.95
Price includes VAT for USA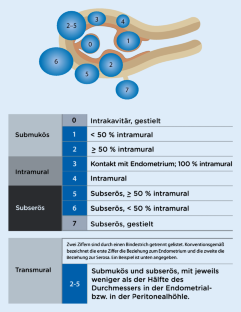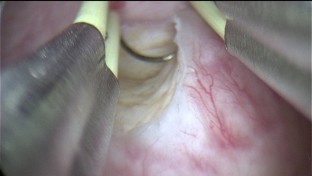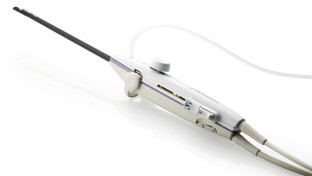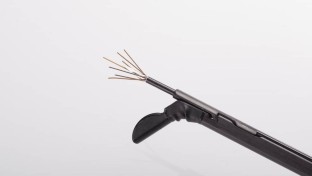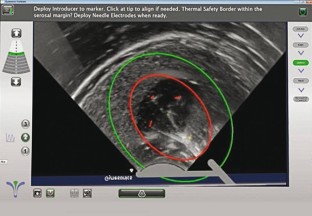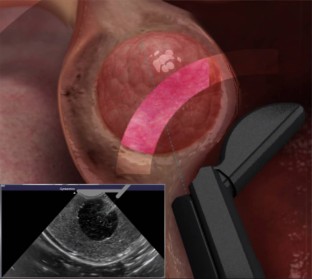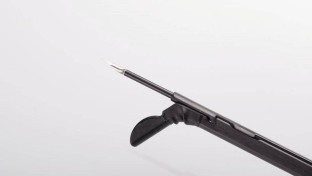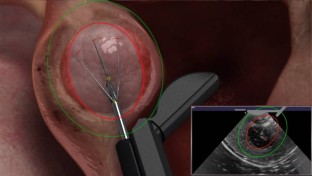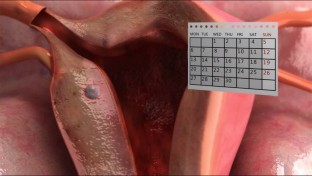 Literatur
1.

Aydeniz B, Gruber IV, Schauf B et al (2002) A multicenter survey of complications associated with 21,676 operative hysteroscopies. Eur J Obstet Gynecol Reprod Biol 104(2):160–164

2.

Bends R, Brössner A, Felberbaum R et al (2016) Myoma in statu nascendi nach transzervikaler Hochfrequenzablation eines transmuralen Leiomyoms des Uterus. Gynäkologische Endokrinologie 14(4):291–294

3.

Bends R, Toub DB, Römer T (2018) Normal spontaneous vaginal delivery after transcervical radiofrequency ablation of uterine fibroids: a case report. Int J Womens Health 10:367–369

4.

Borah BJ, Nicholson WK, Bradley L et al (2013) The impact of uterine leiomyomas: a national survey of affected women. Am J Obstet Gynecol 209(4):319e1–319e20

5.

Brölmann H, Bongers M, Garza-Leal JG et al (2016) The FAST-EU trial: 12-month clinical outcomes of women after intrauterine sonography-guided transcervical radiofrequency ablation of uterine fibroids. Gynecol Surg 13:27–35

6.

Bundesinstitut für Arzneimittel und Medizinprodukte (2018) Rote-Hand-Brief: Indikationseinschränkung, neue Kontraindikation sowie die Notwendigkeit zur Überwachung der Leberfunktion bei der Anwendung von Esmya® (Ulipristalacetat) 5 mg Tabletten. https://www.bfarm.de/SharedDocs/Risikoinformationen/Pharmakovigilanz/DE/RHB/2018/rhb-esmya-ec.pdf (Erstellt: 3. Aug. 2018). Zugegriffen: 1. Jan. 2019

7.

Camanni M, Bonino L, Delpiano EM et al (2010) Hysteroscopic management of large symptomatic submucous uterine myomas. J Minim Invasive Gynecol 17:59–65

8.

Capmas P, Levaillant JM, Fernandez H (2013) Surgical techniques and outcome in the management of submucous fibroids. Curr Opin Obstet Gynecol 25(4):332–338

9.

Capmas P, Voulgaropoulos A, Legendre G et al (2016) Hysteroscopic resection of type 3 myoma: a new challenge? Eur J Obstet Gynecol Reprod Biol 205:165–169

10.

Chudnoff S, Guido R, Roy K et al (2019) Ultrasound-guided transcervical ablation of uterine leiomyomas. Obstet Gynecol 133:13–22

11.

Ciebiera M, Lozinski T, Woityla C et al (2018) Complications in modern hysteroscopic myomectomy. Ginekol Pol 89(7):398–404

12.

Davis MR, Soliman AM, Castelli-Haley J et al (2018) Reintervention rates after myomectomy, endometrial ablation, and uterine artery embolization for patients with uterine fibroids. J Womens Health 27(10):1204–1214

13.

Di Spiezio Sardo A, Mazzon I, Bramante S et al (2008) Hysteroscopic myomectomy: a comprehensive review of surgical techniques. Hum Reprod Update 14:101–119

14.

Friedman JA, Wong JMK, Chaudhari A et al (2018) Hysteroscopic myomectomy: a comparison of techniques and review of current evidence in the management of abnormal uterine bleeding. Curr Opin Obstet Gynecol 30(4):243–251

15.

Gambadauro P, Gudmundsson J, Torrejón R (2012) Intrauterine adhesions following conservative treatment of uterine fibroids. Obstet Gynecol Int. https://doi.org/10.1155/2012/853269

16.

Garza-Leal JG (2018) Long-term clinical outcomes of transcervical radiofrequency ablation of uterine fibroids: the VITALITY study. J Gynecol Surg. https://doi.org/10.1089/gyn.2018.0051

17.

Hart R, Molnár BG, Magos A (1999) Long term follow up of hysteroscopic myomectomy assessed by survival analysis. Br J Obstet Gynaecol 106:700–705

18.

Isono W, Wada-Hiraike O, Sugiyama R et al (2018) Prediction of the operative time for hysteroscopic myomectomy for leiomyomas penetrating the intramural cavity using leiomyoma weight and clinical characteristics of patients. Reprod Med Biol 17:487–492

19.

Jansen FW, Vredevoogd CB, van Ulzen K et al (2000) Complications of hysteroscopy: a prospective, multicenter study. Obstet Gynecol 96(2):266–270

20.

Keltz J, Levie M, Chudnoff S (2017) Pregnancy outcomes after direct uterine myoma thermal ablation: review of the literature. J Minim Invasive Gynecol 24(4):538–545

21.

Korkmazer E, Tekin B, Solak N (2016) Ultrasound guidance during hysteroscopic myomectomy in G1 and G2 submucous myomas: for a safer one step surgery. Eur J Obstet Gynecol Reprod Biol 203:108–111

22.

Ludwin A, Ludwin I, Pityński K et al (2013) Transrectal ultrasound-guided hysteroscopic myomectomy of submucosal myomas with a varying degree of myometrial penetration. J Minim Invasive Gynecol 20(5):672–685

23.

Malcolm G, Munro Hilary OD, Critchley Michael S, Broder I, Fraser S, FIGO Working Group on Menstrual Disorders (2011) FIGO classification system (PALM-COEIN) for causes of abnormal uterine bleeding in nongravid women of reproductive age. Int J Gynecol Obstet 113(1):3–13. https://doi.org/10.1016/j.ijgo.2010.11.011

24.

Mazzon I, Favilli A, Grasso M et al (2015) Is cold loop hysteroscopic myomectomy a safe and effective technique for the treatment of submucous myomas with intramural development? A series of 1434 surgical procedures. J Minim Invasive Gynecol 22(5):792–798

25.

Practice Committee of the American Society for Reproductive Medicine (2017) Removal of myomas in asymptomatic patients to improve fertility and/or reduce miscarriage rate: a guideline. Fertil Steril 108(3):416–425

26.

Pritts EA, Parker WH, Olive DL (2009) Fibroids and infertility: an updated systematic review of the evidence. Fertil Steril 91(4):1215–1223

27.

Rabe T, Sänger N, Albring C et al (2017) Myomsprechstunde: Kinderwunsch Neue diagnostische und therapeutische Optionen bei Patientinnen mit Myomen. J Reprod Med Endocrinol 14(4):158–170

28.

Römer T (2009) Operative Hysteroskopie, 2. Aufl. de Gruyter, Berlin, S 35

29.

Toub DB (2017) A new paradigm for uterine fibroid treatment: transcervical, intrauterine sonography-guided radiofrequency ablation of uterine fibroids with the Sonata system. Curr Obstet Gynecol Rep 6(1):67–73

30.

Touboul C, Fernandez H, Deffieux X et al (2009) Uterine synechiae after bipolar hysteroscopic resection of submucosal myomas in patients with infertility. Fertil Steril 92(5):1690–1693
Ethics declarations
Interessenkonflikt
R. Bends erhielt Beraterhonorar und Erstattung von Hotel- und Reisekosten von der Firma Gynesonics. T. Römer erhielt Beraterhonorare und Erstattung von Reisekosten von den Firmen Gynesonics, Gedeon-Richter, Bayer, Dr. Kade und Exeltis.
Dieser Beitrag beinhaltet keine von den Autoren durchgeführten Studien an Menschen oder Tieren.
Additional information
Redaktion
R. Felberbaum, Kempten
W. Küpker, Bühl
T. Strowitzki, Heidelberg
M. Kiechle, München
Caption Electronic Supplementary Material
Zusätzliches Video 1: Lokalisation, Ablation und Regression des Myoms. (Mit freundl. Genehmigung ©[Gynesonics], alle Rechte vorbehalten) https://doi.org/10.1007/s00129-019-4416-8
About this article
Cite this article
Bends, R., Römer, T. Hysteroskopische Resektion und Radiofrequenzablation uteriner Myome. Gynäkologe 52, 273–279 (2019). https://doi.org/10.1007/s00129-019-4416-8
Schlüsselwörter
Hypermenorrhö

Dysmenorrhö

Fertilität

Intrauterine Sonographie

Myombehandlung
Keywords
Hypermenorrhea

Dysmenorrhea

Fertility

Intrauterine sonography

Fibroid treatment