Abstract
With the number of German Cancer Society (Deutsche Krebsgesellschaft, DKG)-certified centres constantly increasing, the certification system has become the largest in Europe. After 15 years of successfully implementing the certification system in Germany and neighbouring countries, and with numerous studies demonstrating the effectiveness of the system's key principles, the certification program is now ready to take the next step and broaden its scope by launching the European Cancer Centre (ECC) Certification Programme. The ECC Programme is the basis for the DKG's work in the European Commission Joint Actions (CanCon, iPAAC) and for the cooperation with European medical societies. This step will support the expansion and improvement of oncological care delivery in the European member states. Thanks to the comprehensive data collection mechanisms within the certification system, the quality of cancer care becomes not only transparent, but also measurable, comparable and improvable across country boarders. Building upon a European certification system with uniform standards and processes and an auditing system based on quality metrics, the foundation for comprehensive Europe-wide cancer health services research will be laid. This will pave the way towards high-quality cancer care in all European member states.
Zusammenfassung
Mit der immer weiter steigenden Zahl von durch die Deutsche Krebsgesellschaft (DKG) zertifizierten Zentren ist das Zertifizierungssystem mittlerweile das größte in Europa. Nach 15 Jahren erfolgreicher Implementierung des Zertifizierungssystems in Deutschland und in den angrenzenden Ländern sowie durch zahlreiche Studien, die die Wirksamkeit der Kernprinzipien des Systems demonstrieren, ist das Zertifizierungsprogramm jetzt bereit, den nächsten Schritt zu gehen und durch die Einführung des European Cancer Centre Certification Programme (ECC) seine Aktivitäten auszubauen. Das ECC-Programm bildet die Grundlage für die Tätigkeiten der DKG in den Joint Actions der Europäischen Kommission (CanCon, iPAAC) und bei Kooperationen mit europäischen Fachgesellschaften. Durch diesen Schritt sollen der Auf- und Ausbau und die Verbesserung der Qualität der onkologischen Versorgung in den europäischen Mitgliedstaaten unterstützt werden. Dank der umfassenden Datenerfassungsmechanismen innerhalb des Zertifizierungssystems wird die Qualität der Krebsbehandlung nicht nur transparent, sondern auch messbar, vergleichbar und über Ländergrenzen hinweg verbesserbar. Aufbauend auf einem europäischen Zertifizierungssystem mit einheitlichen Standards und Prozessen und einem auf Qualitätsindikatoren basierenden Auditsystem wird die Grundlage für eine umfassende europaweite onkologische Versorgungsforschung gelegt und der Weg zu einer qualitativ hochwertigen Krebsbehandlung in allen europäischen Mitgliedsstaaten geebnet werden.
This is a preview of subscription content, log in to check access.
Access options
Buy single article
Instant access to the full article PDF.
US$ 39.95
Price includes VAT for USA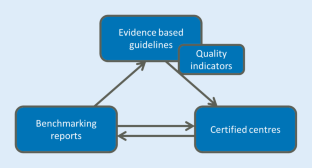 References
1.

Adam H, Siber NT, Bruns J et al (2018) Krebspatienten qualitätsgesichert, multidisziplinär und evidenzbasiert versorgen: das Zertifizierungssystem der Deutschen Krebsgesellschaft. BARMER GEK Gesundheitswesen aktuell, vol 2018, pp 136–155

2.

Beckmann MW, Brucker C, Hanf V et al (2011) Quality assured health care in certified breast centers and improvement of the prognosis of breast cancer patients. Onkologie 34:362–367

3.

Bundesministerium Für Gesundheit (2017) Nationaler Krebsplan – Handlungsfelder, Ziele und Umsetzungsempfehlungen. http://wwww.bmg.bund.de/praevention/nationaler-krebsplan/was-haben-wir-bisher-erreicht/ziel-5-qualitaetssicherung-zertifizierung-onkologischer-behandlungseinrichtungen.html

4.

Comittee on Women's Rights and Equal Opportunities (2003) Report on breast cancer in the European Union (2002/2279(INI)). European Parliament

5.

Greger B, Altendorf-Hofmann A, Kletzke K (2018) Improved outcome in certified Colorectal cancer centers in a German county; in: Perspektiven verändern Krebs – Krebs verändert Perspektiven, 33. Deutscher Krebskongress. Oncol Res Treat 41. Abstract-Nr. 1049

6.

Kowalski C, Ferencz J, Brucker SY et al (2015) Quality of care in breast cancer centers: results of benchmarking by the German cancer society and German society for breast diseases. Breast 24:118–123

7.

Kowalski C, Graeven U, Von Kalle C et al (2017) Shifting cancer care towards Multidisciplinarity: the cancer center certification program of the German cancer society. BMC Cancer 17:850

8.

Kowalski C, Wesselmann S (2016) Zertifizierungssystem der Deutschen Krebsgesellschaft: Orientierung in komplexer Versorgungslandschaft. Dtsch Arztebl Int 113:39

9.

Kreienberg R, Wockel A, Wischnewsky M (2018) Highly significant improvement in guideline adherence, relapse-free and overall survival in breast cancer patients when treated at certified breast cancer centres: an evaluation of 8323 patients. Breast 40:54–59

10.

Robert Koch Institut (2016) Bericht zum Krebsgeschehen in Deutschland 2016. Robert Koch-Institut, Berlin

11.

Sachverständigenrat Für Die Konzertierte Aktion Im Gesundheitswesen (2001) Über‑, Unter- und Fehlversorgung. Gutachten 2000/2001: Bedarfsgerechtigkeit und Wirtschaftlichkeit, vol III. Deutscher Bundestag, Berlin (14. Wahlperiode, Drucksache 14/6871)

12.

Trautmann F, Reissfelder C, Pecqueux M et al (2018) Evidence-based quality standards improve prognosis in colon cancer care. Eur J Surg Oncol 44:1324–1330

13.

Volkel V, Draeger T, Gerken M et al (2018) Long-term survival of patients with colon and rectum carcinomas: is there a difference between cancer centers and non-certified hospitals? Gesundheitswesen. https://doi.org/10.1055/a-0591-3827

14.

Wesselmann S (2012) Entwicklung der Zertifizierungsverfahren für Organkrebszentren und Onkologische Zentren der Deutschen Krebsgesellschaft. Onkologe 18:511–516

15.

WHO (2018) WHO cancer. http://www.euro.who.int/en/health-topics/noncommunicable-diseases/cancer/cancer

16.

Wilking NE, Hofmarcher T, Lindgren P et al (2016) The burden and direct cost of cancer in Europe (EU-28). J Clin Oncol 34:6618–6618
Ethics declarations
Conflict of interest
E. Griesshammer and S. Wesselmann declare that they have no competing interests.
This article does not contain any studies with human participants or animals performed by any of the authors.
Additional information
Redaktion
T. Fehm, Düsseldorf
L. Kiesel, Münster
R. Kimmig, Essen
N. Maass, Kiel
About this article
Cite this article
Griesshammer, E., Wesselmann, S. European Cancer Centre Certification Programme. Gynäkologe 52, 380–385 (2019). https://doi.org/10.1007/s00129-019-4398-6
Keywords
Quality indicators

Qualtiy assurance

Health service research

Certification
Schlüsselwörter
Qualitätsindikatoren

Qualitätssicherung

Versorgungsforschung

Zertifizierung