Zusammenfassung
Die Einführung der nichtinvasiven Pränataltests (NIPTs) im August 2012 in Deutschland hat in den letzten 5 Jahren das pränatale Screening nach fetalen Aneuploidien entscheidend verändert. Die häufigen Trisomien 13, 18 und 21 können durch NIPTs mit einer hohen Sensitivität und Spezifität detektiert werden. Momentan wird von den Anbietern versucht, die Indikationen für NIPTs auf immer mehr genetische Erkrankungen auszuweiten. Die aktuelle Situation und mögliche zukünftige Entwicklungen sollten jedoch vor der Markteinführung von neuen Testsystemen kritisch hinterfragt werden.
Abstract
The introduction of non-invasive prenatal tests (NIPTs) in Germany in August 2012 has dramatically changed the prenatal screening for fetal aneuploidy over the 5 last years. The relatively frequent trisomies 13, 18 and 21 can be detected by NIPTs with high sensitivity and specificity. Currently, the NIPT suppliers are trying to expand the indications for NIPTs to additional genetic diseases. Nevertheless, the current situation and possible future developments should be critically reflected before new test systems are launched onto the market.
Access options
Buy single article
Instant access to the full article PDF.
USD 39.95
Price excludes VAT (USA)
Tax calculation will be finalised during checkout.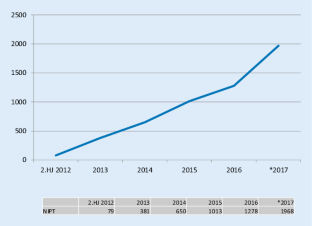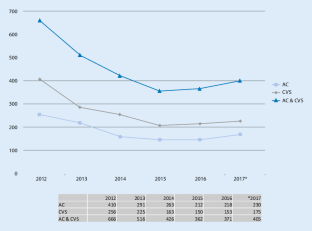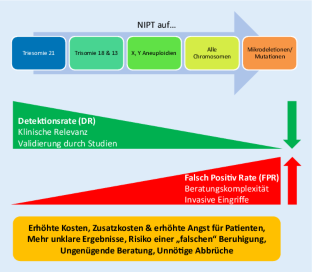 Literatur
American College of Obstetricians and Gynecologists (2015) Cell-free DNA screening for fetal aneuploidy. Committee Opinion No. 640. Obstet Gynecol 126:e31–e37

Akolekar R, Beta J, Picciarelli G, Ogilvie C, D'Antonio F (2015) Procedure-related risk of miscarriage following amniocentesis and chorionic villus sampling: a systematic review and meta-analysis. Ultrasound Obstet Gynecol 45(1):16–26

Allen S, Young E, Bowns B (2017) Noninvasive prenatal diagnosis for single gene disorders. Curr Opin Obstet Gynecol 29(2):73–79

Bayindir B, Dehaspe L, Brison N, Brady P, Ardui S, Kammoun M, Van der Veken L, Lichtenbelt K, Van den Bogaert K, Van Houdt J, Peeters H, Van Esch H, de Ravel T, Legius E, Devriendt K, Vermeesch JR (2015) Noninvasive prenatal testing using a novel analysis pipeline to screen for all autosomal fetal aneuploidies improves pregnancy management. Eur J Hum Genet 23(10):1286–1293

Benn P (2016) Expanding non-invasive prenatal testing beyond chromosomes 21, 18, 13, X and Y. Clin Genet 90(6):477–485

Chu T, Yeniterzi S, Rajkovic A, Hogge WA, Dunkel M, Shaw P, Bunce K, Peters DG (2014) High resolution non-invasive detection of a fetal microdeletion using the GCREM algorithm. Prenat Diagn 34(5):469–477

Gil MM, Accurti V, Santacruz B, Plana MN, Nicolaides KH (2017) Analysis of cell-free DNA in maternal blood in screening for aneuploidies: updated meta-analysis. Ultrasound Obstet Gynecol 50(3):302. https://doi.org/10.1002/uog.17484

Gregg AR, Skotko BG, Benkendorf JL, Monaghan KG, Bajaj K, Best RG, Klugman S, Watson MS (2016) Noninvasive prenatal screening for fetal aneuploidy, 2016 update: a position statement of the American College of Medical Genetics and Genomics. Genet Med 18(10):1056–1065

Gross SJ, Stosic M, McDonald-McGinn DM, Bassett AS, Norvez A, Dhamankar R, Kobara K, Kirkizlar E, Zimmermann B, Wayham N, Babiarz JE, Ryan A, Jinnett KN, Demko Z, Benn P (2016) Clinical experience with single-nucleotide polymorphism-based non-invasive prenatal screening for 22q11.2 deletion syndrome. Ultrasound Obstet Gynecol 47(2):177–183

Helgeson J, Wardrop J, Boomer T, Almasri E, Paxton WB, Saldivar JS, Dharajiya N, Monroe TJ, Farkas DH, Grosu DS, McCullough RM (2015) Clinical outcome of subchromosomal events detected by whole-genome noninvasive prenatal testing. Prenat Diagn 35(10):999–1004

ISPD, Benn P, Borrell A, Chiu RW, Cuckle H, Dugoff L, Faas B, Gross S, Huang T, Johnson J, Maymon R, Norton M, Odibo A, Schielen P, Spencer K, Wright D, Yaron Y (2015) Position statement from the chromosome abnormality screening committee on behalf of the board of the international society for prenatal diagnosis. Prenat Diagn 35(8):725–734

Jensen TJ, Dzakula Z, Deciu C, van den Boom D, Ehrich M (2012) Detection of microdeletion 22q11.2 in a fetus by next-generation sequencing of maternal plasma. Clin Chem 58(7):1148–1151

Kølvraa S, Singh R, Normand EA, Qdaisat S, van den Veyver IB, Jackson L, Hatt L, Schelde P, Uldbjerg N, Vestergaard EM, Zhao L, Chen R, Shaw CA, Breman AM, Beaudet AL (2016) Genome-wide copy number analysis on DNA from fetal cells isolated from the blood of pregnant women. Prenat Diagn 36(12):1127–1134

Lefkowitz RB, Tynan JA, Liu T, Wu Y, Mazloom AR, Almasri E, Hogg G, Angkachatchai V, Zhao C, Grosu DS, McLennan G, Ehrich M (2016) Clinical validation of a noninvasive prenatal test for genomewide detection of fetal copy number variants. Am J Obstet Gynecol 215(2):227.e1–227.e16

Liu H, Gao Y, Hu Z, Lin L, Yin X, Wang J, Chen D, Chen F, Jiang H, Ren J, Wang W (2016) Performance evaluation of NIPT in detection of chromosomal copy number variants using low-coverage whole-genome sequencing of plasma DNA. PLoS ONE 11(7):e159233

Lo KK, Karampetsou E, Boustred C, McKay F, Mason S, Hill M, Plagnol V, Chitty LS (2016) Limited clinical utility of non-invasive prenatal testing for Subchromosomal abnormalities. Am J Hum Genet 98(1):34–44

Neofytou MC, Tsangaras K, Kypri E, Loizides C, Ioannides M, Achilleos A, Mina P, Keravnou A, Sismani C, Koumbaris G, Patsalis PC (2017) Targeted capture enrichment assay for non-invasive prenatal testing of large and small size sub-chromosomal deletions and duplications. PLoS ONE 12(2):e171319

Pescia G, Guex N, Iseli C, Brennan L, Osteras M, Xenarios I, Farinelli L, Conrad B (2017) Cell-free DNA testing of an extended range of chromosomal anomalies: clinical experience with 6,388 consecutive cases. Genet Med 19(2):169–175

Peters D, Chu T, Yatsenko SA, Hendrix N, Hogge WA, Surti U, Bunce K, Dunkel M, Shaw P, Rajkovic A (2011) Noninvasive prenatal diagnosis of a fetal microdeletion syndrome. N Engl J Med 365(19):1847–1848

Rapacchia G, Lapucci C, Pittalis MC, Youssef A, Farina A (2015) The first case report in Italy of Di George syndrome detected by noninvasive prenatal testing. Case Rep Obstet Gynecol 2015:813104. https://doi.org/10.1155/2015/813104

Sahoo T, Hovanes K, Strecker MN, Dzidic N, Commander S, Travis MK (2016) Expanding noninvasive prenatal testing to include microdeletions and segmental aneuploidy: cause for concern? Genet Med 18(3):275–276

Schmid M, Klaritsch P, Arzt W, Burkhardt T, Duba HC, Häusler M, Hafner E, Lang U, Pertl B, Speicher M, Steiner H, Tercanli S, Merz E, Heling KS, Eiben B (2015) Cell-free DNA testing for fetal chromosomal anomalies in clinical practice: Austrian-German-Swiss recommendations for non-invasive prenatal tests (NIPT). Ultraschall Med 36(5):507–510

Srinivasan A, Bianchi DW, Huang H, Sehnert AJ, Rava RP (2013) Noninvasive detection of fetal subchromosome abnormalities via deep sequencing of maternal plasma. Am J Hum Genet 92(2):167–176

Stumm M (2017) Aktuelle Aspekte der Pränatalmedizin. Unimed, Bremen

Wapner RJ, Babiarz JE, Levy B, Stosic M, Zimmermann B, Sigurjonsson S, Wayham N, Ryan A, Banjevic M, Lacroute P, Hu J, Hall MP, Demko Z, Siddiqui A, Rabinowitz M, Gross SJ, Hill M, Benn P (2015) Expanding the scope of noninvasive prenatal testing: detection of fetal microdeletion syndromes. Am J Obstet Gynecol 212(3):332.e1–332.e9

Yin AH, Peng CF, Zhao X, Caughey BA, Yang JX, Liu J, Huang WW, Liu C, Luo DH, Liu HL, Chen YY, Wu J, Hou R, Zhang M, Ai M, Zheng L, Xue RQ, Mai MQ, Guo FF, Qi YM, Wang DM, Krawczyk M, Zhang D, Wang YN, Huang QF, Karin M, Zhang K (2015) Noninvasive detection of fetal subchromosomal abnormalities by semiconductor sequencing of maternal plasma DNA. Proc Natl Acad Sci USA 112(47):14670–14675

Zhao C, Tynan J, Ehrich M, Hannum G, McCullough R, Saldivar JS, Oeth P, van den Boom D, Deciu C (2015) Detection of fetal subchromosomal abnormalities by sequencing circulating cell-free DNA from maternal plasma. Clin Chem 61(4):608–616
Danksagung
M. Stumm bedankt sich bei seinen Kollegen vom Kudamm-199 für die gute und kollegiale Zusammenarbeit in den letzten 15 Jahren.
Ethics declarations
Interessenkonflikt
M. Stumm war und A. Schröer ist Miteigentümer des Zentrums für Pränataldiagnostik und Humangenetik Kurfürstendamm 199. M. Stumm ist darüber hinaus Mitgesellschafter der BG Berlin-Genetics GmbH, die den Praenatest der Firma Lifecodexx AG vertreibt.
Dieser Beitrag beinhaltet keine von den Autoren durchgeführten Studien an Menschen oder Tieren.
Additional information
Redaktion
R. Zimmermann, Zürich
K. Vetter, Berlin
"Screening" bedeutet im vorliegenden Text, dass es sich um individuelle Untersuchungen im Hinblick auf definierte Besonderheiten des Fetus handelt, die nach Aufklärung und fachgebundener genetischer Beratung entsprechend dem GenDG (Gendiagnostikgesetz) angeboten und durchgeführt werden. Es handelt sich nicht um populationsbezogene Tests.
About this article
Cite this article
Stumm, M., Schröer, A. Sollen die Indikationen für nichtinvasive Pränataltests erweitert werden?. Gynäkologe 51, 24–31 (2018). https://doi.org/10.1007/s00129-017-4178-0
Published:

Issue Date:

DOI: https://doi.org/10.1007/s00129-017-4178-0
Schlüsselwörter
Keywords