Zusammenfassung
In den vergangenen Jahren hat sich der Blick auf das Phänomen der Transsexualität international drastisch verändert. Wir sprechen nunmehr von Gender-Dysphorie in unterschiedlichen Ausprägungsformen. Die Notwendigkeit einer Behandlung bezieht sich auf eine Besserung der Dysphorie und ist daher als sehr individuell anzusehen. Die wohl am stärksten ausgeprägte Form der Gender-Dysphorie ist die Transsexualität. Somatische Behandlungsschritte im Sinne von gegengeschlechtlicher Hormonbehandlung und geschlechtsangleichender Operation sind in diesen Fällen jene therapeutischen Schritte, die eine Verbesserung der Lebensqualität der Betroffenen erzielen. Nach Diagnosestellung durch Psychiater, Psychologen sowie Psychotherapeuten und entsprechender Indikationsstellung werden Ärzte diverser Disziplinen, so auch Gynäkologen und Endokrinologen, in den Behandlungsprozess involviert. Eine interdisziplinäre Zusammenarbeit mit Kollegen anderer Fachrichtungen, etwa Urologie, plastische Chirurgie etc., ist wichtig und sinnvoll. Im Beitrag soll ein kurzer Überblick über einige neue Aspekte der Gender-Dysphorie und der Behandlung der Transsexualität aufgezeigt werden.
Abstract
In the recent past the international perspective on the phenomenon of transsexuality has drastically changed and is now referred to as gender dysphoria in various forms of expression. The necessity for treatment refers to an improvement of dysphoria and must therefore be viewed very individually. The most extremely expressed form of gender dysphoria is transsexuality. Somatic treatment steps in the sense of opposite gender hormone treatment and gender change operations are in such cases those therapeutic steps which can achieve an improvement in the quality of life of persons affected. After a diagnosis has been made and the indications for these treatment steps have been established by psychiatrists, psychologists and psychotherapists, medical specialists from diverse disciplines as well as gynecologists and endocrinologists become involved in the treatment process. Interdisciplinary cooperation with other specialist disciplines, such as urology and plastic surgery is important and makes sense. This article presents a brief review of some new aspects of gender dysphoria and the treatment of transsexuality.
This is a preview of subscription content,
to check access.
Access this article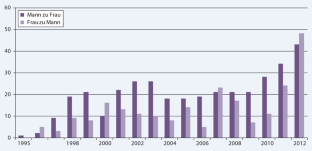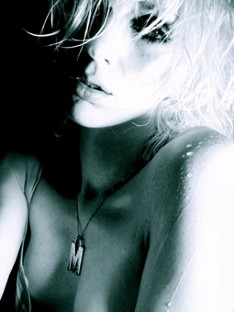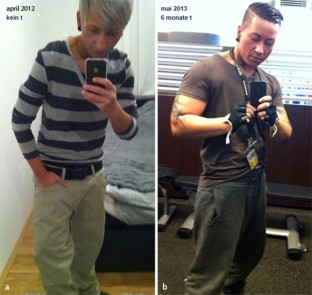 Notes
Österreichisches Personenstandsgesetz 11.10.2013, § 16. Die Personenstandsbehörde hat eine Beurkundung zu ändern, wenn sie nach der Eintragung unrichtig geworden ist.
Literatur
The Yogyakarta principles on the application of international human rights law in relation to sexual orientation and gender identity. http://www.yogyakartaprinciples.org

American Psychiatric Association (2013) Diagnostic and statistical manual of mental disorders, 5th edn. American Psychiatric Publishing, Arlington, VA

Kesteren PJ van, Gooren LJ, Megens JA (1996) An epidemiological and demographic study of transsexuals in The Netherlands. Arch Sex Behav 25:589–600

Zhou JN, Hofman MA, Gooren LJ, Swaab DF (1995) A sex difference in the human brain and its relation to transsexuality. Nature 378:68–70

Swaab DF, Chung WC, Kruijver FP et al (2002) Sexual differentiation of the human hypothalamus. Adv Exp Med Biol 511:75–100

Coleman E, Bockting W, Botzer M et al. (2011) Standards of care for the health of transsexual, transgender, and gender nonconforming people, version 7. Int J Transgenderism 13:165−232. http://www.wpath.org/uploaded_files/140/files/IJT%20SOC,%20V7.pdf (Zugegriffen: 12.12.2013)

Gooren L (2005) Hormone treatment of the adult transsexual patient. Horm Res 64 (Suppl 2):31–36

Becerra Fernández A, Luis Román DA de, Piédrola Maroto G (1999) Morbidity in transsexual patients with cross-gender hormone self-treatment. Med Clin (Barc) 113:484–487

Moore E, Wisniewski A, Dobs A (2003) Endocrine treatment of transsexual people: a review of treatment regimens, outcomes, and adverse effects. J Clin Endocrinol Metab 88:3467–3473

Asscheman H, Giltay EJ, Megens JA et al (2011) A long-term follow-up study of mortality in transsexuals receiving treatment with cross-sex hormones. Eur J Endocrinol 164:635–642. doi:10.1530/EJE-10-1038

Karim RB, Hage JJ, Mulder JW (1996) Neovaginoplasty in male transsexuals: review of surgical techniques and recommendations regarding eligibility. Ann Plast Surg 37:669–675

Kesteren P van, Lips P, Gooren LJ et al (1998) Long-term follow-up of bone mineral density and bone metabolism in transsexuals treated with cross-sex hormones. Clin Endocrinol (Oxf) 48:347–354

Ruetsche AG, Kneubuehl R, Birkhaeuser MH, Lippuner K (2005) Cortical and trabecular bone mineral density in transsexuals after long-term cross-sex hormonal treatment: a cross-sectional study. Osteoporos Int 16:791–798

Elamin MB, Garcia MZ, Murad MH et al (2010) Effect of sex steroid use on cardiovascular risk in transsexual individuals: a systematic review and meta-analyses. Clin Endocrinol (Oxf) 72:1–10. doi:10.1111/j.1365-2265.2009.03632.x

Gooren LJ, Trotsenburg MA van, Giltay EJ, Diest PJ van (2013) Breast cancer development in transsexual subjects receiving cross-sex hormone treatment. J Sex Med. doi:10.1111/jsm.12319

Gooren LJ, Giltay EJ (2008) Review of studies of androgen treatment of female-to-male transsexuals: effects and risks of administration of androgens to females. J Sex Med 5:765–776

Giltay EJ, Gooren LJ (2000) Effects of sex steroid deprivation/administration on hair growth and skin sebum production in transsexual males and females. J Clin Endocrinol Metab 85:2913–2921

Wierckx K, Elaut E, Van Caenegem E et al (2011) Sexual desire in female-to-male transsexual persons: exploration of the role of testosterone administration. Eur J Endocrinol 165:331–337. doi:10.1530/EJE-11-0250 (Epub 2011 May 20)

Slagter MH, Gooren LJ, Scorilas A et al (2006) Effects of long-term androgen administration on breast tissue of female-to-male transsexuals. J Histochem Cytochem 54:905–910

Ott J, Trotsenburg M van, Kaufmann U et al (2010) Combined hysterectomy/salpingo-oophorectomy and mastectomy is a safe and valuable procedure for female-to-male transsexuals. J Sex Med 7:2130–2138. doi:10.1111/j.1743-6109.2010.01719.x

Hage JJ (1996) Metaidoioplasty: an alternative phalloplasty technique in transsexuals. Plast Reconstr Surg 97:161–167

Monstrey SJ, Ceulemans P, Hoebeke P (2011) Sex reassignment surgery in the female-to-male transsexual. Semin Plast Surg 25:229–244. doi:10.1055/s-0031-1281493

Pototschnig H, Schaff J, Kovacs L et al (2013) The free osteofasciocutaneous fibula flap: clinical applications and surgical considerations. Injury. pii: S0020-1383(13)00019-3. doi:10.1016/j.injury.2013.01.007

Hembree WC, Cohen-Kettenis P, Delemarre-van de Waal HA et al (2009) Endocrine treatment of transsexual persons: an Endocrine Society clinical practice guideline. J Clin Endocrinol Metab 94:3132–3154. doi:10.1210/jc.2009-0345

Lawrence AA (2003) Factors associated with satisfaction or regret following male-to-female sex reassignment surgery. Arch Sex Behav 32:299–315

Wierckx K, Van Caenegem E, Elaut E et al (2011) Quality of life and sexual health after sex reassignment surgery in transsexual men. J Sex Med 8:3379–3388. doi:10.1111/j.1743-6109.2011.02348.x

Murad MH, Elamin MB, Garcia MZ (2010) Hormonal therapy and sex reassignment: a systematic review and meta-analysis of quality of life and psychosocial outcomes. Clin Endocrinol (Oxf) 72:214–231. doi:10.1111/j.1365-2265.2009.03625.x

Sohn MH, Hatzinger M, Wirsam K (2013) Genital reassignment surgery in male-to-female transsexuals: do we have guidelines or standards? Handchir Mikrochir Plast Chir 45:207–210. doi:10.1055/s-0033-1343427
Einhaltung ethischer Richtlinien
Interessenkonflikt. U. Kaufmann gibt an, dass kein Interessenkonflikt besteht.
Dieser Beitrag beinhaltet keine Studien an Menschen oder Tieren.
About this article
Cite this article
Kaufmann, U. Transsexualität – Gender-Dysphorie. Gynäkologe 47, 104–110 (2014). https://doi.org/10.1007/s00129-013-3207-x
Published:

Issue Date:

DOI: https://doi.org/10.1007/s00129-013-3207-x
Schlüsselwörter
Keywords