Zusammenfassung
In den vergangenen Jahrzehnten ist durch die Zunahme der Reisetätigkeit und damit auch des Flugverkehrs zu exotischen und weit entfernten Orten auch die Zahl der reisenden Schwangeren gestiegen. Die Entscheidung, ob eine Schwangere verreisen kann, ist abhängig vom Zeitpunkt der Gestation, von präexistenten Erkrankungen und der derzeitigen klinischen Situation. Um eine Schwangere Frau ausgiebig und angemessen zu beraten, bedarf es einer genauen und individuellen Risikoabschätzung. Besondere Vorsicht ist geboten bei ausgeprägter maternaler Anämie, bekannter Hypertonie, Diabetes mellitus, bekannter Thrombose/Embolie sowie einer Thromboseneigung in der Vorgeschichte, extrauterinen Schwangerschaften, Mehrlingsschwangerschaft, Plazentainsuffizienz, vaginale Blutungen, vorzeitigem Blasensprung bzw. vorzeitiger Wehentätigkeit und Zervixverkürzung. Obwohl die meisten Frauen ohne Probleme eine Reise antreten können und nur ein geringes Risiko haben, bedarf es − wie bei allen Situationen während der Schwangerschaft − einiger Planung und der Einhaltung von Vorsichtsmaßnahmen, um die Sicherheit der Frau und ihres ungeborenen Kindes zu gewährleisten.
Abstract
Over the last decades the increase in travelling habits and air flights to exotic and distant places has also resulted in an increase in the number of travelling pregnant women. The decision as to whether a pregnant woman can travel is dependent on the gestational age, preexisting underlying diseases and the current clinical situation. In order to be able to extensively and appropriately advise a pregnant woman, a precise and individualized risk assessment is necessary. Particular caution should be exercised when there is pronounced maternal anemia, known hypertension or diabetes mellitus, known thrombosis/embolism and a predisposition to thrombosis in the anamnesis, extrauterine pregnancy, multiple pregnancies, placental insufficiency, vaginal bleeding, premature rupture of membranes and/or contractions and shortened cervix uteri. Although most women can travel without any problems (having only a low risk profile), it is necessary, as in all situations during pregnancy, to plan and comply with prophylactic measures in order to guarantee the safety of the mother and her unborn child.
Access options
Buy single article
Instant access to the full article PDF.
USD 39.95
Price excludes VAT (USA)
Tax calculation will be finalised during checkout.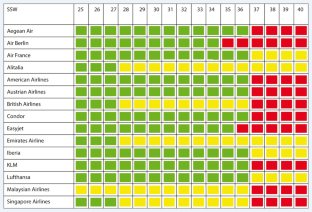 Literatur
Adi Y, Bayliss S, Rouse A et al (2004) The association between air travel and deep vein thrombosis: systematic review & meta-analysis. BMC Cardiovasc Disord 4:7

Andersen BS, Steffensen FH, Sorensen HT et al (1998) The cumulative incidence of venous thromboembolism during pregnancy and puerperium – an 11 year Danish population-based study of 63,300 pregnancies. Acta Obstet Gynecol Scand 77:170–173

Anonymous (2009) ACOG Committee Opinion No. 443: air travel during pregnancy. Obstet Gynecol 114:954–955

Anonymous (2004) ACOG Committee Opinion. Number 299, September 2004 (replaces No. 158, September 1995). Guidelines for diagnostic imaging during pregnancy. Obstet Gynecol 104:647–651

Anonymous (2009) Canadian recommendations for the prevention and treatment of malaria among international travellers–2009. Can Commun Dis Rep 35(Suppl 1):1–82

Anonymous (2012) CDC Health Information for international travel 2012. Oxford University, Oxford

Anonymous (1978) Travelers' diarrhea. N Engl J Med 299:261–262

Barish RJ (2004) In-flight radiation exposure during pregnancy. Obstet Gynecol 103:1326–1330

Bartholomew JR, Schaffer JL, Mccormick GF (2011) Air travel and venous thromboembolism: minimizing the risk. Minn Med 94:43–49

Belcaro G, Geroulakos G, Nicolaides AN et al (2001) Venous thromboembolism from air travel: the LONFLIT study. Angiology 52:369–374

Clarke M, Hopewell S, Juszczak E et al (2006) Compression stockings for preventing deep vein thrombosis in airline passengers. Cochrane Database Syst Rev:CD004002

Coll O, Menendez C, Botet F et al (2008) Treatment and prevention of malaria in pregnancy and newborn. J Perinat Med 36:15–29

Diemert DJ (2006) Prevention and self-treatment of traveler's diarrhea. Clin Microbiol Rev 19:583–594

Dupont HL, Ericsson CD (1993) Prevention and treatment of traveler's diarrhea. N Engl J Med 328:1821–1827

Friese K (2003) The role of infection in preterm labour. BJOG 110(Suppl 20):52–54

Geerts W (2008) Is low-molecular-weight heparin suitable in all patients undergoing knee arthroplasty? Ann Intern Med 149:687 (author reply 687–688)

Geerts WH, Bergqvist D, Pineo GF et al (2008) Prevention of venous thromboembolism: American college of chest physicians evidence-based clinical practice guidelines (8th edn). Chest 133:381S–453S

Genton B, D'acremont V (2012) Malaria prevention in travelers. Infect Dis Clin North Am 26:637–654

Gherman RB, Goodwin TM, Leung B et al (1999) Incidence, clinical characteristics, and timing of objectively diagnosed venous thromboembolism during pregnancy. Obstet Gynecol 94:730–734

Gikandi PW, Noor AM, Gitonga CW et al (2008) Access and barriers to measures targeted to prevent malaria in pregnancy in rural Kenya. Trop Med Int Health 13:208–217

Greer IA (2012) Thrombosis in pregnancy: updates in diagnosis and management. Hematology Am Soc Hematol Educ Program 2012:203–207

Hezelgrave NL, Whitty CJ, Shennan AH et al (2011) Advising on travel during pregnancy. BMJ 342:d2506

Huch R, Baumann H, Fallenstein F et al (1986) Physiologic changes in pregnant women and their fetuses during jet air travel. Am J Obstet Gynecol 154:996–1000

Irvine MH, Einarson A, Bozzo P (2011) Prophylactic use of antimalarials during pregnancy. Can Fam Physician 57:1279–1281

Jean D, Moore LG (2012) Travel to high altitude during pregnancy: frequently asked questions and recommendations for clinicians. High Alt Med Biol 13:73–81

Kuipers S, Cannegieter SC, Middeldorp S et al (2007) The absolute risk of venous thrombosis after air travel: a cohort study of 8,755 employees of international organisations. PLoS Med 4:e290

Kuipers S, Schreijer AJ, Cannegieter SC et al (2007) Travel and venous thrombosis: a systematic review. J Intern Med 262:615–634

Macklon NS, Greer IA (1996) Venous thromboembolic disease in obstetrics and gynaecology: the Scottish experience. Scott Med J 41:83–86

Magann EF, Chauhan SP, Dahlke JD et al (2010) Air travel and pregnancy outcomes: a review of pregnancy regulations and outcomes for passengers, flight attendants, and aviators. Obstet Gynecol Surv 65:396–402

Martin JA, Hamilton BE, Sutton PD et al (2010) Births: final data for 2008. Natl Vital Stat Rep 59:1, 3–71

Mieske K, Flaherty G, O'brien T (2010) Journeys to high altitude–risks and recommendations for travelers with preexisting medical conditions. J Travel Med 17:48–62

Okoko BJ, Enwere G, Ota MO (2003) The epidemiology and consequences of maternal malaria: a review of immunological basis. Acta Trop 87:193–205

Slattery MM, Morrison JJ (2002) Preterm delivery. Lancet 360:1489–1497

Smereck J (2011) Malaria in pregnancy: update on emergency management. J Emerg Med 40:393–396

Tso E (1992) High-altitude illness. Emerg Med Clin North Am 10:231–247

Van Vugt M, Van Beest A, Sicuri E et al (2011) Malaria treatment and prophylaxis in endemic and nonendemic countries: evidence on strategies and their cost-effectiveness. Future Microbiol 6:1485–1500

Yates J (2005) Traveler's diarrhea. Am Fam Physician 71:2095–2100
Interessenkonflikt
Keine Angaben
About this article
Cite this article
Mylonas, I., Friese, K. Reisen während der Schwangerschaft. Gynäkologe 46, 299–306 (2013). https://doi.org/10.1007/s00129-012-3102-x
Published:

Issue Date:

DOI: https://doi.org/10.1007/s00129-012-3102-x
Schlüsselwörter
Thrombose

Gestationsalter

Malaria

Diarrhö

Vorzeitige Wehentätigkeit
Keywords
Thrombosis

Gestational age

Malaria

Diarrhea

Premature contractions