Zusammenfassung
Habituelle Aborte sind multifaktoriell bedingt. Ihnen können ursächlich uterine Veränderungen zugrundeliegen. Solche Fehlbildungen können angeboren oder erworben sein. Zu den angeborenen Formen zählen Uterusseptum, Uterus bicornis, Uterus unicornus, Uterus didelphys und Uterus arcuatus. Letztgenannter scheint allerdings keine Auswirkungen auf ein Abortgeschehen zu haben. Erworbene Veränderungen sind intrauterine Adhäsionen, Endometriumpolypen und Myome. Einige dieser uterinen Malformationen können operativ behoben werden und bei Patientinnen mit habituellen Aborten eine Erhöhung der Lebendgeburtrate bedingen.
Abstract
Recurrent miscarriage can be caused by multiple factors. This review focuses on uterine conditions responsible for recurrent miscarriage. Such anomalies can be either congenital or acquired. Among the former are septate, bicornuate, and unicornuate uterus and uterus didelphys, whereas arcuate uterus does not seem to be responsible for miscarriage. Acquired uterine malformations include intrauterine adhesions, endometrial polyps, and myomas. Some of these malformations can be treated surgically, improving the prognosis for future pregnancies in patients with histories of recurrent abortion.
This is a preview of subscription content,
to check access.
Access this article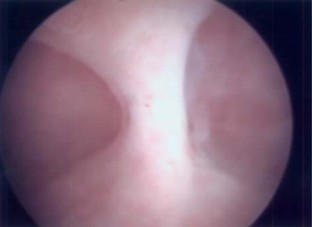 Literatur
Mills JL, Simpson JL, Driscoll SG et al. (1988) Incidence of spontaneous abortion among normal women and insulin-dependent women whose pregnancies were identified within 21 days of conception. N Engl J Med 319: 1617–1623

Brigham SA, Conlon C, Farquharson RG (1999) A longitudinal study of pregnancy outcome following idiopathic recurrent miscarriage. Hum Reprod 14: 2868–2877

Nybo Andersen AM, Woglfahrt J, Christens P et al. (2000) Maternal age and fetal loss: population based register linkage study. BMJ 320: 1708–1712

Pihusch R, Buchholz T, Lohse P et al. (2001) Thrombophilic gene mutations and recurrent spontaneous abortion: prothrombin mutation increases the risk in the first trimester. Am J Reprod Immunol 46: 124–131

Regan L, Braude PR, Tremblath PL (1989) Influence of past reproductive performance on risk of spontaneous abortion. BMJ 299: 541–545

Simon C, Moreno C, Remohi J, Pellicer A (1998) Cytokines and embryo implantation. J Reprod Immunol 39: 117–131

Bohlmann MK, Schauf B, Luedders DW et al. (2007) Aktuelles zur rationellen Diagnostik und Therapie habitueller Frühaborte. Geburtsh Frauenheilkd 67: 217–227

Heffner LJ (2004) Advanced maternal age – how old is too old? N Engl J Med 351: 1927–1929

Knudsen UB, Hansen V, Juul S, Secher NJ (1991) Prognosis of a new pregnancy following previous spontaneous abortions. Eur J Obstet Gynecol Reprod Biol 39: 31–36

Raga F, Bauset C, Remohi J et al. (1997) Reproductive impact of congenital Mullerian anomalies. Hum Reprod 12(10): 2277–2281

Li TC, Makris M, Tomsu M et al. (2002) Recurrent miscarriage: aetiology, management and prognosis. Human Reprod Update 8: 463–481

Homer HA, Li TC, Cooke ID (2000) The septate uterus: a review of management and reproductive outcome. Fertil Steril 73: 1–14

Fedele L, Bianchi S, Agnoli B et al. (1996) Urinary tract anomalies associated with unicornuate uterus. J Urol 155: 847

Mikkila SP, Janas M, Karikoski R et al. (1994) X-linked laterality sequence in a family with carrier manifestations. Am J Med Genet 49: 435–438

Ergun A, Pabuccu R, Atay V et al. (1997) Three sisters with septate uteri: another reference to bidirectional theory. Hum Reprod 12: 140–142

Raziel A, Arieli S, Bukovsky I et al. (1994) Investigation of the uterine cavity in recurrent aborters. Fertil Steril 62: 1080–1082

Heinonen PK (1997) Reproductive performance of women with uterine anomalies after abdominal or hysteroscopic metroplasty or no surgical treatment. J Am Assoc Gynecol Laparosc 4: 311–317

Braun P, Grau FV, Pons RM, Enguix DP (2005) Is hysterosalpingography able to diagnose all uterine malformations correctly? A retrospective study. Eur J Radiol 53: 274–279

Pellerito JS, McCarthy SM, Doyle MB et al. (1992) Diagnosis of uterine anomalies: relative accuracy of MR imaging, endovaginal sonography, and hysterosalpingography. Radiology 183: 795–800

Wu MH, Hsu CC, Huang KE (1997) Detection of congenital mullerian duct anomalies using three-dimensional ultrasound. J Clin Ultrasound 25: 487–492

Alborzi S, Dehbashi S, Parsanezhad ME (2002) Differential diagnosis of septate and bicornuate uterus by sonohysterography eliminates the need for laparoscopy. Fertil Steril 78(1): 176–178

Fischetti SG, Politi G, Lomeo E, Garozzo G (1995) Magnetic resonance in the evaluation of Mullerian duct anomalies. Radiol Med (Torino) 89: 105–111

Letterie GS, Haggerty M, Lindee G (1995) A comparison of pelvic ultrasound and magnetic resonance imaging as diagnostic studies for mullerian tract abnormalities. Int J Fertil Menopausal Stud 40: 34–38

Lavergne N, Aristizabal J, Zarka V et al. (1996) Uterine anomalies and in vitro fertilization: what are the results? Eur J Obstet Gynecol Reprod Biol 68(1–2): 29–34

Acien P (1997) Incidence of Mullerian defects in fertile and infertile women. Hum Reprod 12: 1372–1376

Homer  HA, Li TC, Cooke ID (2000) The septate uterus: a review of management and reproductive outcome. Fertil Steril 73: 1–14

Heinonen PK (2000) Clinical implications of the didelphic uterus: long-term follow-up of 49 cases. Eur J Obstet Gynecol Reprod Biol 91: 183–190

Grimbizis GF, Camus M, Tarlatzis BC et al. (2001) Clinical implications of uterine malformations and hysteroscopic treatment results. Hum Reprod Update 7: 161–174

Heinonen PK (1982) Longitudinal vaginal septum. Eur J Obstet Gynecol Reprod Biol 13(4): 253–258

Sinha R, Mahajan C, Hegde A, Shukla A (2006) Laparoscopic metroplasty for bicornuate uterus. J Minim Invasive Gynecol 13: 70–73

Akar ME, Bayar D, Yildiz S et al. (2005) Reproductive outcome of women with unicornuate uterus. Aust N Z J Obstet Gynaecol 45: 148–150

Canis M, Wattiez A, Pouly JL et al. (1990) Laparoscopic management of unicornuate uterus with rudimentary horn and unilateral extensive endometriosis: case report. Hum Reprod 5: 819–820

Nezhat F, Nezhat C, Bess O, Nezhat CH (1994) Laparoscopic amputation of noncommunicating rudimentary horn after hystcroscopic diagnosis: a case study. Surg Laparosc Eudosc 4: 155–156

AFS (1988) The American Society Classification of adnexal adhesions, distal tubal occlusion, tubal occlusion secondary to tubal ligation, tubal pregnancies, Mullerian anomalies and intrauterine adhesions. Fertil Steril 49: 944–955

Steck T, Bussen S, Marzusch K (1997) Strategien zur Abortprophylaxe bei einer Vorgeschichte mit wiederholten Aborten. I. Epidemiologie, genetische und anatomische Abortursachen. Fertilität 13: 7–16

Woelfer B, Salim R, Banerjee S et al. (2001) Reproductive outcomes in women with congenital uterine anomalies detected by three-dimensional ultrasound screening. Obstet Gynecol 98: 1099–1103

Kim MR, Kim YA, Jo MY et al. (2003) High frequency of endometrial polyps in endometriosis. J Am Assoc Gynecol Laparosc10: 46–48

de Sa Rosa e de Silva AC, Rosa e Silva JC, dos Reis FJ et al. (2005) Routine office hysteroscopy in the investigation of infertile couples before assisted reproduction. J Reprod Med 50: 501–506

Guimaraes Filho HA, Mattar R, Pires CR et al. (2006) Comparison of hysterosalpingography, hysterosonography and hysteroscopy in evaluation of the uterine cavity in patients with recurrent pregnancy losses. Arch Gynecol Obstet 274: 284–288

Perez-Medina T, Bajo-Arenas J, Salazar F et al. (2005) Endometrial polyps and their implication in the pregnancy rates of patients undergoing intrauterine insemination: a prospective, randomized study. Hum Reprod 20: 1632–1635

Isikoglu M, Berkkanoglu M, Senturk Z et al. (2006) Endometrial polyps smaller than 1.5 cm do not affect ICSI outcome. Reprod Biomed Online 12: 199–204

Batioglu S, Kaymak O (2005) Does hysteroscopic polypectomy without cycle cancellation affect IVF? Reprod Biomed Online 10: 767–769

Heinemann K, Thiel C, Mohner S et al. (2003) Benign gynecologic tumors: estimated incidence results of the German Cohort Study on Women's Health. Eur J Obstet Gynecol Reprod Biol 107: 78–80

Wallach E, Vlahos NF (2004) Uterine myomas: an overview of development, clinical features and management. Obstet Gynecol 104: 393–406

Bernard G, Darai E, Poncelet C et al. (2000) Fertility after hysteroscopic myomectomy: effect of intramural myomas associated. Eur J Obstet Gynecol Reprod Biol 88: 85–90

Fernandez H, Sefrioui O, Virelizier C et al. (2001) Hysteroscopic resection of submucosal myomas in patients with infertility. Hum Reprod 16: 1489–1492

Feinberg EC, Larsen FW, Catherino WH et al. (2006) Comparison of assisted reproductive technology utilization and outcomes between Caucasian and African American patients in an equal access to care setting. Fertil Steril 85: 888–894

Klatsky PC, Lane DE, Ryan IP, Fujimoto VY (2007) The effect of fibroids without cavity involvement on ART outcomes independent of ovarian age. Hum Reprod 22: 521–526

Lumsden MA (2002) Embolization versus myomectomy versus hysterectomy: which is best, when? Hum Reprod 17: 253–259

Filicori M, Hall DA, Loughlin JS et al. (1983) A conservative approach to the management of uterine leiomyoma: pituitary desensitization by a luteinizing hormone-releasing hormone analogue. Am J Obstet Gynecol 147: 726–727

Asherman JG (1950) Traumatic intra-uterine adhesions. J Obstet Gynaecol Br Emp 57: 892–896

Tam WH, Lau WC, Cheung LP et al. (2002) Intrauterine adhesions after conservative and surgical management of spontaneous abortion. J Am Assoc Gynecol Laparosc 9: 182–185

Bukulmez O, Yarali H, Gurgan T (1999) Total corporal synechiae due to tuberculosis carry a very poor prognosis following hysteroscopic synechialysis. Hum Reprod 14:1960–1961

Al-Inany H (2001) Intrauterine adhesions. An update. Acta Obstet Gynecol Scand 80: 986–993

Ventolini G, Zhang M, Gruber J (2004) Hysteroscopy in the evaluation of patients with recurrent pregnancy loss: a cohort study in a primary care population. Surg Endosc 18: 1782–1784

Weiss A, Shalev E, Romano S (2005) Hysteroscopy may be justified after two miscarriages. Hum Reprod 20: 2628–2631

Schenker JG, Margalioth EJ (1982) Intrauterine adhesions: an updated appraisal. Fertil Steril 37: 1823.e1–3

Polishuk WZ, Sadovsky E (1975) A syndrome of recurrent intrauterine adhesions. Am J Obst Gynecol 123: 151–158

American Fertility Society (1988) The American Fertility Society classifications of adnexal adhesions, distal tubal occlusion, tubal occlusion secondary to tubal ligation, tubal pregnancies, Mullerian anomalies and intrauterine adhesions. Fertil Steril 49: 944–955
Interessenkonflikt
Der korrespondierende Autor gibt an, dass kein Interessenkonflikt besteht.
About this article
Cite this article
Hornemann, A., Luedders, D., Kumbartski, M. et al. Anatomische Ursachen habitueller Aborte. Gynäkologe 42, 11–16 (2009). https://doi.org/10.1007/s00129-008-2227-4
Published:

Issue Date:

DOI: https://doi.org/10.1007/s00129-008-2227-4
Schlüsselwörter
Keywords