Zusammenfassung
Störungen der Brustentwicklung haben eine große Bedeutung in der Pubertät und Adoleszenz der Betroffenen. Neben psychologischen Problemen beeinflussen eine Reihe körperlicher Beschwerden die Gesundheit der Mädchen. Im vorliegenden Beitrag werden die Ursachen und Erscheinungsformen der Entwicklungsanomalien der weiblichen Brustdrüse behandelt. Zum besseren Verständnis werden Ausführungen zur Anatomie und physiologischen Entwicklung der Brust vorangestellt. Es wird auf die Vielzahl der Fehlbildungen wie Amastie, Athelie, Polymastie, Polythelie, Mammahypoplasie und -hyperplasie, Mammaasymmetrie, die tubuläre Brust, die Trichterbrust, das Poland-Syndrom und die Veränderungen der Mamille hingewiesen.
Besondere Beachtung gilt den verschiedenen Möglichkeiten einer operativen Korrektur. Jeder operativen Maßnahme muss eine ausführliche Aufklärung vorangehen. Dabei sollte die Beratung der Mädchen immer individuell erfolgen. Als optimaler Zeitpunkt gilt die abgeschlossene Entwicklung der Brustdrüse.
Abstract
Anomalies of the breast development are for girls in puberty and adolescence of great importance. Besides psychological problems a lot of physical complications can affect the health of the girls. This paper reports on causes and symptoms of female breast anomalies. We start with the basic anatomical and embryological knowledge. Furthermore malformations as amastia, athelia, polymastia, polythelia, breast hypoplasia and breast hypertrophy, breast asymmetria, tuberous breast deformity, funnel chest, Poland's syndrome and inverted nipples are described.
The possibilities of surgical treatment are discussed. A comprehensive and individual information of the patient is necessary before the surgical procedure. For the surgical correction of the anomalies the time after final development of the breast seems optimal.
Access options
Buy single article
Instant access to the full article PDF.
USD 39.95
Price includes VAT (USA)
Tax calculation will be finalised during checkout.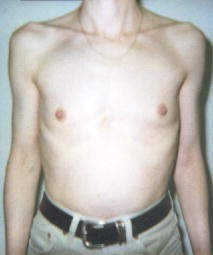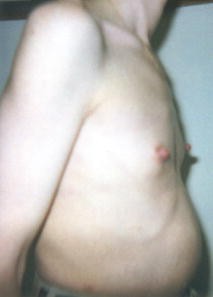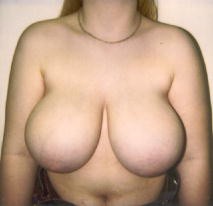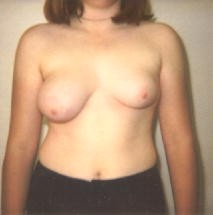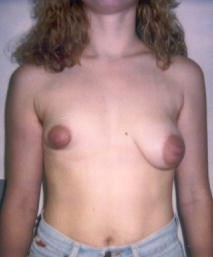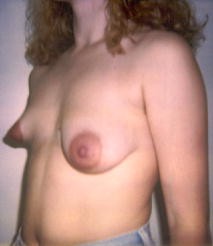 Literatur
1.

Bässler R (1978) Pathologie der Brustdrüse. In: Doerr W, Seifert G, Kehlinger E (Hrsg) Spezielle pathologische Anatomie, Bd.11. Springer, Berlin Heidelberg New York

2.

Rother P (1987) Haut. In: Bertolini R (Hrsg) Systematische Anatomie des Menschen. Volk & Gesundheit, Berlin, S 490–497

3.

Boenig H (1960) Leitfaden der Entwicklungsgeschichte des Menschen. Thieme, Leipzig, S 243–245

4.

Dienemann H, Heberer G, Sunder-Plassmann (1993) Thoraxchirurgie: Brustwand, Pleura, Mediastinum, Lunge. In: Heberer G, Köle W, Tscherne H (Hrsg) Chirurgie und angrenzende Gebiete. Springer, Berlin Heidelberg New York, S 335–370

5.

Drever JM, Zavala J (2002) Unilateral absence of the external oblique muscle with hypoplasia of the rectus abdominis muscle in a patient with Poland syndrom. Plast Reconstr Surg 110: 1802–1803

6.

Filho OJP, Bins-Ely J, Granemann AS, Bertelli JA, Abdalla SC (2001) Closed inverted nipple treatment through a microincision procedure. Plast Reconstr Surg 108: 1000–1005

7.

Fokin AA, Robicsek F (2002) Poland's syndrome revisited. Ann Thorac Surg 74: 2218–2225

8.

Fonkalsrud EW (2004) Management of pectus chest deformities in female patients. Am J Surg 187: 192–197

9.

Hang S, Hong YG (1999) The inverted nipple: Its grading and surgical correction. Plast Reconstr Surg 104: 389–395

10.

Hodgkinson DJ (2002) The management of anterior chest wall deformity in patients presenting for breast augmentation. Plast Reconstr Surg 109: 1714–1723

11.

Kant YL, Nguyen DB, Williams RM (2000) Complete breast absence revisited. Plast Reconstr Surg 106: 98–101

12.

Kim DY, Jeong EC, Eo SR, Kim KS, Lee SY,Cho BH (2003) Correction of inverted nipple—An alternative method using two triangular areolar dermal flaps. Ann Plast Surg 51: 636–640

13.

Lee KY, Cho BC (2004) Surgical correction of inverted nipples using the modified Namba or Teimourian technique. Plast Reconstr Surg 113: 328–336

14.

Mandrekas AD, Zambacos GJ, Anastasopoulos A, Hapsas D, Lamprinaki N, Ioannidou-Mouzaka L (2003) Aesthetic reconstruction of the tuberous breast deformity. Plast Reconstr Surg 112: 1099–1108

15.

McKissock PK (1972) Reduction mammaplasty with a vertikal dermal flap. Plast Reconstr Surg 49: 245–252

16.

Puckett CL, Concannon MJ (1990) Augmenting the narrow-based breast: The unfurling technique to prevent the double-bubble deformity. Aesthetic Plast Surg 14: 15–19

17.

Ribeiro L, Canzi W, Buss A, Accorsi A (1998) Tuberous breast: A new approach. Plast Reconstr Surg 101: 42–50

18.

Scholten E (2000) The classification of inverted nipples. Plast Reconstr Surg 106: 737–738

19.

Seitzer D (1996) Die Entwicklung der Brust und ihre Störungen. In: Wolf AS, Esser-Mittag J (Hrsg) Kinder- und Jugendgynäkologie. Schattauer, Stuttgart New York, S 165–190

20.

Strombeck JO (1960) Mammaplasty: Report of a new technique based on the two-pedicle procedure. Br J Plast Reconstr Surg 59: 79–90

21.

Tal MG (2003) Correction of inverted nipple using piercing. Plast Reconstr Surg 112: 1178–1179

22.

von Heimburg D (2000) Refined version of the tuberous breast classification. Plast Reconstr Surg 105: 2269–2270

23.

von Heimburg D, Exner K, Kruft S, Lemperle S (1996) The tuberous breast deformity: Classification and treatment. Br J Plast Surg 49: 339–345
Interessenkonflikt:
Der korrespondierende Autor versichert, dass keine Verbindungen mit einer Firma, deren Produkt in dem Artikel genannt ist, oder einer Firma, die ein Konkurrenzprodukt vertreibt, bestehen.
About this article
Cite this article
Petzold, A., Distler, W. Entwicklungsanomalien der adoleszenten Mamma und ihre operative Korrektur. Gynäkologe 37, 791–798 (2004). https://doi.org/10.1007/s00129-004-1580-1
Schlüsselwörter
Adoleszenz

Brustentwicklung

Brustfehlbildungen

Operative Korrektur

Poland-Syndrom
Keywords
Adolescence

Breast malformation

Breast development

Surgical procedures

Poland's syndrome