Abstract
The occurrence of Helicobacter spp. and fecal bacterial contamination was investigated in high-altitude environments from the Northeastern Andes of Venezuela. Helicobacter DNA was detected by PCR in streams, drinking and irrigation waters, and one culture from drinking water by the HP enrichment medium for selection of Helicobacter pylori, which displayed 98.98% homology to this pathogen based on 16S rRNA gene sequencing. FISH demonstrated predominant coccoid cells of the target bacteria indicative of the viable but nonculturable (VBNC) state in all water samples and HP cultures. Our work reveals for the first time Helicobacter spp. in waters from one of the highest places in the world. These results, together with the presence of fecal coliforms (2–160 MPN/100 mL) from the headwaters of rivers to drinking and irrigation waters, alert fecal contamination and epidemiological implications in this area of ecological and economic importance for the region.
Access options
Buy single article
Instant access to the full article PDF.
USD 39.95
Price includes VAT (USA)
Tax calculation will be finalised during checkout.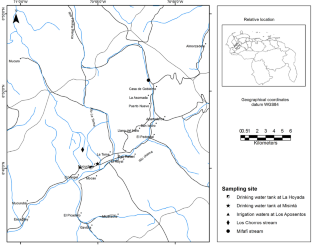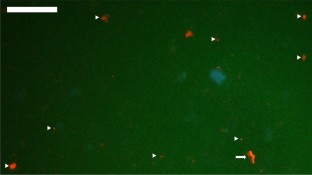 References
Amann RI, Ludwig W, Schleifer KH (1995) Phylogenetic identification and in situ detection of individual microbial cells without cultivation. Microbiol Rev 59:143–169

APHA, AWWA, WEF (2012) Standard Method for the Examination of Water and Wastewater, 22nd edn. American Public Health Association/ American Water Works Association/Water Environment Federation, Washington, DC

Assadi M, Chamanrokh P, Whitehouse CA, Huq A (2015) Methods for detecting the environmental coccoid form of Helicobacter pylori. Front Public Health 3:147

Aziz R, Khalifa M, Sharaf R (2013) Contaminated water as a source of Helicobacter pylori infection: A review. J Adv Res 6:539–547

Bellack NR, Koehoorn MW, MacNab YC, Morshed MG (2006) A conceptual model of water's role as a reservoir in Helicobacter pylori transmission: a review of the evidence. Epidemiol Infect 134:439–449

Chan V, Crocetti G, Grehan M, Zhang L, Danon S, Lee A, Mitchell H (2005) Visualization of Helicobacter species within the murine cecal mucosa using specific fluorescence in situ hybridization. Helicobacter 10:114–124

Contreras M, Morales A, García-Amado MA, De Vera M, Bermúdez V, Gueneau P (2007) Detection of Helicobacter-like DNA in the gastric mucosa of Thoroughbred horses. Lett Appl Microbiol 45:553–557

Degnan AJ, Sonzogni WC, Standridge JH (2003) Development of a plating medium for selection of Helicobacter pylori from water samples. Appl Environ Microbiol 69:2914–2918

Domínguez-Bello M, Beker B, Guelrud M, Vivas J, Peraza S, Pérez M, Pericchi L (2002) Socioeconomic and seasonal variations of Helicobacter pylori infection in patients in Venezuela. Am J Trop Med Hyg 66:49–51

Fernández-Delgado M, Giarrizo J, García-Amado M, Contreras M, Salazar V, Barton H, Suárez P (2016) Occurrence of Helicobacter spp. in freshwaters of Roraima Tepui: potential implications for public health. Anton Leeuw Int J G 109:529–542

Frost F, Kacprowski T, Rühlemann M, Bang C, Franke A, Zimmermann K, Nauck M, Völker U, Völzke H, Biffar R, Schulz C, Mayerle J, Weiss FU, Homuth G, Lerch MM (2019) Helicobacter pylori infection associates with fecal microbiota composition and diversity. Sci Rep 9:20100

Germani Y, Dauga C, Duval P, Huerre M, Levy M, Pialoux G, Sansonetti P, Grimont PA (1997) Strategy for the detection of Helicobacter species by amplification of 16S rRNA genes and identification of H. felis in a human gastric biopsy. Res Microbiol 148:315–326

Goodman K, Correa P, Tengana H, Ramirez H, DeLany JP, Guerrero O, Lopez M, Collazos T (1996) Helicobacter pylori infection in the Colombian Andes: A population-based study of transmission pathways. Am J Epidemiol 144:290–299

Hooi JKY, Lai WY, Ng WK, Suen MMY, Underwood FE, Tanyingoh D, Malfertheiner P, Graham DY, Wong VWS, Wu JCY, Chan FKL, Sung JJY, Kaplan GG, Ng SC (2017) Global prevalence of Helicobacter pylori infection: Systematic review and meta-analysis. Gastroenterology 153:420–429

Janzon A, Sjoling A, Lothigius A, Ahmed D, Qadri F, Svennerholm A (2009) Failure to detect Helicobacter pylori DNA in drinking and environmental water in Dhaka, Bangladesh, using highly sensitive real-time PCR assays. Appl Environ Microbiol 75:3039–3044

Kansau I, Raymond J, Bingen E, Courcoux P, Kalach N, Bergeret M, Braimi N, Dupont C, Labigne A (1996) Genotyping of Helicobacter pylori isolates by sequencing of PCR products and comparison with the RAPD technique. Res Microbiol 147:661–669

Kusters JG, van Vliet AH, Kuipers EJ (2006) Pathogenesis of Helicobacter pylori infection. Clin Microbiol Rev 19:449–490

Lu J, Perng C, Shyu R, Chen C, Lou Q, Chong S, Lee C (1999) Comparison of five PCR methods for detection of Helicobacter pylori DNA in gastric tissues. J Clin Microbiol 37:772–774

Mazaheri M, Chamanrokh P, Whitehouse CA, Huq A (2015) Methods for detecting the environmental coccoid form of Helicobacter pylori. Front Public Health 3:147

Moreno Y, Ferrus MA (2012) Specific detection of cultivable Helicobacter pylori cells from wasterwater treatment plants. Helicobacter 17:327–332

Gaceta Oficial de la República de Venezuela Nº890 (1996) Normas para la clasificación y el control de la calidad de los cuerpos de agua y vertidos o efluentes líquidos. Decreto 883. Gaceta Oficial. pp. 50–62. Available from http://www.hidrosolucion.com/blog-es/decreto-n-883/. (Accessed July 2020)

Peek R, Miller G, Tham K, Pérez-Pérez GI, Cover T, Atherton JC, Dunn GD, Blaser MJ (1995) Detection of Helicobacter pylori gene expression in human gastric mucosa. J Clin Microbiol 33:28–32

Rugge M, Busatto G, Cassaro M, Shiao YH, Russo V, Leandro G, Avellini C, Fabiano A, Sidoni A, Covacci A (1999) Patients younger than 40 years with gastric carcinoma: Helicobacter pylori genotype and associated gastritis phenotype. Cancer 85:2506–2511

Santiago P, Moreno Y, Ferrus MA (2015) Identification of viable Helicobacter pylori in drinking water supplies by cultural and molecular techniques. Helicobacter 20:252–259

Sarmiento L (2000) Water balance and soil loss under long fallow agriculture in the Venezuelan Andes. Mountain Res Develop 20:246–253

Steele TW, McDermott SN (1984) Technical note: the use of membrane filters applied directly to the surface of agar plates for the isolation of Campylobacter jejuni from faeces. Pathology 6:263–265

Tirodimos I, Bobos M, Kazakos E, Haidich A, Dardavessis T, Kostopoulos I, Arvanitidou M (2014) Molecular detection of Helicobacter pylori in a large Mediterranean river, by direct viable count fluorescent in situ hybridization (DVC-FISH). J Wat Health 12:868–873

Trebesius K, Panthel K, Strobel S, Vogt K, Faller G, Kirchner T, Kist M, Heesemann J, Haas R (2000) Rapid and specific detection of Helicobacter pylori macrolide resistance gastric tissue by fluorescent in situ hybridisation. Gut 46:608–614

Twing KI, Kirchman DL, Campbell BJ (2011) Temporal study of Helicobacter pylori presence in coastal freshwater, estuary and marine waters. Water Res 45:1897–1905

USEPA (2016) Contaminant Candidate List (CCL) and regulatory determination. Draft CCL 4. https://www.epa.gov/ccl/draft-contaminant-candidate-list-4-ccl-4. (Accessed July 2020)

Vesga FJ, Moreno Y, Ferrús MA, Ledesma-Gaitan LM, Campos C, Trespalacios AA (2019) Correlation among fecal indicator bacteria and physicochemical parameters with the presence of Helicobacter pylori DNA in raw and drinking water from Bogotá. Colombia. Helicobacter 24:e12582

Voytek MA, Ashen JB, Fogarty LR, Kirshtein JD, Landa ER (2005) Detection of Helicobacter pylori and fecal indicator bacteria in five North American rivers. J Water Health 3:405–422

Watson CL, Owen RJ, Said B, Lai S, Lee JV, Surman-Lee S, Nichols G (2004) Detection of Helicobacter pylori by PCR but not culture in water and biofilm samples from drinking water distribution systems in England. J Appl Microbiol 97:690–698

Yap TW-C, Gan H-M, Lee Y-P, Leow AH-R, Azmi AN, Francois F, Perez-Perez GI, Loke M-F, Goh K-L, Vadivelu J (2016) Helicobacter pylori eradication causes perturbation of the human gut microbiome in young adults. PLoS ONE 11:e0151893
Acknowledgements
The authors gratefully acknowledge to E. Rivas for sampling contribution, Y. Serrano (Departamento de Biología de Organismos, USB) and research staff from Laboratorio de Fisiología Gastrointestinal (CBB, IVIC) for facilities in the experimental work, G. Velásquez and S. Cobarrubia-Russo for assistance and workers from Alcaldía del Municipio Rafael Rangel with Figs. 1, 2, respectively, as well as R.N. Incani for English style manuscript correction. The authors also wish to thank the Reviewers of the manuscript for the improvements in the understanding and discussion of the study. This work was funded by grants from IVIC to M.F. and V.S. and USB to P.S. Special thanks to the IVIC Direction for the financial and logistical support.
Additional information
Publisher's Note
Springer Nature remains neutral with regard to jurisdictional claims in published maps and institutional affiliations.
Supplementary Information
Below is the link to the electronic supplementary material.
About this article
Cite this article
Duarte, N., Salazar, V., Casanova, G. et al. Occurrence of Helicobacter spp. and Fecal Bacterial Contamination in High-altitude Aquatic Environments from the Andes. Bull Environ Contam Toxicol 107, 433–440 (2021). https://doi.org/10.1007/s00128-021-03347-9
Received:

Accepted:

Published:

Issue Date:
Keywords
Helicobacter

VBNC

Fecal contamination

Waters

Andes