Abstract
Tannery wastewater is a significant cause of chromium (Cr) contamination in land and water. This study assessed Cr contamination caused by the discharge of tannery wastewater in the Dhaleshwari River and identified possible native plants for phytoremediation of Cr. Water, soil and sediments samples were collected from upstream and downstream of the wastewater discharge channel of Savar tannery industrial estate situated on the bank of the river. Samples of root, stem, leaf and fruit of four selected plants (i.e., Eichhornia crassipes, Xanthium strumarium L., Cynodon dactylon, Croton bonplandianum Baill.) were also collected from those sampling points. The total Cr in acid digested samples were determined by flame atomic absorption spectrometry. High concentrations of Cr were detected in the water, soil and sediment samples collected near the wastewater discharge channel. Of all the plant species, Xanthium strumarium L. exhibited high translocation factors (TF) and bioconcentration factors (BCF) for Cr. Based on the findings of this study Xanthium strumarium L. is preferable as a native species for phytoremediation of Cr.
Access options
Buy single article
Instant access to the full article PDF.
USD 39.95
Price includes VAT (USA)
Tax calculation will be finalised during checkout.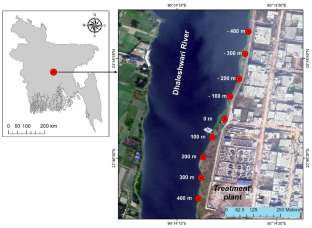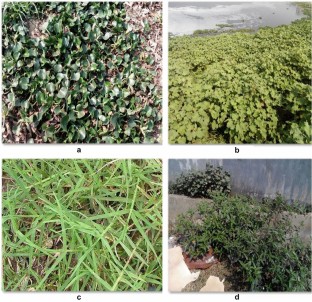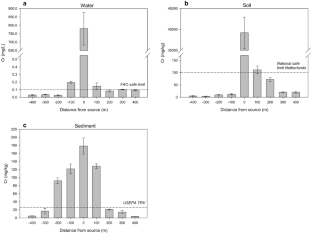 Availability of data and material
Due to project terms and conditions, we will be able to share data after July 2022.
References
Ahsan MA, Satter F, Siddique MAB, Akbor MA, Ahmed S, Shajahan M, Khan R (2019) Chemical and physicochemical characterization of effluents from the tanning and textile industries in Bangladesh with multivariate statistical approach. Environ Monit Assess 191(9):575

Alam MS, Han B, Al-Mizan PJ (2019) Assessment of soil and groundwater contamination at a former Tannery district in Dhaka, Bangladesh. Environ Geochem Health 42:1905–1920

Ali H, Khan E, Sajad MA (2013) Phytoremediation of heavy metals-Concepts and applications. Chemosphere 91(7):869–881

Anwar HM, Safiullah S, Yoshioka T (2000) Environmental exposure assessment of Chromium and other tannery pollutants at Hazaribagh area, Dhaka, Bangladesh, and health risk. J Environ Chem 10(3):549–556

APHA (2011) Standard Method for Examination of Water and Wastewater. American Public Health Association

Asaduzzaman M, Hasan I, Rajia S, Khan N, Kabir KA (2014) Impact of tannery effluents on the aquatic environment of the Buriganga River in Dhaka, Bangladesh. Toxicol Ind Health 32(6):1106–1113

Bharagava RN, Mishra S (2018) Hexavalent chromium reduction potential of Cellulosimicrobium sp. isolated from common effluent treatment plant of tannery industries. Ecotoxicol Environ Saf 147:102–109

Bhuiyan MAH, Suruvi NI, Dampare SB, Islam MA, Quraishi SB, Ganyaglo S, Suzuki S (2011) Investigation of the possible sources of heavy metal contamination in lagoon and canal water in the tannery industrial area in Dhaka. Bangladesh Environ Monit Assess 175(1–4):633–649

Bu-Olayan AH, Thomas BV (2009) Translocation and bioaccumulation of trace metals in desert plants of Kuwait Governorates. Res J Environ Sci 3(5):581–587

Chandra P, Kulshreshtha K (2004) Chromium accumulation and toxicity in aquatic vascular plants. Bot Rev 70(3):313–327

Chaney RL, Malik M, Li YM, Brown SL, Brewer EP, Angle JS, Baker AJM (1997) Phytoremediation of soil metals. Curr Opin Biotechnol 8(3):279–284

Chen SH, Cheow YL, Ng SL, Ting ASY (2020) Bioaccumulation and biosorption activities of indoor metal-tolerant Penicillium simplicissimum for removal of toxic metals. Int J Environ Res 14:235–242

Choudhury MR, Islam MS, Ahmed ZU, Nayar F (2015) Phytoremediation of heavy metal contaminated buriganga riverbed sediment by Indian mustard and marigold plants. Environ Prog Sustain Energy 35(1):117–124

Chowdhury M, Mostafa MG, Biswas TK, Mandal A, Saha AK (2015) Characterization of the effluents from leather processing industries. Environ Process 2(1):173–187

Costa M (1997) Toxicity and carcinogenicity of Cr(VI) in animal models and humans. Crit Rev Toxicol 27(5):431–442

de Souza TD, Borges AC, Teixeira de Matos A, Veloso RW, Braga AF (2018) Optimization of arsenic phytoremediation using Eichhornia crassipes. Int J Phytoremediation 20(11):1129–1135

DoE (1997) Industrial effluents quality standard for Bangladesh. DoE, Dhaka

Giri AK, Patel RK (2011) Toxicity and bioaccumulation potential of Cr (VI) and Hg (II) on differential concentration by Eichhornia crassipes in hydroponic culture. Water Sci Technol 63(5):899–907

Gupta S, Nayek S, Saha RN, Satpati S (2008) Assessment of heavy metal accumulation in macrophyte, agricultural soil, and crop plants adjacent to discharge zone of sponge iron factory. Environ Geol 55(4):731–739

Habib MA, Islam ARMT, Bodrud-Doza M, Mukta FA, Khan R, Siddique MAB, Phoungthong K, Techato K (2020) Simultaneous appraisals of pathway and probable health risk associated with trace metals contamination in groundwater from Barapukuria coal basin, Bangladesh. Chemosphere 242:125183

Hattab-Hambli N, Lebrun M, Miard F, Forestier LL, Bourgerie S, Morabito D (2020) Preliminary characterization of a post-industrial soil for long-term remediation by phytomanagement: Mesocosm study of its phytotoxicity before field application. Int J Environ Res 14:93–105

Hasan MM, Hosain S, Poddar P, Chowdhury AA, Katengeza EW, Roy UK (2019) Heavy metal toxicity from the leather industry in Bangladesh: a case study of human exposure in Dhaka industrial area. Environ Monit Assess 191:530

Hutton M, Shafahi M (2019) Water pollution caused by leather industry: a review. In: ASME 2019 13th International Conference on Energy Sustainability, ES 2019, collocated with the ASME 2019 Heat Transfer Summer Conference, pp 1–9

Kabata-Pendias A (2010) Trace elements in soils and plants. CRC Press, New York

Karim MR, Manshoven S, Islam MR, Gascon JA, Ibarra M, Diels L, Rahman MM (2013) Assessment of an urban contaminated site from tannery industries in Dhaka city, Bangladesh. J Hazard Toxic Radioact Waste 17(1):52–61

Khalid N, Noman A, Aqeel M, Masood A, Tufail A (2019) Phytoremediation potential of Xanthium strumarium for heavy metals contaminated soils at roadsides. Int J Environ Sci Technol 16(4):2091–2100

Khwaja AR, Singh R, Tandon SN (2001) Monitoring of Ganga water and sediments vis-a-vis tannery pollution at Kanpur (India): a case study. Environ Monit Assess 68(1):19–35

Kim MH, Lee JW, Yoon HS, Ha MY (2011) Numerical study on the flow past a twisted elliptic cylinder with subcritical Reynolds number. ASME-JSME-KSME 2011 Joint Fluids Engineering Conference, AJK 2011, 1(PARTS A, B, C, D), 3885–3893

Kornhauser C, Wróbel K, Wróbel K, Malacara JM, Nava LE, Gómez L, González R (2002) Possible adverse effect of Chromium in occupational exposure of tannery workers. Ind Health 40:207–213

Kumari A, Lal B, Rai UN (2016) Assessment of native plant species for phytoremediation of heavy metals growing in the vicinity of NTPC sites, Kahalgaon, India. Int J Phytoremediation 18(6):592–597

Leghouchi E, Laib E, Guerbet M (2009) Evaluation of chromium contamination in water, sediment and vegetation caused by the tannery of Jijel (Algeria): A case study. Environ Monit Assess 153(1–4):111–117

Ma LQ, Komar KM, Tu C, Zhang W, Cai Y, Kennelley ED (2001) A fern that hyperaccumulates arsenic. Nature 411(6836):438–438

Mishra VK, Tripathi BD (2009) Accumulation of chromium and zinc from aqueous solutions using water hyacinth (Eichhornia crassipes). J Hazard Mater 164(2–3):1059–1063

Ohlbaum M, Wadgaonkar SL, Bruggen JJA, Nancharaiah YV, Lens PNL (2018) Phytoremediation of seleniferous soil leachate using the aquatic plants Lemna minor and Egeria densa. Ecol Eng 120:321–328

Paul HL, Antunes APM, Covington AD, Evans P, Philips PS (2013) Bangladeshi leather industry: an overview of recent sustainable developments. J Soc Leath Tech Chem 97(1):25–32

Pescod MB (1992) Wastewater treatment and use in Agriculture. Food and Agriculture Organization of the United Nations, Rome

Salt DE, Smith RD, Raskin (1998) Phytoremediation. Annu Rev Plant Physiol Plant Mol Biol 49:643–668

Sampanpanish P, Pongsapich W, Khaodhiar S, Khan E (2006) Chromium removal from soil by phytoremediation with weed plant species in Thailand. Water Air Soil Pollut Focus 6(1–2):191–206

Sarwar N, Imran M, Shaheen MR, Ishaque W, Kamran MA, Matloob A, Rehim A, Hussain S (2017) Phytoremediation strategies for soils contaminated with heavy metals: modifications and future perspectives. Chemosphere 171:710–721

Sayago UFC, Castro YP, Rivera LRC, Mariaca AG (2020) Estimation of equilibrium times and maximum capacity of adsorption of heavy metals by Crassipes E (review). Environ Monit Assess 192(2):1–16

Shahandeh H, Hossner LR (2000) Plant screening for chromium phytoremediation. Int J Phytoremediation 2(1):31–51

Shams KM, Tichy G, Sager M, Peer T, Bashar A, Jozic M (2009) Soil contamination from tannery wastes with emphasis on the fate and distribution of tri- and hexavalent chromium. Water Air Soil Pollut 199(1–4):123–137

Sivaram NM, Barik D (2018) Toxic waste from leather industries. In: Barik D (ed) Energy from toxic organic waste for heat and power generation, 1st edn. Woodhead Publishing, pp 55–67

Uddin J, Abdul A (2010) Heavy metal contamination in water, soil and vegetables of the industrial areas in Dhaka, Bangladesh. Environ Monit Assess 166:347–357

USEPA (1999) Screening level ecological risks assessment protocol for hazardous waste combustion facilities. Appendix E: Toxicity Reference Values. EPA 530-D99-001C, vol. 3

van der Ent A, Baker AJM, Reeves RD, Pollard AJ, Schat H (2013) Hyperaccumulators of metal and metalloid trace elements: facts and fiction. Plant Soil 362:319–334

VROM (2000) Circular on target values and intervention values for soil remediation. Spatial Planning and Environment

Wang Q, Cui Y, Dong Y (2002) Phytoremediation of polluted waters potentials and prospects of wetland plants. Acta Biotechnol 22(1–2):199–208

Zahid A, Balke KD, Hassan MQ, Flegr M (2006) Evaluation of aquifer environment under Hazaribagh leather processing zone of Dhaka city. Environ Geol 50(4):495–504

Zayed A, Gowthaman S, Terry N (1998) Phytoaccumulation of trace elements by wetland plants: I. Duckweed. J Environ Qual 27(3):715–772
Acknowledgements
This research was funded by the Bangladesh Bureau of Educational Information & Statistics (BANBEIS), Ministry of Education, Government of Bangladesh. The authors are grateful to the authority of the Institute of National Analytical Research and Service (INARS), Bangladesh Council of Scientific and Industrial Research (BCSIR), Dhaka, Bangladesh for providing analytical laboratory facilities under an institutional R&D project. Authors acknowledge anonymous reviewers and the editor.
Funding
The Authors received fund from the Bangladesh Bureau of Educational Information & Statistics (BANBEIS), Ministry of Education, Government of Bangladesh, under advanced research in education scheme.
Ethics declarations
Conflict of interest
The authors declare that they have no conflict of interest.
Additional information
Publisher's Note
Springer Nature remains neutral with regard to jurisdictional claims in published maps and institutional affiliations.
About this article
Cite this article
Hasan, S.M.M., Akber, M.A., Bahar, M.M. et al. Chromium Contamination from Tanning Industries and Phytoremediation Potential of Native Plants: A Study of Savar Tannery Industrial Estate in Dhaka, Bangladesh. Bull Environ Contam Toxicol 106, 1024–1032 (2021). https://doi.org/10.1007/s00128-021-03262-z
Received:

Accepted:

Published:

Issue Date:
Keywords
Leather processing

Tannery effluent

Heavy metals

Bioconcentration factor

Translocation factor

Xanthium strumarium L