Abstract
Globally, heavy metal contamination of natural waterways and surrounding environments due to anthropogenic activities has become a grave cause of concern. Therefore, the present study was conducted to analyze the ecological risk posed by heavy metals in sediment samples (N = 24) collected from different depths of Budha Nalah drain located in Ludhiana (Punjab, India). The concentration of As, Cd, Cr, Cu, Ni, Pb and Zn were found to be above the maximum permissible limits for metals in soils and sediments, which was attributed to anthropogenic activities (industrialization, urbanization and agriculture). The values observed for Contamination Factor, Enrichment Factor and Pollution Load Index revealed that sediment samples were highly contaminated by As, Cd, Cr and Pb. The ecological Risk Index (range: 212–1566) and Modified Risk Index (range: 2793–12,182) values indicated that high concentrations of metals (especially As, Cd, Cr and Pb) posed severe ecological risks in the areas around the drain.
Access options
Buy single article
Instant access to the full article PDF.
USD 39.95
Price includes VAT (USA)
Tax calculation will be finalised during checkout.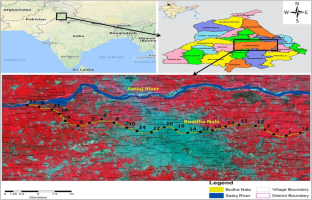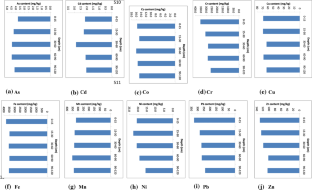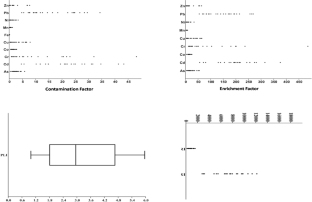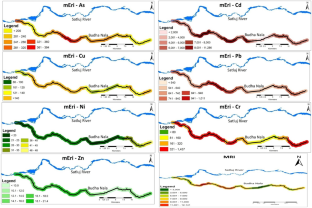 References
Ahmed F, Fakhruddin ANM, Imam MT, Khan N, Khan TA, Rahman MM, Abdullah ATM (2016) Spatial distribution and source identification of heavy metal pollution in roadside surface soil: a study of Dhaka Aricha highway Bangladesh. Ecol Process 5:2

Alloway BJ (2013) Sources of heavy metals and metalloids in soils in Heavy metals in soils. Springer, Dordrecht

Appiah-Adjei EK, Baidu EE, Adjei KA, Nkansah MA (2019) Potential heavy metal pollution of soils from artisanal automobile workshops: the case of Suame Magazine Ghana. Environ Earth Sci 78(3):62

Aschale M, Sileshi Y, Kelly-Quinn M, Hailu D (2017) Pollution assessment of toxic and potentially toxic elements in agricultural soils of the city Addis Ababa, Ethiopia. Bull Environ Contam Toxicol 98(2):234–243

Awashthi SK (ed) (2000) Prevention of food adulteration act no. 37 of 1954. central and state rules as amended for 1999. Ashoka Law House, New Delhi

Bai J, Zhao Q, Wang W, Wang X, Jia J, Cui B, Liu X (2019) Arsenic and heavy metals pollution along a salinity gradient in drained coastal wetland soils: depth distributions, sources and toxic risks. Ecol Ind 96:91–98

Bhatti SS, Sambyal V, Singh J, Nagpal AK (2017) Analysis of soil characteristics of different land uses and metal bioaccumulation in wheat grown around rivers: possible human health risk assessment. Environ Dev Sustain 19(2):571–588

Bhatti SS, Kumar V, Kumar A, Gouzos J, Kirby J, Singh J, Sambyal V, Nagpal AK (2018) Potential ecological risks of metal(loid)s in riverine floodplain soils. Ecotoxicol Environ Saf 164:722–731

Bhatti SS, Kumar V, Sambyal V, Singh J, Nagpal AK (2018b) Comparative analysis of tissue compartmentalized heavy metal uptake by common forage crop: a field experiment. Catena 160:185–193

Bouaroudj S, Menad A, Bounamous A, Ali-Khodja H, Gherib A, Weigel DE, Chenchouni H (2019) Assessment of water quality at the largest dam in Algeria (BeniHaroun Dam) and effects of irrigation on soil characteristics of agricultural lands. Chemosphere 219:76–88

Brady NC, Weil RR (2008) The nature and properties of soils, 14th edn. Dorling Kindersley (India) Pvt Ltd., New Delhi

Brady JP, Ayoko GA, Martens WN, Goonetilleke A (2015) Development of a hybrid pollution index for heavy metals in marine and estuarine sediments. Environ Monit Assess 187(5):306

Cai LM, Wang QS, Wen HH, Luo J, Wang S (2019) Heavy metals in agricultural soils from a typical township in Guangdong Province, China: occurrences and spatial distribution. Ecotoxicol Environ Saf 168:184–191

Chandrasekaran A, Ravisankar R, Harikrishnan N, Satapathy KK, Prasad MVR, Kanagasabapathy KV (2015) Multivariate statistical analysis of heavy metal concentration in soils of Yelagiri Hills, Tamilnadu, India-Spectroscopical approach. Spectrochimica Acta Part a: Mole Biomole Spectrosc 137:589–600

Dhaliwal SS, Toor GS, Jorquera IR, Osborne TZ, Newman S (2016) Trace metals in the soils of everglades-1 national park: considerations for ecosystem restoration. J Soils Sediments. https://doi.org/10.1007/s11368-016-1459-5

Duodu GO, Goonetilleke A, Ayoko GA (2016) Comparison of pollution indices for the assessment of heavy metal in Brisbane River sediment. Environ Pollut 219:1077–1091. https://doi.org/10.1016/j.envpol.2016.09.008

Duodu GO, Goonetilleke A, Ayoko GA (2017) Potential bioavailability assessment, source apportionment and ecological risk of heavy metals in the sediment of Brisbane River estuary Australia. Marine Pollut Bull 117(1–2):523–531

Duruibe JO, Ogwuegbu MOC, Egwurugwu JN (2007) Heavy metal pollution and human biotoxic effects. Int J Phys Sci 2(5):112–118

European Union (2009) Heavy metals in wastes. European Commission on Environment. http://ec.europa.eu/environment/waste/mining/studies/pdf/heavymetalsreport.pdf.

Gonzalez-Macias C, Schifter I, Lluch-Cota DB, Mendez-Rodriguez L, Hernandez-Vazquez S (2006) Distribution, enrichment and accumulation of heavy metals in coastal sediments of Salina Cruz Bay Mexico. Environ Monit Assess 118(1–3):211–230

Hakanson L (1980) An ecological risk index for aquatic pollution control. A sedimentological approach. Water Res 14(8):975–1001

Hammer Ø, Harper DA, Ryan PD (2001) PAST: paleontological statistics software package for education and data analysis. Palaeontol Electron 4(1):9

Huang S, Shao G, Wang L, Wang L, Tang L (2019) Distribution and health risk assessment of trace metals in soils in the golden triangle of Southern Fujian Province, China. Int J Environ Res Public Health 16(1):97

Jaishankar M, Tseten T, Anbalagan N, Mathew BB, Beeregowda KN (2014) Toxicity, mechanism and health effects of some heavy metals. Interdiscip Toxicol 7(2):60–72

Kabata-Pendias A (2010) Trace elements in soils and plants. CRC Press, Florida

Kaur M, Babbar BK, Kaur H (2017) Study of snail and slug population dynamics in relation to edaphic factors in plant nurseries near Buddha Nullah, Ludhiana (Punjab), India. Arch Agric Environ Sci 2(1):25–28

Kaur A, Hundal SS, Aulakh RK (2018) Seasonal study of zooplankton diversity in the polluted water stretch of Buddha Nullah, Ludhiana. J Entomol Zool Stud 6(5):2241–2245

Khorshid MSH, Thiele-Bruhn S (2016) Contamination status and assessment of urban and non-urban soils in the region of Sulaimani City, Kurdistan Iraq. Environ Earth Sci 75(16):1171

Luo L, Mei K, Qu L, Zhang C, Chen H, Wang S, Di D, Huang H, Wang Z, Xia F, Dahlgren RA (2019) Assessment of the geographical detector method for investigating heavy metal source apportionment in an urban watershed of Eastern China. Sci Total Environ 653:714–722

Mazumdar K, Das S (2015) Phytoremediation of Pb, Zn, Fe, and Mg with 25 wetland plant species from a paper mill contaminated site in North East India. Environ Sci Pollut Res 22(1):701–710

Miao X, Hao Y, Zhang F, Zou S, Ye S, Xie Z (2019) Spatial distribution of heavy metals and their potential sources in the soil of Yellow River Delta: a traditional oil field in China. Environ Geochem Health. https://doi.org/10.1007/s10653-018-0234-5

Mishra S, Bharagava RN, More N, Yadav A, Zainith S, Mani S, Chowdhary P (2019) Heavy metal contamination: an alarming threat to environment and human health. Environmental biotechnology: for sustainable future. Springer, Singapore, pp 103–125

Nagajyoti PC, Lee KD, Sreekanth TVM (2010) Heavy metals, occurrence and toxicity for plants: a review. Environ Chem Lett 8(3):199–216

Nazzal Y, Howari FM, Jafri MK, Naeem M, Ghrefat H (2016) Risk assessment through evaluation of potentially toxic metals in the surface soils of the Qassim area, Central Saudi Arabia. Italian J Geosci 135(2):210–216

Sutherland RA (2000) Bed sediment-associated trace metals in an urban stream, Oahu Hawaii. Environ Geol 39(6):611–627

Taylor SR, McLennan SM (1995) The geochemical evolution of the continental crust. Rev Geophys 33(2):241–265

Tchounwou PB, Yedjou CG, Patlolla AK, Sutton DJ (2012) Heavy metal toxicity and the environment. Molecular, clinical and environmental toxicology. Springer, Basel, pp 133–164

Thanh-Nho N, Marchand C, Strady E, Vinh TV, Nhu-Trang TT (2019) Metals geochemistry and ecological risk assessment in a tropical mangrove (Can Gio, Vietnam). Chemosphere 219:365–382

Tian K, Huang B, Xing Z, Hu W (2017) Geochemical baseline establishment and ecological risk evaluation of heavy metals in greenhouse soils from Dongtai China. Ecol Indic 72:510–520

Troeh FR, Thompson LM (2005) Soil and Soil Fertility, 6th edn. Wiley, New Delhi

Wang Z, Zhou J, Zhang C, Qu L, Mei K, Dahlgren RA, Zhang M, Xia FA (2019) comprehensive risk assessment of metals in riverine surface sediments across the rural-urban interface of a rapidly developing watershed. Environ Pollut 245:1022–1030

Yao C, Jiang X, Che F, Wang K, Zhao L (2019) Antimony speciation and potential ecological risk of metal(loid)s in plain wetlands in the lower Yangtze River valley China. Chemosphere 218:1114–1121

Zheng-Qi X, Shi-Jun N, Xian-Guo T, Cheng-jiang Z (2008) Calculation of heavy metals' toxicity coefficient in the evaluation of potential ecological risk index [J]. Environ Sci Technol 2(8):31
Acknowledgements
We are thankful to Indian Council of Agricultural Research, New Delhi for providing financial assistance in the form of project.
Ethics declarations
Conflict of interest
All the authors display no financial or any other conflict of interest. The author(s) declare that they have no competing interests.
Additional information
Publisher's Note
Springer Nature remains neutral with regard to jurisdictional claims in published maps and institutional affiliations.
Supplementary Information
Below is the link to the electronic supplementary material.
About this article
Cite this article
Dhaliwal, S.S., Setia, R.K., Bhatti, S.S. et al. Potential Ecological Impacts of Heavy Metals in Sediments of Industrially Contaminated Perennial Drain of India. Bull Environ Contam Toxicol 106, 949–958 (2021). https://doi.org/10.1007/s00128-021-03260-1
Received:

Accepted:

Published:

Issue Date:
Keywords
Budha Nalah drain

Contamiantion

Ecological risks

Heavy metals

Sediments