Abstract
At present, the detection of chlorothalonil is generally based on chromatography and immunoassay; both of which are time-consuming and costly. In this study, Surface-enhanced Raman Spectroscopy (SERS) has been successfully utilized in the detection of chlorothalonil coupled with photochemistry and meanwhile, gold nanoparticles were prepared to enhance the Raman signal. Two Raman peaks (2246 cm− 1 and 2140 cm− 1) of chlorothalonil were appeared after ultraviolet (UV) irradiation compared to the original solution. Chlorothalonil generated excited and weakened C≡N bonds in its structure by absorbing UV energy, thus leading to two kinds of corresponding peaks. These two kinds of peaks were both selected as analytical peaks in chlorothalonil detection. Different light sources and solvents were made different contributions to the final spectra. Chlorothalonil methanol solution under 302 nm wavelength irradiation was performed the best. The 2246 cm− 1 sharp peak represented to the normal C≡N bond appeared at first, which overall trend was significantly increased followed by a gradual decrease. The 2140 cm− 1 broad peak represented to the weakened C≡N bond appeared later, which overall trend was increased as the irradiation time passing by and then kept stable. Natural bond orbital (NBO) analysis indicates that the downshift of C≡N bond from 2246 cm− 1 to 2140 cm− 1 is due to the increase of electronic populations of π* orbital of C≡N bond transited from π orbital excited by UV irradiation. The positively charged C≡N bond had more chance to approach negatively charged gold nanoparticles. The detection limit of chlorothalonil was as low as 0.1 ppm in the standard solution. Orange peels spiked with chlorothalonil oil were also detected in this paper to confirm the practical operability of this method. The SERS method may be further developed as a rapid detection of pesticides that contains a triple bond by utilizing photochemistry.
Access options
Buy single article
Instant access to the full article PDF.
USD 39.95
Price includes VAT (USA)
Tax calculation will be finalised during checkout.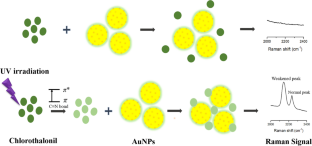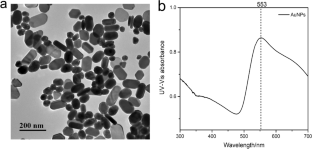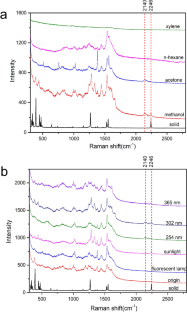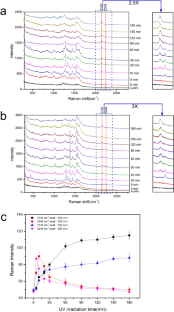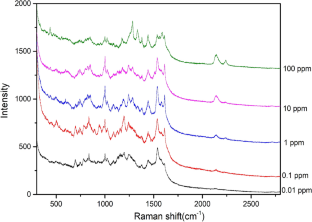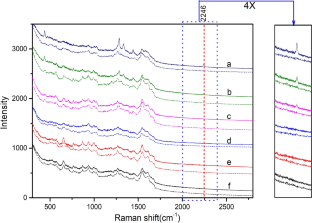 Acknowledgements
The following funding sources are gratefully acknowledged: National Key R&D Program of China (2018YFC1602300), National Nature Science Foundation of China (32001627), Science and Technology Project of Market Supervision Administration of Jiangsu Province (KJ204132), Key R&D Program of Jiangsu Province (BE2019362), the Fundamental Research Funds for the Central Universities (JUSRP11904 and JUSRP321014), National first-class discipline program of Food Science and Technology (JUFSTR20180509). The first author would like to thank the financial support from High-level Innovation and Entrepreneurship Talents Introduction Program of Jiangsu Province (Su Talent Office [2019] No. 20).
Additional information
Publisher's Note
Springer Nature remains neutral with regard to jurisdictional claims in published maps and institutional affiliations.
About this article
Cite this article
Yu, H., Xu, L., Yang, F. et al. Rapid Surface-Enhanced Raman Spectroscopy Detection of Chlorothalonil in Standard Solution and Orange Peels with Pretreatment of Ultraviolet Irradiation. Bull Environ Contam Toxicol 107, 221–227 (2021). https://doi.org/10.1007/s00128-021-03258-9
Received:

Accepted:

Published:

Issue Date:
Keywords
SERS

Chlorothalonil

UV irradiation

C≡N bond

Orange peels