Abstract
Heavy metal pollution is a great hazard to the environment that enters the ecosystem through different natural and anthropogenic sources. A study was performed to evaluate concentrations of Cd and Pb in selected plants, Ricinus communis and Parthenium hysterophorus, and soils from different functional sites in Sialkot. Maximum fresh and dry weights of R. communis were recorded from control and field sites. Highest concentrations of Cd in P. hysterophorus (33.5 mg kg−1) and R. communis (24.36 ± 2.83 mg kg−1) were recorded at residential and industrial sites, respectively. However, road site samples showed maximum concentrations of Pb both in R. communis (9.06 ± 0.35 mg kg−1) and P. hysterophorus (7.90 ± 0.36 mg kg−1). Soil from the road site were found to be highly acidic (pH 4.75 ± 0.04), while the field site showed highest EC (494 ± 3.60) and TDS (509 ± 3.00) values. Generally, there were reductions in chlorophyll a and carotenoids, but an increase in chlorophyll b was observed in both plants at all sites compared to the control.
Access options
Buy single article
Instant access to the full article PDF.
USD 39.95
Price includes VAT (USA)
Tax calculation will be finalised during checkout.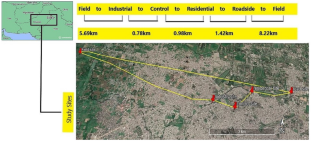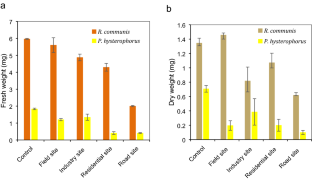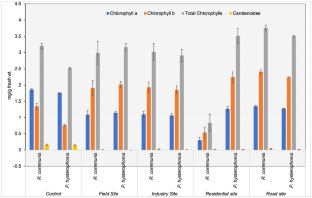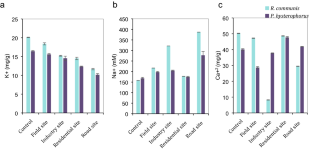 References
Andrew DE, Lenore SC, Arnold EG, Mary AHF (1998) Standard methods for the examination of water and wastewater, 20th edn. American Public Health Association, American Water Work Association, Water Environment Federation, Washington, DC

Chauhan A (2010) Photosynthetic pigment changes in some selected trees induced by automobile exhaust in Dehradun, Uttara khand. New York Sci J 3(2):45–51

Chauhan A, Joshi PC (2008) Effect of ambient air pollution on photosynthetic pigments on some selected trees in urban area. Ecol Environ Conserv 14(4):23–27

Dubey R, Gupta DK, Sharma GK (2020) Chemical stress on plants. New frontiers in stress management for durable agriculture. Springer, Singapore, pp 101–128

Gagnon Z, Karnosky D (1992) Physiological response of three species of Sphagnum to ozone exposure. J Bryol 17(1):81–91

Hasan SA, Hayat S, Ali B, Ahmad A (2008) 28-Homobrassinolide protects chickpea (Cicer arietinum) from cadmium toxicity by stimulating antioxidants. Environ Pollut 151(1):60–66

Huang D, Gong X, Liu Y, Zeng G, Lai C, Bashir H, Zhou L, Wang D, Xu P, Cheng M, Wan J (2017) Effects of calcium at toxic concentrations of cadmium in plants. Planta 245(5):863–873

Khalid N, Hussain M, Hameed M, Ahmad R (2017) Physiological, biochemical and defense system responses of Parthenium hysterophorus to vehicular exhaust pollution. Pak J Bot 49(1):67–75

Khalid N, Hussain M, Young HS, Ashraf M, Hameed M, Ahmad R (2018) Lead concentrations in soils and some wild plant species along two busy roads in Pakistan. Bull Environ Contam Toxicol 100(2):250–258

Khalid N, Aqeel M, Noman A (2019a) System biology of metal tolerance in plants: an integrated view of genomics, transcriptomics, metabolomics and phenomics. In: Sablok G (ed) Plant metabolomics and functional omics. Springer, Cham. https://doi.org/10.1007/978-3-030-19103-0_6

Khalid N, Masood A, Noman A, Aqeel M, Qasim M (2019b) Study of the responses of two biomonitor plant species (Datura alba & Ricinus communis) to roadside air pollution. Chemosphere 235:832–841. https://doi.org/10.1016/j.chemosphere.2019.06.143

Khalid N, Noman A, Masood A, Tufail A, Hadayat A, Alnusairi GSH, Alamri S, Hashem M, Aqeel M (2020) Air pollution on highways and motorways perturbs carbon and nitrogen levels in roadside ecosystems. Chem Ecol. https://doi.org/10.1080/02757540.2020.1791102

Khan A, Khan S, Alam M, Khan MA, Aamir M, Qamar Z, Rehman ZU, Perveen S (2016a) Toxic metal interactions affect the bioaccumulation and dietary intake of macro-and micro-nutrients. Chemosphere 146:121–128

Khan S, Munir S, Sajjad M, Li G (2016b) Urban park soil contamination by potentially harmful elements and human health risk in Peshawar City, Khyber Pakhtunkhwa, Pakistan. J Geochem Explor 165:102–110

Mehr MR, Keshavarzi B, Moore F, Sharifi R, Lahijanzadeh A, Kermani M (2017) Distribution, source identification and health risk assessment of soil heavy metals in urban areas of Isfahan province. Iran J Afr Earth Sci 132:16–26

Pan H, Lu X, Lei K (2017) A comprehensive analysis of heavy metals in urban road dust of Xi'an, China: contamination, source apportionment and spatial distribution. Sci Total Environ 609:1361–1369

Pooja V, Ram A, Gadi BR (2012) Effect of salicylic acid on photosynthetic pigments and some biochemical content in vigna seedlings under cadmium stress. J Chem Biol Phys Sci 2:1801–1809

Salazar MJ, Pignata ML (2014) Lead accumulation in plants grown in polluted soils. Screening of native species for phytoremediation. J Geochem Explor 137:29–36

Wang Z, Wang C, Wang B, Wang X, Li J, Wu J, Liu L (2020) Interactive effects of air pollutants and atmospheric moisture stress on aspen growth and photosynthesis along an urban-rural gradient. Environ Pollut 260:114076

Xie Y, Fan J, Zhu W, Amombo E, Lou Y, Chen L, Fu J (2016) Effect of heavy metals pollution on soil microbial diversity and bermudagrass genetic variation. Front Plant Sci 7:755
Additional information
Publisher's Note
Springer Nature remains neutral with regard to jurisdictional claims in published maps and institutional affiliations.
About this article
Cite this article
Naeem, N., Khalid, N., Sarfraz, W. et al. Assessment of Lead and Cadmium Pollution in Soil and Wild Plants at Different Functional Areas of Sialkot. Bull Environ Contam Toxicol 107, 336–342 (2021). https://doi.org/10.1007/s00128-021-03251-2
Received:

Accepted:

Published:

Issue Date:
Keywords
Lead uptake

Lead accumulation

Cadmium

Ricinus communis
Parthenium hysterophorus