Abstract
Isopropylamine dodecylbenzene sulfonate (IDS) is a new kind of anionic surfactant (ANS). To preliminarily evaluate the aquatic toxicity of IDS, this study took gibel carp (Carassius auratus gibelio) as the research object. The well-acclimatized fish were divided into six groups and exposed to 0 mg/L, 0.5 mg/L, 1.0 mg/L, 2.0 mg/L, 4.0 mg/L, or 8.0 mg/L of IDS for 7, 14, 21 or 28 days. Our results showed that the superoxide dismutase (SOD) activity and malondialdehyde (MDA) content of the liver were unaffected by IDS exposure, while glutathione peroxidase (GSH-Px) activity was significantly inhibited. Hepatic tissue exhibited pathological damage, characterized by nuclear migration and dissolution and cell boundary blurring. The results suggest that IDS does not cause oxidative stress in the liver, but cause hepatic histopathological damage. GSH-Px can be considered as a biomarker of IDS exposure in gibel carp.
Access options
Buy single article
Instant access to the full article PDF.
USD 39.95
Price includes VAT (USA)
Tax calculation will be finalised during checkout.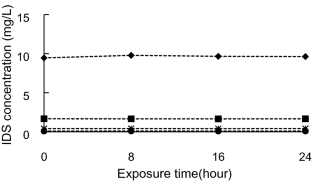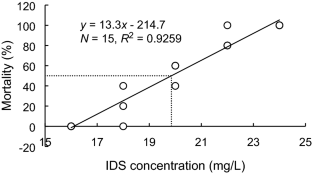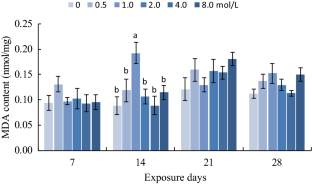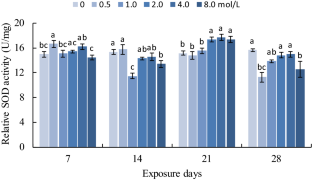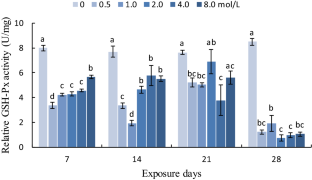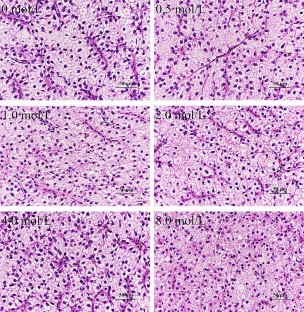 References
Aksnes A, Njaa LR (1981) Catalase, glutathione peroxidase and superoxide dismutase in different fish species. Comp Biochem Physiol B Comp Biochem 69:893–896

Albano E (2006) Alcohol, oxidative stress and free radical damage. Proc Nutr Soc 65(3):278–290

Álvarez-Muñoz D, Gómez-Parra A, Blasco J, Sarasquete C, González-Mazo E (2009) Oxidative stress and histopathology damage related to the metabolism of dodecylbenzene sulfonate in senegalese sole. Chemosphere 74(9):1216–1223

Ayala A, Muñoz MF, Argüelles S (2014) Lipid peroxidation: production, metabolism, and signaling mechanisms of malondialdehyde and 4-Hydroxy-2-Nonenal. Oxidative Med Cell Longev 2014:1–31

Bardach JE, Fujiya M, Holl A (1965) Detergents: effects on the chemical senses of the fish Ictalurus natalis (le Sueur). Science 148(3677):1605–1607

Ding SH, Sun HC, Chen DQ et al (2006) Effects of sodium dodecyl sulfate on antioxidant enzymes in Ctenopharyngodon idellus. Oceanol et Limnol Sin 37(2):111–117

Draper HH, Hadley M (1990) Malondialdehyde determination as index of lipid peroxidation. Methods Enzymol 186:421–431

Eze JI, Anene BM, Chukwu CC (2008) Determination of serum and organ malondialdehyde (MDA) concentration, a lipid peroxidation index, in Trypanosoma brucei-infected rats. Comp Clin Pathol 17(2):67–72

Figiel FJ, Anderson RW (1975) Detergent solvent compositions. United States. Allied Chemical Corporation: 3926862. https://www.freepatentsonline.com/3926862.html

GB/T 27861 – 2011, Chemicals - Fish acute toxicity test

Gross SF, Doerr M, Morris TC (2009) Low odor ester-based microemulsions for cleaning hard surfaces. United States Cognis IP Management GmbH (Dusseldorf, DE): 7547670. https://www.freepatentsonline.com/7547670.html

Hermez-Lima M (2004) Oxygen in biology and biochemistry: role of free radicals. In: Storey KB (ed) Functional metabolism: regulation and adaptation. Wiley, Hoboken, pp 319–368

Ighodaro O, Akinloye O (2018) First line defence antioxidantssuperoxide dismutase (SOD), catalase (CAT) and glutathione peroxidase (GPX): their fundamental role in the entire antioxidant defence grid. Alex J Med 54:287–293

Jiang YG, Liang SC, Chen BD et al (1983) Biological effect of heterologous sperm on gynogenetic offspring in carassius auratus gibelio. Acta Hydrobiol Sin 8(1):1–13

Jin YF, Shi WL, Zhang XD et al (2009) Effects of combined LAS, Cd2 + pollution on the activities of SOD and Na+-K+-ATPase in the gill and liver of Carassius auratus. J Gansu Agric Univ 44(3):16–21

Jovanic BR, Srdjan B, Bratimir P et al (2010) The effect of detergent as polluting agent on the photosynthetic activity and chlorophyll content in bean leaves. Health 2(5):395–399

Könnecker G, Regelmann J, Belanger S, Gamon K, Sedlak R (2011) Environmental properties and aquatic hazard assessment of anionic surfactants: physico-chemical, environmental fate and ecotoxicity properties. Ecotoxicol Environ Saf 74(6):1445–1460

Lewis MA (1991) Chronic and sublethal toxicities of surfactants to aquatic animals: a review and risk assessment. Water Res 25(1):101–113

Liu B, Guo XD, Lu ZM (2017) Research of isopropyl amine salt of linear alkylbenzene sulfonic acid and its application in dishwashing liquid detergent. Deterg Cosmet 8:21–25

Lushchak V, Lushchak L, Mota A et al (2001) Oxidative stress and antioxidant defenses in goldfish Carassius auratus during anoxia and reoxygenation. Am J Physiol Regul Integr Comp Physiol 280(1):100–107

Maddipati KR, Gasparski C, Marnett LJ (1987) Characterization of the hydroperoxide-reducing activity of human plasma. Arch Biochem Biophys 254(1):9–17

Parshikova TV, Maksimov VN (2006) Influence of surfactants on the photosynthetic activity of algae. Hydrobiol J 42(3):67–76

Perdikaris C, Ergolavou A, Gouva E et al (2012) Carassius gibelio in greece: the dominant naturalised invader of freshwaters. Rev Fish Biol Fish 22(1):17–27

Peskin AV, Winterbourn CC (2000) A microtiter plate assay for superoxide dismutase using a water-olubletetrazolium salt (WST-1). Clin Chim Acta 293(1–2):157–166

Pigeolet E, Corbisier P, Andrée H et al (1990) Glutathione peroxidase, superoxide dismutase, and catalase inactivation by peroxides and oxygen derived free radicals. Mech Ageing Dev 51(3):283–297

Pisoschi AM, Pop A (2015) The role of antioxidants in the chemistry of oxidative stress: a review. Eur J Med Chem 97:55–74

Qiu YC (1992) Methods of fish toxicity test for water contaminated. China Environment Publishing Group, Beijing

Roberts DW (1991) QSAR issues in aquatic toxicity of surfactants. Sci Total Environ 109–110(4):557–568

Rosen MJ, Li F, Morrall SW et al (2001) The relationship between the interfacial properties of surfactants and their toxicity to aquatic organisms. Environ Sci Technol 35(5):954–959

Sarasquete C, Gutiérrez M (2005) New tetrachromic VOF stain (Type III-G.S) for normal and pathological fish tissues. Eur J Histochem 49:105–114

Schmedes A, Holmer G (1989) A new thiobarbituric acid (TBA) method for determining free malondialdehyde (MDA) and hydroperoxides selectively as a measure of lipid peroxidation. J Am Oil Chem Soc 66(6):813–817

Shukla A, Trivedi SP (2017) Anionic surfactant, linear alkyl benzene sulphonate induced oxidative stress and hepatic impairments in fish Channa punctatus. Proc Zool Soc 71(4):382–389

USCG CHRIS Code (1999) Dodecylbenzenesulfonic Acid, Isopropylamine Salt

Wibbertmann A, Mangelsdorf I, Gamon K et al (2011) Toxicological properties and risk assessment of the anionic surfactants category: alkyl sulfates, primary alkane sulfonates, and α-olefin sulfonates. Ecotoxicol Environ Saf 74(5):1089–1106

Xia YM, Zhu LZ (1987) Method of determining the activity of glutathione peroxidase in blood and tissues I. DTNB direct method. J Hyg Res 16(04):29–33

Xue M, Cui Y (2001) Effect of several feeding stimulants on diet preference by juvenile gibel carp (Carassius auratus gibelio), fed diets with or without partial replacement of fish meal by meat and bone meal. Aquaculture 198(3–4):281–292

Yang F, Sun HC (2009) Effects of linear alkylbenzene sulfonate (LAS) on the activities of superoxide dismutase and glutathione peroxidase in Spinibarbus sinensis. Fresh Water Fish 39(5):71–75

Zhou YX, Zhang ZS (1989) Toxicity test method of aquatic organisms. China Agriculture Press, Beijing

Zodrow JM, Stegeman JJ, Tanguay RL (2004) Histological analysis of acute toxicity of 2, 3, 7, 8-tetrachlorodibenzo-p-dioxin (TCDD) in zebrafish. Aquat Toxicol 66(1):25–38
Acknowledgements
This work was supported by a grant from the National Natural Science Foundation of China (No. 31672287). We sincerely thank the anonymous reviewers for their helpful suggestions and comments.
Additional information
Publisher's note
Springer Nature remains neutral with regard to jurisdictional claims in published maps and institutional affiliations.
About this article
Cite this article
Zhang, J., Luo, Y., Chen, X. et al. Does the Anionic Surfactant Isopropylamine Dodecylbenzene Sulfonate Induce Hepatic Oxidative Stress and Impairment in Carassius auratus gibelio?. Bull Environ Contam Toxicol 107, 487–493 (2021). https://doi.org/10.1007/s00128-021-03248-x
Received:

Accepted:

Published:

Issue Date:
Keywords
Isopropylamine dodecylbenzene sulfonate (IDS)

Gibel carp (Carassius auratus gibelio)

Antioxidase

Toxicology

Histopathology