Abstract
Four specimens of gametophores and protonemata of Scopelophila cataractae (copper moss) were collected from a stream in Doi Suthep-Pui National Park, Thailand in order to determine heavy metal accumulation and Cu localization. The order of total metal concentrations in the protonemata and leaf cell surfaces of S. cataractae was Fe > Zn > Cu. Significant Cu values (> 400 mg kg−1) were found in both gametophores and protonemata. Growth substrates were considered as a key source of heavy metals in the sampling stream. X-ray spectrometry (EDS micro-analyser) detected the localization of ten elements (C, O, Mg, Al, Si, Ca, S, Cu, Zn and In); substantial atomic percentages of Al, Cu and Zn were noted in leaf surfaces and protonemata. These metallic elements were found in highest proportion. To some extent, cell surfaces at the basal leaf costa showed the highest peak value compared to medial and apical leaf portions (≈ 4.3 at.%). This Cu moss can be used as a bioindicator to reflect anthropogenic activities in stream ecosystems.
Access options
Buy single article
Instant access to the full article PDF.
USD 39.95
Price includes VAT (USA)
Tax calculation will be finalised during checkout.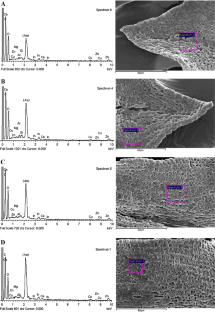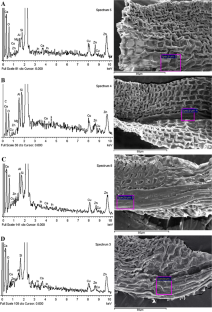 References
Abessor C, Robinson R (2010) Mobilisation of iron and manganese from sediments of a Scottish upland reservoir. J Limnol 69(1):42–53

Aikawa Y, Nagano I, Sakamoto S, Nishiyama M, Matsumoto S (1999) Contents of heavy metal elements in copper mosses: Scopelophila ligulate, Scopelophila cataractae, and Mielichhoferia japonica and their substrates. Soil Sci Plant Nutr 45(4):835–842

Akiyama H (2010) Scopelophila cataractae found growing on tree trunks in Northern Thailand. Trop Bryol 32:97–99

Antreich S, Sassmann S, Lang I (2016) Limited accumulation of copper in heavy metal adapted mosses. Plant Physiol Biochem 101:141–148

APHA, AWWA and WEF (American Public Health Association, American Water Works Association and Water Environment Federation) (2005) Standard methods for examination of water and wastewater. American Public Health Association, Washington, DC

Crandall-Stotler BJ, Stotler RE, Long DG (2008) Morphology and classification of the Marchantiophyta. In: Goffinet B, Shaw AJ (eds) Bryophyte biology, 2nd edn. Cambridge University Press, Cambridge, pp 1–54

Degola F, De Benedictis M, Petraglia A, Massimi A, Fattorini L, Sorbo S, Basile A, di Toppi LS (2014) A Cd/Fe/Zn responsive phytochelatin synthase is constitutively present in the ancient liverwort Lunularia cruciata (L.) Dumort. Plant Cell Physiol 55:1884–1891

Eddy A (1990) A handbook of Malesian mosses, 2. Leucobryaceae to Buxbaumiaceae. British Museum of Natural History, London

Giraldo JPS (2018) Application of the geochemical fractionation of metals in sediments for environmental analysis of a water reservoir. Case Riogrande Ii (Antioquia – Columbia). IntechOpen, London. https://doi.org/10.5772/intechopen.76223

Hartman EL (1969) The ecology of the copper moss Mielichhoferia mielichhoferi in Colorado. Bryologist 72(1):56–59

He S (2021) An annotated checklist and atlas of the mosses of Thailand. The moss flora of Thailand home page. Missouri Botanical Garden, St. Louis. http://www.mobot.org/MOBOT/moss/Thailand/welcome.shtml. Accessed 11 March 2021

Itouga M, Hayatsu M, Sato M, Tsuboi Y, Kato Y, Toyooka K, Suzuki S, Nakatsuka S, Kawakami S, Kikuchi J, Sakakibara H (2017) Protonema of the moss Funaria hygrometrica can function as a lead (Pb) adsorbent. PLoS ONE 12(12):e0189726. https://doi.org/10.1371/journal.pone.0189726

Kayee P, Songphim W, Parkpien A (2015) Using Thai native moss as bio-adsorbent for contaminated heavy metal in air. Procedia Soc Behav Sci 197:1037–1042

Konno H, Nakashima S, Katoh K (2010) Metal-tolerant moss Scopelophila cataractae accumulates copper in the cell wall pectin of the protonema. J Plant Physiol 167(5):358–364

Krishna AK, Mohan KR, Murthy NN (2009) Determination of heavy metals in soil, sediment and rock by inductively coupled plasma optical emission spectrometry: microwave-assisted acid digestion versus open acid digestion technique. At Spectrosc 30(3):75–81

Mazzoni AC, Lanzer R, Bordin J, Schäfer A, Wasum R (2012) Mosses and indicators of atmospheric metal deposition in an industrial area of southern Brazil. Acta Bot Bras 26(3):553–558

Nakajima H, Fujimoto K, Yoshitani A, Yamamoto Y, Sakurai H, Itoh K (2012) Effect of copper stress on cup lichens Cladonia humilis and C. subconistea growing on copper-hyperaccumulating moss Scopelophila cataractae at copper-polluted sites in Japan. Ecotoxicol Environ Saf 84:341–346

Nomura T, Itouga M, Kojima M, Kato Y, Sakakibara H, Hasezawa S (2015) Copper mediates auxin signaling to control cell differentiation in the copper moss Scopelophila cataractae. J Exp Bot 66(5):1205–1213

Okoro EE, Okolie AG, Sanni SE, Omeje M (2020) Toxicity of heavy metals to subsurface lithofacies and drillers during drilling of hydrocarbon wells. Sci Rep 10:6152. https://doi.org/10.1038/s41598-020-63107-3

Proctor MCF, Tuba (2002) Poikilohydry and homoihydry: antithesis or spectrum of possibilities? N Phytol 156:327–349

Satake K, Shibata K, Nishikawa M, Fuwa K (1988) Copper accumulation and location in the moss Scopelophila cataractae. J Bryol 15(2):353–376

Satake K, Nishikawa M, Shibata K (1990) A copper-rich protonemal colony of the moss Scopelophila cataractae. J Bryol 16(1):109–116

Shaw AJ (1987) Evolution of heavy metal tolerance in bryophytes II. An ecological and experimental investigation of the "copper moss," Scopelophila cataractae (Pottiaceae). Am J Bot 74(6):813–821

Shaw AJ (1993) Population biology of the rare copper moss, Scopelophila cataractae. Am J Bot 80(9):1034–1041

Stanković JD, Sabovljević AD, Sabovljević MS (2018) Bryophytes and heavy metal: a review. Acta Bot Croat 77(2):109–118

Sukkharak P, Chantanaorrapint S (2014) Bryophyte studies in Thailand: past, present, and future. Cryptogam Bryol 35:5–17

Suzuki Y, Takenaka C, Tomioka R, Tsubota H, Takasaki Y, Umemura T (2016) Accumulation of arsenic and copper by bryophytes growing in an aquatic environment near copper mine tailings. Mine Water Environ 35:265–272

Szczepaniak K, Biziuk M (2003) Aspects of the biomonitoring studies using mosses and lichens as indicators of metal pollution. Environ Res 93:221–230

Taiz RL, Zeiger E (2006) Plant physiology, 4th edn. Sinauer Associates, Inc., Sunderland

Turetsky MR, Bond-Lamberty B, Euskirchen E, Talbot J, Frolking S, McGuire AD, Tuittila ES (2012) The resilience and functional role of moss in boreal and arctic ecosystems. N Phytol 196:49–67

Vatansever R, Ozyigit II, Filiz E (2017) Essential and beneficial trace elements in plants, and their transport in roots: a review. Appl Biochem Biotechnol 181:464–482

Zander RH (1967) The New World distribution of Scopelophila (= Merceya). Bryologist 70:405–413

Zander RH, Eckel PM (1993) Genera of the Pottiaceae: mosses of harsh environments. Buffalo Society of Natural Sciences, Buffalo
Acknowledgements
We thank the Head and all staff of Doi Suthep-Pui National Park for logistical assistance. Thanks also to the Department of National Parks, Wildlife and Plant Conservation of Thailand for permission to collect specimens. The first author is deeply grateful to the many years of encouragement given by Dr. Kanya Santanachote, the late Dr. B.C. Tan and the late J.F. Maxwell. This research was also supported in part by Chiang Mai University.
Additional information
Publisher's note
Springer Nature remains neutral with regard to jurisdictional claims in published maps and institutional affiliations.
About this article
Cite this article
Printarakul, N., Meeinkuirt, W. Heavy Metal Accumulation and Copper Localization in Scopelophila cataractae in Thailand. Bull Environ Contam Toxicol 107, 530–536 (2021). https://doi.org/10.1007/s00128-021-03246-z
Received:

Accepted:

Published:

Issue Date:
Keywords
Scopelophila cataractae

X-ray spectrometer

Heavy metal accumulation