Abstract
As one of the most harmful environmental pollutants, cadmium (Cd) has arisen much interest, and many researches have been carried out to study the adsorption of heavy metals by biochar, but the mechanisms were poorly explored and the roles components in biochar played are still indistinct. In this study, we evaluated the adsorption capacities and mechanisms of soybean root biochar pyrolyzed at four different temperatures. The results indicate the biochar properties are significantly determined by pyrolysis temperature, which affects the removal mechanisms of Cd(II) consequently. Microstructure characteristics and mechanism analysis further suggest that Cd(II)-π interactions and sulfur-containing functional groups are the main mechanisms of Cd(II) adsorption. This work shows a new perspective to explain the adsorption mechanisms onto biochar adsorbents and has a benefit for the exploitation of economical and effective adsorbents for Cd(II) removal based on biochars.
Access options
Buy single article
Instant access to the full article PDF.
USD 39.95
Price includes VAT (USA)
Tax calculation will be finalised during checkout.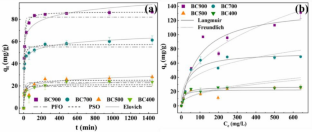 References
Chakraborty I, Sathe SM, Dubey BK et al (2020) Waste-derived biochar: applications and future perspective in microbial fuel cells. Bioresour Technol 312:123587

Chen Z, Xiao X, Chen B et al (2015) Quantification of chemical states, dissociation constants and contents of oxygen-containing groups on the surface of biochars produced at different temperatures. Environ Sci Technol 49:309–317

Chen K, Li C, Shi LR et al (2016) Growing three-dimensional biomorphic graphene powders using naturally abundant diatomite templates towards high solution processability. Nat Commun 7:13440

Chen ZY, Jing YM, Wang Y et al (2020) Enhanced removal of aqueous Cd(II) by a biochar derived from salt-sealing pyrolysis coupled with naoh treatment. Appl Surf Sci 511:145619

Correa-Navarro YM, Giraldo L, Moreno-Pirajan JC (2020) Biochar from fique bagasse for remotion of caffeine and diclofenac from aqueous solution. Molecules 25(8): 1849.

Fakayode OA, Aboagarib EAA, Zhou CS et al (2020) Co-pyrolysis of lignocellulosic and macroalgae biomasses for the production of biochar - a review. Bioresour Technol 297:122408

Gai XP, Wang HY, Liu J et al (2014) Effects of feedstock and pyrolysis temperature on biochar adsorption of ammonium and nitrate. PLoS One 9(12):e113888

Gao LY, Deng JH, Huang GF et al (2019) Relative distribution of Cd2+ adsorption mechanisms on biochars derived from rice straw and sewage sludge. Bioresour Technol 272:114–122

Guo CB, Zou JJ, Yang JL et al (2020) Surface characterization of maize-straw-derived biochar and their sorption mechanism for Pb2+ and methylene blue. PLoS One 15(8):e0238105

Harvey OR, Herbert BE, Rhue RD et al (2011) Metal interactions at the biochar-water interface: energetics and structure-sorption relationships elucidated by flow adsorption microcalorimetry. Environ Sci Technol 45:5550–5556

Jiang ZF, Qian K, Zhu CZ et al (2017) Carbon nitride coupled with CdS-TiO2 nanodots as 2d/0d ternary composite with enhanced photocatalytic H-2 evolution: a novel efficient three-level electron transfer process. Appl Catal B-Environ 210:194–204

Ling LL, Liu WJ, Zhang S et al (2017) Magnesium oxide embedded nitrogen self-doped biochar composites: fast and high-efficiency adsorption of heavy metals in an aqueous solution. Environ Sci Technol 51:10081–10089

Liu L, Fan SS (2018) Removal of cadmium in aqueous solution using wheat straw biochar: effect of minerals and mechanism. Environ Sci Pollut Res 25:8688–8700

Liu WJ, Jiang H, Yu HQ (2015) Development of biochar-based functional materials: toward a sustainable platform carbon material. Chem Rev 115:12251–12285

Qi BC, Aldrich C (2008) Biosorption of heavy metals from aqueous solutions with tobacco dust. Bioresour Technol 99(13):5595–5601

Qin LY, Wu Y, Hou ZW et al (2020) Influence of biomass components, temperature and pressure on the pyrolysis behavior and biochar properties of pine nut shells. Bioresour Technol 313:123682

Shen Y, Chen BL (2015) Sulfonated graphene nanosheets as a superb adsorbent for various environmental pollutants in water. Environ Sci Technol 49:7364–7372

Shen ZT, Hou DY, Jin F et al (2019) Effect of production temperature on lead removal mechanisms by rice straw biochars. Sci Total Environ 655:751–758

Shi JX, Fan XL, Tsang DCW et al (2019) Removal of lead by rice husk biochars produced at different temperatures and implications for their environmental utilizations. Chemosphere 235:825–831

Singh SV, Chaturvedi S, Dhyani VC et al (2020) Pyrolysis temperature influences the characteristics of rice straw and husk biochar and sorption/desorption behaviour of their biourea composite. Bioresour Technol 314:123674

Teng D, Zhang B, Xu G et al (2020) Efficient removal of Cd(II) from aqueous solution by pinecone biochar: sorption performance and governing mechanisms. Environ Pollut 265:115001

Wang HX, Zhang ML, Lv Q (2019a) Influence of pyrolysis temperature on cadmium removal capacity and mechanism by maize straw and platanus leaves biochars. Int J Environ Res Public Health 16(5):845

Wang L, Wang YJ, Ma F et al (2019b) Mechanisms and reutilization of modified biochar used for removal of heavy metals from wastewater: a review. Sci Total Environ 668:1298–1309

Wang TT, Zheng JY, Liu HT et al (2020) Adsorption characteristics and mechanisms of Pb and Cd by a new agricultural waste–Caragana korshinskii biomass derived biochar. Environ Sci Pollut Res 6:1–19

Wu T, Liu C, Kong B et al (2019) Amidoxime-functionalized macroporous carbon self-refreshed electrode materials for rapid and high-capacity removal of heavy metal from water. ACS Cent Sci 5:719–726

Xiao X, Chen BL, Chen ZM et al (2018) Insight into multiple and multilevel structures of biochars and their potential environmental applications: a critical review. Environ Sci Technol 52:5027–5047

Yan HL, Xu WX, Xie JY et al (2019) Variation of a major facilitator superfamily gene contributes to differential cadmium accumulation between Rice subspecies. Nat Commun 10:2562

Yang W, Shang JY, Li BG et al (2020) Surface and colloid properties of biochar and implications for transport in porous media. Crit Rev Environ Sci Technol 50:2484–2522

Yu WC, Lian F, Cui GN et al (2018) N-doping effectively enhances the adsorption capacity of biochar for heavy metal ions from aqueous solution. Chemosphere 193:8–16

Yuan SN, Hong MF, Li H et al (2020) Contributions and mechanisms of components in modi fied biochar to adsorb cadmium in aqueous solution. Sci Total Environ 733:10

Zhao GX, Jiang L, He YD et al (2011) Sulfonated graphene for persistent aromatic pollutant management. Adv Mater 23:3959–3963
Acknowledgements
This work is supported by the National Key Research and Development Program of China (2018YFC1800503), the National Natural Science Foundation of China (41771276, 41701359), the Natural Science Foundation of Jiangsu Province, China (BE2018760), the 135 Frontier Projects of Institute of Soil Science, Chinese Academy of Sciences (ISSASIP1619).
Additional information
Publisher's Note
Springer Nature remains neutral with regard to jurisdictional claims in published maps and institutional affiliations.
Supplementary Information
Below is the link to the electronic supplementary material.
About this article
Cite this article
Wang, Q., Cui, P., Yang, Q. et al. Analysis of the Cd(II) Adsorption Performance and Mechanisms by Soybean Root Biochar: Effect of Pyrolysis Temperatures. Bull Environ Contam Toxicol 107, 553–558 (2021). https://doi.org/10.1007/s00128-021-03235-2
Received:

Accepted:

Published:

Issue Date:
Keywords
Biochar

Cadmium

Adsorption mechanism

Pyrolysis temperatures