Abstract
This study explored effects of dietary OCP intake from plant-origin foods (cereals, fruits, and vegetables) consumption on lipid metabolism and inflammation of women using a multiple follow-up study. The results showed that dietary intake of p,p′-dichlorodiphenyltrichloroethane (DDT) [β = − 10.11, 95% confidence interval (95%CI): − 17.32, − 2.905] and o,p′-dichlorodiphenyldichloroethylene (DDE) (β = − 6.077, 95%CI: − 9.954, − 2.200) were overall negatively associated with serum high-density lipoprotein cholesterol (HDL), whereas other OCPs were not. Serum interleukin (IL)-8 was positively associated with intake of dieldrin (β = 0.390, 95%CI: 0.105, 0.674), endosulfan-β (β = 0.361, 95%CI: 0.198, 0.523), total endosulfan (β = 0.136, 95%CI: 0.037, 0.234), and total OCPs (β = 0.084, 95%CI: 0.016, 0.153), and negatively correlated with intake of p,p′-DDE (β = − 2.692, 95%CI: − 5.185, − 0.198). We concluded that dietary intake of some individual DDT-, DDE- dieldrin-, and endosulfan-class chemicals from plant-origin foods may interfere with lipid metabolism and inflammation responses.
Graphical Abstract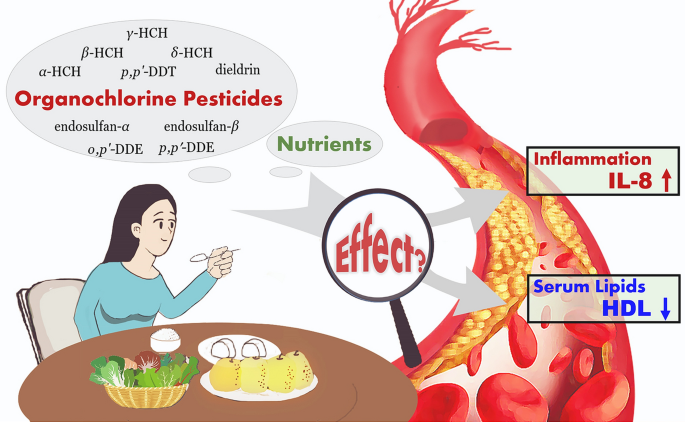 Access options
Buy single article
Instant access to the full article PDF.
USD 39.95
Price includes VAT (USA)
Tax calculation will be finalised during checkout.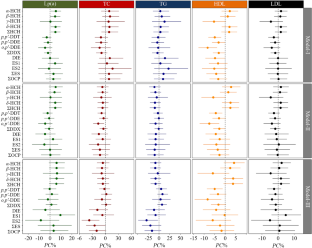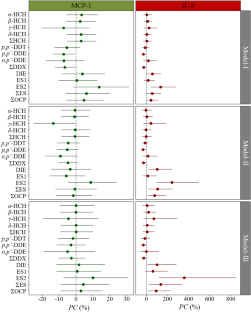 Acknowledgments
All authors would like to express our gratitude to the help from the working group of environmental exposure and human health of the China Cohort Consortium (See http://chinacohort.bjmu.edu.cn/). This work was supported by the National Natural Science Foundation of China (Grant Nos. 41401583, 41771527, and 41922057).
Ethics declarations
Conflict of interest
The authors have no conflicts of interest to declare that are relevant to the content of this article.
Informed consent
This study was approved by the institutional review board of Peking University and the signed informed consent was obtained for each participant.
Additional information
Publisher's Note
Springer Nature remains neutral with regard to jurisdictional claims in published maps and institutional affiliations.
Supplementary Information
Below is the link to the electronic supplementary material.
About this article
Cite this article
Wang, X., Gao, M., Tan, Y. et al. Associations of Dietary Exposure to Organochlorine Pesticides from Plant-Origin Foods with Lipid Metabolism and Inflammation in Women: A Multiple Follow-up Study in North China. Bull Environ Contam Toxicol 107, 289–295 (2021). https://doi.org/10.1007/s00128-021-03224-5
Received:

Accepted:

Published:

Issue Date:
Keywords
OCPs

Dietary exposure

Lipid metabolism

Inflammation