Abstract
The chromium (Cr6+) toxicity mechanisms have not been fully revealed yet in plants mainly due to its complex electronic chemistry. Both putrescine (PUT) and glutathione (GSH) are reported to be involved in plethora of plant cellular processes. Therefore, we hypothesized that exogenous individual or co-application of PUT and GSH could alleviate the Cr6+ stress in genetically diverse canola cultivars. The seed priming with GSH (0.1 mM) alleviated inhibitory effects of Cr6+ on root growth, and thus plants raised from GSH-treated seed had higher leaf chlorophyll a contents (78, 69 and 82%, in Shiralee, Rainbow and Dunkled cultivar, respectively), carotenoids contents, stem phenolics, root GSH, leaf and root NO concentration. The foliar treatment with PUT caused 37 and 11.9% decrease in the accumulation of Cr in shoot of Shiralee and Dunkled, respectively. Overall, the results suggested that seed priming with GSH regulated leaf photosynthetic pigments to cope with Cr6+ shock at early growth stage whereas foliar treatment with PUT decreased Cr transport to the shoot, and thus increased tolerance at later growth stage irrespective of cultivars.
Access options
Buy single article
Instant access to the full article PDF.
USD 39.95
Price includes VAT (USA)
Tax calculation will be finalised during checkout.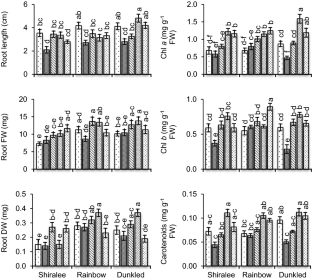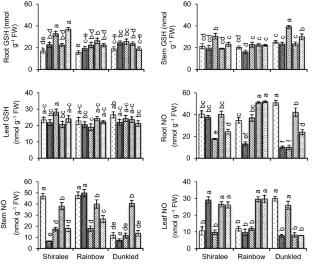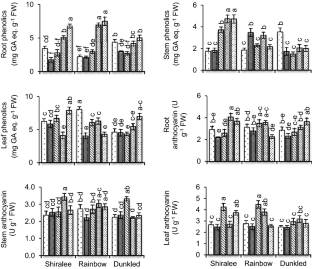 References
Ahmad R, Ali S, Abid M, Rizwan M, Ali B, Tanveer A, Ahmad I, Azam M, Ghani MA (2020) Glycinebetaine alleviates the chromium toxicity in Brassica oleracea L. by suppressing oxidative stress and modulating the plant morphology and photosynthetic attributes. Environ Sci Pollut Res 27:1101–1111

Alcázar R, Altabella T, Marco F, Bortolotti C, Reymond M, Koncz C, Carrasco P, Tiburcio AF (2010) Polyamines: Molecules with regulatory functions in plant abiotic stress tolerance. Planta 231(6):1237–1249

Anjum NA, Aref IM, Duarte AC, Pereira E, Ahmad I, Iqbal M (2014) Glutathione and proline can coordinately make plants withstand the joint attack of metal(loid) and salinity stresses. Front Plant Sci 5:2010–2013

Arnon DI (1949) Copper enzymes in isolated chloroplasts. Polyphenoloxidase in Beta vulgaris. Plant Physiol 24(1):1–15

Bashri G, Parihar P, Singh R, Singh S, Singh VP, Prasad SM (2016) Physiological and biochemical characterization of two Amaranthus species under Cr(VI) stress differing in Cr(VI) tolerance. Plant Physiol Biochem 108:12–23

Cary EE, Olsen OE (1975) Atomic absorption spectrophotometric determination of chromium in plants. J Anal Chem 58:433–435

Davies FT, Puryear JD, Newton RJ, Egilla JN, Grossi JAS (2002) Mycorrhizal fungi increase chromium uptake by sunflower plants: Influence on tissue mineral concentration, growth, and gas exchange. J Plant Nutr 25:2389–2407

Galant A, Preuss ML, Cameron JC, Jez JM (2011) Plant glutathione biosynthesis: diversity in biochemical regulation and reaction products. Front Plant Sci 2:45

Griffith OW, Meister A (1979) Potent and specific inhibition of glutathione synthesis by buthionine sulfoximine (S-n-butyl homocysteine sulfoximine). J Biol Chem 254:7558–7560

Hu X, Neill SJ, Cai W, Tang Z (2003) NO-mediated hypersensitive responses of rice suspension cultures induced by incompatible elicitor. Chin Sci Bull 48:358–363

Hussain A, Nazir F, Fariduddin Q (2019) Polyamines (spermidine and putrescine) mitigate the adverse effects of manganese induced toxicity through improved antioxidant system and photosynthetic attributes in Brassica juncea. Chemosphere 236:124830

Joyia FA, Ashraf MY, Shafiq F, Anwar S, Nisa Z, un, Khaliq B, Malik A, (2021) Phytotoxic effects of varying concentrations of leather tannery effluents on cotton and brinjal. Agric Water Manag 246:106707

Kakkar P, Das B, Viswanathan PN (1984) A modified spectrophotometric assay of superoxide dismutase. Ind J Biochem Biophys 21(2):130–132

Kirk JTO, Allen RL (1965) Dependence of chloroplast pigment synthesis on protein synthesis: Effect of actidione. Biochem Biophysic Res Commun 21(6):523–530

Kubo H, Peeters JA, Aarts MG, Pereira A, Koornneef M (1999) ANTHOCYANINLESS2, a homeobox gene affecting anthocyanin distribution and root development in Arabidopsis. Plant Cell 11(7):1217–1226

Kushwaha BK, Singh VP (2019) Glutathione and hydrogen sulfide are required for sulfur-mediated mitigation of Cr(VI) toxicity in tomato, pea and brinjal seedlings. Physiol Plant 168:13024

Kushwaha BK, Ali HM, Siddiqui MH, Singh VP (2020) Nitric oxide-mediated regulation of sub-cellular chromium distribution, ascorbate–glutathione cycle and glutathione biosynthesis in tomato roots under chromium (VI) toxicity. J Biotechnol 318:68–77

Nahar K, Hasanuzzaman M, Alam MM, Rahman A, Suzuki T, Fujita M (2016) Polyamine and nitric oxide crosstalk: Antagonistic effects on cadmium toxicity in mung bean plants through upregulating the metal detoxification, antioxidant defense and methylglyoxal detoxification systems. Ecotoxicol Environ Saf 126:245–255

Nakamura S, Suzui N, Yin YG, Ishii S, Fujimaki S, Kawachi N, Rai H, Matsumoto T, Sato-Izawa K, Ohkama-Ohtsu N (2020) Effects of enhancing endogenous and exogenous glutathione in roots on cadmium movement in Arabidopsis thaliana. Plant Sci 290:10304

Pal M, Csavas G, Szalai G, Olah T, Khalil R, Yordanova R, Gell G, Birinyi Z, Nemeth E, Janda T (2017) Polyamines may influence phytochelatin synthesis during Cd stress in rice. J Hazard Mater 340:272–280

Scoccianti V, Iacobucci M, Speranza A, Antognoni F (2013) Over-accumulation of putrescine induced by cyclohexylamine interferes with chromium accumulation and partially restores pollen tube growth in Actinidia deliciosa. Plant Physiol Biochem 70:424–432

Szewczyk K, Bogucka-Kocka A, Vorobets N, Grzywa-Celińska A, Granica S (2020) Phenolic composition of the leaves of Pyrola rotundifolia L. and their antioxidant and cytotoxic activity. Molecules 25:1749

Torabi S, Khavarinejad RA (2014) Effects of manganese toxicity on activation of antioxidant enzymes, anthocyanin and total phenolic content in sunflower (Helianthus annuus L.). Ann Biol Sci 2(3):42–47

Wani SH, Kumar V, Shriram V, Sah SK (2016) Phytohormones and their metabolic engineering for abiotic stress tolerance in crop plants. Crop J 4(3):1–15

Wolfe K, Wu X, Liu RH (2003) Antioxidant activity of apple peels. J Agric Food Chem 51(3):609–614

Zhishen J, Mengcheng T, Jianming W (1999) The determination of flavonoid contents in mulberry and their scavenging effects on superoxide radicals. Food Chem 64:555–559
Ethics declarations
Conflict of interest
The authors declare that they have no conflict of interest.
Additional information
Publisher's note
Springer Nature remains neutral with regard to jurisdictional claims in published maps and institutional affiliations.
Supplementary Information
Below is the link to the electronic supplementary material.
About this article
Cite this article
Jahan, A., Iqbal, M. & Malik, A. Individual Rather Than Simultaneous Priming with Glutathione and Putrescine Reduces Chromium Cr6+ Toxicity in Contrasting Canola (Brassica napus L.) Cultivars. Bull Environ Contam Toxicol 107, 427–432 (2021). https://doi.org/10.1007/s00128-021-03219-2
Received:

Accepted:

Published:

Issue Date:
Keywords
Glutathione

Putrescine

Chromium toxicity

Photosynthetic pigments

Secondary metabolites

Canola