Abstract
Based on field visits and literature research, the situations of several typical wastewater treatment plants (WWTPs) in the Rhine basin and the Yangtze basin were investigated, to compare the technology and concept of wastewater treatment in these two areas. Our results showed that WWTPs in the Rhine performed well in pollutant removal, and have shifted their focus to energy production and nutrient recovery; While in the Yangtze basin, most WWTPs still operate on the sole concept of pollution treatment. Though China's WWTPs attach importance to water reclamation, the related technologies are still under development. In years to come, the construction of New Concept WWTPs is expected by Chinese famous experts, to integrate sustainable wastewater treatment and energy/nutrient recovery. To better plan its future avenue in wastewater treatment, China is suggested to learn from the successful practice of energy production and nutrient recovery of WWTPs in the Rhine.
Access options
Buy single article
Instant access to the full article PDF.
USD 39.95
Price includes VAT (USA)
Tax calculation will be finalised during checkout.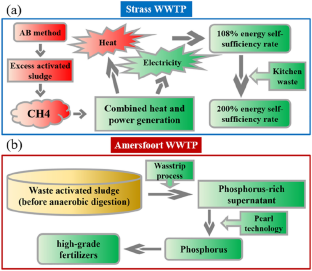 References
Avrin AP, He G, Kammen DM (2015) Assessing the impacts of nuclear desalination and geoengineering to address China's water shortages. Desalination 360:1–7

Chen TG, Wang Y, Gardner C et al (2020) Threats and protection policies of the aquatic biodiversity in the Yangtze River. J Nat Conserv 58:125931

Cornejo PK, Zhang Q, Mihelcic JR (2016) How does scale of implementation impact the environmental sustainability of wastewater treatment integrated with resource recovery? Environ Sci Technol 50(13):6680–6689

Eckert P (2011) Risk assessment for chemical spills in the river Rhine. In: Shamrukh M (ed) Riverbank filtration for water security in desert countries. NATO Science for peace and security series C: environmental security. Springer, Dordrecht

Fang C, Huang RX, Dykstra CM et al (2020) Energy and nutrient recovery from sewage sludge and manure via anaerobic digestion with hydrothermal pretreatment. Environ Sci Technol 54(2):1147–1156

Ge SJ, Champagne P (2017) Cultivation of the marine macroalgae Chaetomorpha linum in municipal wastewater for nutrient recovery and biomass production. Environ Sci Technol 51(6):3558–3566

Giger W (2009) The Rhine red, the fish dead—the 1986 Schweizerhalle disaster, a retrospect and long-term impact assessment. Environ Sci Pollut Res 16:98–111

Hao XD, Loosdrecht M (2003) DOKHAVEN wastewater treatment plant in Rotterdam. Water Wastewater Eng 29(10):19–25 (in Chinese)

Hao XD, Cheng HQ, Hu YS (2014a) Case analysis of strass wastewater treatment plant, Austria: an international pioneer in carbon neutral operation. China Water Wastewater 22:1–5 (in Chinese)

Hao XD, Jin M, Hu YS (2014b) A new framework for the future sewage treatment in the Netherlands—NEWs and Its Practices. China Water Wastewater 20:7–15 (in Chinese)

Hao XD, Liu RB, Huang X (2015) Evaluation of the potential for operating carbon neutral WWTPs in China. Water Res 87:424–431

Huisman P (1995) From one-sided promotion of individual interests to integrated water management in the Rhine basin. Water Sci Technol 31(8):59–66

Leyva-Díaz JC, Monteoliva-García A, Martín-Pascual J et al (2020) Moving bed biofilm reactor as an alternative wastewater treatment process for nutrient removal and recovery in the circular economy model. Bioresour Technol 299:122631

Lim K, Evans PJ, Parameswaran P (2019) Long-term performance of a pilot-scale gas-sparged anaerobic membrane bioreactor under ambient temperatures for holistic wastewater treatment. Environ Sci Technol 53:7347–7354

Liu YH, Wang WM, Zhang W et al (2017) Brief analysis of the application of green design concept in Yanghu Reclaimed Water Plant project. Green Environ Prot Build Mater 03:254–256 (in Chinese)

Metz F (2017) Comparing policy designs in water protection: micropollutants policies in the Rhine River riparian states. In: From network structure to policy design in water protection: A comparative perspective on micropollutants in the Rhine River. Springer International Publishing, Cham, p 25–105

Pan D, Hong W, Kong FB (2020) Efficiency evaluation of urban wastewater treatment: evidence from 113 cities in the Yangtze River Economic Belt of China. J Environ Manag 270:110940

Plum N, Schulte-Wülwer-Leidig A (2014) From a sewer into a living river: the Rhine between Sandoz and Salmon. Hydrobiologia 729:95–106

Prasuhn V, Sieber U (2005) Changes in diffuse phosphorus and nitrogen inputs into surface waters in the Rhine watershed in Switzerland. Aquat Sci 67:363–371

Prieto AL, Vuono D, Holloway R et al (2013) Decentralized wastewater treatment for distributed water reclamation and reuse: the good, the bad, and the ugly—experience from a case study. Nov Solut Water Pollut 15:251–266

Qu JH, Wang HC, Wang KJ et al (2019) Municipal wastewater treatment in China: development history and future perspectives. Front Environ Sci Eng 13(6):88

Roeleveld P, Roorda J, Schaafsma M (2011) News: the Dutch Roadmap for the WWTP of 2030. http://www.stowa.nl/bibliotheek/publicaties/NEWS__The_Dutch_roadmap_for_the_wwtp_of_2030

Ruchay D (1995) Living with water: Rhine River basin management. Water Sci Technol 31(8):27–32

Shen YW, Linville JL, Urgun-Demirtas M et al (2015) An overview of biogas production and utilization at full-scale wastewater treatment plants (WWTPs) in the United States: challenges and opportunities towards energy-neutral WWTPs. Renew Sustain Energy Rev 50:346–362

Tong YD, Wang MZ, Peñuelas J et al (2020) Improvement in municipal wastewater treatment alters lake nitrogen to phosphorus ratios in populated regions. PNAS 117(21):11566–11572

Wang ZM, Shao DG, Westerhoff P (2017) Wastewater discharge impact on drinking water sources along the Yangtze River (China). Sci Totol Environ 599–600:1399–1407

Wei LL, Zhu FY, Li QY et al (2020) Development, current state and future trends of sludge management in China: based on exploratory data and CO2-equivaient emissions analysis. Environ Int 144:106093

Xu Y, Naidoo AR, Zhang XF et al (2019) Optimizing sampling strategy for Chinese National Sewage Sludge Survey (CNSSS) based on urban agglomeration, wastewater treatment process, and treatment capacity. Sci Totol Environ 696:133998

Zhang SY (2018) A brief analysis of sewage treatment plant upgrade and transformation strategy. Dev Guide Build Mater 16(11):11–12 (in Chinese)
Acknowledgements
This research was supported by Nanjing University Undergraduate International Scientific Excursion & Research Training Project, and Research Project of "13th Five-year Plan" Experimental Teaching Reform of Nanjing University (SY201911, SY201929).
Ethics declarations
Conflict of interest
The authors declare that they have no conflicts of interest.
Additional information
Publisher's Note
Springer Nature remains neutral with regard to jurisdictional claims in published maps and institutional affiliations.
About this article
Cite this article
Zhu, C., Zhu, B., Gu, X. et al. Technology and Concept of Wastewater Treatment: Differences Between the Rhine Basin and the Yangtze Basin. Bull Environ Contam Toxicol 106, 1059–1064 (2021). https://doi.org/10.1007/s00128-021-03217-4
Received:

Accepted:

Published:

Issue Date:
Keywords
WWTPs

Rhine basin

Yangtze basin

Wastewater treatment