Abstract
Methylmercury presents potent neurotoxicity to humans. Fish consumption is the leading source of human exposure to methylmercury worldwide. However, the exposure source in Tibet remains poorly understood because of the scarcity of observational data on most Tibetan foods, although high mercury levels were recently detected in some traditional Tibetan medicines. Here, the results of field investigations show that the joint consumption of traditional Tibetan medicines (TTMs), fish, and rice constitutes a primary exposure pathway to methylmercury in Tibetans and that the probable daily intake of methylmercury is close to that for many coastal regions. People who are young and high-income may have higher methylmercury exposure levels mainly because of economic development and cultural exchanges among regions. Our analysis indicates that a large proportion of the Tibetan population are likely to face a high methylmercury exposure risk and that mercury-susceptible populations in Tibet should be attentive to consuming TTMs with fish.
Access options
Buy single article
Instant access to the full article PDF.
USD 39.95
Price includes VAT (USA)
Tax calculation will be finalised during checkout.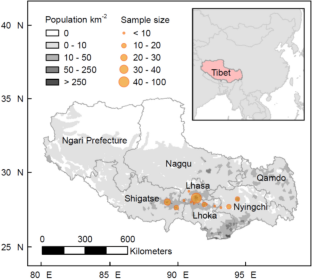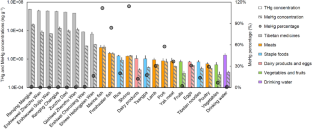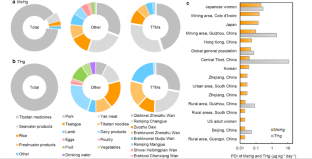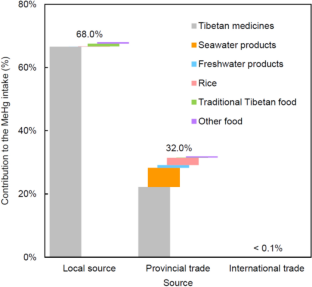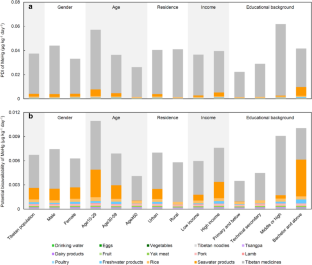 References
Aschner M, Aschner JL (1990) Mercury neurotoxicity: mechanisms of blood-brain barrier transport. Neurosci Biobehav R 14(2):169–176

Axelrad DA, Bellinger DC, Ryan LM, Woodruff TJ (2007) Dose–response relationship of prenatal mercury exposure and IQ: an integrative analysis of epidemiologic data. Environ Health Persp 115(4):609–615

Barrett JR (2010) Rice is a significant source of methylmercury: research in China assesses exposures. Environ Health Persp 118:a398

Barst BD, Hammerschmidt CR, Chumchal MM, Muir DC, Smith JD, Roberts AP et al (2013) Determination of mercury speciation in fish tissue with a direct mercury analyzer. Environ Toxicol Chem 32(6):1237–1241

Baumann Z, Mason RP, Conover DO, Balcom P, Chen CY, Buckman KL et al (2017) Mercury bioaccumulation increases with latitude in a coastal marine fish (Atlantic silverside, Menidia menidia). Can J Fish Aquat Sci 74(7):1009–1015

Bradley MA, Barst BD, Basu N (2017) A review of mercury bioavailability in humans and fish. Int J Environ Res Public Health 14(2):169

Chen CY, Dionne M, Mayes BM, Ward DM, Sturup S, Jackson BP (2009) Mercury bioavailability and bioaccumulation in estuarine food webs in the Gulf of Maine. Environ Sci Technol 43(6):1804–1810

Chen L, Liang S, Liu M, Yi Y, Mi Z, Zhang Y et al (2019) Trans-provincial health impacts of atmospheric mercury emissions in China. Nat Commun 10(1):1484

Clarkson TW, Magos L (2006) The toxicology of mercury and its chemical compounds. Crit Rev Toxicol 36(8):609–662

EPA (US Environmental Protection Agency), (1997) An SAB report: review of the EPA draft mercury study report to congress. DC, United States, Washington

Gochfeld M (2003) Cases of mercury exposure, bioavailability, and absorption. Ecotox Environ Safe 56(1):174–179

Gong Y, Nunes LM, Greenfield BK, Qin Z, Yang Q, Huang L et al (2018) Bioaccessibility-corrected risk assessment of urban dietary methylmercury exposure via fish and rice consumption in China. Sci Total Environ 630:222–230

Gray JE, Greaves IA, Bustos DM, Krabbenhoft DP (2003) Mercury and methylmercury contents in mine-waste calcine, water, and sediment collected from the Palawan Quicksilver Mine. Philippines Environ Geol 43(3):298–307

Hammerschmidt CR, Fitzgerald WF (2005) Methylmercury in mosquitoes related to atmospheric mercury deposition and contamination. Environ Sci Technol 39(9):3034–3039

Harris HH, Pickering IJ, George GN (2003) The chemical form of mercury in fish. Science 301(5637):1203–1203

Holmes P, James K, Levy L (2009) Is low-level environmental mercury exposure of concern to human health? Sci Total Environ 408(2):171–182

Hong C, Yu X, Liu J, Cheng Y, Rothenberg SE (2016) Low-level methylmercury exposure through rice ingestion in a cohort of pregnant mothers in rural China. Environ Res 150:519–527

Iwasaki Y, Sakamoto M, Nakai K, Oka T, Dakeishi M, Iwata T et al (2003) Estimation of daily mercury intake from seafood in Japanese women: akita cross-sectional study. Tohoku J Exp Med 200(2):67–73

Kim N-S, Lee B-K (2010) Blood total mercury and fish consumption in the Korean general population in KNHANES III, 2005. Sci Total Environ 408(20):4841–4847

Kim EH, Kim IK, Kwon JY, Kim SW, Park YW (2006) The effect of fish consumption on blood mercury levels of pregnant women. Yonsei Med J 47(5):626–633

Lavoie RA, Jardine TD, Chumchal MM, Kidd KA, Campbell LM (2013) Biomagnification of mercury in aquatic food webs: a worldwide meta-analysis. Environ Sci Technol 47(23):13385–13394

Lee S, Tan Y-M, Phillips MB, Sobus JR, Kim S (2017) Estimating methylmercury intake for the general population of South Korea using physiologically based pharmacokinetic modeling. Toxicol Sci 159(1):6–15

Li P, Feng X, Yuan X, Chan HM, Qiu G, Sun G et al (2012) Rice consumption contributes to low level methylmercury exposure in southern China. Environ Int 49:18–23

Li P, Feng X, Liang P, Man Chan H, Yan H, Chen L (2013) Mercury in the seafood and human exposure in coastal area of Guangdong province. South China Environ Toxicol Chem 32(3):541–547

Li M, von Stackelberg K, Rheinberger CM, Hammitt JK, Krabbenhoft DP, Yin R et al (2016) Insights from mercury stable isotopes into factors affecting the internal body burden of methylmercury in frequent fish consumers. Elementa-Sci Anthrop 4:000103

Liang P, Shao D, Wu S, Shi J, Sun X, Wu F et al (2011) The influence of mariculture on mercury distribution in sediments and fish around Hong Kong and adjacent mainland China waters. Chemosphere 82(7):1038–1043

Liang P, Feng X, Zhang C, Zhang J, Cao Y, You Q et al (2015) Human exposure to mercury in a compact fluorescent lamp manufacturing area: by food (rice and fish) consumption and occupational exposure. Environ Pollut 198:126–132

Liu M, Du P, Yu C, He Y, Zhang H, Sun X et al (2017) Increases of total mercury and methylmercury releases from municipal sewage into environment in China and implications. Environ Sci Technol 52(1):124–134

Liu M, Chen L, He Y, Baumann Z, Mason RP, Shen H et al (2018a) Impacts of farmed fish consumption and food trade on methylmercury exposure in China. Environ Int 120:333–344

Liu M, He Y, Baumann Z, Yu C, Ge S, Sun X et al (2018b) Traditional Tibetan medicine induced high methylmercury exposure level and environmental mercury burden in Tibet. China Environ Sci Technol 52(15):8838–8847

Liu M, He Y, Ge S, Cheng M, Xie H, Yu C et al (2018c) Chemical form and bioaccessibility of mercury in traditional Tibetan medicines. Environ Sci Technol Lett 5(9):552–557

Liu M, Zhang Q, Cheng M, He Y, Chen L, Zhang H et al (2019) Rice life cycle-based global mercury biotransport and human methylmercury exposure. Nat Commun 10(1):1–14

Liu M, Cheng M, Zhang Q, Hansen G, He Y, Yu C et al (2020) Significant elevation of human methylmercury exposure induced by the food trade in Beijing, a developing megacity. Environ Int 135:105392

Luo Q, Gao X, Hu Y, Lin K, Wang X, Cheng H (2019) Determination of methylmercury in rice using microwave-assisted extraction coupled with thermal decomposition amalgamation atomic absorption spectrometry (MAE-TDA-AAS). Anal Methods 11(10):1361–1370

Mahaffey KR, Clickner RP, Bodurow CC (2004) Blood organic mercury and dietary mercury intake: National Health and Nutrition Examination Survey, 1999 and 2000. Environ Health Persp 112(5):562–570

Martí-Cid R, Llobet JM, Castell V, Domingo JL (2008) Dietary intake of arsenic, cadmium, mercury, and lead by the population of Catalonia. Spain Biol Trace Elem Res 125(2):120–132

Mason R, Reinfelder J, Morel FM (1995) Bioaccumulation of mercury and methylmercury. Water Air Soil Poll 80(1–4):915–921

Mason RP, Baumann Z, Hansen G, Yao KM, Coulibaly M, Coulibaly S (2019) An assessment of the impact of artisanal and commercial gold mining on mercury and methylmercury levels in the environment and fish in Cote d'Ivoire. Sci Total Environ 665:1158–1167

Mergler D, Anderson HA, Chan LHM, Mahaffey KR, Murray M, Sakamoto M et al (2007) Methylmercury exposure and health effects in humans: a worldwide concern. Ambio 36(1):3–11

Moreda-Piñeiro J, Moreda-Piñeiro A, Romarís-Hortas V, Moscoso-Pérez C, López-Mahía P, Muniategui-Lorenzo S et al (2011) In-vivo and in-vitro testing to assess the bioaccessibility and the bioavailability of arsenic, selenium and mercury species in food samples. Trends Anal Chem 30(2):324–345

Munson KM, Babi D, Lamborg CH (2014) Determination of monomethylmercury from seawater with ascorbic acid-assisted direct ethylation. Limnol Oceanogr Meth 12(1):1–9

Myers GJ, Davidson PW, Cox C, Shamlaye CF, Palumbo D, Cernichiari E et al (2003) Prenatal methylmercury exposure from ocean fish consumption in the Seychelles child development study. Lancet 361(9370):1686–1692

NBSC (National Bureau Statistics of China) (2019) China Statistical Yearbook. Beijing, China

Nyima T, Tang Y, Zeng X (2013) Food preparation from hulless barley in Tibet. In: Zhang G, Li C, Liu X (eds) Advance in Barley Sciences. Springer, Berlin, pp 151–158

Park J-D, Zheng W (2012) Human exposure and health effects of inorganic and elemental mercury. J Prev Med Public Health 45(6):344

Rhode D, Madsen DB, Brantingham PJ, Dargye T (2007) Yaks, yak dung, and prehistoric human habitation of the Tibetan Plateau. Dev Quat Sci 9:205–224

Rothenberg SE, Yu X, Zhang Y (2013) Prenatal methylmercury exposure through maternal rice ingestion: insights from a feasibility pilot in Guizhou Province, China. Environ Pollut 180:291–298

Rothenberg SE, Windham-Myers L, Creswell JE (2014) Rice methylmercury exposure and mitigation: a comprehensive review. Environ Res 133:407–423

Sallon S, Dory Y, Barghouthy Y, Tamdin T, Sangmo R, Tashi J et al (2017) Is mercury in Tibetan medicine toxic? clinical, neurocognitive and biochemical results of an initial cross-sectional study. Exp Biol Med 242(3):316–332

Si L (2015) Analysis of monitoring results of total mercury content in foods in Tibet from 2012 to 2013. J Food Safe Qual 6(2):718–722 ((in chinese))

Siedlikowski M, Bradley M, Kubow S, Goodrich JM, Franzblau A, Basu N (2016) Bioaccessibility and bioavailability of methylmercury from seafood commonly consumed in North America: In vitro and epidemiological studies. Environ Res 149:266–273

Sunderland EM, Li M, Bullard K (2018) Decadal changes in the edible supply of seafood and methylmercury exposure in the United States. Environ Health Persp 126(1):017006

Tyrrell J, Melzer D, Henley W, Galloway TS, Osborne NJ (2013) Associations between socioeconomic status and environmental toxicant concentrations in adults in the USA: NHANES 2001–2010. Environ Int 59:328–335

Višnjevec AM, Kocman D, Horvat M (2014) Human mercury exposure and effects in Europe. Environ Toxicol Chem 33(6):1259–1270

von Stackelberg K, Li M, Sunderland E (2017) Results of a national survey of high-frequency fish consumers in the United States. Environ Res 158:126–136

WHO (World Health Organization) (1990) Methylmercury. Environmental health criteria 101. Geneva, Switzerland

Zhang Y, Nakai S, Masunaga S (2009) An exposure assessment of methyl mercury via fish consumption for the Japanese population. Risk Anal 29(9):1281–1291

Zhang H, Feng X, Larssen T, Qiu G, Vogt RD (2010) In inland China, rice, rather than fish, is the major pathway for methylmercury exposure. Environ Health Persp 118(9):1183–1188

Zhang W, Liu X, Luo G, Liu Y, Yuan L, Xiao R et al (2016) Comparative study of total and soluble arsenic, mercury in the Tsothel and other precious Tibetan medicines∗. Chin J Pharm Anal 36(4):721–726 ((in chinese))

Zhang M, Bi H, Li C, Du Y, Wei L (2018) Differences of mercury dissolution in simulated gastric and intestinal fluids of Tibetan medicine Zuotai. Chin Tradit Patent Med 40(10):2302–2304 ((in chinese))

Zhao H, Yan H, Zhang L, Sun G, Li P, Feng X (2019) Mercury contents in rice and potential health risks across China. Environ Int 126:406–412

Zhou H, Wong MH (2000) Mercury accumulation in freshwater fish with emphasis on the dietary influence. Water Res 34(17):4234–4242
Acknowledgements
The authors thank Junming Guo at the Cold and Arid Regions Environmental and Engineering Research Institute and Qianggong Zhang at the Institute of Tibetan Plateau Research for their help with the measurements. This work was funded by the National Natural Science Foundation of China (41630748, 41977311 and 41821005). The involvement of Deji was supported by the key R&D and transformation plan of the Science and Technology Department of Tibet (XZ-201801-GB-05).
Additional information
Publisher's Note
Springer Nature remains neutral with regard to jurisdictional claims in published maps and institutional affiliations.
Supplementary Information
Below is the link to the electronic supplementary material.
About this article
Cite this article
Cheng, M., Liu, M., Li, D. et al. Human Methylmercury Exposure and Potential Impacts in Central Tibet: Food and Traditional Tibetan Medicine. Bull Environ Contam Toxicol 107, 449–458 (2021). https://doi.org/10.1007/s00128-021-03216-5
Received:

Accepted:

Published:

Issue Date:
Keywords
Methylmercury

Dietary exposure

Economic development

Cultural exchanges

Traditional Tibetan medicine

Joint ingestion