Abstract
In this study, eighteen 3.30-m-long sediment profiles were sampled in Maozhou River. In order to investigate the sediment pollution status and potential sources of heavy metals, we performed heavy metal contents, grain size, organic matter concentration, moisture concentration and total phosphorus analysis, and assessed the ecological risk of heavy metal pollution in the study area using enrichment coefficient, geo-accumulation index and potential ecological risk index. The results indicated that the heavy metal concentrations in the Maozhou River sediments were 3.73–417 times higher than the soil background in Guangdong Province and the average concentrations were 0.447–15.1 times higher than Chinese lacustrine sediments. The Cr, Ni, Cu, Zn, Cd and Pb contents were significantly correlated with each other (p < 0.01), indicating similar deposition process. In addition, spatial and vertical distribution of heavy metals showed similar variation patterns and extreme high contents are distributed in the interchange area. The ecological risk of Maozhou River was much higher than other river sediments in Guangdong Province, especially for Cu, Cd and Ni. The variation pattern of potential ecological risk index is similar with that of heavy metals and the assessment results indicated high ecological risk in the Maozhou River sediments, which is in good agreement with the EF and Igeo results. This study would provide some references for the treatment of heavy metals' pollution in Maozhou River.
Access options
Buy single article
Instant access to the full article PDF.
USD 39.95
Price includes VAT (USA)
Tax calculation will be finalised during checkout.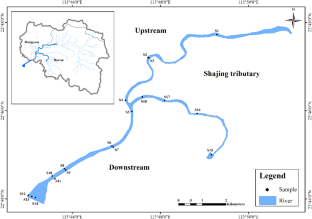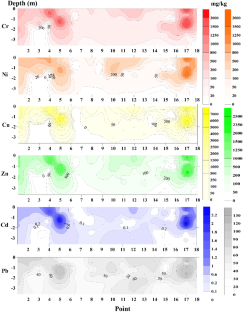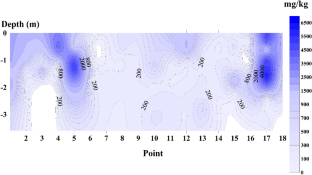 References
Anirudhan TS, Suchithra PS (2010) Heavy metals uptake from aqueous solutions and industrial wastewaters by humic acid-immobilized polymer/bentonite composite: kinetics and equilibrium modeling. Chem Eng J 156(1):146–156

Bai JH, Jia J, Zhang GL et al (2016) Spatial and temporal dynamics of heavy metal pollution and source identification in sediment cores from the short-term flooding riparian wetlands in a Chinese delta. Environ Pollut 219:379–388

Bing HJ, Wu YH, Sun ZB et al (2011) Historical trends of heavy metal contamination and their sources in lacustrine sediment from Xijiu Lake, Taihu Lake Catchment, China. J Environ Sci 23(10):1671–1678

Biruk LN, Moretton J, Fabrizio IA et al (2017) Toxicity and genotoxicity assessment in sediments from the Matanza Riachuelo river basin (Argentina) under the influence of heavy metals and organic contaminants. Ecotoxicol Environ Saf 135:302–311

Chai MW, Ding H, Shen XX et al (2019) Contamination and ecological risk of polybrominated diphenyl ethers (pbdes) in surface sediments of mangrove wetlands: a nationwide study in China. Environ Pollut 249:992–1001

Chen SL, Zhang GA, Yang SL et al (2006) Temporal variations of fine suspended sediment concentration in the Changjiang River estuary and adjacent coastal waters, China. J Hydrol 331:137–145

Chen BW, Liang XM, Xu WH et al (2012) The changes in trace metal contamination over the last decade in surface sediments of the Pearl River Estuary, South China. Sci Total Environ 439:141–149

China National Environmental Monitoring Centre (1990) Background value of soil elements in China. China Environmental Science Press, Beijing

Deng HG, Zhang J, Wang DQ et al (2010) Heavy metal pollution and assessment of the tidal flat sediments near the coastal sewage outfalls of Shanghai, China. Environ Earth Sci 60(1):57–63

Fisher-Power LM, Cheng T, Rastghalam ZS (2016) Cu and Zn adsorption to a heterogeneous natural sediment: influence of leached cations and natural organic matter. Chemosphere 144:1973–1979

Gong YL, Huang C, Huang L et al (2016) Ecological risk assessment of heavy metals in surface sediments of Maozhou River Basin. J Jishou Univ: Nat Sci Ed 37(4):35–39 (in Chinese)

Guenther K, Heinke V, Thiele B et al (2002) Endocrine disrupting nonylphenols are ubiquitous in food. Environ Sci Technol 36(8):1676–1680

Guo Y, Huang C, Zhang H et al (2009) Heavy metal contamination from electronic waste recycling at Guiyu, Southeastern China. J Environ Qual 38(4):1617–1626

Huo S, Zan F, Xi B et al (2011) Phosphorus fractionation in different trophic sediments of lakes from different regions, china. J Environ Monit 13(4):1088–1095

Islam MS, Ahmed MK, Raknuzzaman M et al (2015a) Heavy metal pollution in surface water and sediment: a preliminary assessment of an urban river in a developing country. Ecol Ind 48:282–291

Islam MS, Ahmed MK, Mamun MHA et al (2015b) Potential ecological risk of hazardous elements in different land-use urban soils of bangladesh. Sci Total Environ 512–513:94–102

Klavins M, Potapovics O, Rodinov V et al (2009) Heavy metals in fish from lakes in latvia: concentrations and trends of changes. Bull Environ Contam Toxicol 82(1):96–100

Li HY, Shi AB, Li MY et al (2013) Effect of pH temperature dissolved oxygen and flow rate of overlying water on heavy metals release from storm sewer sediments. J Chem 11–12:1–11

Li C, Song C, Yin Y et al (2015) Spatial distribution and risk assessment of heavy metals in sediments of Shuangtaizi Estuary, China. Mar Pollut Bull 98(1):358–364

Liu YS, Tang YY, Zhong GS et al (2019) A comparison study on heavy metal/metalloid stabilization in Maozhou River sediment by five types of amendments. J Soils Sediments 19:3922–3933

Mucha AP, Vasconcelos M, Bordalo AA et al (2003) Macrobenthic community in the Douro Estuaty; relations with trace metals and natural sediment charateristics. Environ Pollut 121(2):169–180

Qiu SJ, Xie JG, Zhao SC et al (2014) Long-term effects of potassium fertilization on yield, efficiency, and soil fertility status in a rain-fed maize system in northeast China. Field Crop Res 163:1–9

Shi Z, Allen HE, Toro DMD et al (2013) Predicting PbII adsorption on soils: the roles of soil organic matter, cation competition and iron (hydr)oxides. Environ Chem 10:465–474

Shi JC, Li X, He TT et al (2018) Integrated assessment of heavy metal pollution using transplanted mussels in eastern Guangdong, China. Environ Pollut 243:601–609

Shikazono N, Tatewaki K, Mohiuddin KM et al (2012) Sources spatial variation and speciation of heavy metals in sediments of the Tamagawa River in Central Japan. Environ Geochem Health 34(1):13–26

Sounthararajah DP, Loganathan P, Kandasamy J et al (2016) Column studies on the removal of dissolved organic carbon turbidity and heavy metals from stormwater using granular activated carbon. Desalin Water Treat 57(11):5045–5055

Wu W, Wu P, Yang F et al (2018) Assessment of heavy metal pollution and human health risks in urban soils around an electronics manufacturing facility. Sci Total Environ 630:53–61

Wu PF, Tang YY, Dang M et al (2020) Spatial-temporal distribution of microplastics in surface water and sediments of Maozhou River within Guangdong-Hong Kong-Macao Greater Bay Area. Sci Total Environ 717:1351871–13518711

Xia P, Meng XW, Yin P et al (2011) Eighty-year sedimentary record of heavy metal inputs in the intertidal sediments from the Nanliu River estuary, Beibu Gulf of South China Sea. Environ Pollut 159(1):92–99

Yi YJ, Yang ZF, Zhang SH et al (2011) Ecological risk assessment of heavy metals in sediment and human health risk assessment of heavy metals in fishes in the middle and lower reaches of the Yangtze River basin. Environ Pollut 159(10):2575–2585

Zafar M, Vinh NV, Behera SK et al (2017) Ethanol mediated As (III) adsorption onto Zn-loaded pinecone biochar: experimental investigation, modeling, and optimization using hybrid artificial neural network-genetic algorithm approach. J Environ Sci 54(4):114–125

Zahra A, Hashmi MZ, Malik RN et al (2014) Enrichment and geo-accumulation of heavy metals and risk assessment of sediments of the Kurang Nallah Feeding tributary of the Rawal Lake Reservoir Pakistan. Sci Total Environ 470–471(2):925–933

Zhang WB, Yu H (2012) Vertical distribution characteristics of nutrients and heavy metals in sediments of lake Hongze. Environ Sci 33(2):399–406

Zhang D, Wang JJ, Ni HG et al (2017) Spatial-temporal and multi-me variations of polycyclic aromatic hydrocarbons in a highly urbanized river from South China. Sci Total Environ 581–582:621–628

Zhang PY, Qin CZ, Hong X et al (2018) Risk assessment and source analysis of soil heavy metal pollution from lower reaches of Yellow River irrigation in China. Sci Total Environ 633:1136–1147

Zhu DW, Wu SZ, Lu N et al (2018) Evaluation of nutrient and heavy metal pollution in Maozhou river in Shenzhen city. IOP Conf Ser: Earth Environ Sci 170:032156
Acknowledgements
This work was supported by the National Key Research and Development Project of China (No. 2018YFC1800605), the National Natural Science Foundation of China (Nos. 41671033, 41807125), the Natural Science Foundation of Shandong Province, China (Nos. ZR2017MD023, ZR2018BD003), the Special Funds of Taishan Scholar of Shandong Province, China.
Additional information
Publisher's Note
Springer Nature remains neutral with regard to jurisdictional claims in published maps and institutional affiliations.
Supplementary Information
Below is the link to the electronic supplementary material.
About this article
Cite this article
Wang, G., Zhang, Y., Wang, J. et al. Spatial Distribution and Ecological Risk Assessment of Heavy Metals in Sediments of a Heavily Polluted Maozhou River, Southern China. Bull Environ Contam Toxicol 106, 844–851 (2021). https://doi.org/10.1007/s00128-021-03202-x
Received:

Accepted:

Published:

Issue Date:
Keywords
Sediment

Heavy metals

Spatial distribution

Ecological risk