Abstract
Orthogonal experiments were used to simulate the enrofloxacin (ENR) elimination dynamic in deeper water of aquaculture. Two factors at values common in fishery water (temperature of 20°C, 25°C, and 30°C; pH of 5, 7, and 9) were studied. The degradation of ENR in the nine treatment groups ranged from 44.7 to 80.1%. Variance analysis indicated that pH had a strong impact on the elimination of ENR, while temperature changes showed little effect. The ENR removal rate was highest at a combination of 25°C and pH 5. The optimal conditions of eliminating ENR were performed for exploring the generation of ciprofloxacin (CIP), which indicated that higher ENR concentrations led to the production of greater amounts of CIP. The half-time of ENR was increased 2.02-times in the ENR concentrations increasing from 20 to 2000 ng/mL. This study could increase our understanding of the behaviors of ENR and CIP during the aquaculture process.
Access options
Buy single article
Instant access to the full article PDF.
USD 39.95
Price includes VAT (USA)
Tax calculation will be finalised during checkout.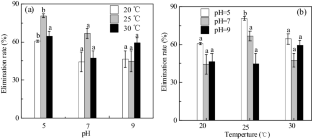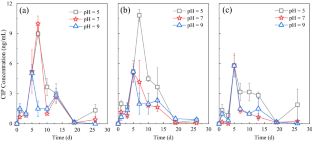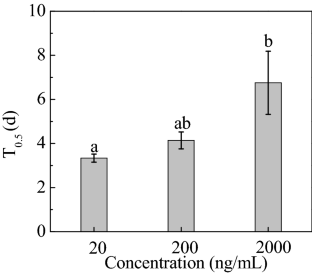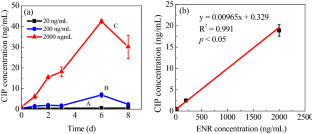 References
Aftabuddin S, Kader A, Kamal AM, Zafar M (2009) Present status on the use of antibiotics and chemicals in shrimp hatcheries and grow-out ponds and their environmental implications in Bangladesh. Aquac Aquar Conserv Legis 2:573–578

Aksu M, Kaymak BA, Egemen Ö (2010) Long-term monitoring of the impact of a capture-based bluefin tuna aquaculture on water column nutrient levels in the Eastern Aegean Sea, Turkey. Environ Monit Assess 171:681–688

Am A, Silvester R, Alexander DMN, Abdulla MH (2016) Characterization of blooming algae and bloom-associated changes in the water quality parameters of traditional pokkali cum prawn fields along the South West coast of India. Environ Monit Assess 188:145–150

Cabello FC (2006) Heavy use of prophylactic antibiotics in aquaculture: a growing problem for human and animal health and for the environment. Environ Microbiol 8:1137–1144

Capone DG, Weston DP, Miller V, Shoemaker C (1996) Antibacterial residues in marine sediments and invertebrates following chemotherapy in aquaculture. Aquaculture 145:55–75

Cardoza L, Knapp C, Larive C, Belden J, Lydy M, Graham D (2005) Ciprofloxacin attenuation rates and mechanisms in aquatic field systems. Water Air Soil Pollut 161:383–398

Cetecioglu Z, Ince B, Azman S, Ince O (2014) Biodegradation of tetracycline under various conditions and effects on microbial community. Appl Biochem Biotechnol 172:631–640

Chen G, Li M, Liu X (2015a) Fluoroquinolone antibacterial agent contaminants in soil/groundwater: a literature review of sources, fate, and occurrence. Water Air Soil Pollut 226:418–423

Chen H, Shan L, Xu XR, Liu SS, Zhou GJ, Sun KF, Zhao JL, Ying GG (2015b) Antibiotics in typical marine aquaculture farms surrounding Hailing Island, South China: occurrence, bioaccumulation and human dietary exposure. Mar Pollut Bull 90:181–187

Du J, Zhao H, Liu S, Xie H, Wang Y, Chen J (2017) Antibiotics in the coastal water of the South Yellow Sea in China: occurrence, distribution and ecological risks. Sci Total Environ 595:521–527

Dudley M (1991) Pharmacodynamics and pharmaco-kinetics of antibiotics with special reference to the fluoroquinolones. Am J Med 91:45–50

Eng CT, Paw JN, Guarin FY (1989) The environmental impact of aquaculture and the effects of pollution on coastal aquaculture development in Southeast Asia. Mar Pollut Bull 20:335–343

Fang LX, Song C, Zhang JW, Zhang SY, Zhang C, Chen JZ, Meng SL (2019) Effects of multiple environmental factors on the elimination of methomyl in aquaculture water. Aquac Environ Interact 11:213–220

Gallagher MT, Reisinger AJ (2020) Effects of ciprofloxacin on metabolic activity and algal biomass of urban stream biofilms. Sci Total Environ 760:13578

Handeland SO, Imsland AK, Stefansson SO (2008) The effect of temperature and fish size on growth, feed intake, food conversion efficiency and stomach evacuation rate of Atlantic salmon post-smolts. Aquaculture 283:36–42

Huang R, Wen B, Pei Z, Shan XQ, Zhang S, Williams PN (2009) Accumulation, subcellular distribution and toxicity of copper in earthworm (Eisenia fetida) in the presence of ciprofloxacin. Environ Sci Technol 43:3688–3693

Jansomboon W, Boontanon SK, Boontanon N, Polprasert C (2017) Determination and health risk assessment of enrofloxacin, flumequine and sulfamethoxazole in imported Pangasius catfish products in Thailand. J Environ Sci Health 53:1–8

Li X, Chen J, Nie X, Lin J, Zhou X (2010) Degradation and residue of ciprofloxacin in different simulated water bodies. Acta Sci Nat Univ Sunyatseni 49:102–106

Liu X, Steele JC, Meng XZ (2017) Usage, residue, and human health risk of antibiotics in Chinese aquaculture: a review. Environ Pollut 223:161–169

Mohanty RK, Ambast SK, Panigrahi P, Mandal KG (2017) Water quality suitability and water use indices: useful management tools in coastal aquaculture of Litopenaeus vannamei. Aquaculture 485:210–219

Nie XP, He XT, Yang YT, Chen KC, Pan DB (2009) Investigation of quinolones in aquaculture environment of the Pearl River Delta. Environ Sci 30:266–270

Okocha RC, Olatoye IO, Adedeji OB (2018) Food safety impacts of antimicrobial use and their residues in aquaculture. Public Health Rev 39:21–27

Pepin P (1991) Effect of temperature and size on development, mortality, and survival rates of the pelagic early life history stages of marine fish. Can J Fish Aquat Sci 48:503–518

Samuelsen OB (1989) Degradation of oxytetracycline in seawater at two different temperatures and light intensities, and the persistence of oxytetracycline in the sediment from a fish farm. Aquaculture 83:7–16

San MB, Cornejo J, Iraguen D, Hidalgo H, Anadón A (2007) Depletion study of enrofloxacin and its metabolite ciprofloxacin in edible tissues and feathers of white leghorn hens by liquid chromatography coupled with tandem mass spectrometry. J Food Prot 70:1952–1957

Serra C, Alvarez M, Rodriguez M, Barcelo M (2016) Multi-residue method for the determination of antibiotics and some of their metabolites in seafood. Food Chem Toxicol 104:3–13

Song C, Li L, Zhang C, Qiu L, Fan L (2017a) Dietary risk ranking for residual antibiotics in cultured aquatic products around Tai Lake. China Ecotoxicol Environ Saf 144:252–257

Song C, Zhang C, Kamira B, Qiu L, Fan L, Wu W, Meng S, Hu G, Chen J (2017b) Occurrence and human dietary assessment of fluoroquinolones antibiotics in cultured fish around Tai Lake, China. Environ Toxicol Chem 36:2899–2905

Sturini M, Speltini A, Maraschi F, Pretali L, Profumo A, Fasani E, Albini A, Migliavacca R, Nucleo E (2012) Photodegradation of fluoroquinolones in surface water and antimicrobial activity of the photoproducts. Water Res 46:5575–5582

Sukul P, Spiteller M (2007) Fluoroquinolone antibiotics in the environment. Springer, New York, pp 131–162

Tamtam F, Le BB, Dinh T, Mompelat S, Eurin J, Chevreuil M, Bonté P, Mouchel JM, Ayrault S (2011) A 50-year record of quinolone and sulphonamide antimicrobial agents in Seine River sediments. J Soils Sedim 11:852–859

Teles JA, Castello Branco LC, Dei Blanchi M, Pilarski F, Reyes FGR (2016) Pharmacokinetic study of enrofloxacin in Nile tilapia (Oreochromis niloticus) after a single oral administration in medicated feed. J Vet Pharmacol Ther 39:205–208

Trouchon T, Lefebvre S (2016) A review of enrofloxacin for veterinary use. Open J Vet Med 6:40–58

Wang H, Ren L, Yu X, Hu J, Chen Y, He G, Jiang Q (2017) Antibiotic residues in meat, milk and aquatic products in Shanghai and human exposure assessment. Food Control 80:217–225

Xu Y, Liu S, Guo F, Cui F (2015) Oxidation of enrofloxacin with permanganate: kinetics, multivariate effects, identification of oxidation products, and determination of residual antibacterial activity. J Chem 2015:8

Zhang JZ, Chen JC, Kirby ED (2007) Surface roughness optimization in a end-milling operation using the Taguchi design method. J Mater Process Technol 184:233–239
Acknowledgements
This work was supported by National Key R&D Program of China (2017YFC1600704), National natural science foundation of China (31802271), and Central Public-interest Scientific Institution Basal Research Fund, Freshwater Fisheries Research Center, CAFS (No. 2019JBFZ04).
Ethics declarations
Conflict of interest
The authors declare no conflicts of interest.
Additional information
Publisher's Note
Springer Nature remains neutral with regard to jurisdictional claims in published maps and institutional affiliations.
Supplementary Information
Below is the link to the electronic supplementary material.
About this article
Cite this article
Fang, L., Zhou, Y., Huang, Z. et al. Dynamic Elimination of Enrofloxacin Under Varying Temperature and pH in Aquaculture Water: An Orthogonal Study. Bull Environ Contam Toxicol 106, 866–872 (2021). https://doi.org/10.1007/s00128-021-03199-3
Received:

Accepted:

Published:

Issue Date:
Keywords
Enrofloxacin

Aquaculture water

Environmental factors

Elimination rate

Ciprofloxacin