Abstract
To assess heavy metals contamination in shallow marine environments using benthic foraminifera as bio-indicators. Forty-six species of foraminifera were found in 33 benthic samples from the Saudi Arabian coast of the Red Sea-Gulf of Aqaba. Forty-six species belonging to 27 genera and 10 families under the Textularina, Rotalina, and Miliolina suborders were recorded in the study area. The most common genera of the recorded fauna were Peneroplis (37.2%), Coscinospira (15.06%), Sorites (10.36%), and Quinqueloculina (7.76%). The influx of clastic sediments would dilute the abundance of foraminifera species, and It may be the main reason for the decrease in abundance Concentrations of Fe, Mn, Cu, Ni, Zn, Pb, Cr, Co, and Cd were measured in the four common species of benthic foraminifera (Sorites orbiculus, Peneroplis planatus, Peneroplis pertusus, and Coscinospira hemprichii) using inductively coupled plasma mass spectrometry. The average values of heavy metals in the study area show that Iron was the most abundant metal (3367 μg/g), followed by Mn (142 μg/g), Cu (30 μg/g), Zn (24 μg/g), Cr (21 μg/g), Ni (14 μg/g), Pb (7 μg/g), Co (4.6 μg/g), and Cd (0.82 μg/g). Iron concentrations recorded in the foraminiferal tests in the study area were lower than those from the Jeddah area of Saudi Arabia. Other metals were found at higher concentrations than those recorded off the Red Sea coast of Saudi Arabia and Egypt. The heavy metals concentrations in the study area may be attributable to terrestrial influx or anthropogenic activities. The increase of abundance of epiphytic foraminifers and the absence of opportunistic foraminifers show normal the environment in the study area.
Access options
Buy single article
Instant access to the full article PDF.
USD 39.95
Price includes VAT (USA)
Tax calculation will be finalised during checkout.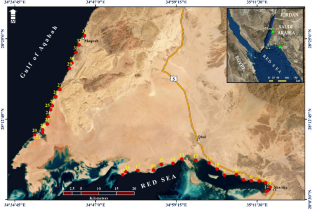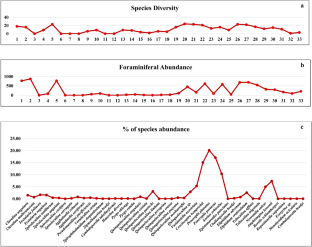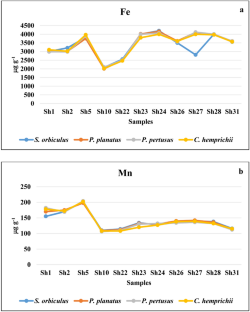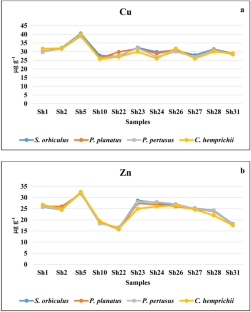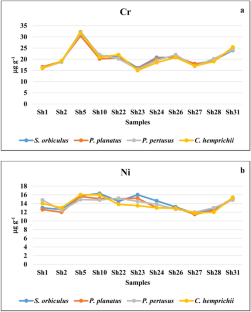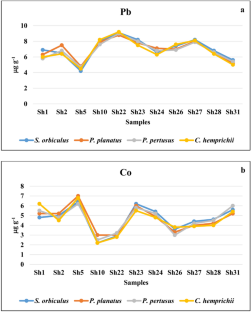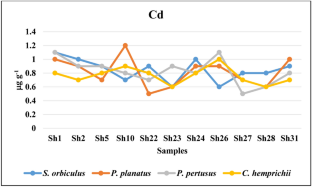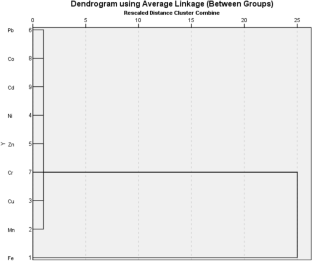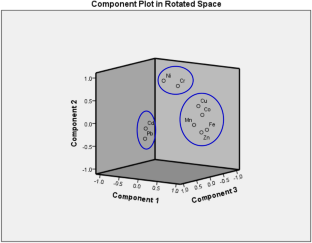 References
Abou-ouf M, El-Shater A (1993) Black Benthic Foraminifera in Carbonate Facies of a Coastal Sabkha, Saudi Arabian. Red Sea Coast J KAU Mar Sci 4:133–214

Abu-Zied R, Hariri M (2016) Geochemistry and benthic foraminifera of the nearshore sediments from Yanbu to Al-Lith, eastern Red Sea coast Saudi Arabia. Arab J Geosci 9:245

Abu-Zied R, Basaham A, El-Sayed M (2013) Effect of municipal wastewaters on bottom sediment geochemistry and benthic foraminifera of two Red Sea coastal inlets, Jeddah, Saudi Arabia. Environ Earth Sci 68:451–469

Abu-Zied R, Al-Dubai T, Bantan R (2016) Environmental conditions of shallow waters alongside the southern Corniche of Jeddah based on benthic foraminifera, physico-chemical parameters and heavy metals. J Foraminiferal Res 46(2):149–170

Al-Dubai T, Abu-Zied R, Basaham A (2017) Diversity and distribution of benthic foraminifera in the Al-Kharrar Lagoon, eastern Red Sea coast, Saudi Arabia. Micropaleontology 63:275–303

Al-Enezi E, Khader S, Balassi E, Frontalini F (2020) Modern benthic foraminiferal diversity: an initial insight into the total foraminiferal diversity along the Kuwait coastal water. Diversity 12:142

Al-Kahtany Kh, Youssef M, El-Sorogy A, Al-Kahtany F (2020) Benthic foraminifera as bioindicators of environmental quality of Dammam Al-Jubail area, Arabian Gulf Saudi Arabia. Arab J Geosci 13:427

Al-Mur BA, Quicksall AN, Al-Ansari AM (2017) Spatial and temporal distribution of heavy metals in coastal core sediments from the Red Sea, Saudi Arabia. Oceanologia 59:262–270

Al-Taani A, Batayneh A, Nazzal Y, Ghrefat H, Elawadi E, Zaman H (2014) Status of trace metals in surface seawater of the Gulf of Aqaba, Saudi Arabia. Mar Pollut Bull 86:582–590

Alvarez ZC, Blackwelder PL, Hood T, Nelson TA, Featherstone C (2000) Ostracods as indicators of natural and anthropogenically induced changes in coastal marine environments. Proceedings of the 17th International Conference of the Coastal Society, Portland, OR, USA.

Alve E (1995) Benthic foraminiferal responses to estuarine pollution. J Foraminiferal Res 25:190–203

Badr NB, El-Fiky AA, Mostafa AR, Al-Mur BA (2009) Metal pollution records in core sediments of some Red Sea coastal areas, Kingdom of Saudi Arabia. Environ Monit Assess 155:509–526

Bantana R, Al-Dubaiab T, Al-Zubieri A (2020) Geo-environmental assessment of heavy metals in the bottom sediments of the Southern Corniche of Jeddah Saudi Arabia. Marine Pollut Bull 161:111721

Ben-Eliahu N, Herut B, Rahav E, Abramovich S (2020) Shell growth of large benthic foraminifera under heavy metals pollution: implications for geochemical monitoring of coastal environments. Int J Environ Res Public Health 17:3741. https://doi.org/10.3390/ijerph17103741

Buzas-Stephens P, Pessagno E, Jerry Bowen C (2003) Foraminiferal response to habitat disruption: Arroyo Colorado Texas. J Foraminiferal Res 33:294–308

Carnahan E, Hoare A, Hallock B, Lidz B, Reich C (2008) Distribution of Heavy Metals and Foraminiferal Assemblages in Sediments of Biscayne Bay, Florida, USA. J Coastal Res 241:159–169

De Carlo E, Spencer K (1995) Records of lead and other heavy metal inputs to sediments of the Ala Wai Canal, O' ahu. Hawai'I Pac Sci Univ Hawaii Press 49:471–491

El-Kahawy R, El-Shafeiy M, Helal S, Aboul-Ela N, Abd El-Wahab M (2018) Morphological deformities of benthic foraminifera in response to nearshore pollution of the Red Sea. Egypt Environ Monit Assess 190:312

El-Sorogy AS, Youssef M, Al-Kahtany Kh, Saleh MM (2020) Distribution, source, contamination, and ecological risk status of heavy metals in the Red Sea-Gulf of Aqaba coastal sediments Saudi Arabia. Marine Pollut Bull 158:111411

El Zokm G, Al-Mur B, Okbah M (2020) Ecological risk indices for heavy metal pollution assessment in marine sediments of Jeddah Coast in the Red Sea. Int J Environ Anal Chem. https://doi.org/10.1080/03067319.2020.1784888

Hanna RG, Muir GL (1990) Red Sea Corals as biomonitors of trace metal pollution. Environ Monit Assess 14:211–222

Hariri M, Abu Zeid R (2018) Factors influencing heavy metal concentrations in the bottom sediments of the Al-Kharrar Lagoon and Salman Bay, eastern Red Sea coast, Saudi Arabia. Arab J Geosciences. https://doi.org/10.1007/s12517-018-3838-2

Hottinger L, Halicz E, Reiss Z (1993) Recent Foraminiferida from the Gulf of Aqaba, Red Sea. Dela SAZU, Ljubljana 33:1–179

Kahal AY, El-Sorogy AS, Alfaifi HJ, Almadani S, Ghrefat HA (2018) Spatial distribution and ecological risk assessment of the coastal surface sediments from the Red Sea, northwest Saudi Arabia. Mar Pollut Bull 137:198–208

Karuppasamy M, Qurban MA, Krishnakumar PK (2019) Metal contamination assessment in the sediments of the Red Sea coast of Saudi Arabia. In Springer Oceanography 147–170.

Leckie M, Olson H (2003) Foraminifera as proxies for sea-level change on siliciclastic margins. In Micropaleontologic Proxies for Sea-Level Change and Stratigraphic Discontinuities SEPM Special Publication 75: 5–19

Loskaa K, Wiechulab D, Korus I (2004) Metal contamination of farming soils affected by industry. Environ Int 30:159–165

Madkour H (2004) Geochemical and environmental studies of recent marine sediments and some invertebrates of the Red Sea, Egypt. Ph.D. Thesis, South Valley University, Qena, p 319.

Madkour HA, Ali MY (2009) Heavy metals in the benthic foraminifera from the coastal lagoons, Red Sea, Egypt: indicators of anthropogenic impact on environment (case study). Environ Geol 58:543–553

Mansour AM, Nawar AH, Madkour HA (2005) Metals concentration of recent invertebrates along the Red Sea Coast of Egypt: a tool for monitoring environmental hazards. Sedimentol Egypt 13:171–185

Murray JW (1973) Distribution and ecology of benthic foraminiferids. Heinemann Educational Books, London, p 274

Nour H, El-Sorogy A (2020) Heavy metals contamination in seawater, sediments, and seashells of the Gulf of Suez. Egypt Environ Earth Sci 79:274

Oana P (2006) Chromium impact on marine ecosystem. Bull Univ Agric Sci Vet Med Cluj-Napoca 63:379–384

Orabi OH, El-Badry AA, Badr-ElDin AM (2017) Benthic foraminifera for heavy metal pollution monitoring: a case study from Burullus Lagoon of Egypt. Mar Pollut Bull 121:411–417

Pan K, Lee OO, Qian PY, Wang WX (2011) Sponges and sediments as monitoring tools of metal contamination in the eastern coast of the Red Sea, Saudi Arabia. Mar Pollut Bull 62:1140–1146

Parmar TK, Rawtani D, Agrawal YK (2016) Bioindicators: the natural indicator of environmental pollution. Front Life Sci 9(2):110–118. https://doi.org/10.1080/21553769.2016.1162753

Reitermajer D, Celino JJ, Queiroz AF (2011) Heavy metal distribution in the sediment profiles of the Sauípe River Estuary, north seashore of the Bahia State, Brazil. Microchem J 99:400–405

Rothenstein D, Baier J, Schreiber T, Barucha V, Bill J (2012) Influence of zinc on the calcium carbonate biomineralization of Halomonas halophile Rothenstein, et al. Aquat Biosyst 8:31

Saraswat R, Kurtarkar SR, Mazumder A, Nigam R (2004) Foraminifers as indicators of marine pollution: a culture experiment with Rosalina leei. Mar Pollut Bull 48:91–96

Sreenivasulu G, Praseetha BS, Daud NR, Varghese TI, Prakash TN, Jayaraju N (2019) Benthic foraminifera as potential ecological proxies for environmental monitoring in coastal regions: a study on the Beypore estuary, Southwest coast of India. Mar Pollut Bull 138:341–351

Sundara Raja Reddy B, Jayaraju N, Reddy K (2009) Pollution signatures of benthic foraminifera: a study from the Pennar river estuary, India. Res J Earth Sci 1:7–14

Yanko-Hombach Y, Kondariuk T, Motnenko I (2017) Benthic foraminifera indicate environmental stress from river Discharge to marine ecosystems: example from the black sea. J Foramin Res 47:70–92

Youssef M (2015) Heavy metals contamination and distribution of benthic foraminifera from the Red Sea coastal area, Jeddah, Saudi Arabia. Oceanologia 57:236–250

Youssef M, El-Sorogy A (2016) Environmental assessment of heavy metal contamination in bottom sediments of Al-Kharrar lagoon, Rabigh, Red Sea Saudi Arabia. Arab J Geosci 9:474

Youssef M, Madkour H, Mansour A, Alharbi W, El-Taher A (2017) Invertebrate shells (mollusca, foraminifera) as pollution indicators, Red Sea Coast. Egypt J Afr Earth Sci 133:74–85

Youssef M, El-Sorogy A, Osman M, Ghandour I, Manaa A (2020) Distribution andmetal contamination in core sediments from the North AlWajh area, Red Sea Saudi Arabia. Mar Pollut Bull 152:110924
Acknowledgements
This project was funded by the National Plan for Science, Technology and Innovation (MAARIFAH), King Abdulaziz City for Science and Technology, Kingdom of Saudi Arabia, Award Number (14-ENV183-02).
Additional information
Publisher's Note
Springer Nature remains neutral with regard to jurisdictional claims in published maps and institutional affiliations.
Supplementary Information
Below is the link to the electronic supplementary material.
About this article
Cite this article
Youssef, M., El-Sorogy, A., Al-Kahtany, K. et al. Benthic Foraminifera as Bio-indicators of Coastal Marine Environmental Contamination in the Red Sea-Gulf of Aqaba, Saudi Arabia. Bull Environ Contam Toxicol 106, 1033–1043 (2021). https://doi.org/10.1007/s00128-021-03192-w
Received:

Accepted:

Published:

Issue Date:
Keywords
Heavy metals

Benthic foraminifera

Distribution

Red Sea

Saudi Arabia