Abstract
The hepatotoxic impacts of 2, 4, and 8 mg/L of Al2O3 nanoparticles (31.4 ± 4.8 nm) were evaluated in Oreochromis niloticus after 7 days of exposure and 15 days of recovery periods. The biochemical analysis of aspartate aminotransferase, alanine aminotransferase, and alkaline phosphatase in plasma showed significant increases in both 4 and 8 mg/L Al2O3 NPs exposed groups. The antioxidant biomarkers showed concentration-dependent elevations in catalase, superoxide dismutase, glutathione peroxidase activities, and thiobarbituric acid reactive substances levels. Glutathione reduced contents showed significant reductions in both 4 and 8 mg/L Al2O3 nanoparticles exposed groups. Several hepatic histopathological alterations were recorded ranging from adaptive responses (e.g. melanomacrophages aggregation) to permanent damage (e.g. necrosis). The recovery period using toxicant-free water led to an obvious reduction in the Al content in liver, liver and antioxidant enzymes in addition to regressive histopathological alterations based on the frequency of alterations occurrence and the extent of affected areas.
Access options
Buy single article
Instant access to the full article PDF.
USD 39.95
Price includes VAT (USA)
Tax calculation will be finalised during checkout.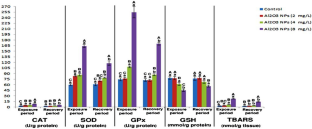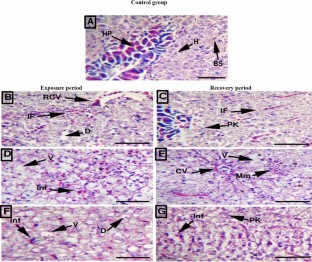 Availability of Data and Materials
The datasets used and/or analyzed during the current study are available from the corresponding author on reasonable request.
References
Abdel-Khalek AA (2015) Antioxidant responses and nuclear deformations in freshwater fish, Oreochromis niloticus, facing degraded environmental conditions. Bull Environ Contam Toxicol 94(6):701–708

Abdel-Khalek AA (2016) Comparative evaluation of genotoxic effects induced by CuO bulk and nano-particles in Nile tilapia, Oreochromis niloticus. Water Air Soil Pollut 227:35

Abdel-Khalek AA, Elhaddad E, Mamdouh S, Marie M-AS (2018) The chronic exposure to discharges of Sabal drain induces oxidative stress and histopathological alterations in Oreochromis niloticus. Bull Environ Contam Toxicol 101(1):92–98

Abdel-Khalek AA, Badran SR, Marie M-AS (2020a) The effective adsorbent capacity of rice husk to iron and aluminum oxides nanoparticles using Oreochromis niloticus as a bioindicator: biochemical and oxidative stress biomarkers. Environ Sci Pollut Res 27:23159–23171

Abdel-Khalek AA, Zayed HS, Elsayad SM, Zaghloul KH (2020b) Assessment of metal pollution impacts on Tilapia zillii and Mugil cephalus inhabiting Qaroun and Wadi El-Rayan lakes, Egypt, using integrated biomarkers. Environ Sci Pollut Res 27:26773–26785

Aebi H (1984) Catalase in vitro. Method Enzymol 105:121–126

American Public Health Association (APHA) (2005) Standard methods for the examination of water and wastewater. American Water Works Association, New York

Arora S, Rajwade JM, Paknikar KM (2012) Nanotoxicology and in vitro studies: the need of the hour. Toxicol Appl Pharmacol 258:151–165

Belfield A, Goldberg DM (1971) Revised assay for serum phenyl phosphatase activity using 4-amino-antipyrine. Enzyme 12:561–573

Bernet D, Schmidt H, Meier W, Burkhardt-Holm P, Wahli T (1999) Histopathology in fish: proposal for a protocol to assess aquatic pollution. J Fish Dis 22:25–34

Beutler E, Duron O, Kelly MB (1963) Improved method for the determination of blood glutathione. J Lab Clin Med 61:882–888

Canli EG, Dogan A, Canli M (2018) Serum biomarker levels alter following nanoparticle (Al2O3, CuO, TiO2) exposures in freshwater fish (Oreochromis niloticus). Environ Toxicol Pharmacol 62:181–187

Ciji PP, Nandan SB (2014) Toxicity of copper and zinc to Puntius parrah (day, 1865). Mar Environ Res 93:38–46

Jozefczak M, Remans T, Vangronsveld J, Cuypers A (2012) Glutathione is a key player in metal-induced oxidative stress defenses. Int J Mol Sci 13(12):3145–3175

Hao L, Chen L (2012) Oxidative stress responses in different organs of carp (Cyprinus carpio) with exposure to ZnO nanoparticles. Ecotoxicol Environ Saf 80:103–110

Murali M, Suganthi P, Athif P, Sadiq Bukhari A, Syed Mohamed HE, Basu H, Singhal RK (2017) Histological alterations in the hepatic tissues of Al2O3 nanoparticles exposed freshwater fish Oreochromis mossambicus. J Trace Elem Med Biol 44:125–131

Neugebauer EA, Sans Cartier GL, Wakeford BJ (2000) Methods for the determination of metals in wildlife tissues using various atomic absorption spectrophotometry techniques (Technical Report Series No. 337E). Canadian wildlife service, Headquarters, Hull, Québec, Canada

Nishikimi M, Appaji N, Yagi K (1972) The occurrence of superoxide anion in the reaction of reduced phenazine methosulfate and molecular oxygen. Biochem Biophys Res Commun 46:849–854

Ohkawa H, Ohishi N, Yagi K (1979) Assay for lipid peroxides in animal tissues by thiobarbituric acid reaction. Anal Biochem 95:351–358

Paglia DE, Valentine WN (1967) Studies on the quantitative and qualitative characterization of erythrocyte glutathione peroxidase. J Lab Clin Med 70:158–169

Paunovic J, Vucevic D, Radosavljevic T, Pantic S, Nikolovski D, Dugalic S, Pantic I (2017) Effects of metallic nanoparticles on physiological liver functions. Rev Adv Mater Sci 49:123–128

Qu R, Feng M, Wang X, Qin L, Wang C, Wang Z, Wang L (2014) Metal accumulation and oxidative stress biomarkers in liver of freshwater fish Carassius auratus following in vivo exposure to waterborne zinc under different pH values. Aquat Toxicol 150:9–16

Reitman S, Frankel S (1957) A colorimetric method for the determination of serum glutamic oxalacetic and glutamic pyruvic transaminases. Am J Clin Pathol 28:56–63

Souza JP, Mansano AS, Venturini FP, Santos F, Zucolotto V (2019) Antioxidant metabolism of zebrafish after sub-lethal exposure to graphene oxide and recovery. Fish Physiol Biochem 45:1289–1297

Vidya PV (1852a) Chitra KC (2018a) Aluminium oxide nanoparticles induced irreversible alterations in the antioxidant system and marker enzymes activities in the fish Oreochromis mossambicus (Peters. Eur J Biomed Pharm Sci 5(2):1162–1170

Vidya PV (1852b) Chitra KC (2018b) Aluminium oxide nanoparticles induced irrevocable damages in gill, liver and brain tissues of the freshwater Fish, Oreochromis mossambicus (Peters. Int J Fish Aquac Res 3(2):13–17

Wu Y, Zhou Q (2013) Silver nanoparticles cause oxidative damage and histological changes in medaka (Oryzias latipes) after 14 days of exposure. Environ Toxicol Chem 32:165–173

Xia J, Zhao HZ, Lu GH (2013) Effects of selected metal oxide nanoparticles on multiple biomarkers in Carassius auratus. Biomed Environ Sci 9:742–749

Zhao J, Wang Z, Liuc X, Xiea X, Zhang K, Xing B (2011) Distribution of CuO nanoparticles in juvenile carp (Cyprinus carpio) and their potential toxicity. J Hazard Mater 197:304–310
Acknowledgment
The authors extend their appreciation to the Deanship of Scientific Research at King Khalid University for funding this work through Research Group Project under grant number (R.G.P.2/40/40), and to the Faculty of Science, Cairo University, Cairo, Egypt for supporting the current work.
Funding
Deanship of Scientific Research at King Khalid University and Faculty of Science, Cairo University has funded the present study through the analysis and interpretation of data.
Ethics declarations
Conflict of interest
The authors declare that they have no competing interests.
Consent to Participate
All authors read and approved the final manuscript.
About this article
Cite this article
Massoud, E., El-Kott, A., Morsy, K. et al. Assessment of Hepatotoxicity Induced by Aluminum Oxide Nanoparticles in Oreochromis niloticus Using Integrated Biomarkers: Exposure and Recovery. Bull Environ Contam Toxicol 106, 970–977 (2021). https://doi.org/10.1007/s00128-021-03190-y
Received:

Accepted:

Published:

Issue Date:
Keywords
Aluminum oxide NPs

Hepatotoxicity

Liver enzymes

Antioxidant mechanism

Histopathology

Oreochromis niloticus