Abstract
In this work, reduced graphene oxide/double-walled carbon nanotubes/octahedral-Fe3O4/chitosan composite material modified screen-printed gold electrodes (rGO/DWCNTs/Oct-Fe3O4/Cs/SPAuE) under inhibition of urease enzyme was developed for the determination of glyphosate (GLY). The electrochemical behaviors of GLY on these electrodes were evaluated by square wave voltammetry (SWV). With the electroactive surface area is 1.7 times higher than that of bare SPAuE, the rGO/DWCNTs/Oct-Fe3O4/Cs/SPAuE for detection of GLY shows a low detection limit (LOD) of ~ 0.08 ppb in a large concentration range of 0.1–1000 ppb. Moreover, it is also successfully applied to the determination of GLY in river water samples with recoveries and relative standard deviations (RSDs) from 98.7% to 106.9% and from 0.79% to 0.87%, respectively. The developed composite will probably provide an universal electrochemical sensing platform that is very promising for environmental monitoring.
Access options
Buy single article
Instant access to the full article PDF.
USD 39.95
Price includes VAT (USA)
Tax calculation will be finalised during checkout.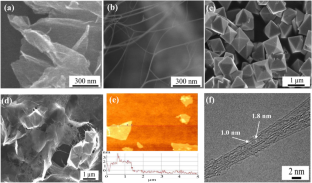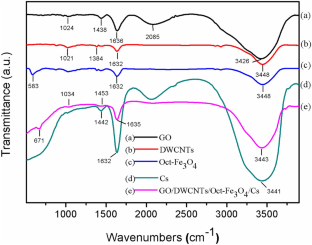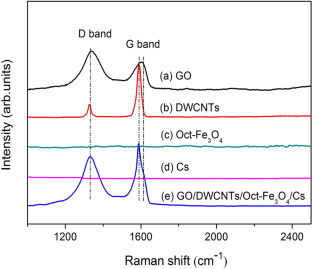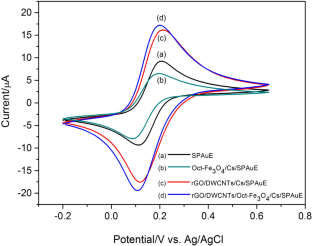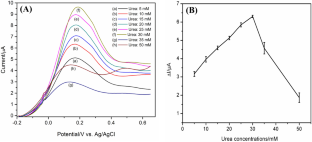 References
Abe H, Naka T, Sato K et al (2019) Shape-controlled syntheses of magnetite microparticles and their magnetorheology. Int J Mol Sci. https://doi.org/10.3390/ijms20153617

Ayad MM, Amer WA, Kotp MG et al (2017) Synthesis of silver-anchored polyaniline-chitosan magnetic nanocomposite: a smart system for catalysis. RSC Adv. https://doi.org/10.1039/c7ra02575k

Bard AJ, Faulkner LR (2002) Electrochemical methods: fundamentals and applications, New York: Wiley, 2001, 2nd ed. Russ J Electrochem. https://doi.org/10.1023/A:1021637209564

Bera M, Chandravati GP, Maji PK (2017) Facile one-pot synthesis of graphene oxide by sonication assisted mechanochemical approach and its surface chemistry. J Nanosci Nanotechnol. https://doi.org/10.1166/jnn.2018.14306

Boikanyo D, Adekunle AS, Ebenso EE (2016) Electrochemical study of pyrene on glassy carbon electrode modified with metal-oxide nanoparticles and graphene oxide/multi-walled carbon nanotubes nanoplatform. J Nano Res 44:158–195

Chen Q, Zheng J, Yang Q et al (2019) Insights into the glyphosate adsorption behavior and mechanism by a MnFe2O4@cellulose-activated carbon magnetic hybrid. ACS Appl Mater Interfaces. https://doi.org/10.1021/acsami.8b22386

Dağcı Kıranşan K, Aksoy M, Topçu E (2018) Flexible and freestanding catalase-Fe3O4/reduced graphene oxide paper: enzymatic hydrogen peroxide sensor applications. Mater Res Bull. https://doi.org/10.1016/j.materresbull.2018.05.032

Duoc PND, Binh NH, Van HT et al (2020) A novel electrochemical sensor based on double-walled carbon nanotubes and graphene hybrid thin film for arsenic(V) detection. J Hazard Mater. https://doi.org/10.1016/j.jhazmat.2020.123185

Ghalkhani M, Shahrokhian S, Navabi M (2020) Development of an electrochemical sensor based on (rGO-CNT) nanocomposite for raloxifene analysis. Mater Chem Phys. https://doi.org/10.1016/j.matchemphys.2020.124131

Gholivand MB, Akbari A, Norouzi L (2018) Development of a novel hollow fiber-pencil graphite modified electrochemical sensor for the ultra-trace analysis of glyphosate. Sens Actuators B. https://doi.org/10.1016/j.snb.2018.05.170

Hummers WS, Offeman RE (1958) Preparation of graphitic oxide. J Am Chem Soc. https://doi.org/10.1021/ja01539a017

Hussain N, Das MR (2017) Magnetically recoverable graphene-based nanocomposite material as an efficient catalyst for the synthesis of propargylamines: via A3 coupling reaction. New J Chem. https://doi.org/10.1039/c7nj03412a

Kumar R, Singh RK, Dubey PK et al (2015) Self-assembled hierarchical formation of conjugated 3D cobalt oxide nanobead-CNT-graphene nanostructure using microwaves for high-performance supercapacitor electrode. ACS Appl Mater Interfaces. https://doi.org/10.1021/acsami.5b04336

Kumar R, Singh RK, Alaferdov AV, Moshkalev SA (2018) Rapid and controllable synthesis of Fe3O4 octahedral nanocrystals embedded-reduced graphene oxide using microwave irradiation for high performance lithium-ion batteries. Electrochim Acta. https://doi.org/10.1016/j.electacta.2018.05.157

Kumar R, Joanni E, Savu R et al (2019) Fabrication and electrochemical evaluation of micro-supercapacitors prepared by direct laser writing on free-standing graphite oxide paper. Energy. https://doi.org/10.1016/j.energy.2019.05.032

Motojyuku M, Saito T, Akieda K et al (2008) Determination of glyphosate, glyphosate metabolites, and glufosinate in human serum by gas chromatography–mass spectrometry. J Chromatogr B. https://doi.org/10.1016/j.jchromb.2008.10.003

Nehru S, Sakthinathan S, Tamizhdurai P et al (2020) Reduced graphene oxide/multiwalled carbon nanotube composite decorated with Fe3O4 magnetic nanoparticles for electrochemical determination of hydrazine in environmental water. J Nanosci Nanotechnol. https://doi.org/10.1166/jnn.2020.17379

Neves V, Heister E, Costa S et al (2012) Design of double-walled carbon nanotubes for biomedical applications. Nanotechnology. https://doi.org/10.1088/0957-4484/23/36/365102

Pham VT, Cao TT, Le VC et al (2017) Effect of organic solvents on the properties of DWCNT/PEDOT:PSS transparent conductive films. Mater Res Express. https://doi.org/10.1088/2053-1591/aa90ac

Sakthivel R, Annalakshmi M, Chen SM et al (2019) A novel sensitive and reliable electrochemical determination of palmatine based on CeO2/RGO/MWCNT ternary composite. J Taiwan Inst Chem Eng. https://doi.org/10.1016/j.jtice.2018.11.008

Setznagl S, Cesarino I (2020) Copper nanoparticles and reduced graphene oxide modified a glassy carbon electrode for the determination of glyphosate in water samples. Int J Environ Anal Chem. https://doi.org/10.1080/03067319.2020.1720667

Sok V, Fragoso A (2019) Amperometric biosensor for glyphosate based on the inhibition of tyrosinase conjugated to carbon nano-onions in a chitosan matrix on a screen-printed electrode. Microchim Acta. https://doi.org/10.1007/s00604-019-3672-6

Turhan DÖ, Güngördü A, Ozmen M (2020) Developmental and lethal effects of glyphosate and a glyphosate-based product on Xenopus laevis embryos and tadpoles. Bull Environ Contam Toxicol. https://doi.org/10.1007/s00128-019-02774-z

Vaghela C, Kulkarni M, Haram S et al (2018) A novel inhibition based biosensor using urease nanoconjugate entrapped biocomposite membrane for potentiometric glyphosate detection. Int J Biol Macromol. https://doi.org/10.1016/j.ijbiomac.2017.11.136

Wei X, Gao X, Zhao L et al (2013) Fast and interference-free determination of glyphosate and glufosinate residues through electrophoresis in disposable microfluidic chips. J Chromatogr A. https://doi.org/10.1016/j.chroma.2013.01.039

Zhang Y, Dang Y, Lin X et al (2020) Determination of glyphosate and glufosinate in corn using multi-walled carbon nanotubes followed by ultra high performance liquid chromatography coupled with tandem mass spectrometry. J Chromatogr A. https://doi.org/10.1016/j.chroma.2020.460939

Zhao Z, Zhang J, Wang W et al (2019) Synthesis and electrochemical properties of Co3O4-rGO/CNTs composites towards highly sensitive nitrite detection. Appl Surf Sci. https://doi.org/10.1016/j.apsusc.2019.04.202
Acknowledgements
This research is funded by Institute of Materials Science (IMS) under Grant Number CS.06/20-21 and supported by JSPS KAKENHI Grant Number JP17H03404 for Basic Research: Category B.
Additional information
Publisher's note
Springer Nature remains neutral with regard to jurisdictional claims in published maps and institutional affiliations.
Supplementary Information
Below is the link to the electronic supplementary material.
About this article
Cite this article
Thanh, C.T., Binh, N.H., Duoc, P.N.D. et al. Electrochemical Sensor Based on Reduced Graphene Oxide/Double-Walled Carbon Nanotubes/Octahedral Fe3O4/Chitosan Composite for Glyphosate Detection. Bull Environ Contam Toxicol 106, 1017–1023 (2021). https://doi.org/10.1007/s00128-021-03179-7
Received:

Accepted:

Published:

Issue Date:
Keywords
Electrochemical sensor

Glyphosate

Reduced graphene oxide

Double-walled carbon nanotube

Octahedral Fe3O4

Chitosan